Archive for the 'CP 09' Tag
In my previous life, I was a military legislative assistant for for former Rep. John Hostettler (IN-08) from 2000-2007. With Rep. Hostettler being a member of the House Armed Services Committee, I had the opportunity to sit through hundreds of hours of committee hearings, power point briefings, and mark-ups of pending legislation so I know a little bit about defense budgeting.
Fast forward to my time onboard COMFORT this past week. i am here to tell you that the USNS COMFORT is a bargain for both the Navy and the U.S. taxpayer. If only the rest of the U.S. Navy was as creative and resourceful as the men and women of TEAM COMFORT (military, NGO's, and international partners) in leveraging money and talent for medical diplomacy missions like Continuing Promise '09.
I had an outstanding conversation with CAPT Jim Ware, DC, USN who is Commanding Officer of the COMFORT's Medical Treatment Facility my first night onboard. He told that out of the 800 people onboard the ship, 350 were volunteers. Volunteers like Michelle Okamoto of Project Hope who burned through 2 years of vacation leave to volunteer for six weeks in Haiti, Dominican Republic, and Antigua & Barbuda. Her story is typical of so many of the angels onboard COMFORT. Talk about in-kind contributions of time and talent that doesn't cost the Navy a dime!
Then there are in-kind contributions of supplies and equipment that doesn't cost the Navy a dime either. The list of organizations donating supplies for this important mission is endless and includes but not limited to thousands of pairs of eye glasses donated by the Lion's Club, pallets and pallets of equipment and supplies donated by Project Handclasp, and Rotary Club International donations for building supplies the Seabees used to remodel a women's barracks at a local hospital. The above-mentioned in-kind donations are just a drop in the bucket and will be detailed in future posts.
Then there are the contributions of our coalition partners like the Dutch. Again, no cost to the Navy. The Netherlands has provided personnel for the entire mission split into three teams. The first team of 8 medical personnel just left on thursday. The Dutch surgical team performed 23 percent of all the surgeries onboard COMFORT in Haiti, Dominican Republic, and Antigua and Barbuda. And that is just the Dutch. There are numerous other coalition partners onboard COMFORT.
As a taxpayer, I was heartened to see my tax dollars being put to good use onboard COMFORT.
COMFORT departed St. John's Antigua today for some well deserved liberty. Some highlights of their 5 May to 16 May 2009 visit include:
40,000+ patient encounters with 12,000+ patients (approximately 15 percent of the entire population of Antigua and Barbuda.

5000+ eye exams

3500+ dental exams/cleanings/extractions

1000+ veterinary visits

113 pieces of medical equipment repaired at local hospitals

8,913 prescriptions filled

Numerous outstanding performances by the Air Force South Band

The extensive remodeling of the women's barracaks at a local hospital.
My friends, this was just a sampling of the good work done by the many angels onboard COMFORT.
Antigua and Barbuda was the third nation on COMFORT's 7-country CONTINUING PROMISE '09 deployment.
Definition of Medical Diplomacy:
Medical diplomacy is "the winning of hearts and minds of people in the Middle East, Asia, Africa, and elsewhere by exporting medical care, expertise, and personnel to help those who need it most." — former HHS Secretary Tommy Thompson in a 2005 Op-Ed for the Boston Globe.
Displacement of USNS COMFORT (T-AH 20): 69,360 tons
On 12 May 2009, USNS COMFORT surpassed 100,000 patient encounters for this mission while winning the hearts and minds of more people from the two-island nation of Antigua & Barbuda.
During the COMFORT's visit to Antigua & Barbuda which commenced on 5 May 2009, COMFORT had performed 7078 patient encounters to include 1440 dental patients, 2489 optometry visits, and 80 surgeries. Moreover, on 12 May, COMFORT personnel went to Barbuda and treated 500 patients on an island with a population of just 1500.
Off to visit the Seabees tomorrow morning followed by an afternoon attending events marking Nurses Week!
BZ to all involved!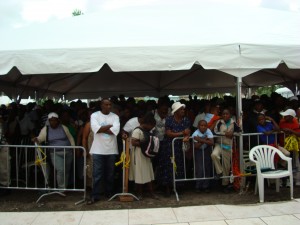 Gotta keep this one quick. I would guess that over 1000 Antiguans have lined up for patient care today. The services offered here include: dental, optometry, general medicine, pediatrics, prescriptions, and women's health.
While observing the optometry department, I heard that one patient had lined up at 2100 the night before for a 2-minute eye exam.
The patient care inside the Multi-cultural Center is inter-agency cooperation and NGO coordination at its best. No stove pipes. Teamwork everywhere I look.
Keep up the good work COMFORT.
More later…
Navy Medcine history was made onboard USNS COMFORT on 12 May 2009 at approximately 1400 as she hosted a tele-medicine video teleconference with Walter Reed and the National Naval Medical Center in Bethesda, MD.
Ground-breaking technology for navy medicine with multiple uses especially on humanitarian missions like Continuing Promise 09. It will be a great teaching tool since COMFORT medical personnel will see patients that have cases that are rarely seen in the United States.
BZ as well to the Uniformed Services University of the Health Sciences in Bethesda, MD for all they have done to bring tele-medicine to the COMFORT.
More including interviews with the doctors and additional background on the surgery to follow in coming days.
(photo by me)
Busy day on COMFORT. I reported onboard COMFORT @1100 after an hour-long ferry ride from the local pier. The COMFORT is anchored off of St. John's given its '33 draft. On the way to the pier, my taxi driver said "Thank you to COMFORT for what you are doing." He also asked if the COMFORT could come back next year!
After arriving onboard COMFORT, I checked in with admin, got my rack in officer over-flow berthing, and then went to lunch. (Food is pretty good on COMFORT). Saw my first surgery (more on that later) and have walked what seems miles onboard this converted oil tanker.
Tomorrow, I am going to the Multi-Cultural Center and Thursday I am going to spend the day with the Seabees who are doing a community relations project.
My sincere thanks to everyone involved for making this visit happen especially the PAO shop who had to deal with my luggage being delayed on two separate occasions with two different airlines…
More later…
Jim
P.S. Happy Nurses Week!
Greetings from St. John's, Antigua!
As you know this two-island nation is the third stop of the Navy Hospital Ship Comfort's Continuing Promise '09 goodwill tour in the Caribbean and Latin America. I will be onboard COMFORT beginning Tuesday morning and will depart back to the states on Saturday.
I am loaded with a notebook and two cameras as well as the drive to document for the naval blogosphere how the men and women of COMFORT are winning the hearts and minds of people everywhere they go!
I will post as often as I can when I am not out in the field. Anything in particular you want me to report just drop me a comment.
Stay tuned!
Due to circumstances beyond my control (airline shall go nameless), I was unable to meet up with COMFORT in Miami prior to its departure for Haiti yesterday morning. So there will be no live blogging from me this week.
Rest assured, I will be visiting the COMFORT during Continuing Promise '09 even if I have to swim to it. Exact time and place TBD.
Thanks for understanding as well as your comments here (great discussion about hospital ships).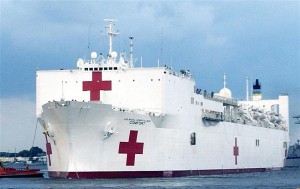 Beginning on Monday, I will be blogging from aboard the USNS COMFORT as she steams towards Haiti on the first stop of Continuing Promise '09 (CP 09). 
For some background on CP 09, see the following Navy press release:
CP09 is an equal partnership mission between the United States and its international partners to provide humanitarian and civic assistance in seven countries located in Latin America and the Caribbean. Comfort will visit Antigua and Barbuda, Colombia, Dominican Republic, El Salvador, Haiti, Nicaragua and Panama.

"The Comfort will serve as a Navy platform through which U.S. military, interagency personnel, partner nations and non-governmental organizations will carry out humanitarian efforts," said Navy Capt. Robert G. Lineberry, CP09 mission commander. "It's a great team of people going down to Latin America and the Caribbean to do great things."

The hospital ship has been configured to provide health services and engineering support through humanitarian assistance and disaster response. Additionally, Comfort leadership explained how the ship will provide the host nations with the services of a fully functional hospital. Originally, the ship was an oil tender converted to a hospital ship meant to serve as a platform for treating war casualties.
I am thankful to Lt. Jennifer Cragg, USN, and Jack Holt from DOD's New Media Office and LT. Matt Gill, USN, COMFORT PAO, for making this opportunity available to bloggers like myself. 
Check back often for updates! Now I have to go pack and learn how to use my new video camera…
Newer Entries »