Archive for the 'cruise missiles' Tag
One of the worst kept secrets is that the balance of our surface fleet can do very little surface warfare outside their 5″ gun. Sure, we can play defense until Winchester like champs, but more often than not we're hoping the aviation side of the house will be there to punch back – and if their lucky, a SSN might be lurking about. Hope and Luck; not a warrior's ethos.
Like a fleet of Lotus Eaters, through compromise, risk hedging, and pulling the cost-saving short straw – we drifted through a post-Cold War complacency and a post-GWOT ground combat focus to a point where we decided that we would be happy to rely on an increasingly dated ASCM, Harpoon, on fewer and fewer platforms. As we advanced with our primary surface combatant, offensive ASUW was so out of mind that when it came time to move from Flight II to Flight IIA, we decided we didn't need even Harpoon. As a result, the majority of our most numerous class of surface combatant can't really effectively engage other warships at sea in combat. We're the US Navy – who would ever want to challenge us at sea? Right?
Our FF(not-so-G) could carry Harpoon, but they are long gone after the even earlier removable of their ASUW capable SM-1. Our CG can, but they need to stay close to the bird farm. With an arc welder, duct tape and a few pounds of bailing wire, we managed to slap a few ASCM on a LCS – but that is about it when you run out of the Harpoon capable Flight I and Flight II Arleigh Burkes, 28 out of the 76 commissioned or planned of the class.
This is well known, and in the last few years some steps have been taken to patch up the gap. LRASM is under development, we've played around with the option of the Norwegian Naval Strike Missile, and there are steps to bringing back the anti-ship capability of the TLAM. Some people will shyly whisper about the sort-of ASUW capability of the SM-2 – but that argument usually never survives first contact with a raised eyebrow. We're coding ASUW in to the SM-6 – but how many of those will be forward deployed in 2020? 2025? A lot can happen between now and then – so what does one do?
This is good and should receive more funds to accelerate the gap-fill. In the last decade or so, from the "1,000 Ship Navy" to "We Don't Need Frigates, but if We Do, Our Allies Have That Capability," response, we have assumed that others will be able to cover capabilities we don't have. Well, more news came across recently involving our most capable partner nation at sea, the British Royal Navy;
Royal Navy warships will be left without anti-ship missiles and be forced to rely on naval guns because of cost-cutting, the Ministry of Defence has admitted.

The Navy's Harpoon missiles will retire from the fleet's frigates and destroyers in 2018 without a replacement, while there will also be a two year gap without helicopter-launched anti-shipping missiles.
So, we've got that going for us in the Global Maritime Partnership, which is nice.
That is a summary of where we are – and this topic of an offensive ASUW shortfall comes up inside navalist conversations on a regular basis – but it never gets the traction it should. Perhaps it is because we just have not used the right methods to demonstrate it.
Well, I think we have a solution from to that educational challenge at least.
From the Autumn issue of the Naval War College Review, Lieutenant Alan Cummings, USN, has a must-read article, A Thousand Splendid Guns.
I'll let you read the full article, but there are two images that provides an overview of our ASCM shortfall in crisp profile.
When looking at the Chinese Navy in WESTPAC, how do our surface units that can or should carry ASCM line up – just in quantity?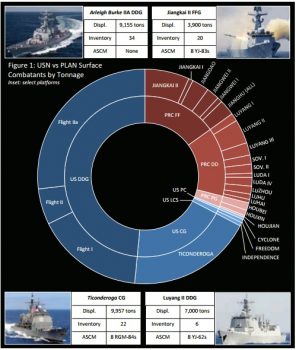 Yes, I know there is quite the quality differential. That really isn't the point – not the time to go down that rabbit hole in comments. Focus.
Let's look at what these units bring to the ASCM fight.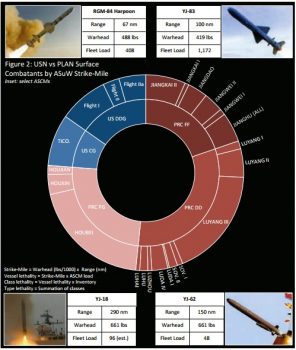 Put your, "but..but…but" points about defensive capabilities and whose weapons are more primitive in the corner and look at that in detail, and you see the problem.
Ponder.
March 2011. The still of the pre-dawn darkness is only slightly disturbed by the passage of a container ship. Like the many thousands of others like her plying the ocean's ways, this one's cargo is neatly stacked on the deck — ISO shipping containers in a multitude of colors and shippers markings. As the fog bank thickens, a radar scope is closely scrutinized on the bridge. Out here, off the shipping lanes no other merchant traffic is expected and, it would appear, neither were there any signs of fishing craft or more troubling, naval or coast guard ships. Earlier in the night a code had been passed via an internet podcast and confirmed via a secure webpage. Soon, very soon, part of the ship's cargo would complete the long journey begun in Sverdlovsk.

Up forward, locks are removed on two of the containers and a pair of shadowy figures enter each container. A series of muffled noises from the interior of the boxes is rapidly followed by their tops falling to one side and a brace of four tubes quickly rise to the vertical. A minute or two passes and the quiet is shattered by a series of explosions. From each tube a long, slender figure emerges atop a cloud of gases. Bright
flames suddenly appear and the forms race off to the far horizon, away from the sun, still hours away from rising.
NAVSTA Norfolk has been home to US naval aviation ever since Eugene Ely first flew his fragile, kite-like aircraft off a makeshift platform mounted on the anchored USS Birmingham. From her roadsted, flattops of the Essex, Midway, Forrestal, Enterprise and now the Nimitz class sortied to distant spots on the globe to carry out the missions assigned — presence, deterrence, and when necessary, the fury unleashed from their decks and the holds of their escorts reinforced the determination of a free people to remain free.
On this early morning, Pier 12 is brightly lit in floodlights as the two Nimitz-class carriers, USS Harry S Truman (CVN 75) and USS Theodore Roosevelt (CVN 72) complete preparations for an emergency sortie on the tide. Both had pulled into Norfolk one day prior with their full airwing complement on board to take on one final round of provisions and the remainder of their embarked airwing personnel and equipment. Tensions have dramatically risen in the Gulf over the past few weeks following Iran's declaration of nuclear capability. There had been no detonation, and some were saying it was just a boast – that the Iranians were still years away from really having the capability for even a couple of weapons. Still, Israel had attempted a long-range strike only to recall it when the US threatened to expose the mission. A show of force was in order and to reinforce the two carrier presence in the Gulf (Eisenhower and Washington were already there) the Vinson was being turned back from a Hong Kong port visit and TR with Truman would join her outside the Straits of Hormuz.