Archive for the 'DC' Tag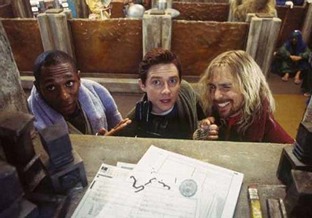 How did we get here, to this place pointed out to us by Kyle Jahner at ArmyTimes?
Army Chief of Staff Gen. Mark Milley has repeatedly complained about the convoluted, slow and expensive acquisitions process, and cited the Modular Handgun System program as a glaring example.

"We're not figuring out the next lunar landing. This is a pistol. Two years to test? At $17 million?" Milley said to an audience at a Washington, D.C., think tank on March 10. "You give me $17 million on a credit card, and I'll call Cabela's tonight, and I'll outfit every soldier, sailor, airman and Marine with a pistol for $17 million. And I'll get a discount on a bulk buy."
Leadership; that is how.
It all starts in Congress, of course, but the uniformed services have much of the blame to share along with them. As warfighters allowed themselves to transmogrify in to simple fonctionnaires – so we find ourselves at this point.
Through the years allowed ourselves to become numb to the various habits, regulations, instructions, regulations, and laws that have layered us like so many beggarweeds on a long-haired spaniel after a run through a fallow field in summertime.
Each little part can be traced back to someone's good idea made flesh, or an attempt to prevent fraud, waste, abuse, or the hobby-horse of a pushy and ill-informed leader advocating a program no one wants. Each bit accumulates, but no part leaves.
We also have the sad effect of allowing leadership and integrity to be substituted by paperwork and process. We exist in a world where it is common and accepted practice to say, "The right thing is to do X, but IAW OPNAVINST 1313.99Xy, Section IV, para 1.A.(2).g.iii, we can't." Always with the royal, "we."
As even a small and simple thing as a pistol takes an absurd length of time, we attempt to jump generations of developments to compensate – and as we see time and time again from A-12 to DDG-100 to a replacement for the M-16 and the 5.56mm – we fail in the face of the green eye-shade.
What to do? I think General Milley has shown the way. Within acceptable guidelines, point out publicly with a bit of scorn and sarcasm, the system we have been given mostly by those wearing civilian suits. Fix what we can, shame what we can't.
Even before the submission deadline last month, the road to a new pistol has been long and winding. In 2008, the MHS started as an Air Force program. But little progress was made before January 2013, when the Army kick-started the latest efforts by asking industry for more information. Additional discussions with industry drew out the release of the 350-plus-page document until August 2015. Then the solicitation's deadline for submissions was Feb. 12 of this year.
As defined before, this timelineis 1.6 WorldWars. Six years just to submit a solicitation.
Congressman Thornberry; over to you.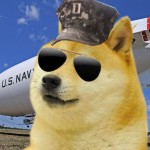 The illustrious Charles Berlemann and LT Hipple (pictured on left, in a way) started up a conversation on facebook earlier based on Dr. Holmes' latest at The Diplomat, How Not to Prepare for War.
Our conversation centered around whether or not Dr. Holmes is correct in asserting that that peace time militaries shy away from making scenario's too difficult, and whether or not our Navy should "make the simulation harder than real life."
My reply to the good LT was that I agree with Dr. Holmes, we should be making our training harder than real life. But, I also want to know what the logical limit to such a line of thinking is–that we need to falsify 'harder than life' before we can say what our training should really be.
The Kobayashi Maru is a striking example from science fiction of a no-win scenario used to train a ship's crew. But, such training immediately runs into the limits of human endurance already strained by the daily routine of shipboard life.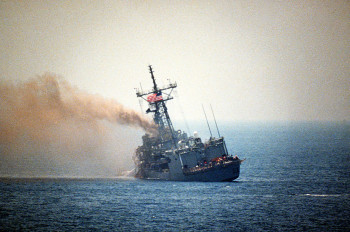 Many moons ago, aboard the SAN ANTONIO, I placed my first suggestion in the CO's box. I suggested that we run DC drills that ran about a day or more. The COLE, SAMUEL B. ROBERTS, and STARK all had GQ set for longer than any DC drill I had ever ran.
The thing about it though, all those ships are afloat today, or made it to their 'naturally decided' DECOM date. So, while I point to those examples of why we should train harder, the examples already show training programs that were (at least back then) able to train their crew well enough so that the ship didn't have to be given up.
So, what is it?.. Is our DC training a mere shadow of what it once was? It is only half what it should be? Or, does the fact that the US hasn't lost a ship in decades mean that we don't need to radically alter our training paradigm today?