Archive for the 'DDG 1000' Tag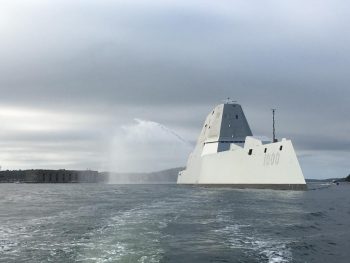 In a sad insult to the rump class of Pocket Battleship sized Destroyers we are building, the three ship ZUMWALT Class, this week fate delivered what many expected for a while.
Just a couple weeks after the Navy commissioned its most advanced warship, the USS Zumwalt (DDG-1000), the service says it won't be buying any more of the guided precision munitions the ship's Advanced Gun Systems uses, called the Long Range Land-Attack Projectile (LRLAP).
What are we to learn of this? There are a few things.
First of all; we have to acknowledge that of the ships of the Transformationalist Era; LCS, DDG-1000, LPD-17, and FORD – have something in common; they proved history and critics of Transformationalism right.
You cannot pack too much technology risk in to new platforms, slather them with hope and PPT and assume that all will turn out well in future people's PCS cycle long after you are gone.
Somehow we have lost a larger sense of that handmaiden of ownership, stewardship. We need to move away from the desire to have others fawn over ourselves for our supposed "visionary embrace of the future," but instead have a calm dedication to stewardship of the continuous improvement of our navy. That is what gave us AEGIS, TLAM, and the Virginia Class SSN.
The programmatic Hipsterdom that is Transformationalism begat the shambolic parade of our last few classes of warships.
Next; bespoke, expensive, and exquisite systems that will not have wide use in the fleet are low hanging fruit when people come looking for money. If there is something good and less expensive that can replace the awesome, you will get the good. If the good can't be had at enough savings, you just might get a void and a blank-plate.
Price. Matters.
As smart people are moving away from "salami slice" ideas of cost savings towards whole wedges, this is what will happen.
"The Navy continuously monitors the gun and ammunition industry capability and capacities," Capt. Thurraya Kent, spokesperson for the service's acquisition directorate, said Nov. 4 in an e-mail. "To address evolving threats and mission requirements, the Navy is evaluating industry projectile solutions (including conventional and hyper-velocity projectiles) that can also meet the DDG 1000 deployment schedule and could potentially be used as an alternative to LRLAP for DDG 1000."
…
"We are looking at multiple different rounds for that gun," the Navy official said, adding that "three or four different rounds" have been looked at, including the Army's Excalibur munition from Raytheon, and the Hyper Velocity Projectile (HVP), a project under development by the Office of Naval Research and BAE Systems.

"There are multiple companies that have looked at alternatives to get the cost down and use that delivery system," the Navy official said.

But the likelihood is that there will be no LRLAP replacement before the Zumwalt enters operational service.
…
Current plans call for the guns to be fired during CSSQT and, the Navy official said, "the intention is to shoot the guns." The 2015 budget provided $113 million to buy 150 LRLAP rounds and associated items, and those rounds will be used for the tests.

No funds for LRLAP acquisition were included in the 2016 or 2017 budgets. The latter included $51 million in 2018 for the program, but it's not clear whether or not that money will be requested.
Last, we need to be willing to return to a practice of evolutionary development with room to allow that you will now and again fail small and keep going, as opposed to assuming you will always win big or have nothing.
We have a new gun system? Great. Mature it ashore and install on an established platform and see how it works at sea. New engineering plant? Same. Manning concept … etc.
Decades – really centuries – of naval best practices shows us how it is done. We should go back to that template.
For now we find ourselves in 2016 without meeting the need that started us down the road – effective and accurate NSFS from the sea. Recent combat experience Al-Faw's "5-in Friday," to Israeli corvettes off Gaza, to the French Navy's 76mm and 100mm guns off Libya, the modern requirement is clear – but it can be done better.
Where to next? In the near term, "good enough" 155mm solutions will need to be found and hopefully will work.
So much wasted time for so little gain for the nation. I hate to say it, but this is also true – none of this should be a surprise to anyone. How as an institution did we go this far down this path? That is the most important lesson – one I don't think we have really dealt with yet.
While software changes will certainly be needed to incorporate other munitions into the AGS, adapting the handling system for a different round could be complex. The automated magazines, designed to hold 300 LRLAPs, are sized for that particular weapon and it's unlikely another munition would have exactly the same dimensions.

Other rounds under development for the 127mm guns arming all other US destroyers and cruisers could be adapted to the AGS, but would likely need a sabot arrangement to adapt the smaller shell to the 155mm weapon.
Read that again as you ponder the institutional mindset mentioned earlier on in this article. This nugget about DDG-1000 needs to be repeated. This was a warship the size of a Pocket Battleship that would carry the largest guns of any warship in our navy – gun with a large rate of fire and range – that was intentionally designed not to be able to use these guns to engage an seagoing enemy.
Let that soak in.
But as the Zumwalt moved from shipyard to sea and to the fleet, the Navy has notably downplayed that attribute, and while the technical achievement of the cutting-edge DDG 1000 has been widely trumpeted this year, its ability to directly support Marines ashore has not.

There was no requirement for the AGS to strike seagoing targets, and the system does not have the programming to do so. But the big guns could be adapted to target ships if necessary, the Navy official said.

"We would have to do the software modifications to make that work."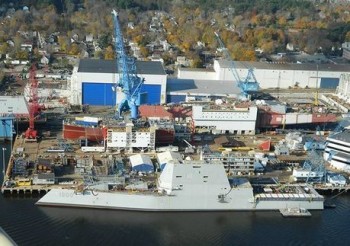 Though a well worn phrase, we really can learn more from our failures than our successes. That only works if you are willing to accept your failures, identify what led to them, and strive to both understand not only the failure itself, but the steps that led you there.
By almost any measure, SC-21/DD-21/DD-X/DDG-1000 has been a failure. One of the best things we did was to halt the program at three ships. The better route might have been to just cancel it altogether, but I think good people can disagree on if there is value in keeping what we have as a technology demonstrator that will deploy now and then so we can harvest the good ideas for future programs. An expensive lesson, but a turnip that does have some blood.
The rump-DDG-1000 class is also a perfect icon of the Age of Transformationalism. As with all the programs of that era, we will continue throwing seabags full of money at the problem to try make the best it.
On the surface side of the house, there are the three Hulls of Transformationalism, LCS; LPD-17, and our bespotted DDG-1000. As was foretold, with enough money the Tiffany LPD-17 class would be made functional. That gilded line that leads to acceptable adequacy has yet to be made with LCS/FF, but as of now we are fully vested in making the best of that too – and eventually we will. All will be content as long as no one looks at the opportunity cost and what might have been done if we did not fully embrace the Cataclysm of the Age of Transformationalism.
In the Age of Transformationalism we turned "Build a Little, Test a Little, Learn a Lot" on its head in to "Build a Lot, Test Nothing, Pray a Lot." That was the largest sin; we believed that we were so smart and our force of will so strong, that we could ignore decades of shipbuilding and program development lessons.
Technology risk? That was for people with negative energy. We piled layers of unproven – or even unbuilt – weapons, manning concepts, personnel policy, engineering plants, sensors with cross-dependencies, on top of each other. Playing long odds that there wouldn't be cascading technology failures and tempting the programmatic gods, we just assumed that those in the PCS cycles that followed would find the money and "make it work."
Budget risk? We assumed that, unlike all other programs, that these would stay on budget – and if they didn't – that Congress would just find more money. Regardless, we assumed that the money unicorn would prance on by, and from the skiddles, a 300+ fleet would emerge. Of course, none of that happened – but it was predicted over a decade ago, but to deaf ears.
Manning? People are expensive, so we will find people who will tell us that they know how habitability and damage control can be made anew – that one person can do 36 hrs of work in 18 hrs. How? Because we told them we wanted it, and the PPT said so.
We decided that desire and personality would trump experience and engineering. Those who brought up problems were reassigned until the table was full of people who would make the approved vision flesh. Of course it would all work, no one told decision makers it wouldn't.
Most know this story, but it bears repeating as there is still an afterglow in the decay of what is left of the Age of Transformationalism. Part of that is that we suffer from a cadre that does not understand the basics of economics. One point; we still do not understand the economic concept of sunk cost.
If we are, and we are, in a period of tighter budgets with growing demands of a finite slice of the pie – then we have to find inefficiencies and cull them without sentiment and mercy. When you find yourself in a cash squeeze, you don't worry about what you spent in the past – there isn't anything you can do about that – you have to focus on what you are spending now and in the future.
What about the GRAF SPEE sized DDG-1000? If the ship class itself has degenerated in to little more than a technology demonstrator that will be used a little in the fleet on occasion – why do we need three?
Here is one side of the argument;
Under intense budget pressure, a Pentagon cost-cutting team is pushing the Navy to cancel its third and last Zumwalt-class destroyer, the Lyndon Johnson (DDG-1002).
…
The DDG-1000 Zumwalts are expensive; three ships will cost almost $13 billion. About $9 billion of that was spent on research and development alone.
…
the Defense Department's independent Cost Assessment & Program Evaluation office (CAPE) is considering cutting the third ship — which is in large part already built and paid for.
…
Counting the current fiscal year (which ends nine days from now), Congress will have appropriated $11.8 billion for the DDG-1000 program, out of a projected total of $12.8 billion. So the maximum possible amount left to save is $979 million, less than 8 percent of the total. (It might be more if the Pentagon somehow recouped funds spent in prior years, which is theoretically possible but awfully unlikely).

But that figure assumes you somehow manage to cancel the program immediately as of October 1st and you don't spend another penny.
…
In brief, you're forgoing a $3.5 billion ship — as third in the class, Johnson costs less than the first two — to save at most $1 billion and more likely less than half a billion (possibly zero). The marginal cost of just finishing the damn thing already is not high, in Pentagon terms.

There are of course years of operations and maintenance costs to consider, …
Let's not go with the high number – but the low number. $500 million. Is that pocket change? Forget what has already been thrown down the hole – do we need that third ship that is full of immature technology, questionable "stealth," and a highly debatable "optimal" manning concept that is already demonstrating its inadequacy on LCS?
What is the other side of the argument?
"If they wanted to kill the third ship , they're about two years late," said Loren Thompson, a defense industry analyst and consultant — and member of BD's Board of Contributors — who's criticized the Navy's handling of the Zumwalt program. "You will lose an entire warship, but you will only reclaim a fraction of the cost. So, given the likely political fallout, why would you do it?"
…
But that figure assumes you somehow manage to cancel the program immediately as of October 1st and you don't spend another penny. That is legally and administratively impossible. The more likely scenario is that the requested figure for 2016 is appropriated too — there's strong support for that in Congress — and the cut only takes effect with the fiscal 2017 budget, which is the one the Pentagon is currently working on. That means another $520 million gets spent and potential savings drop to a maximum of $458 million. And you can't save all of that, either.

First, some of that half-billion is to complete the first two ships. They are not being canceled. Second, you would need to pay program shutdown costs and contract termination penalties.
…
The Maine delegation has led the charge so far, since the Zumwalts are being built in their homestate's Bath Iron Works (a General Dynamics subsidiary). But walking away from a mostly bought-and-built destroyer would also infuriate powerful chairmen like Senate Armed Services Committee's John McCain, a retired Navy officer himself, and the House seapower subcommittee's Randy Forbes.

"It's unlikely that the third Zumwalt will be canceled because the amount of money saved isn't commensurate with the political capital expended," Thompson told me.
Read it all and let it soak in.
Why cancel it? Well, it is the right thing to do – but we are slaves to a system of our own design that "won't" let us. We need the money, but not enough will to do what needs to be done. As a result we will force on the Navy an exquisite 3-ship fleet experiment.
Though I may hate to admit it, Thompson is partially right here – but only on the politics. It is a bit too late to act in a way to save a half-a-billion dollars and more in the out years. There isn't the political support, and no one, it seems, is willing to make the logical step to do the right thing.
The article mentions Sen. McCain (R-AZ), but we don't know exactly what his position would be. If I were advising him, I would have him keep this USS LBJ expenditure in his back pocket to use next time someone is in front of them looking for a few hundred million dollars for their pet project.
"Oh, that's cute. You could have used the money you insist we spend for the DDG-1002 that seems welded to the pier. I think we need that for the SSBN replacement. Have a nice day."

We are joined by RADM Rowden: OPNAV N96 (CNO's Director for Surface Warfare), future Commander, Surface Forces, and author of the CIMSEC Article Surface Warfare: Taking the Offensive. We discuss his concepts for Sea Control, the development of LCS, perspectives on DDG 1000, and his plans as incoming Commander, Surface Forces.
DOWNLOAD: RADM Rowden – Sea Control, LCS, DDG 1000
Remember, subscribe on iTunes or Stitcher Stream Radio. Leave a comment and rate five stars!