Archive for the 'DEF' Tag
This post was originally published on Defense Entrepreneurs Forum's Whiteboard blog.
On Sunday, 26 October, the Defense Entrepreneurs Forum hosted an innovation competition sponsored by the United States Naval Institute. $5,000 in prizes were awarded after the eight contestants made their pitches. We will feature the one-pagers from the competition over the next few days.
Contestant: Graham Plaster, The Intelligence Community LLC
Problems
Individuals
o Rising unemployment among veterans
o Long wait times for government positions
o Salary cuts
o Shifting regional focus from Middle East to small wars, Africa, Asia, Russia, etc.
o An educational pipeline mismatched to the government job market
o Need for a wider on ramp and off ramp between public and private career options
Business
o Contracts are being steered to small businesses who lack the depth of expertise and the infrastructure to meet government requirements
o Companies are trying to scale up to meet government demands while slimming down on brick and mortar costs (through 1099 independent contractor hires)
Government
o Failing to meet quotas for hiring small businesses
o Eager to harness a fee-for-service model to manage costs and eliminate overhead
o Need cross pollination of public and private work experience for the future of publicprivate partnerships to keep pace with innovation
Solutions
o The tool will be similar to other freelance marketplaces currently available such as oDesk- Elance, Guru, Freelancer, Fiverr, and others. However, this marketplace will be tailored to the US national security sector which has many special legal and professional requirements.
o The marketplace will help both small and large businesses scale to manage indirect labor costs, meet contractual government requirements, and also, broadly, give the government the ability to tap a global market of talent for emergent needs. The government is always looking for a "bench" of talent without having to carry the huge overhead of unused experts.
o This also gives unemployed veterans including wounded warriors a way to serve as consultant from home, as part time support for important work.
Why Us
The Intelligence Community LLC ("TIC") is a US veteran owned business that moderates a worldwide network of over 47,000 national security professionals growing at over 1200 new members every month. TIC is also a member of the Defense Intelligence Agency's Innovation Gateway and will be collaborating with companies to discover ways to assist DIA with crowdsourced analysis. There has already been strong interest from government agencies on leveraging this emerging community of expertise.
This post was originally published on Defense Entrepreneurs Forum's Whiteboard blog.
On Sunday, 26 October, the Defense Entrepreneurs Forum hosted an innovation competition sponsored by the United States Naval Institute. $5,000 in prizes were awarded after the eight contestants made their pitches. We will feature the one-pagers from the competition over the next few days.
Contestant: Ben Bines, HBS Student, Former F/A-18 pilot
Thesis: Creating a catalyst for military members that drives them to engage in proper wealth management strategies early in their careers will result in increased career satisfaction and hence higher retention and recruiting rates.
Our military has a problem; members are not comfortable creating and executing personalized investment plans that can help them create long term wealth.
Often our members rely on too little information to make potentially life-altering decisions. If the government can find a way to unlock this wasted potential, the results could be significant for its members. The question we need to ask ourselves is why isn't this happening without intervention?
We submit that the answer can be traced to three facts:
The financial services industry is incentivized to be confusing, resulting in less sophisticated users not investing, over/underinvesting and/or investing without a holistic plan.
The financial industry's professional advice fee structures (typically 1% of assets being managed) are too costly for most peoples' financial needs and are set up to cut out lower net worth families, thereby exacerbating point 1.
The government has only attempted to engage this issue from the retirement account (TSP) perspective, not the holistic strategy perspective.
The idea that a person can create value through very long term investing in a broad market based portfolio that reflect an individual's personal situation and risk tolerance is well known, however, this fact does not seem to equate to this strategy being well implemented. Why?
We believe the disconnect results from two factors.
People tend to give up because of the perceived execution complexities.
People take a segmented view on their portfolios and accept the simplicity of cookie cutter investment strategies (target date retirement funds) that result in under or over exposed positions. The misunderstood exposure results from these strategies' attempts to control costs by relying on bucketing dissimilar individuals based solely on retirement time horizon.
The fact is the investment world is simply too complex for the average person to feel confident that the decisions they are making are based on a complete understanding of the financial tools they are employing. The financial costs of misallocating short, medium and long term funds based on miscalculated or misunderstood short, medium, and long term cash flow requirements results in forced selling and emotional investing, which destroy enormous amounts of wealth accumulation potential.
So how can we help create the cost effective catalyst that gets people over the execution hump and provides individualized portfolio strategies without asking our members to become trained financial professionals?
We believe the answer lies in merging education and execution services via virtual meeting technology with trusted, proven financial institutional partnerships. We will create a process which will allow us to walk individuals through the setup and initial execution stages of their investment plan using a fiduciary relationship standard that gets them going down the correct wealth management path. We'll couple that with robust financial planning software that allows them to easily track goals, sets reminder, and provides easily understood instructions when it's time to make adjustments. By getting our people confidently through the uncomfortable stages where many give up, we'll add enormous potential value to our members' and the military.
This post was originally published on Defense Entrepreneurs Forum's Whiteboard blog.
On Sunday, 26 October, the Defense Entrepreneurs Forum hosted an innovation competition sponsored by the United States Naval Institute. $5,000 in prizes were awarded after the eight contestants made their pitches. We will feature the one-pagers from the competition over the next 8 days.
Contestant: James la Porta, Assistant Editor, Blue Force Tracker
The problem: "America doesn't know its military and the United States military doesn't know America"
-Adm. Mike Mullen, former Chairman of the Joint Chiefs of Staff
The American people have a fundamental misunderstanding of the military, and an unrealistic perception of the threats facing our nation because the voices of veterans, and others with real-world "boots on the ground" experience are underrepresented in the media. The mission of Blue Force Tracker is to fix that.
The solution: In the military there is a tool called "blue force tracking," which depicts with icons on a satellite image of the battlespace where every U.S. military unit is positioned. We want to give the American people something similar. Our intent is to help close the growing civilian-military divide by giving our audience an unbiased, unfiltered and realistic account of what the military does and the world in which it operates.
The mission of Blue Force Tracker is to report on and analyze issues related to U.S. national security, foreign affairs and veterans issues from a team of journalists with backgrounds in the military, intelligence services or diplomatic corps, as well as those who have unique first-hand knowledge of foreign regions where U.S. national interests are at stake. We aim to reach our audience with an innovative smartphone app and website, which matches the news consumption patterns of our target demographic—veterans of the wars in Iraq and Afghanistan and active duty military personnel.
Most of this target demographic is part of the millennial generation, who prefer accessing their news through mobile devices and web-based platforms. Media consumption is moving increasingly toward mobile platforms, and we want to capitalize on this trend. But we also aim to counter the parallel trend of decayed journalism standards.
Just because readers access their news on mobile devices doesn't mean that there isn't still a need, and an audience, for quality journalism. So, while we have put a lot of work into designing an innovative, userfriendly portal through which our audience can access our product, we also realize that quality content is the No. 1 way to grow an invested and loyal audience. To do that we leverage the unique, real-world experiences of our writers to educate Americans about the threats facing our country and provide a realistic account of the challenges facing the military—both abroad and in the transition back to civilian life.
Additionally, as our armed forces transition out of more than a decade of sustained combat operations, we need to hear from veterans and their families about their needs. The transition to civilian life is often a difficult one, and we need to hear that story from the people who are living it. Finally, Blue Force Tracker is a push back against the decline in the standards of worldwide journalism. We believe in well-written, profound, original content that educates the reader and has a societal benefit. We believe that quality journalism is just as important to the survival of a democracy as the armies guarding its borders.
But all these lofty goals cannot be accomplished unless we place our stories, and the unique opinions and analysis of our writers into the palms of the people who matter. So our overall challenge is developing content that breaks the mold while constantly evolving and experimenting with ways to deliver that content in a way that best matches the lifestyles and habits of our audience.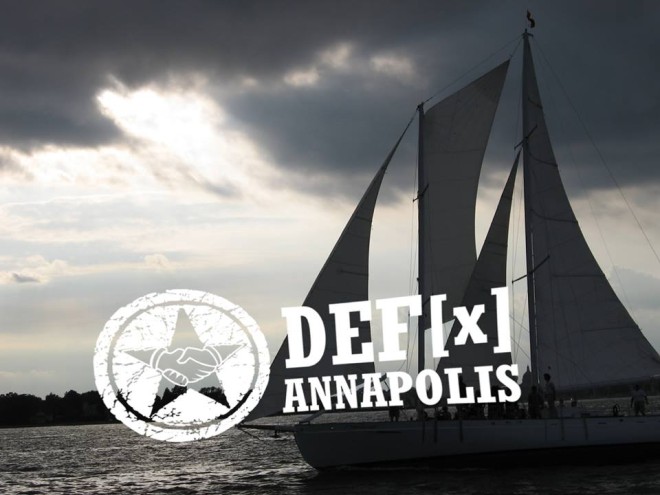 The Defense Entrepreneurs Forum held their first locally organized event this past Saturday, called DEF[x] Annapolis (think TEDx vs TED). Organized by midshipmen at the Naval Academy, the goal was to bring together a group of people from around the region interested in furthering the discussion of innovation and disruption within the military.
This was the second DEF event, the inaugural conference having been held this past October in Chicago. Their format tries to emulate some of the lessons of TED, such as restricting speakers to a 20-30 minute window (including Q&A time) and bringing in people with a variety of experiences and perspectives. I was not at DEF in Chicago, so this was my first exposure to the DEF group.
There were a few major themes running throughout the speakers' talks: how private industry can help the military innovate, that the military is resistant to change and innovation, and how military service can prepare you (or not) to be an entrepreneur. Most of the speakers were currently serving, or had at some point served, in the military and were in various stages of starting their own venture. They shared great lessons from their experiences both as military officers and as entrepreneurs. I'm not going to go into detail about what they said, because that's not the focus of this post, and because (once the videos are online I'll update this post with a link) you can hear them in their own words.
What struck me as largely absent from the conversation, and I'm not the only one who noticed this, was discussion about how to foster innovation from within the military – not just from the outside in via startups. Being a software developer and someone who appreciates the value of an outside disruptor to force change in an industry, I wasn't terribly bothered by this absence. I noticed a lack of this type of discussion simply due to the nature of the event. BJ Armstrong rightfully raised the question though, both on Twitter and out loud during a session.
How about solving a problem inside the lifelines? Why do we all have to do "startups" on the outside? #DEF2014

— B Armstrong (@WWATMD) March 1, 2014
It's a valid concern, and it got me thinking: why is there such a conspicuous lack of discussion, and (from where I'm sitting) a general lack of interest, about spurring innovation from the inside? Does it have to do with the type of person to whom this kind of thinking and iterating appeals? Is it a symptom of a culture of "shut up, do as you're told, and don't make waves" that persists inside the military? Perhaps it's a combination of those factors?
I'm a lowly BM3, and a reservist at that, so my exposure to this type of thinking is far more limited than the members who are pushing this discussion further into the sunlight. My sense is that while the problem is probably a combination of the above factors, the scales tip further in the direction of a change-resistant culture. Perhaps more specifically, it's the perception of the military at large being innovation-averse. The DEF[x] speakers are a perfect example: they saw something they felt was fundamentally wrong within the military, and they set out to correct it – by setting up their own company, not by working inside the system to push for change. Some of them may have been driven primarily by business opportunity, which is perfectly acceptable, but the sense I get is that most of them were genuinely interested in solving a problem for the betterment of the service.
My takeaway from DEF[x] was not that the answer to fixing the military's problems lies in startups. What I took was that the biggest problem for innovation lies not with a lack of smart people with good ideas, but a lack of opportunity for those people to execute on those ideas. Innovation is alive and well in the minds of those who see a better way forward, but we need to encourage them to voice those thoughts and experiment. CRIC is a great idea, but it needs to go from one small group to a service-wide program that reaches down to the smallest unit level. Give the smart, creative thinkers the tools they need to improve the service they love, starting with a willingness to listen.
Cross-posted by permission from CIMSEC's NextWar Blog
You cannot force innovation. Especially in the Navy.
This truism is continually repeated, from the ATHENA Project to Navy Warfare Development Command (the Navy's "Center" for Innovation). Yet, pushing innovation has become the cause de jour – one that has inspired a clumsy "campaign" which is heavy on rhetoric but light on substance. I have had a front row seat to this movement, from the beginning until now, where its one product – the CNO's Rapid Innovation Cell, or CRIC – is struggling to identify itself, find relevancy, and justify funding. "What is the Navy missing?"
The Heart of the Matter
What is innovation?
Our friends at Merriam-Webster tell us that to innovate is, "to do something in a new way: to have new ideas about how something can be done."
"Precisely," I scream internally amongst my fellow Starbucks typists. Innovation is not just sitting around thinking stuff up – it is identifying a problem, often taking a Departure from Specifications, and coming up with a new solution, therefore making your respective process more efficient. This stands apart from, as some try to compare, the process that brought us our much beloved password keeper: the Post-it Note. While I wish to claim dictionary-supported victory, Webster continues: "To introduce as, or as if, new." And here is the rub. What is the Navy trying to push us to do? Solve problems or think stuff up? In reality, it is both. We need to clearly distinguish between innovation, which is the act of finding a new way to solve an identified problem, and creativity, which boils down to investing in our future. "Semantics," you say. I disagree, and I believe that this line in the sand will help organize our service's efforts more efficiently. When it comes to my definition of innovation, the Navy is spinning its wheels. Innovation will boom when Big Navy opens its ears and shuts its mouth: it must listen, implement, and highlight successful innovations.
"Haters Gonna' Hate"
Why tear down people trying to improve the Navy? Why do you dislike the Innovation Campaign?
These are questions I hear asked by people enamored by flashy websites and new catch-phrases like "disruptive thinkers" or "crowd-sourcing." I do not hate innovation – I believe it has a valuable place in our Navy. I do not hate creativity – I think it has a valuable role in our future. I do dislike the Navy's Innovation Campaign, though, because it misses the point of innovation, it blurs the line between innovation and creativity, and because the Navy is taking the wrong approach.
We do not require a bottom-up invigoration. Innovation happens where it matters most: at the source of "the problem." It does not happen because of symposia or blog posts. It happens because our people are both creative, and selfish.
While some see the selfish streak as a bad thing, it is present in every person and can be harnessed. What does it mean in this context? It means that our people hate having their time wasted. They are always looking for a better answer to the problem, whether it is using red headlamps on the navigation table instead of those clunky Vietnam-era L-flashlights, or using Excel instead of R-ADM for watch bills. They are being selfish because they are looking to make their lives easier – they are being innovative because they are finding a new solution to an existing problem. Campaigns do not inspire these improvements and good deck-plate leadership can corral this so-called selfishness into constructive innovation, and steer clear of gun-decking.
"They are not going to listen anyways, so why should I do anything differently?" This brings us full circle to the Navy's current push for innovation. The Navy wants to capture fresh ideas and the operational experience of our young leaders. To achieve this, Big Navy needs only to stop talking. No websites or outreach groups are required. If they listen, they will hear their Fleet being innovative.
This entire campaign has been a bottom-up effort, trying to rile up the young folks and get them to be more innovative. I think this is the wrong approach. The thing that squashes the natural innovation in the Fleet is an unreceptive organization. "R-ADM is the required software for watch bills. If you do not use R-ADM, you fail the inspection." More effective Excel-based watch bills go into hiding and "clunky," but approved, R-ADM watch bills are generated specifically for said assessment. Innovation is squashed. Other commands fail to learn the successful lessons of their waterfront counterparts because the solution was not "in accordance with."
Many instructions are written in blood, and while we should not forget that, we should recognize that there is a way to ensure combat superiority and safety, while still applying real-world common sense. Operators in the Fleet do not need to be patronized. They just need the Navy to listen, and whenever possible, defer to the operator over dusty publications. When a good idea makes sense, operators need the Navy to implement it and promulgate it to the rest of the Fleet through every available channel – from press releases to school-house curriculums. The innovation should be made official through integration into instructions and strategic communications – highlight it, not for fame or fortune, but rather, so that a Sailor does not find the problem he just solved, a year later at his next command.
Innovation is All-Around Us
Innovation is happening in the Fleet. Many of these every-day solutions become so incorporated into a unit's routine that they are hardly thought of as innovations – they are rarely publicized, and when they do spread, it is almost always via PCS-Pollination. These life-hacks allow us to operate more efficiently, but also ensure that we are often coloring slightly outside "the lines." How many of these mini-innovations have become standard issue, or have been deemed to be, "in accordance with?" Everyone knows that these gems are out there. Yet, they stay at the unit level – effective little outlaws, getting the job done, but waiting to sabotage the checklists of your next INSURV. What is the Navy missing?
Have you ever heard of the Combat iPad? Unless you are a regular reader of the Disruptive Thinkers blog or a Marine Corps Cobra pilot, you might have missed it. This is the greatest innovation success story in recent years. Imagine being confined in a tiny cockpit, racing around a mountainous combat zone, expected to differentiate between the guys in tan clothing from the guys in khaki clothing, holding numerous lives in your hands, and trying to find your way by sorting through ONE-THOUSAND pages of charts in your lap. As a proud former navigator, this sounded ridiculous to me. This was the reality, though, for Cobra crews in Afghanistan – the folks we expect precision close air support out of every time. A Marine Captain decided to change the game and proved that yes, there is an App for this. From the article,
"Of his own initiative and without official Marine Corps support, Captain Carlson provided his aging aircraft with a navigational system as advanced any available in the civilian world. This leap in capability cost less than $1000 per aircraft. Remarkably, an entire Marine Corps Cobra squadron can now be outfitted with iPads for less than the cost of fuel for one day of combat operations in Afghanistan."
Here is battlefield innovation – no campaign required. This meets most of the wickets laid out earlier: the Marine Corps listened and they implemented, but how well did they highlight this successful innovation? The target audience is the entire Corps; they need to know that their leadership will listen and take action when sensible solutions rise to the surface.
Another mark in the win-column is the improved watch bill and daily routine spearheaded by the Captain and crew of SAN JACINTO. One of the most well-known parts of being a surface Sailor is being constantly exhausted. Exhausted to your core. Scientifically drunk with exhaustion. I myself have two friendly sets of binos KIA on my record from falling (asleep) from a standing position. Whereas I was once expected to launch helicopters "drunk" in the middle of the night, as I return to sea, I will now be expected to potentially launch missiles "drunk" in the middle of the night. The folks aboard SAN JAC worked together to find a solution to this identified problem and came up with a 3-on, 9-off routine. This approach meets the initial definition of innovation. It was a new way of doing business, both safer and more effectively. Community leadership liked it, and promulgated it – not as a mandate, but rather, as an innovative solution that could be implemented (with the underlying tone being, "We don't want drunk watch standers"), and highlighted it through press releases, message traffic, and direct TYCOM action. Bravo. Innovation.
So innovation is out there. Big Navy just has to listen.
Where Do We Go from Here?
We need a receptive culture, not a fancy campaign. We do not need hollow initiatives from on high, but rather, we need the Navy to let us do our jobs. When we come up with better ways to do our jobs, we need the Navy to have our back. We do not have money to waste. We must take an approach to our expenses that defers to operational forces – ships, subs, aircraft, and their associated operators – with a balanced approach to "investing in creativity." It would be irresponsible to ignore the future and the ideas of our more creative junior people, but it is also irresponsible to spend vast sums on them to sit around and think stuff up. This is where I think we need to differentiate between our approach to innovation, and our approach to fostering creativity.
Innovation will continue to happen, no matter what I or anyone else thinks or does about it. People are always going to find an easier way. So what do we need from the Navy? We need a culture that expects leaders to consider the insight of the doers. This improved culture does not need to be whiz-bang or flashy. As efforts such as ColabLab and MMOWGLI and RAD have sputtered over the past year, Sailors continued to innovate in the Fleet. Our Marine pilot and ship Captain did not look to a website for "likes." They had a problem identified and they endeavored – they innovated – to fix it. Innovation – the act of solving problems with new ideas – should have minimal organizational involvement until the implementation stage. The culture, which will take time to establish, should provide a direct conduit from the operator to the command that makes the applicable decisions. No middle man or think tank, but rather decision makers – like the TYCOMs – clearly demonstrating that they want to hear the innovative solutions coming from the Fleet and that they will personally take action to implement those that make our Navy better.
Investing in creativity is more complicated. A rudimentary look at the budget shows us that, in general, new money is not budgeted, but rather, re-allocated. In other words, if our budget is (for simple argument) $1 billion, it does not become $1 billion + x to help us fund our creative thinkers. Rather, "x" is taken from Program Y to fund said creative thinkers. The question, from The Girl Next Door, becomes, "Is the Juice Worth the Squeeze?" Are the creative thinkers more important than Fleet Experimentation, or "pick your project/funding line?" What is our tolerance for failure? How can we capture the operational experience of our junior-leaders unseen for the past 40 years? The Navy should encourage and facilitate creativity. The CRIC was a good start. It commenced the tearing down of stovepipes amongst junior leaders and got free-radicals thinking of ideas that grey-beards would never come up with. As a way ahead, we need to clarify the group's mission and get them focused on creativity. The group, which is currently disaggregated, would evolve into a directorate made up of young, seasoned "egg heads" who would be incorporated into an existing command. With an infrastructure and existing budgets, as well as the requisite people to provide support and continuity with an assortment of know-how (all things they lack now), this organization – the Young Leaders Creativity Cell (Y-LCC) – will become the receptacle for new ideas still in need of development flowing in from around the Navy and an incubator for creativity in our service. Creativity – tomorrow's next "Post-It Note" – may help us win the next war. It takes time, though, and requires a tolerance for failure, which necessitates a separate approach from innovation.
In the end, I may be arguing over the semantics between the terms innovation and creativity. I want to see the Navy take a hands-off approach to innovation – letting it happen and then supporting and highlighting it. And instead of ill-defined movements, I would like to see young leaders brought into the fold of existing top-heavy organizations (ONR, NWDC, SSG, DARPA, WCOE's), enabling them to affect their creative – and possibly innovative – ideas from within. And most importantly, I would like to see creative and innovative minds continue to blossom outside of the Navy umbrella, where I think they will continue to make the greatest advances. As the co-founder of the Defense Entrepreneurs Forum, LT Ben Kohlmann pointed out to me,
"…Skunk Works only worked because it broke every rule in the book regarding traditional R&D, only accountable to the CEO of Lockheed. It could not have functioned within the standard (DOD) institutional structure."
If we want the next Skunk Works or Post-It note or iPhone, we must encourage the participation in such extra-curricular groups as the ATHENA Project, Disruptive Thinkers, CRIC(x), and the Defense Entrepreneurs Forum – exposing our most fertile minds to different perspectives and making these junior officers more effective leaders and innovators in the Fleet, where it matters most.