Archive for the 'DEF 2013' Tag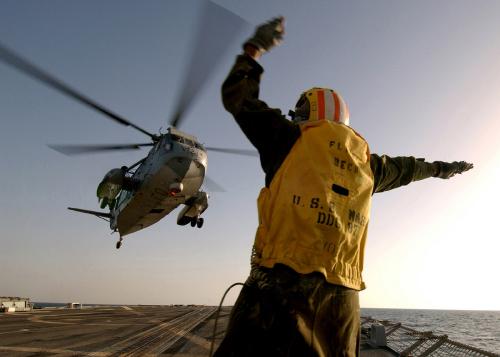 Over the Columbus Day weekend I had the great opportunity to participate in the first national Defense Entrepreneur's Forum conference. The event was hosted at The Booth School of Business at the University of Chicago and a number of other organizations, like USNI, sponsored events from breakfasts to happy hours. At its heart, however, the conference was independently organized by a group of mid-grade and junior officers to explore the nexus of innovation and entrepreneurship with military affairs and defense industry.
Off the top, the very existence of the event was something to behold. Over a hundred men and women from the junior ranks of the military, civilians from the defense world both inside and outside government, and innovation/silicon valley folks, got together for three days to talk about how to make the military better in the 21st century. They paid their own way. The government is shutdown. Even if it wasn't, sequestration meant there was no travel money. They filled out a leave chit and pulled out their personal credit cards. These individuals have such a belief in the idea that the military needs new ways of looking at things and doing things, and such an overwhelming desire to be part of that, that they all dropped hundreds of dollars and their long weekend to go to Chicago to meet with one another.
I do have a personal note about attendance that I think should be made: while many junior personnel had the guts to vote with their wallets and their time, only one General officer showed up, and a couple of Colonels. I'm not sure what any of that means, but it is worth noting because ALL ranks, rates, and grades were invited. In fact, there was some pretty significant outreach to the Flag and General Officer community by the organizers.
So, the Defense Entrepreneur's Forum 2013 set out in part to inspire, in part to educate, and in part to execute. The events were livecast with the support of Google, and there is a DEF Youtube Channel. The Tweetwall went up and participants were encouraged to tweet as the event went on to highlight ideas and lessons. You can read back through the tweets from the weekend at #DEF2013 if you are interested.
Over the next week or two I'm hoping that there will be a number of blog posts across the web about what we all experienced at DEF. LT Hipple has already reported back at USNI Blog and there are a few others (here, here, here) to get us started.
I just wanted to share one observation that I took away from the weekend. On Sunday, Sean Maday, a former USAF Captain who now works at Google pointed out in his Keynote that a few short years ago, when he was wearing baby blue with railroad tracks on his collar, a three or four-star wouldn't even acknowledge his existence, never mind listen to his ideas. Today, just because he put on a pair of jeans and a t-shirt instead of a uniform, they travel to Palo Alto to meet him, desperate to know what he thinks. This illustrates one of the great truths that was only hinted at in the excitement of DEF: Innovative junior officers don't have the power to execute their ideas.
One of the mantras of the weekend was that we must have results. Ben Kohlmann quoted fellow board member Micha Murphy that "execution is the new innovation." This is a valid observation, but only after the innovator is given the nod, a green deck if you will. Someone in a position of power and influence has to buy into the idea that a) there is a problem and b) this is a good solution. In the world of Silicon Valley they don't have Flag and General Officers who are part of a massive, centuries old bureaucracy. However, they do have the venture capitalists and money men, and if you can't get a money man to buy into your grand IT innovation or start-up it's going to be pretty tough to get anywhere.
It may be that the best way to look at this is to think about military strategy, maybe think a little bit about Sun Tzu and stir in some Liddell Hart with a touch of John Boyd, and look for an indirect approach. In the closing hours of the conference Colonel Michael-Bob Starr (USAF, one of the few senior officers at DEF) tweeted:
Implementation is not the goal. Goal is to INFLUENCE the implementers. #DEF2013

— Michael Bob Starr (@mbobstarr) October 14, 2013
So how do you influence the decision makers? While it was not formally talked about, it did come up again and again with comments about communicating your idea. As Howard Lieberman said on Sunday in a breakout: "Publish your idea and get credit for it."
So, here's my lesson observed from DEF 2013: It isn't good enough to have a great idea or to figure out how you would implement it. Neither of those things matter unless you figure out how to influence the influencer, how to get your idea in front of someone who can make a decision and get the green-light. We heard repeatedly this weekend that one of the best ways to get your idea in front of someone is to publish it. The hyperlink, the pdf, or the hard copy of the magazine are a lot more likely to find their way in front of the person with that power than you are just wandering aimlessly around your base with a great innovation in your head.
I think we've heard this before: Dare to read, think, write…publish.
The incredible power of innovation and entrepreneurship often produces an unfortunate exhaust of innovocabulations. Ideate is one of those words, and made quite a show of force at DEF 2013, hosted graciously at the Chicago Booth School of Business. However, as irritating as a not-words may be, ideate serves DEF2013 core spirit as a fitting metaphor. Ideate is merely the word "idea" verbed. Rather than concentrating as many do on creativity and the idea-creation process, DEF2013's central thrust was the array of actions necessary to turn ideas into realities.
To foster that concentration on acting on ideas, the conference content was split between presentations and break-out problem-solving sessions.
Pleasant Surprise- Presentation Twitter-Wall:
Although the break-out sessions would be the conventional show-case of attendee collaboration, the integration of the twitter-wall to the presentations was a great way to get the audience engaged. While following the flow of "#DEF2013" commentary on the boards, members of DEF could note particular phrases or points of the speaker, argue amongst themselves, or perhaps just be snarky cough #hipstermahan /cough.
The twitter conversation during presentations was also great track-two way of "meeting" forum attendees as you retweeted poignant observations on presentations, debated points of contention, or collaborated in solutions to problems brought up by speakers and form members alike. In the break sessions, I "met" forum members, though often much of the ice was already broken by conversations we'd already had I've long incredibly skeptical of twitter, but I found its use in this context a rather redeeming and collaborative experience!
Oh… and it was nice to get a tweet from Harris Teeter about the Oxford Comma too. As you can tell, some of us may have gotten off topic occasionally. But hey, why buy pizza not worth defending? #pizzafort
Presentations- A Mile Wide and a Mile Deep:
Part of me will never graduate college and will always enjoy a rich lecture. While the twitter was fun, it's foundation was the excellent presentations being given by our guest speakers. You can find those on YouTube if you missed the live feed. Some of the video is uncut and you have to jump around to find the speeches, but many are well worth it.
Rather than turn this into a book report, I'll delve into a by-no-means-comprehensive collection of points I thought were worth taking away.
You Don't Have To Be The Innovator/Doing Your Homework: BJ Armstrong's The "Gun Doctor" presentation is an instant classic, and has appeared in various forms at several venues. It only gets better with time. That said, a key piece of information from that presentation is that ADM Sims started with an innovation from someone else that he considered worth his effort and attention. The conference closed with a presentation by Phil Nevil of Power2Switch taking a similar angle, how his own ideas failed but he succeeded when he championed the cause of another. In both cases, an important part of championing an idea was doing the research: becoming familiar with both your market and your product. If ADM Sims hadn't done his research and tests on Percy Scott's continuous-aim firing, no one would have taken him seriously. Likewise, if people in private industry just "ideate" without doing tests, research, prototyping, and probing their market, they're not "innovating", you're just talking.
Fighting a Loyal Insurgency Inside the System: Stealth, focus, and aggression are not always necessary when innovating, but can be good tools when combatting entrenched interests. Peter Munson's speech was about how leaf-eaters learn to defend the system for at the detriment of adaption and effectiveness and meat-eaters charge forward at opportunity. In an organization like the DoD, there is a reality to the necessity and purpose for the system and its leaf-eater accolytes. Innovators must carefully pick and choose their battles. This idea was summed up by the delightful peregrine falcon, Dora. Play in the system (like dora moves stealthily through the clouds) and aggressively attack when opportunity arises (poor, stupid duck). If Dora flew around squawking all day and making a mess without that focused action, too many leaf-eaters would be alerted and defend their steaming piles of process.
Building an Army: Human capital is a critical part of innovation, if not the tipping-factor in-and-of itself. Howard R. Lieberman's presentation hit the hammer hard on the point of building a body of stakeholders and champions to help push your ideas. Don't start with the question of what the value of your product is, but rather push what value it brings to people. Finding the meaning of your idea for other people is what builds stakeholders, who may be champions for your ideas or loyal foot-soldiers doing the testing and development who will sacrifice their time and resources to see your idea through to the end. Some of those stakeholders may provide top-cover. Many of his stories involved his company president giving him cover for his "special projects" that the board didn't always agree with. The ground-forces are great for "taking the hill" of an idea, but close-air-support flying high in the chain of command can really change the equation. No man is an island, and no innovation is a one-man mission.
Execution, Execution, Execution: Every presentation was about how action, not creativity, is the germ of real innovation. That said, the second day of private-sector entrepreneur presentations was a wall-to-wall show of how the ability to find market-demand while developing the necessary supply is the center of the innovation universe. The difference between a real-life innovator and the chatting classes is action.
My one real criticism of the conference does lie in this category. I felt like the innovations we discussed were mostly historical or from private industry. We didn't have a body of speakers who, as members of the military, wrestled with and executed significant innovations. That may be an indictment of our system and whether those people have been able to be truly successful or just that it is easier to success in the business world. Whatever the case may be, there will be plenty of years of DEF to find more live-streaming innovation successes within the life-lines. And yes, before you say it, I know DEF itself is a successful inside-the-lifelines success… but you know what I mean!
Don't Get Killed in a Good Battle: Dan Moore's presentation on breakthrough leadership through the lense of Boyd was particularly great because I found myself in a room full of Boydians debating the legacy of Boyd, army tactics, thrust lines, decision-analysis, etc… but while all of this was fascinating, the newest detail to a complete Boyd amateur like me was the disaster of his personal life. "To be or to do," shouldn't happen to the detriment of "being" things like a good father, husband, or just healthy individual. If you're a hard charger and an innovator, the military needs you healthy, not burnt out fighting every battle to the hilt. You're needed in far more than the one fight you might be in now. Dan Moore's final point, and one to always keep close is, "don't get killed in a good battle."
USNI Is Awesome: Sam LaGrone's presentation was about some self-evident truths.
There is far more material, and none of the descriptions are by any means comprehensive. While these are good takeaways, the speeches are definitely worth watching on the YouTube channel.
Breakout Groups- Thoughtifying:
What would an Entrepreneurs conference be without some actual innovating? It certainly wouldn't be as fun. The afternoons at DEF were dedicated to breakout sessions intended to building actionable solutions to real-world problems.
I found my time in the PME "ideation" group to be an education in many already-existing processes of other branches that I wished the navy had, from selection-means-attendance to the USCG's libertine "selection-ignores-rank". I hadn't realized how different the different services PME systems were, and I found it a bit depressing how some may put PME in the side-car when others described the rigor and seriousness of their selection processes.
Nathan Finney led our group, and the vast array of "free the beast" ideas to put education in the driving seat were, very pragmatically, whittled down to a single free and actionable item: use of twitter for class comprehension analysis by teachers. A great example of how the system would work was Michael-Bob Starr's discovery that the reason he had an odd feeling he'd lost his audience for about 5 seconds was that I had tweeted "never trust a man with two first names," during his speech. Of course, in the PME version, it wouldn't be on all the screens and would be more a way for teachers to get input on comprehension, class observations, and the like.
Other great innovations were produced, from the Emotional Vitality Assitant (EVA) to create a hand-held link directly to mental health professionals to the DEF X-prize, rewarding military members for great ideas or great execution of ideas (we hadn't decided yet). The dream of pushing half the acquisition system into the sea and replacing it with a 100 page paper was quite the utopian ideal, but no knives yet exist that are long enough to penetrate to the heart of the procurement beast.
The People are the Product

The lectures and break-out sessions were great, but the real reward of DEF2013 was meeting the people I'd only known through writing and reputation (or the ones I didn't know, for that matter). In his closing words for the conference, a closing speaker said it best, "people don't buy what you do, but why you do it." No one came to DEF2013 to see a particular innovation or idea, but to spend a weekend chatting about their passions with people of the same level of intensity. Every branch was represented with civilians and veterans alike, but we were all there for the same "why." They came because they believed in that process of critical thinking and seeking the greater good. We didn't seek innovation for innovation sake, but we sought mission victories, safety and effectiveness for our fellow warfighters, good stewardship of the resources in which we were entrusted, and the importance of good ideas having their day in the arena. DEF2013 didn't create an innovation, it bolstered the community that is going to build them together.