Archive for the 'Desert Storm' Tag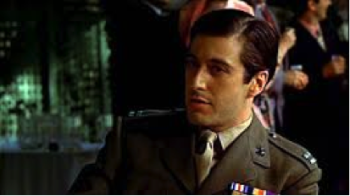 Because of Don Vito's health problems, his son Michael (as a fictional Marine Captain, he was the obvious choice as successor) assumed control of the Corleone family business. His rapid ascent disrupted the distribution of power within the family. After Don Vito's passing, Michael used an early version of distributed operations against the leadership of near-peer competitors. Michael's rise within the family and subsequent violent struggle to bolster the Corleone's position within the organized crime syndicate illustrate the inherent dangers of power shifts.
The reality is – shifts happen. Power shifts happen in clans, in industry and among states. State power shifts occur at various levels – internal, regional and global and many believe power shifts are frequently the cause of international conflicts. The graphic below illustrates various power shifts in modern history.
Measuring National Power
As many have observed, the American military has gone to war over the past decade but the United States as a nation has not. When analyzing great power wars it is important to consider the total power of the states involved and not to simply count the number of ships, air wings or divisions. When analyzing military power in this context both actual and latent capabilities (those that a state could produce in the future) must be taken into account. Measuring national power is difficult and extremely subjective. One method, albeit not perfect, is to use the National Material Capabilities data set.
Power is considered by many to be a central concept in explaining conflict and six indicators are widely used to quantify power – military expenditure, military personnel, energy consumption, iron and steel production, urban population, and total population.
The Composite Index of National Capability (CINC) index is based on these six variables. The CINC is useful for historical analysis and often helps explain the outcome and duration of conventional conflicts between states. The figure below displays two conflicts where the opposing forces were at different levels of power; the first, near power parity and the second, an overwhelming power difference. The former lasted nearly eight years and ended in stalemate while the latter lasted only a few days with a decisive victory for coalition forces.

The CINC can also be used to analyze the future environment. Using the CINC to examine the state powers of China and the US (including Pacific partners) should paint a worrisome picture for US military planners.

Some consider the CINC model to be obsolete in the information age and only appropriate for historical analysis. Measuring national power accurately in the post-industrial age is still a work in progress. An alternate power assessment method comes from the intelligence community. The NIC historically used a four component model to forecast power that included GDP, population size, military spending, and technology. However in the Global Trends 2030, an updated model included other elements such as health, education, and governance.

Regardless of the method or data one uses, it is clear that a global power shift is underway. The primary question that remains is will this shift result in peaceful integration or in a great power war?
Revisiting Power Theories
Within the IR field there are two prominent schools of thought regarding power shifts – power transition theory and power cycle theory.
Power Transition: A.F.K. Organski developed this theory in 1958. He asserted that the international system can be categorized into four levels of state power: dominant power, great powers, middle powers and small powers. Unlike the balance of power theorists, Organski felt the system was in a constant state of flux with the dominant power attempting to maintain the status quo. Rising contenders were either satisfied or dissatisfied with their position in the system. The outcome of the contender's rise could either be peaceful integration or war depending on their level of satisfaction during ascendance. Throughout history, the closer the contender and dominant power were to power parity, the longer and more severe were conflicts.
Power Cycle: Originated by Charles Doran in 1963, the power cycle theory asserts the power of a state is cyclic and it rises and falls based on the state's relative position within the international system. Along the cycle's path are several critical inflection points that create shifts in the international system and often result in major wars.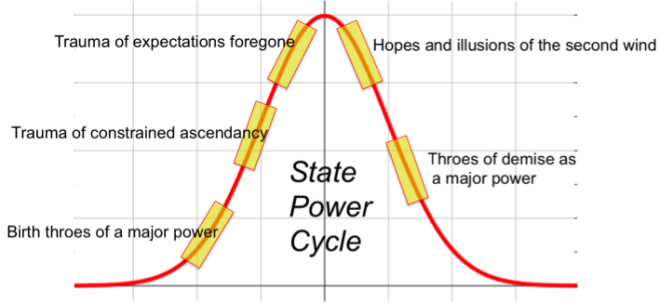 Both of theories remain relevant today and portend a dangerous threat to the stability of global order.
The Rise of China
Both schools express concern over the rise of China and potential disruption to the international system. Disciples of Organski offer three strategies for the US to consider:
Engineering Satisfaction with Realignment: This strategy largely involves economic development in China and places more emphasis on business development and partnerships as a means to keep the contender satisfied during its ascent.
Controlling Territorial Flashpoints: Primarily focused on Taiwan, the authors argue that even a successful defense of Taiwan against Chinese military aggression in the near-term will not resolve the power shift dilemma. At some point in time all three parties, China, US and Taiwan will come to the realization that because of the China's great power status, Taiwan may voluntarily associate itself with China.
Reengineering Power Distributions: The United States must prevent China from achieving power parity. To accomplish this it must form a "super-bloc" alliance by expanding NATO and developing alliances with India and even Russia.
The authors caution against over-militarizing America's policy towards China and recount former SECDEF Perry's warning, "If we treat China as an enemy, it will surely become one."
Doran contends that China's rise could eventually be slowed by India's ascent to power and tensions may escalate between the neighboring states. For China to enjoy a "peaceful rise," it must contend with the challenges of future systems transformation just as the other members of the system had to in the past. Other governments must learn to preserve their security and interests while assisting China to traverse this projected and particularly stressful interval in history.
Concerns
Examining China's rise through the power shift lens brings several concerns to the fore.
If a military confrontation between China and the US is inevitable, would the perfect military plan or operational concept overcome the power parity problem or would a long war of attrition be unavoidable? Would America's military advantage diminish if a conflict is fought on Chinese territory, thus forcing America to project military power thousands of miles from the US homeland?
Second, would any amount of conventional military force be sufficient to compel the state of China to accept an outcome favorable to the US and its allies? Because of China's population advantage and massive economy, could it simply absorb a shock-and-awe type campaign until its adversary's magazines were exhausted?
Third, to what extent do America's domestic problems (i.e. national debt, percentage of Americans not in the workforce, inefficient governance and immigration reform) limit its ability to reverse the current power declination trend in the international system?
Finally, because of advances in missile technology, cyber capabilities and asymmetric tactics, the reality is the US homeland will no longer be a sanctuary during future wars. The American military did not contend with this problem in the great power wars of WWI, WW II and Korea. How would degraded American industrial capacity affect the ability to project power overseas for a significant period of time?
Conclusion
The examination of power shifts among states should raise concerns among America's foreign policy makers and military planners. Most of the latter entered active duty after the end of the Cold War when America emerged as an uncontested hegemon. This dominant power status may have resulted in a certain degree of hubris that prompts many into thinking America can simply impose its will on another state at a time and place of its choosing. While this may have worked in Grenada, Panama and against Somali pirates, this paradigm will need to shift to contend with the rise of a great power.
To ensure the relative stability of the international system and American prosperity, planners must challenge some underlying assumptions about America's relative dominance in the future and develop a national strategy that is not centrally focused on using conventional military force to counter the rise of China's power.