Archive for the 'DOD Bloggers Roundtable' Tag
More from the BALTOPS 09 Bloggers Roundtable. Joining RADM Christenson on the call was Lieutenant Commander Jorgen Bergman, a LNO from the Swedish Navy. The topic of my second question pertained to incorporating prior lessons learned.
Admiral, what are some of the past lessons learned that you've incorporated into this year's exercise?
ADM. CHRISTENSON: Past lessons learned for this year's exercise? I think the biggest thing we've felt was an increase in multinational operations. We've had — the boarding teams that went in were Swedish boats carrying Finnish sailors to go aboard, you know, a Swedish naval base. We had the Royal Navy providing — the U.K. Navy providing the ASW and overall coordination. We had multinational events.
Another lesson learned would have been the complexity of the event, making them more complex, which we've done. The fact that, you know, we had German Tornadoes doing air defense, an integrated air defense exercise today. If this had been 30 minutes ago you would have heard the sounds of the low-flying jets coming over the ship.
So, sophistication. When different navies come together, usually the first couple days are spent just being able to talk to each other on the various frequencies and communicate and basic ship handling. We feel like we've gotten a lot further along doing anti-submarine warfare, which is as challenging in these waters as anywhere. We've done anti-submarine warfare with a Polish submarine and a Swedish submarine.
And so those are two examples. I'll turn it over to Commander Bergman. Commander Bergman, do you have any past lessons learned that we've addressed in this year's exercise?
LT. CMDR. BERGMAN: …we are all, in our hearts, sailors, but we do think different ways. And this is the perfect exercise to train together, do things together to develop our skills, to be teamworkers.
What say you gentle reader?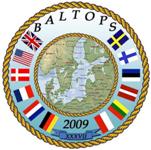 On 16 June 2009, I participated in a DOD Bloggers Roundtable with Rear Admiral John Christenson, USN, Commander of Carrier Strike Group 12, the Enterprise carrier strike group. The topic of the call was BALTOPS 2009.
According to DODLive, "BALTOPS 09 is a joint operation that allows personnel from partner nations to prepare for disaster relief efforts, humanitarian assistance, and peacekeeping efforts." Moreover, according to DODLive, "this is the 37th anniversary of Exercise BALTOPS and includes Denmark, Estonia, Finland, France, Germany, Latvia, Lithuania, Netherlands, Poland, Sweden, the United Kingdom, and the United States."
Given the fact that many off the navies involved in this year's BALTOPS 09 have more roles and missions in common with the U.S. Coast Guard than the awesome power projection capabilities of a USN carrier strike group, I asked Rear Admiral Christenson if the U.S. Coast Guard was participating in BALTOPS 09. His response is as follows:
No, there is no Coast Guard participation. It pains me to say it, because we've worked really closely with them at alternate events, and Vice Admiral Papp I know is — from the Coast Guard is over in Europe as we speak, visiting. You know, we just did a Fleet Week in Port Everglades. We did a Fleet Week in New York. We had significant Coast Guard participation in both those events.

So I think it's just a — as you often like — (audio break) — Coast Guard's smaller than a city police department, they're serving around the world and they're really with us a lot. We could have benefited greatly from their boarding experience, which has been a big part of this exercise. But they're not involved in BALTOPS. 
There you have it. Looks like the procurement holidays of the 70's, 80's, and 90's coupled with the curse of "can-do" are reaping unwanted dividends such as missed theater security cooperation opportunities.
Not casting blame. Just stating the obvious. Maybe BALTOPS 2010 will be a different story. I will be asking the same question in 2010. I am going to think positive that the response will be different.
cross-posted over at An Unofficial Coast Guard Blog.