Archive for the 'Don't Ask Don't Tell' Tag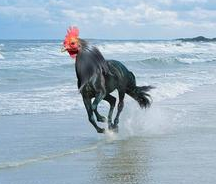 Last Sunday, fellow USNIBlogg'r EagleOne and I had a little something for everyone on Midrats. If you missed it, head on over and download the archive and give it a listen.
Our guest for the first half of the hour was Douglas A. Macgregor Col. USA, (Ret), the author of USNI Press's Warrior's Rage: The Great Tank Battle of 73 Easting, and Transformation Under Fire: Revolutionizing How America Fights. We covered DESERT STORM, OIF, the influence of Counter Insurgency on today's Army, and how the US Military may want to restructure in the future.
For the second half of the hour, we pivot and update a subject we last covered in Episode 7 this February. Our guest was retired Navy Reserve Commander Zoe Dunning, Board Co-Chair of the Servicemembers Legal Defense Network. We discuss the whole spectrum of the challenges of repealing Don't Ask Don't Tell, how the lobbying effort has evolved, and what hiccups there may be in a post DADT military.
Don't forget – if you want to make sure and never miss a Midrats – subscribe to the podcast on iTunes.
Recently

 I was handed a promotional brochure created by the Center for 

Military

Readiness, an organization that is adamantly opposed to the repeal of the "Don't Ask, Don't Tell" policy enacted during the Clinton Administration more than 15 years ago. It was signed by dozens — maybe hundreds — of retired flag and general officers who support keeping the policy intact. It made me laugh. I recognized many of those names and admire many of the men who contributed their names to this campaign. But, it would have had a much more significant impact if it had been signed by veterans of Operations Enduring Freedom and Iraqi Freedom — 20-somethings who have recently served and can actually attest to the impact of the repeal on unit cohesion, morale and military readiness.
I would assert that today's youth 

share few opinions

with their grandfathers on this issue — and the men who signed this document 

are almost two generations removed from the majority of today's soldiers and Sailors. They are, indeed, grandfathers to this generation.

It reminded me of a conversation I had with my own grandfather more than 20 years ago. Like these men, he was a retired flag officer and grew up in a vastly different America than the one that raised me. He was an intellectual giant 

(in my opinion)

and a decorated WWII hero — I beamed with pride at being introduced as his granddaughter. But, he gave me pause one day when we were discussing gays 

serving

in the military. I assumed he was against it, but I had never heard him tell this particular story before he and I sparred that day on the issue. He admitted to me that his Naval Academy roommate was court-martialed in the 1920s for homosexual behavior and 

this former roommate

 asked my grandfather to serve as a character witness at his trial. My grandfather refused, the man was convicted and thrown out of the Navy. He later committed suicide, and my grandfather angrily said, "If I had had a gun, I would have shot him myself." I furrowed my brow and said, "Why? Why woudn't you serve as a character witness

for him

? Wasn't he your friend?" He responded, "He was a great roommate

and friend

. He used to make my bed in the morning when I didn't have time. He was a very talented naval aviator. I was so angry at him when I heard the news." I looked at him and said, "You just attested to his character, Grandaddy. You just told me what a great person and friend he was." Grandaddy was speechless and this legend in my eyes suddenly looked very small.

A

fter a pregnant pause, 

he responded:

"Well, I guess you just can't teach an old dog new tricks."
I bring up this 

sad,

personal story because the opinions of retired flag and general officers on the issue of "Don't Ask, Don't Tell" are irrelevant

and remind me of my grandfather's attitude

. Today's generation of youth — those who are joining and serving in the military today — have grown up with openly gay individuals.

I found online some results of a Zogby poll 

from December 2006 

which concluded 

that 72% of returning Iraq and Afghanistan vet

erans

are "personally comfortable" with gays

. An 

Annenberg poll from 2004 concluded that, 

a

majority of junior enlisted personnel favor letting gays serve openly. 

They

don't see homosexuals as predatory threats; on the contrary, they see them as fellow professionals and friends. They expect them to be held to the same fraternization standards as heterosexuals. Simply put, 

their presence is

 not an issue. 
Organizations like the Center for 

Military

Readiness — groups that profess to be strong supporters of the troops

,

 should spend some time in uniform and spend some time with gay and straight 

soldiers and

sailors to find out what issues are really important to them. Serving together is not one of them.