Archive for the 'DPRK' Tag
Five months after the much-dreaded sequestration went into effect, many defense analysts and military officials alike are worried about the negative repercussions of the drastic budget cuts on military readiness. In his latest commentary, the rightwing commentator Alan Caruba declared that "The U.S. military is on life support." Defense Secretary Chuck Hagel also argued in his Statement on Strategic Choices and Management Review (SCMR) that "sequester-level cuts would 'break' some parts of the strategy, no matter how the cuts were made [since] our military options and flexibility will be severely constrained."
To its credit, the SCMR seemed to hint at operational and structural adjustments underway by offering two options—trading "size for high-end capacity" versus trading modernization plans "for a larger force better able to project power." Nevertheless, one important question which went unasked was whether or not the US Armed Forces alone should continue to play GloboCop.
The current geostrategic environment has become fluid and fraught with uncertainties. As Zhang Yunan avers, China as a "moderate revisionist" will not likely replace the United States as the undisputed global champion due to myriad factors. As for the United States, in the aftermath of a decade-long war on terror and the ongoing recession, we can no longer say with certainty that the United States will still retain its unipolar hegemony in the years or decades to come.
According to the Yŏnhap News Agency last Thursday, ROK Defense Minister Kim Kwan-jin "confirmed…that he had requested the U.S. government" to postpone the OPCON (Operational Command) transfer slated for December, 2015. Citing from the same source, the National Journal elaborated further by saying Minister Kim believed that the United States was open to postponing the transfer because "a top U.S. government official leaked to journalists" Minister Kim's request for the delay.
There may be several reasons for the ROK government's desire to postpone the OPCON transfer. First, the critics of the OPCON transfer both in Washington and the ROK argue that this transition is "dangerously myopic" as it ignores "the asymmetric challenges that [North Korea] presents." Second, given the shrinking budget, they argue that the ROK may not have enough time to improve its own C4I (Command, Control, Communications, Computer and Intelligence) capabilities, notwithstanding a vigorous procurement and acquisition of state-of-the-art weaponry and indigenous research and development programs for its local defense industries. Third, South Korea's uneven defense spending, and operational and institutional handicaps within the conservative ROK officer corps have prevented South Korea from developing a coherent strategy and the necessary wherewithal to operate on its own. To the critics of the OPCON handover, all these may point to the fact that, over the years, the ROK's "political will to allocate the required resources has been constrained by economic pressures and the imperative to sustain South Korea's socio-economic stability and growth." As if to underscore this point, the ROK's defense budget grew fourfold "at a rate higher than conventional explanations would expect" due to fears that the United States may eventually withdraw from the Korean peninsula. It was perhaps for these reasons that retired GEN B. B. Bell, a former Commander of the United States Forces Korea, has advocated postponing the transfer "permanently."
Last month Iran unveiled a new long-range missile, the Simorgh, as a follow-on to the Safir SLV. Putatively identified as a space launch vehicle, it bears strong familial ties to the TD-2 prototype SLV/ICBM launched last April (2009). Since then, some analysts have noted that while the airframe has made an appearance sooner than the NIE's from 2008/2009 suggested, much still remains to be put in place for the program to reach flight test stage. Chief among those items would be a launch site as something of this size requires a much larger complex for support than the Safir.
According to press reports over the weekend, it appears that too is well underway and sooner than many had expected:
Iran is building a new rocket launch site with North Korean assistance, Israel Radio quoted IHS Jane's as reporting overnight Friday. The new launcher, constructed near an existing rocket base in the Semnan province east of Tehran, is visible in satellite imagery, according to the report. The defense intelligence group said the appearance of the launcher suggests assistance from North Korea, and that it may be intended to launch the Simorgh, a long-range Iranian-made missile unveiled in early February and officially intended to be used as a space-launch vehicle (SLV). SLV's can be converted to be used as long-range ballistic missiles for military purposes. Both the missile and the launch pad, which according to Jane's is large enough to accommodate it, point to cooperation from Pyongyang. (Jerusalem Post, 6 March 2010)
Firing up GE, we locate the site fairly quickly: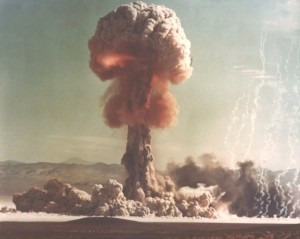 It appears that second-time around worked for the North Koreans:
SEOUL (AFP) — North Korea carried out a second and more powerful nuclear test, defying international pressure to rein in its atomic programmes after years of six-nation disarmament talks. The hardline communist state, which stunned the world by testing an atomic bomb for the first time in October 2006, had threatened another test after the UN Security Council censured it for a long-range rocket launch in April. The North "successfully conducted one more underground nuclear test on May 25 as part of the measures to bolster up its nuclear deterrent for self-defence in every way," the official Korean Central News Agency (KCNA) said. "The current nuclear test was safely conducted on a new higher level in terms of its explosive power and technology," it said. The force of the blast was between 10 and 20 kilotons, according to Russia's defence ministry quoted by news agencies, vastly more than the estimated one kiloton blast three years ago.
While the Russians have historically over-estimated yields in their previous assessments, it is probably safe to say that the yield will fall around 10kt, more than surpassing 2006's fizzle @ 1/2 kt. Better refinement should come with independent verification by US and other international sources in the coming days.
And now all the chips are on the table. China has been vocal about not desiring to see North Korea armed with nukes and it has been the principal intermediary at the Six Party talks on behalf of the North Koreans. By far, it is the major supplier of energy resources to the North, keeping them from literally going dark. What will China do besides verbally condemn? Support full sanctions against the DPRK or block such a move? What about the Russians? Push-back expected on any measures beyond strong verbal condemnation in the Security Council? To be sure, expect one or both to forward the argument that harsher penalties will be "unproductive" and lead to greater instability in the region (read: China is afraid of provoking collapse of the DPRK government and subsequent rush of refugees across its borders into China). What of South Korea and Japan? The DPRK's on-gong missile tests, which have continued in the face of similar vocal condemnation and in spite of international agreements like the Missile Technology Control Regime or the International Code of Conduct Against Ballistic Missile Proliferation, have energized Japan's missile defense efforts – will a successful DPRK nuclear test now result in a Japan that feels it must either develop its own nuclear weapons as a counter? Undertake a more offensively oriented military? How assured can/should the Japanese be about any U.S. guarantees via extension of its nuclear umbrella?
Unstated in the initial uproar is this little gem — with a demonstrated proclivity towards proliferation whoring, particularly with Iran, what does this say about the future of nuclear arms control and non-proliferation? Were the parallel tests of an alleged new SRBM today demonstration of a nuclear capable missile? How close to a weaponized form was today's test? What are the implications for increased instability in other regions that are faced with their own issues of nuclear proliferation (viz. Israel-Iran)?
It's 0300 and somewhere there's a phone ringing…
Update: More yield estimates coming in based on seismic activity. Looking like yield may have been between 4-5 kt. More here.