Archive for the 'ethos' Tag
Women and men of the Class of 2002 may think they are in the shadow of their grandparents — "The Greatest Generation" who beat fascism, crushed nazism and crossed the Pacific to avenge Pearl Harbor and win the war in the Pacific in less than four years.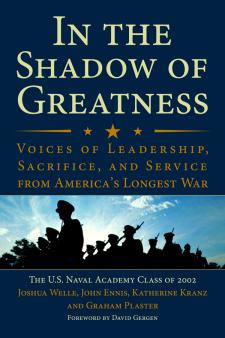 "In the Shadow of Greatness: Voices of Leadership, Sacrifice, and Service from America's Longest War" is a compilation by or about members of the U.S. Naval Academy Class of 2002. (USNI offers comprehensive reviews of the book, published in 2012; this is another look into the shadows.)
Put together with love and appreciation by Joshua Welle, John Ennis, Katherine Kranz and Graham Plaster — and including a foreword by David Gergen — the book is filled with essays and memories by and about members of the U.S. Naval Academy Class of 2002. The authors set the stage with a look back to the past:
"The magnitude of World War II provided the opportunity and experiences that shaped twentieth-century American leaders. As men served abroad, women provided support at home. All overcame great odds and faced adversity that gave them confidence and shaped their outlook in the decades to come. This 'greatest generation' returned from war, took advantage of the educational benefits offered through the GI Bill, and advanced the country's economy and transformed its society. World War II veterans, while fueling economic advancement, remained resolute in their value system: service, sacrifice, and community."
Among "Shadow's" contributors are aviators, surface warfare officers, submariners, U.S. Marines and mothers of junior officers killed during training or in action.
The book is filled with first-person, heartfelt accounts of triumph and hardships: what it's like in humanitarian assistance missions, duty at sea, Search and Rescue operations, and combat; what it means to face family separation, "setting aside the comforts a normal life in service to our country and the Constitution. The dark sides of these sacrifices are broken marriages, post-traumatic stress disorder, depression, and estrangement."
But there is plenty of triumph here, too, focusing on why and how Navy and Marine Corps leaders choose to serve — "not for self, but for country."
A highlight is the account by Meghan Elger Courtney, who served aboard USS John Paul Jones (DDG 53) of her commitment to promote warfighting readiness for Sailors aboard the Arleigh Burke-class guided-missile destroyer. Courtney recognized a need to improve shipboard physical fitness opportunities to help Sailors who would deploy forward — either aboard ship or as individual augmentees in Iraq and Afghanistan.
With the blessing of her commanding officer and strong support from the command master chief and Chief's Mess, j.o. Courtney planned for, procured and arranged for installation of a new fitness center that replaced outdated insufficient gear and space. Courtney writes, "Almost immediately, I saw a positive renewal in people's attitude toward fitness, healthy eating, and incorporating workouts into their daily routine as a way to relieve stress and stay in shape."
"What some may have viewed as my silly pet project, the command master chief took seriously, and he became my closest ally in seeing it through. I never really knew how much the experience had impacted him until I saw him become visibly choked up recollecting it during his closing remarks when he transferred off the ship. I don't think he thought that a young officer like me could have cared about his crew so much, but I did, and I still do…"
Courtney's story is just one of many inspiring reflections. She said she was inspired by a quote by explorer Robert E. Peary on a motivational placard in Halsey Field House at the academy: "I will find a way, or make one."
Other essayists share their sources of inspiration as President Teddy Roosevelt, President Dwight Eisenhower, President John F. Kennedy, Senator Daniel Inouye and Secretary of Defense Chuck Hagel, among others.
One essayist quotes the last two lines of a poem by Mary Oliver, "The Summer Day" in pursuing a life of purpose, wanting to make a difference:
"Tell me, what is it you plan to do
with your one wild and precious life?"
The authors and essayists show how core values of honor, courage and commitment make up an ethos that "forms the fabric of people's personality and drives them to a life of service, in and out of uniform."
"'In the Shadow of Greatness' was envisioned to recognize and chronicle the service of brave men and women and through their stories establish connections with the broader, nonmilitary community. These first graduates of the Naval Academy after 9/11 entered a global war at sea, in the air, and on land. This war would last more than a decade and define the United States in the early part of the millennium. The actions of the select few profiled here represent those of a much broader spectrum of patriots."
Attacks on 9/11/2001 changed the lives of the Class of 2002.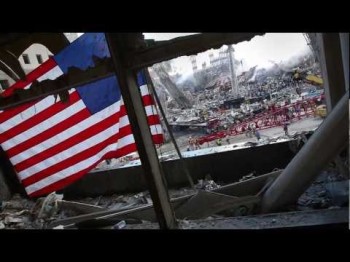 In a short introductory piece, "Inside the Gates of Annapolis," Adm. Sam Locklear (now Commander, U.S. Pacific Command) writes about the investment the country makes in the women and men who attend service academies, including the Naval Academy, reflecting on the morning of September 11, 2001 when he sat at his desk as commandant of midshipmen.
"I recall vividly watching the al-Qaeda attacks on the World Trade Center and the Pentagon and the plane crash in Pennsylvania. When the images reached the Brigade, and the uncertainty of the events rapidly became reality, I asked myself, Are these men and women, these young patriots, ready for the challenges that most certainly lay ahead. A decade of war has proven that they were more than ready. Fortunately for us all, they remain ready today. We are extremely proud of all they have accomplished and thankful that we chose the right men and women to lead the next great generation."
The book, published by the Naval Institute Press, is a key title on the CNO's Professional Reading Program essential list under "Be Ready."
A version of this post appeared on Bill Doughty's Navy Reads blog.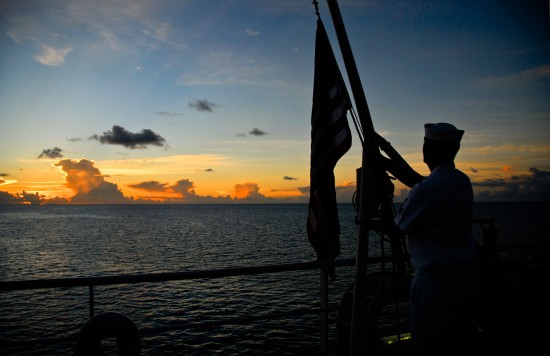 It has been said that in a world intricately and inexorably connected, individually, we seem to draw apart from one another. That those connections we have are tenuous, virtual and of little lasting substance or effect. Like spiderwebs on the wind, we connect and (temporarily) bond with whatever object we come in contact with, only to be pulled apart and float until the next object enters our space. We see this in our personal and professional relationships on a regular, daily basis. And yet, every now and then we are reminded of the ties that bind – that survive the immediacy of the moment no matter their outward, gossamer appearance; which bespeak a deeper level of common interest and shared values. We are reminded, if you will, that no man is indeed, an island.
The events of the past few weeks have underscored the above for me. In no short order, I learned of the loss of three persons of note to myself, and to many others around them. They were many things to many different people – writer, poet, leader, aviator; but in the end they each, in their own way, made a difference. There was CAPT Carroll LeFon – Lex to almost everyone, whose legacy and loss has been chronicled here and across the web. His writing is timeless, coming from the head and heart with the rare ability to find common points of intersection with his readers and relate a story in such manner that even those who never tasted salt air or viewed the world through sun-drenched canopy could readily relate. We saw that gift brought to life last night at our gathering in DC and across the nation and the world as people from all walks of life came together to pay honor to his legacy. But did you know that three of the JOs under him when he was a VFA squadron CO so many years ago screened for command this past week? There's a living legacy for you.
On the way to the wake last night I also learned of the passing of CAPT Ed Caffrey, USN-ret. Himself a gifted aviator, CAPT Caffrey was a leader and pillar of the Hawkeye/Greyhound community. The term "people person" is overworked to the point of material failure in this day and age, but he was an original in that manner. There are today, many a former VAW and VRC CO, XO and Department Head who were mentored (again, an overwrought but apropos word here) during his tenure as CO and AEW wing commodore. More than a few of us, myself included, owe a deep debt of gratitude for his support and advocacy on our behalf and on the behalf of the VAW/VRC community. Easy words to say now, but there was a time when the community had, shall we say, less than enthusiastic support at the CVW level and higher because of the "support" label broadly brushed on anything that didn't have an "F" or "A" in the 2-letter designator (and if it had an "H" or ended with a W or Q, well, bonne chance mon ami and don't let the hatch hit you on the way out). More than that, he cared deeply about people – his people, be they residents on the Breezy Point seawall, his nav division on JFK, students at Naval War College or even later, students at Valley Forge Academy. Just ask the recipients of the VAW/VRC Memorial Fund which he took the lead in establishing. He made a difference.
And there was Jeff Huber – a retired Hawkeye NFO and writer with a pen of steel and a mind of sharper wit. Jeff was another ground breaker for the Hawkeye community, as Skippy-san so very eloquently lays out in a fine tribute over at his site today. Jeff had the courage and determination to drag E-2 tactics out of the moribund 50's and 60's and lay the foundation for the missions that lay just over the horizon — Kosovo, Desert Shield/Storm, Southern Watch, OEF and OIF. Later he took that same determination and sought to be a conscious for a Service and country that seemed determined to ignore its roots and founding principles. I didn't always agree with his assertions – but they provided a reference point and more importantly, a prompt for me to evaluate and re-evaluate my own assumptions and analyses. Too often today people want to reside in the "amen" section and decline to think critically for themselves – deferring instead to the opinions and assertions of others whose best or only attribute is their shrillness.
Different paths, with seemingly random co-mingling or intersections – what are the ties that bind? In each case you are witness to someone who deeply cared about their nation, their Service and the people under their charge or in association. Each, in uniform and in retirement, sought to continue to serve, in their own way and do what they could to better their fellow humans and the Navy to which they had dedicated a substantive part of their life in its service. Some few years back the Navy was casting about for a definition of ethos. I and several others demurred on the end, corporately derived and committee driven statement that emerged from the "process" preferring instead to point to the 200+ years of example driven ethos and the principles detailed therein. Of things like service before self, courage in the face of overwhelming opposition – of conviction and standing firm for principles when all else was sinking beneath the waves. If I were asked today for more recent examples, I can think of none finer than the three I highlight above — outstanding aviators, naval officers without peer and human beings who cared deeply about and for their fellow mankind.
And I am honored to have worn the uniform and served with them.
/S/ SJS
(crossposted at steeljawscribe.com)
In every battle there is a moment when the combatants, and the world, seem to catch their breath. It is a fleeting moment, lost in the blink of an eye. But in that same blink, everything changes. Such moments are borne of desperation, of courage, of plain dumb luck. But they are pivotal – for what was before is forever changed afterwards. – SJS (June 2007)
Three years ago I wrote that at the end of a series of posts (which are collected here) that began on the 65th anniversary of the Battle of the Coral Sea, and culminated on the anniversary of Midway with some modern day observations and what we might take away. For even today, with all our technological sophistication there are still things we can learn at all levels, be it at the Fleet or in the cockpit or on the bridge. One of those lessons is the role of the individual and seizing the initiative when everything else seems to be going to hell in a handbasket around you. That was something impressed upon me as a young LTJG E-2C Mission Commander and I found resonance and inspiration from the JO's and petty officer's actions that pivotal day.

And sometimes it means pressing ahead into a situation from which you know there is no way out — but to do otherwise would result in a greater loss.
There aren't too many of them left — the original Midway vets that is. Same for the Doolittle Raiders. Ditto Medal of Honor awardees from that era. These modern day Samuel's raised their Ebenezer in our darkest hours – and what was before was forever changed.
The job wasn't finished yet though, and the way ahead was still perilous — Guadalcanal, Savo Island, Bloody Tarawa (can it ever be though of as just Tarawa?), Iwo Jima, Anzio, Normandy, Bastogne and the Meuse — Okinawa; all lay in the future. But it was a future made possible by the fighting spirit of the Navy, Marines and Army Air Corps in a far flung theater whose battlefield was but a featureless, sun-dappled sea of blue. Still, more would come and follow in their footsteps. And you and I today carry their proud heritage forward.
The far horizon is difficult to discern these days and it may well indeed hide gathering storm clouds – from whence direction I can not say for certain. But it would do us well to heed their lessons and remember their deeds when the warning flags are broken and we are called to battlestations once again.
— SJS, June 2010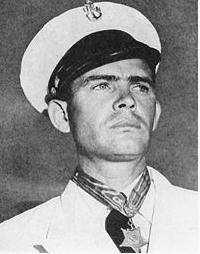 Many of us do not know how we will react when suddenly called upon to perform the extraordinary in desperate and lethal conditions. We train and plan, but until the bullet flies or the fire burns close at hand, all we can do is speculate.
On the morning of December 7th, 1941 there was no question in VP-14's Chief Aviation Ordnanceman Finn's mind:
Citation:
For extraordinary heroism distinguished service, and devotion above and beyond the call of duty. During the first attack by Japanese airplanes on the Naval Air Station, Kaneohe Bay, on 7 December 1941, Lt. Finn promptly secured and manned a .50-caliber machinegun mounted on an instruction stand in a completely exposed section of the parking ramp, which was under heavy enemy machinegun strafing fire. Although painfully wounded many times, he continued to man this gun and to return the enemy's fire vigorously and with telling effect throughout the enemy strafing and bombing attacks and with complete disregard for his own personal safety. It was only by specific orders that he was persuaded to leave his post to seek medical attention. Following first aid treatment, although obviously suffering much pain and moving with great difficulty, he returned to the squadron area and actively supervised the rearming of returning planes. His extraordinary heroism and conduct in this action were in keeping with the highest traditions of the U.S. Naval Service.
(Note: In June 1942, Finn was temporarily commissioned as an Ensign, rising in rank to Lieutenant two years later. During his service as an officer, he served with Bombing Squadron 102, at several stateside training facilities and on board the aircraft carrier Hancock (CV-19). Following transfer to the Fleet Reserve in March 1947, he reverted to the enlisted rate of Chief Aviation Ordnanceman. In September 1956, he was placed on the Retired List in the rank of Lieutenant. John W. Finn died on 27 May 2010. Navy History & Heritage Command).
Recently passed, LT Finn never played up the hero aspect when asked — he just said "I do know this. I didn't run away. I stayed there and we fought the Japs until the last one left."
We as a service — as a nation; have lost our way in naming our ships — deferring to the politically expedient instead of the enduring values and traditions of the Naval services. Perhaps now it is time to turn this ship around and set her on a proper course. One way to that end, I think, would be to name the next Arleigh Burke-class DDG after LT Finn. These modern greyhounds of the sea are among the finest warships in their class and would be a fitting honor. Regardless, however of the eventual ship-type, if you agree that one should be so-named, go sign the petition, and write your Congressman and Senators to underscore the effort.