Archive for the 'Fire Scout' Tag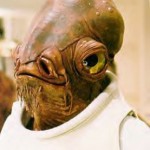 We all know the phrase that nothing is more dangerous than a terminal-CDR. Ahem. Maybe ….
Well – all 4-stars are terminal, in a fashion – and when a 4-star is about to head out of the service at the pinnacle of their career, a cynic might look askew at last minute conversions – but I don't think that is always fair. There can be something else going on when a Admiral or General goes off the reservation; "The Craddock Effect."
In May 2009 as General Craddock was heading out the door at SHAPE, he gave a speech that said what everyone inside the lifelines knew about NATO and AFG and the story of half-truths we all sold. It was nice to hear in the open what was said behind closed doors – but one had to wonder what the impact might have had if he made the speech a year or so earlier in mid-tour – when he wasn't a lame duck – when the full truth of his opinion could have informed the public debate … but … it was what it was.
There is a lot be be said for working within the system. Highly successful men and women get to where they are by having a track record of "making it happen" without burning those they work for and with. They often think that once they reach a certain level – then they can make things work. It usually doesn't work that way.
When they they are running out of time or after soaking long enough that they reach a moment of clarity – often a refreshing wave of candor can come from a senior leader. It is a wave that isn't quite at odds with what they have said in the open before – but sounds more like the missing chapters of a book half read.
In that light – over at his CFFC blog, Admiral Harvey has a post out that from my perspective is, in a word; remarkable. It is somewhere between a splash of cold water and sobering slap to the face to the professional drift our Navy has been under for a decade+.
This is Admiral Harvey from his blog;
When I look at some of the big issues we've encountered over the past three years with programs such as LPD-17, Aegis 7.1.2, VTUAV (Fire Scout), and the many software programs (e.g. R-Admin) installed on our ships, it is apparent to me that we were not doing our jobs with a focus on the end user, our Sailors. In these instances, the desire/need to deliver the program or system became paramount; we did not adhere to our acquisition standards and failed to deliver whole programs built on foundations of technical excellence. Then we accepted these flawed programs into the Fleet without regard to the impact on our Sailors.
Yes, yes – great Neptune's trident – YES! Sailors are our greatest asset – not our most costly liability.
I would personally add two things – everyone and Admiral Harvey knows this problem is much older than his three years at CFFC – and to change this will take the right people in the right places in power. How do we get them there? Hard question.
His comments are so spot on. Just to drag out the usual suspect; designing manning plans for LCS that has Sailor burn-out considered a feature as opposed to a bug, and is baked in to the design that we will have to deal with for decades? How do you fix that? … but let's not get in the Admiral's way here;
… we have entered a period in which the resources we have now and can expect in the future will no longer support the behaviors of the past. The likelihood of decreasing budgets and increasing demand for Naval forces leave us with no margin for delivering poorly designed, poorly delivered or unnecessarily burdensome programs to the Fleet. We must keep the Fleet and our Sailors at the center of the programs, systems and platforms we deliver and ensure operational effectiveness is the bottom line of our efforts, not simply increased efficiencies.
Though my selfish side wishes he put this out years ago, the professional side of me has to give him a nod to a timing that he felt worked best given his responsibilities. More responsibilities do not always translate in to more freedom to speak.
I've been a fan of Admiral Harvey's curious intellect, open mind, and tolerance of other views for a long time, and this is a very welcome addition to the conversation that must be brought to the front – larger, louder, and to more readers.
To fix these problems, the hour is already late, and more delay just means a more difficult fix later.
There is more at his post to to reflect on what is creating the dysfunction we have watched over the last decade in our Navy. Admiral Harvey states the catalyst for his post was the book by Bob Lutz, the Vice Chairman for Product Development at General Motors; Car Guys vs. Bean Counters: The Battle for the Soul of American Business
. When you think of GM from the last few decades, one car that should be in anyone's "GM Bottom 5" would be the Pontiac Fiero. As a smart friend pointed out to me at the linked article;
The Pontiac Fiero an economy commuter car? That's how GM marketed the sporty coupe, which was Pontiac's first 2-seater since 1938. GM had originally intended the Fiero to be a sports car (hence, the Ferrari-sounding name), but budget constraints forced them to ditch the original suspension design and steal parts from other GM cars. The result was a sporty coupe that didn't actually deliver racing performance with a meager 98-hp 2.5-liter I4 engine in a heavy body.
Sure, let's go there again to what remains the poster child to what Admiral Harvey describes – to the gift that keeps on giving.
Isn't speed and handling performance are most important for a sports car? Likewise, aren't offensive and defensive firepower performance the most important for a warship? With the similar failure of basic core competencies – couldn't one say "GM:Pontiac Fiero" as "USN:LCS?"
Another quote from Admiral Harvey's post;
… upon his return to GM, Lutz found that the design teams had moved away from an organization focused on product excellence and the end user – the customer – and instead transformed into a company driven by complex business processes, executive boards and working groups focused on eliminating "waste," "streamlining" operations, and achieving "efficiencies." As a result, GM produced generations of automobiles that met all the technical and fiscal internal targets yet fell far short of the mark in sales – what really counted.
Does that sound like OPNAV/NAVSEA track record as of late? Designing warships that meet all the technical and fiscal internal targets (except maybe cost, stealth, IOC, etc), but fail to meet the fundamental test of warfighting capability?
Interesting thing about the Fiero – by 1988 they actually go the design right – but by then it was too late and most of the run was – ahem – sub-optimal. Is that where we are going with LCS? The first 43 sub-optimal …. but the last dozen, success!?
Bravo Zulu to Admiral Harvey for putting this out there. Maybe after a few years with the gold watch and reflection, down the road someone might go with a Shoomaker option – I don't know. In the word of the American songwriter Kris Kristofferson; freedom's just another word for nothing else to lose.
Admiral Harvey – enjoy your freedom.