Archive for the 'Four Chaplains' Tag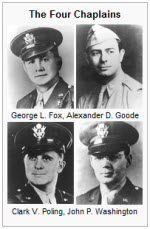 Four military chaplains mutually bound by the oath of office and a strong faith, Army Lts. George Fox, Alexander Goode, Clark Poling and John Washington had all met at the Army chaplain school, which was housed at Harvard University during World War II. Fox was a Methodist minister, Goode was a rabbi, Poling was a Catholic priest, and Washington was a Reformed Church of America minister. They were friends and were nicknamed "The God Squad." By all accounts, they were well liked. 
All four of them were also on board the troop transport ship USAT Dorchester en route to various assignments in the European theater of World War II when their ship was attacked by a German U-boat in the North Atlantic and sank quickly. The ship was equipped with an inadequate supply of life jackets, so they calmly and uniformly gave up their own to other soldiers and helped them board lifeboats. In an attempt to succor the remaining crew left aboard, witnesses say the four chaplains joined arms, sang hymns and prayed as the ship sank underwater.
At the time, their story was a model of interfaith cooperation and a shining testament to the American religious experience. A war bond campaign was launched and inspired a country to give – as a posthumous tribute to these men and the unusual story of their bonding and mutual sacrifice. The story has motivated subsequent generations of military chaplains who strive to support the voluntary free exercise of religion, model interfaith cooperation and help others keep "faith" – regardless of their specific religious beliefs.
But, at a February 3 event the Navy Memorial co-hosted with the Library of Congress' Veterans History Project, Vietnam veteran and retired military chaplain Rabbi Arnold Resnicoff asserts that the story of the Four Chaplains is not as well known among the ranks of the military – nor is it often taught in history classes. "I think more organizations – both religious and secular – should consider joining together for special programs on February 3 – 'Four Chaplains Day,' using it as a day to honor all chaplains: military, police, prison, hospital, campus, etc. – all chaplains who regularly work in areas of interfaith cooperation. Today, when it is so easy to find stories of religious hostility and hatred, it is more important than ever to tell stories like this one."
The Library of Congress is hosting two more commemorative events – one on February 15 with retired military chaplains and one on February 16 with military chaplains serving today.