Archive for the 'haiti' Tag
USNS Comfort returned to Baltimore on Friday after completing their humanitarian mission in Haiti. The hospital ship made a rushed departure from Baltimore on January 16th only days after an earthquake devastated the island nation. It is the weekend, and rather than discuss the number of patients treated or supplies delivered, I think it is appropriate to just take a look at the good work of her crew through the photos of some MCs.


Cmdr. Sam Critides, from Glen Ridge, N.J., a neurosurgeon embarked aboard the Military Sealift Command hospital ship USNS Comfort, speaks with Carl Shapiro, site director of St. Boniface Hospital, as a local crowd observes. Photo by Petty Officer 2nd Class Shannon Warner.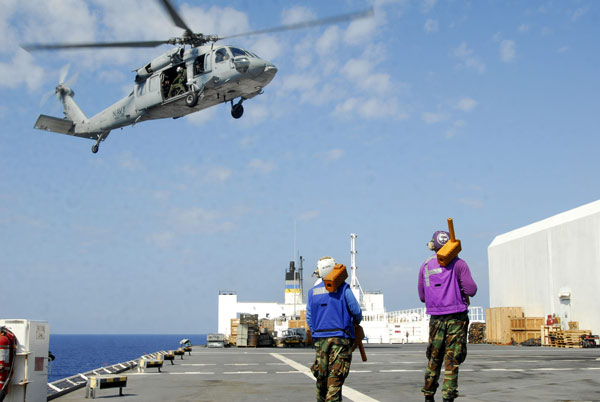 Sailors assigned to Helicopter Sea Combat Squadron 28, embarked aboard the Military Sealift Command hospital ship USNS Comfort, prepare for the landing of an MH-60S Sea Hawk helicopter during an underway replenishment off the coast of Haiti. Photo by Petty Officer 2nd Class Shannon Warner.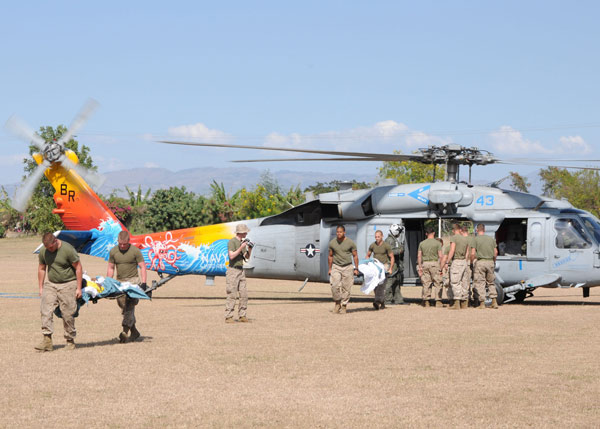 Marines from the 24th Marine Expeditionary Unit transport patients discharged from USNS Comfort (T-AH 20) to an intermediate aftercare facility in Port-au-Prince, Haiti. Photo by Petty Officer 3rd Class Matthew Jackson.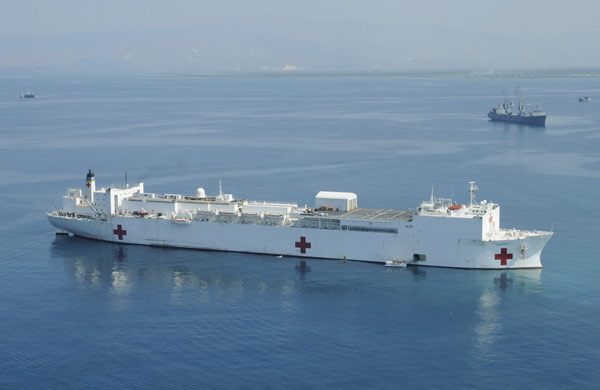 The USNS Comfort as seen from the air Feb. 8 in Port-au-Prince. The last Haitian patient was discharged from the vessel Feb. 27. There were 88,646 patient encounters including primary care, pediatrics, dental, OB/GYN, immunizations, lab work and pharmacy scripts. The highest number of patients aboard the ship were 485, Jan. 29. Photo by Sgt. 1st Class Kelly Jo Bridgwater.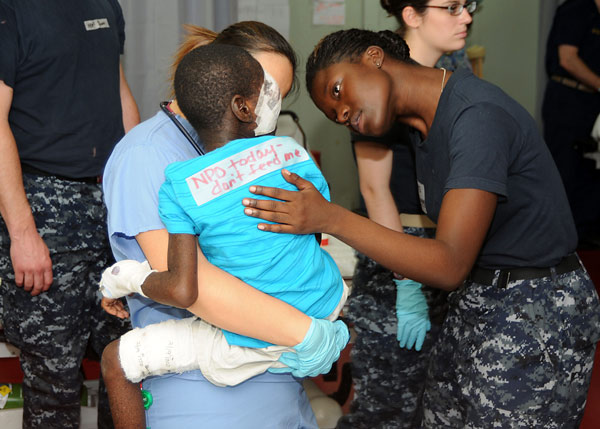 Petty Officer 3rd Class Brittany Saulsberry, from Dallas, Texas, comforts a young boy before he receives medical treatment aboard the Military Sealift Command hospital ship USNS Comfort. The boy was brought aboard for treatment of a cancerous infection in his eye and a variety of other life-threatening conditions. Photo by Petty Officer 3rd Class Matthew Jackson.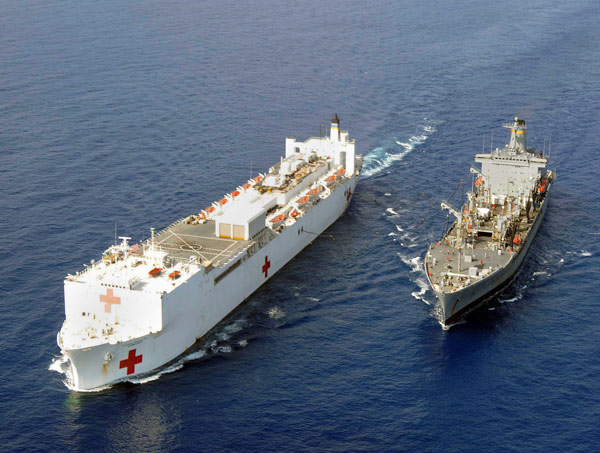 The Military Sealift Command hospital ship USNS Comfort, left, and the Military Sealift Command fleet replenishment oiler USNS Leroy Grumman conduct an underway replenishment in the Caribbean Sea. Photo by Petty Officer 3rd Class Matthew Jackson.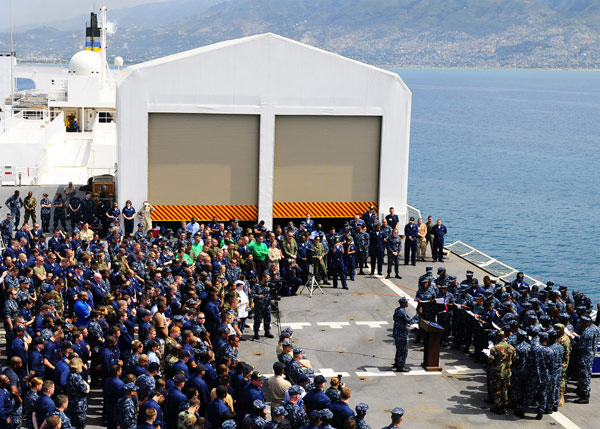 Haitian-American Sailors embarked aboard the Military Sealift Command hospital ship USNS Comfort sing Ayiti Cheri (Haiti My Darling) in Creole during a remembrance ceremony for the people of Haiti. Photo by Petty Officer 2nd Class Edwardo Proano.

The Military Sealift Command hospital ship USNS Comfort arrives at Naval Station Norfolk following a seven-week deployment to the U.S. Southern Command area of responsibility to provide medical care in Haiti as part of Operation Unified Response. Photo by Petty Officer 3rd Class Ryan Steinhour.
Good job USNS Comfort!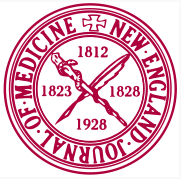 For readers that do not know, The New England Journal of Medicine (NEJM) is the world's oldest and most influential medical journal. If it matters to doctors, it can be found in the NEJM.
On February 24th, NEJM published a description and evaluation of the US military's disaster relief mission in Haiti. The article offers a fair assessment of the operation, pointing out a number of failures and lessons learned. However, the punchline is this:
"The support of the U.S. military was unequivocally integral to the success of the medical mission. The military supplied us with critical equipment and supplies, such as tents to establish our emergency room, stretchers, medications, food, and water. The soldiers who assisted us in the hospital compound brought not only skill but also a "can do" attitude and energy to a medical staff that was stretched to its physical and emotional limits. We saw consistent professionalism, competence, and compassion in the American soldiers."
Overall, the military was a knight-in-shining-armor for beleaguered aid workers. While not perfect, the military did an heroic job supporting civilian relief efforts. It is good to see NGOs accept the military as an important partner in disaster relief operations. Slowly humanitarians are seeing the military as a potential ally rather than an organizational leper. Now, let us hope the military's old guard can reciprocate by seeing aid workers as more than naive amateurs.
The USS B
ataan (LHD-5) was one of the first ships directed towards Haiti after the massive January 12 earthquake, but, once the ship arrived to serve in Operation Unified Response, the Bataan ran into a hail of criticism over it's slow start in accepting and treating wounded Haitians. One of my USNI pals was particularly tough on the flat-deck. Why was the Bataan so slow off the mark?
Well, the MSC has a likely answer. There might have been a darn good reason why the Bataan's medical facilities were slow to get into the game….Why? The answer is simple–Water. The Bataan didn't have any. Though the Bataan's embarked media didn't make much of a peep about the shortage, off Haiti, the ship's evaporators–rather important pieces of equipment for a steam-powered vessel–failed.
And with no water, there's precious little a medical team can offer.
According to Cmdr Mark Pimpo, USNS Sacagawea's (T-AKE-2) military department officer in charge, the Bataan was in serious trouble:
"We also transferred more than 40,000 gallons of water to amphibious assault ship USS Bataan when both of the ship's evaporators stopped functioning. Bataan was eventually able to get a tech rep onboard, but the water we provided made the difference," Pimpo said."
For the Bataan, a ship that entered the fleet in 1997, this sort of breakdown is not a good sign. But on the other hand, an evaporator failure is the sort of thing that'll likely happen after a ship has been at sea for seven months, gets shut down…and then gets tasked to handle an unexpected contingency.
With short-notice surge deployments becoming the norm, the Navy has got to start doing some serious thinking about how it manages ship maintenance and surge availability. Are looming failures (or chronic engineering problems) getting reported up the chain-of-command during deployment? Or are they kinda close-held until after deployment when it all becomes some shipyard's problem to deal with?
But just note…for the helpful T-AKE, this story is just another testament to how important the MSC's T-AKE fleet has become (in such a short time, too)! These cheap, do-anything ships–with their residual fuel and liquid supply capabilities–are really pulling the Navy out of some potentially sticky situations…
Over the last few weeks, USNS Comfort has been part of the Haiti zeitgeist, both in America and overseas. The ship appears in hundreds of stories, articles, videos, and blog posts. Her white hull has become a symbol of United States humanitarianism in Haiti. However, the converted oil tanker's original primary purpose was to support combat operations, not conduct the humanitarian assistance and disaster relief missions that gained her renown. So I ask the readers, if you were to design the next generation of hospital ship, the next USNS Comfort, what would the vessel look like? Here are some of my own thoughts.
Small, Fast, And Shallow
As previously mentioned on the USNI blog, USNS Comfort arrived off the coast of Haiti slightly over 88 hours after the earthquake. In that time, the converted oil tanker, manned by only a skeleton crew, was stocked with supplies, staffed with medical personnel from multiple services and NGOs, and sailed down the Atlantic coast. In getting the massive ship from a pier in New England Baltimore to a disaster zone in the Caribbean, the crew proved themselves to be true professionals. Impressive is not strong enough a word to describe their accomplishment, it was Herculean. And, that is the problem.
To maximize effectiveness, rapid arrival on station after a disaster should occur because of the ship's design, not in spite of it. Hospital ships must be small, fast, and shallow. They must operate in areas with small, damaged, or no ports. They must navigate waterways littered with debris without assistance and anchor in the shallow waters close to shore. Most importantly, hospital ships must be fast. Arriving in the first 24 hours is orders of magnitude more helpful than arriving in the first 48 hours, or 88.
Dedicated Medical Team
Instead of staffing hospital ships with an ad hoc complement of riders, hospital ships deserve dedicated medical contingents. Dedicated medical team would reduce deployment time and improve mission effectiveness. I am not discounting the importance of NGOs such as Project Hope, but rather suggesting that NGO health professionals should supplement a core medical team that has trained and worked with each other and with the ship. Many will say the armed forces do not have enough medical personnel. They are right, but that does mean we should not do it. Rather, it only means we must train more personnel.
Update: Leesea has some great thoughts in the comment section below. Check them out.
One little-noticed facet of America's Haiti-bound expeditionary aid effort is the SS Petersburg (T-AOT 9101), a 45-year old vessel that is, right now, tied to a Bay Area pier, preparing to deploy. Why is this Ready Reserve Force asset, one that needs ten days to get going–and one of the furthest-flung pieces of equipment the United States has called into service for Haiti relief–getting activated? Isn't it odd the military reached all the way to an Alameda pier for a tired old tanker–a tanker that makes only about 15 knots?
Well, it's because the SS Petersburg is much more than a tanker! The SS Petersburg is a tanker built around an offshore petroleum discharge system (OPDS), and, as such, the ship is one of the only available government assets that can, while anchored offshore, receive and pump a lot of fuel ashore. OPDS is a key piece of expeditionary tech–those trucks, amphibious armored vehicles and generators have a hard time running without fuel.
In Haiti, there's only a few weeks supply of fuel available–and we're not done surveying Haiti's fuel receiving terminals. Those terminals may be inaccessible for some time. Though accounts vary, the Wall Street Journal says the fuel terminals are damaged:
Two other Haitian terminals used to bring in fuel have also been heavily damaged, said Mr. Villard.

The U.S. military is also conducting an assessment of the port of Varreux, just to the north of Port-au-Prince's main port, as a possible place to begin pumping fuel. Gen. Allyn said he expected to resume fuel deliveries there "in the very near future," though the assessment will take another day or two.
Without receiving terminals, the fuel has to come in via road–from harbors elsewhere in Haiti or the Dominican Republic. But with the roads and weak harbor infrastructure likely to be clogged, the SS Petersburg may still be useful. From Navytimes:
"Within 48 hours of arrival on station, [Petersburg can begin] pumping 1.2 million gallons per day from up to four miles off shore and at water depths down to 200 feet. If the ship is moored within two nautical miles of the shore, two different products may be pumped simultaneously through two separate conduits," according to information from MarAd.
Fuel supply is critical for any amphibious venture–and the advantage of having a means to receive refined fuel without need of port facilities is, these days, a tactical necessity.
Look to history–The advance from the World War II D-Day beachheads was supported by one of the first undersea pipelines, the aptly-named Operation PLUTO, or "Pipe-Lines Under the Ocean." It was operational by August 1944, sparing space in the wrecked Cherbourg Harbor for other vital cargoes.
The SS Petersburg, when it arrives at Haiti, may help alleviate pressure on the feeble, crowded ports. It may allow those working to clear blocked harbor channels and open pier access to focus on insuring that traditional dry cargoes can get access to shore. (The Marines have an expeditionary bulk-liquid transfer system, but their ability to utilize that system at Haiti may be somewhat limited).
OPDS is not just for expeditionary use, either. For established bases like Guam, Diego Garcia or, oh, Ascension Island, damage to established fuel receiving infrastructure would rapidly degrade their inherent military value.
Interestingly enough, OPDS platforms only really emerged as a defense asset in the eighties and nineties:
"…the prototype SS Potomac (OPDS-1 built in 1957 converted to OPDS in 1985); SS American Osprey (OPDS-2 built 1958 converted 1988); SS Chesapeake (OPDS-3 built 1963 converted 1991); SS Petersburg (OPDS-4 built 1963 converted 1994); and, SS Mount Washington (OPDS-5 built 1963 converted 1995)."
What is rather odd is that the United States now only has three of these vessels–well, technically, two. The SS Petersburg's sister, the Chesapeake (T-AOT 5084), is, after serving in the Gulf Region, a hulk, mouldering away in the National Defense Reserve Fleet over in Beaumont, Texas–in "logistic support" status. That means the poor SS Chesapeake is being stripped to keep the SS Petersburg operational (The SS Mount Washington is awaiting disposal in Suisun Bay).
The second, MV Vice Adm. K.R. Wheeler (T-AG 5001), is a brand-new charter vessel:
Wheeler's improved capabilities include the ability to pump 500,000 gallons more fuel per day, operate in more difficult environmental conditions including surface currents of up to three knots and winds of up to 40 knots, and install pipe over an ocean bottom of rock and shell in addition to mud, sand and coral.

Wheeler also requires far fewer people to deploy its distribution system than its predecessors, which required about 200 people. Wheeler's crew is made up of 24 civilians working for private companies under contract to MSC – 16 civilian mariners operate and navigate the ship, and eight systems operators, six of whom join the ship only during fueling evolutions, operate and deploy the distribution system.
But the Wheeler, well, she's busy doing serving the national interest–someplace else. Part of the Guam-based Maritime Prepositioning Ship Squadron Three, the ship was last seen operating off Korea (August-September 2009), training to provide refined fuel to fuel-hungry units ashore.
Here's a great MSC video of the OPDS in action–a wonderful overview of what OPDS offers.
Given the importance of fuel for disasters and other contingencies, I'm rather shocked that the U.S. only maintains two of these vessels–and that nobody out there in the private sector seems to have made a similar system available for use. In any island, isolated region–or devastated urban area–fuel access is a force multiplier. And for any military service thinking about expeditionary ventures, a OPDS is critical–particularly when mission requirements demand an efficient means to engage and leverage civilian assets. These civ-mil "connectors" are too few and far between.
The OPDS is a critical and un-sung piece of the disaster-response tool kit. If American policymakers think missions like the Haiti disaster response will become a routine task for America's "Global Force For Good," then the U.S. needs a few more nifty offshore petroleum pumping stations like the MV Vice Adm. K.R. Wheeler.
Five years ago, in days after the Indian Ocean Tsunami, I wrote an op-ed for the Boston Globe–a piece that, with the Haiti disaster, remains a relevant cautionary tale today:
The tsunami response, being hailed as one of the biggest U.S. military disaster relief missions in history, has been less effective than portrayed. When a deployment of just 40 navy helicopters requires 6 days, more than 9,000 sailors and $7 billion of military equipment, something, somewhere, has gone wrong, reinforcing Rumsfeld's belief that the United States needs better tools to project power in the strategically critical zone where land meets sea.

Ships made for controlling the high seas have little utility in crowded, shallow waters. The enormous aircraft carrier off Indonesia, the Abraham Lincoln, has little to offer. With a medical staff of 40 and 17 small helicopters, the floating airbase is a marginally useful asset for anything other than all-out warfare.

A group of three amphibious warfare ships in the arriving expeditionary strike group can do more. Their complement of about 23 large helicopters and landing craft will speed the distribution of fresh water, food and medical care to areas cut off by the tsunami. But three amphibious ships can't cover 3,000 miles of affected coastline.

An underlying problem is strategic. America simply lacks a presence in shallow intertidal zones. Had fast-moving assets been nearby, the Bush administration, by getting firsthand information from the disaster zone, would have better understood the scope of the tragedy and avoided making an embarrassingly low initial aid offer of $15 million.

This diplomatic fiasco is reason enough to demand an immediate transformation of American military posture. But Rumsfeld's vision of a future Navy isn't perfect. He overlooks the mundane nonfighting aspects of present-day military power. That is a problem for two reasons. First, the United States has a long history of using the military for diplomatic and humanitarian gain. Second, it is often the military support system that does the most in furthering American aims…
With the Haiti earthquake, we'll discover that a lot has changed in the space of five years.
Today, in the aftermath of this earthquake, the initial response will be enormous. Unlike the Indonesian Tsunami, our initial aid may end up becoming a long-term commitment–lest we wish to see a desperate human tsunami start out for the U.S. from a shattered Haiti. Help sent to Haiti, however, may also pull assets from Afghanistan, forcing policymakers into an ugly debate over the relative importance of the Western Hemisphere vs. Afghanistan and Iraq.
At present, prior commitments are taking a backseat to lending a needed hand. A whole raft of ships are heading to help. The USS Carl Vinson (CVN-70) may stop off at Mayport to become, largely, a helicopter carrier (populated with Army helicopters, perhaps?). Not only will this highlight the importance of having a second carrier-ready port on the East Coast (and, in the process, hand ADM John Harvey's call for strategic homeportingsome extra "omph!"), this will give the Carl Vinson crew a chance to grab extra gear for the task ahead.
The USS Bataan (LHD-5), USS Fort McHenry (LSD 43) and USS Carter Hall (LSD 50) are going to sea, and will likely prep for Haiti duties. Amphibs are the poor bloody infantry of disaster-response operations, and this deployment should be expected. That said, the USS Bataan is familiar with MV-22 "Osprey" operations, suggesting that the 24th MEU's attached combat-ready MV-22 squadron may get it's first real humanitarian/support to civil authorities mission. The ships with the 24th MEU may go as well, but we'll see.
An Osprey deployment to Haiti will be high-profile test–an unexpected tasking, done under a full-bore media glare. It will likely not have the maintenance padding (the extra spare parts and private maintainers to allow for "aggressive sparing") Ospreys enjoy on their overseas junkets. This is a real test. Now, to the Osprey's benefit, this is low-altitude work in almost ideal conditions–and, as I've said before, a perfect way to demonstrate this platform's effectiveness. If they go, expect to see the Osprey pressed into moving critically-injured foreign nationals from Haiti to Guantanamo for staging/stabilization and evacuation–a high-profile mission where speed is of the essence. (Might we see some of the first MV-22 operational landings on a U.S. aircraft carrier? I mean, in an emergency, anything might happen…)
Aviation, however, will be a sideshow (OK, an important sideshow). But the ports–and all the aid that will need to flow through them–are key. And the Coast Guard is already reporting that they're damaged.
The earthquake's havoc was challenging the ability to move supplies into the hardest hit areas, U.S. officials said. The damage threatened supply lines to the impoverished city and country, which relies in large part on ship-borne deliveries…

"The initial reports we are getting, it [the sea port] is very heavily damaged," U.S. Coast Guard Rear Adm. James A. "Jim" Watson IV, director of Atlantic area operations, said in an interview from Portsmouth, Va. "If the port is severely damaged, that makes it very, very difficult" to get relief supplies in.
This situation offers amphibious vessels–the ones with well decks–an opportunity to really strut their stuff–giving the Marines another high-profile means to demonstrate why their next-generation big-deck amphibs need their well-decks returned.
As far as harbor exploitation goes, the USNS Comfort (T-AH-20) will likely have a hard time approaching a pier–meaning that her value as a large hospital will be reduced.
It'd be nice if the shallow-draft JHSVs were in service right now, but instead we'll see if the former Hawaiian Superferries will be utilized or if the PCU Independence (LCS-2) gets orders to forgo commissioning and get underway for a mission. If the LCS-2 were sent, that'd be one heck of a familiarization cruise–but why not? Even if it just was to serve as a shuttle, what's there to loose? Isn't the LCS meant to be expendable? But, then again, the LCS-2 program office shouldn't feel too bad…with the newly commissioned USS New York (LPD 21) stuck pier-side, the LCS-2 folks have some room to maneuver.
Will the local harbors need salvage expertise and resources? Will this disaster demonstrate our relative shortcomings in salvage assets? ADM Harvey may be right to worry about the utility of harbor infrastructure to blockade a port–but having a second port available won't solve the problem. How would we be able to open a blocked U.S. port quickly–if we had to? Are we ready to do what we need to do–if we needed to do it? I don't think so–and Norfolk isn't the only problem, either.
We're in the early stages of this thing–and we're only looking at some initial signs and indications with this blogpost. I mean, in a few days we'll probably be cheering as Navy Seabees start clearing blocked roads. There are a lot of ways this post-disaster situation may evolve. But, right here, right now, we've got an eerie warning of the future world–full of weak states crumbling under the blows of an unexpected natural disaster.
Read more at NEXTNAVY.COM