Archive for the 'Hanoi Hilton' Tag
The word "hero" is overused today. But headline writers were correct in using the word this weekend when news broke of the death of Col. Bud Day.
George Everette Day spent five-and-a-half years of the Vietnam War in the infamous Hanoi Hilton POW camp. His courage earned him the Medal of Honor. One media outlet reported, "Colonel Day received the medal for his escape and evasion, brief though it was, and his refusal to yield to his tormentors."
That's not the whole story. Bud Day and other POW leaders set aside the temptation to escape – they decided to stay in the Hanoi Hilton – as an even greater act of courage.
While Bud Day did make an escape attempt shortly after he was shot down on August 26, 1967, the truth about escape attempts from the Hanoi Hilton became far more complex in the years following his capture.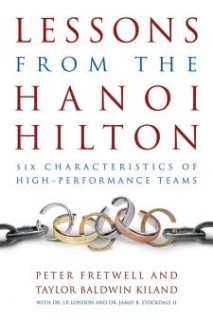 Review by CAPT Richard A. Stratton, USN
It is almost as if the authors were there beside Jim Stockdale while he was in the Maison Centrale (Hanoi Hilton). There are a few figures in each generation that rise above the norm to show the way by word and deed – who walk the walk as well as talk the talk. CAG (Carrier Air Group Commander) Stockdale was one of the rare few you would see at Thermopylae, Rorke's Drift, Omaha Beach or Amarageddon leading the charge or holding the line.
This work would have been enriched by including as an appendix CAG's remarks to his Air Wing prior to his shoot-down:
"Commander Jim Stockdale was the archetypal air wing commander. He commanded Carrier Air Wing 16 during the 1965 cruise, and set the stage for the air wing's accomplishments during Rolling Thunder. Stockdale took command of the air wing in April 1965, after commanding VF-51, a fighter squadron on the USS Ticonderoga. As the Ticonderoga was already on station in the Tonkin Gulf, Stockdale had a wealth of experience concerning operations in Vietnam. He had been airborne as the on-scene-commander during the Tonkin Gulf Incident. He also took part in several of the reprisal raids in the rapidly escalating air war. These experiences made him uniquely suited for command of the Oriskany's air wing as she departed for her first Vietnam War cruise.