Archive for the 'heritage' Tag
In every battle there is a moment when the combatants, and the world, seem to catch their breath. It is a fleeting moment, lost in the blink of an eye. But in that same blink, everything changes. Such moments are borne of desperation, of courage, of plain dumb luck. But they are pivotal – for what was before is forever changed afterwards. – SJS (June 2007)
Three years ago I wrote that at the end of a series of posts (which are collected here) that began on the 65th anniversary of the Battle of the Coral Sea, and culminated on the anniversary of Midway with some modern day observations and what we might take away. For even today, with all our technological sophistication there are still things we can learn at all levels, be it at the Fleet or in the cockpit or on the bridge. One of those lessons is the role of the individual and seizing the initiative when everything else seems to be going to hell in a handbasket around you. That was something impressed upon me as a young LTJG E-2C Mission Commander and I found resonance and inspiration from the JO's and petty officer's actions that pivotal day.

And sometimes it means pressing ahead into a situation from which you know there is no way out — but to do otherwise would result in a greater loss.
There aren't too many of them left — the original Midway vets that is. Same for the Doolittle Raiders. Ditto Medal of Honor awardees from that era. These modern day Samuel's raised their Ebenezer in our darkest hours – and what was before was forever changed.
The job wasn't finished yet though, and the way ahead was still perilous — Guadalcanal, Savo Island, Bloody Tarawa (can it ever be though of as just Tarawa?), Iwo Jima, Anzio, Normandy, Bastogne and the Meuse — Okinawa; all lay in the future. But it was a future made possible by the fighting spirit of the Navy, Marines and Army Air Corps in a far flung theater whose battlefield was but a featureless, sun-dappled sea of blue. Still, more would come and follow in their footsteps. And you and I today carry their proud heritage forward.
The far horizon is difficult to discern these days and it may well indeed hide gathering storm clouds – from whence direction I can not say for certain. But it would do us well to heed their lessons and remember their deeds when the warning flags are broken and we are called to battlestations once again.
— SJS, June 2010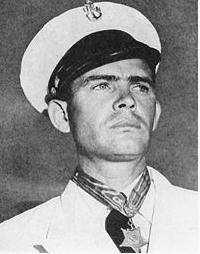 Many of us do not know how we will react when suddenly called upon to perform the extraordinary in desperate and lethal conditions. We train and plan, but until the bullet flies or the fire burns close at hand, all we can do is speculate.
On the morning of December 7th, 1941 there was no question in VP-14's Chief Aviation Ordnanceman Finn's mind:
Citation:
For extraordinary heroism distinguished service, and devotion above and beyond the call of duty. During the first attack by Japanese airplanes on the Naval Air Station, Kaneohe Bay, on 7 December 1941, Lt. Finn promptly secured and manned a .50-caliber machinegun mounted on an instruction stand in a completely exposed section of the parking ramp, which was under heavy enemy machinegun strafing fire. Although painfully wounded many times, he continued to man this gun and to return the enemy's fire vigorously and with telling effect throughout the enemy strafing and bombing attacks and with complete disregard for his own personal safety. It was only by specific orders that he was persuaded to leave his post to seek medical attention. Following first aid treatment, although obviously suffering much pain and moving with great difficulty, he returned to the squadron area and actively supervised the rearming of returning planes. His extraordinary heroism and conduct in this action were in keeping with the highest traditions of the U.S. Naval Service.
(Note: In June 1942, Finn was temporarily commissioned as an Ensign, rising in rank to Lieutenant two years later. During his service as an officer, he served with Bombing Squadron 102, at several stateside training facilities and on board the aircraft carrier Hancock (CV-19). Following transfer to the Fleet Reserve in March 1947, he reverted to the enlisted rate of Chief Aviation Ordnanceman. In September 1956, he was placed on the Retired List in the rank of Lieutenant. John W. Finn died on 27 May 2010. Navy History & Heritage Command).
Recently passed, LT Finn never played up the hero aspect when asked — he just said "I do know this. I didn't run away. I stayed there and we fought the Japs until the last one left."
We as a service — as a nation; have lost our way in naming our ships — deferring to the politically expedient instead of the enduring values and traditions of the Naval services. Perhaps now it is time to turn this ship around and set her on a proper course. One way to that end, I think, would be to name the next Arleigh Burke-class DDG after LT Finn. These modern greyhounds of the sea are among the finest warships in their class and would be a fitting honor. Regardless, however of the eventual ship-type, if you agree that one should be so-named, go sign the petition, and write your Congressman and Senators to underscore the effort.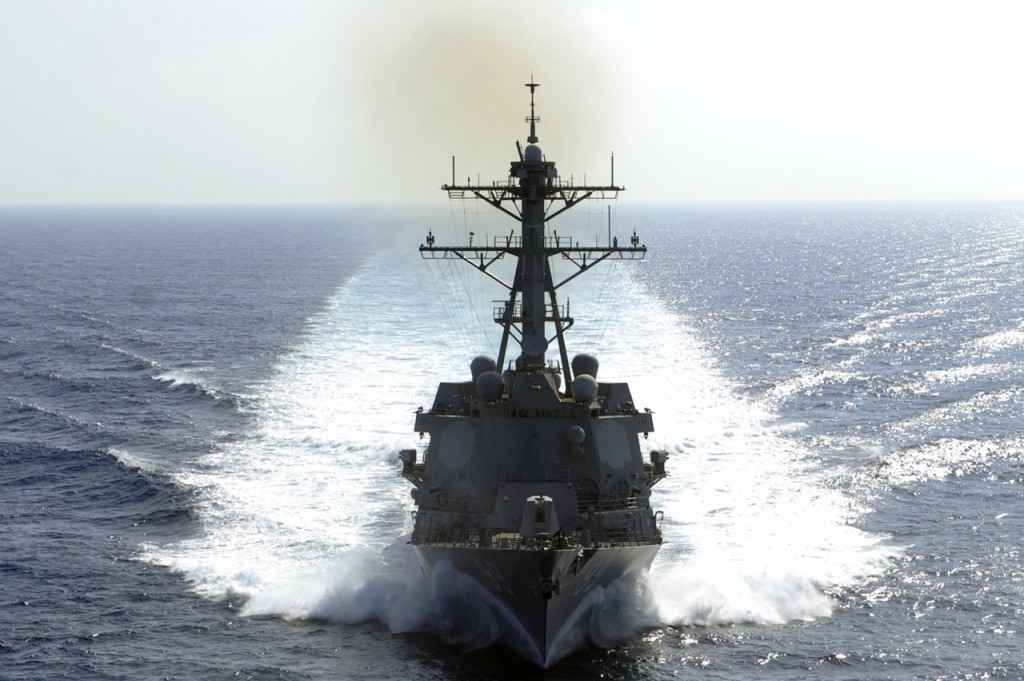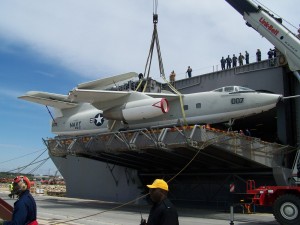 (NAVSTA Rota) 30 April 2009 – an EA-3B Skywarrior is loaded aboard USS Wasp (LHD 1) for transport back to the U.S. This marks the first time in over twenty-years a Whale is chocked and chained to the flightdeck of a USN warship. How it got to that point is an extraordinary story of one community's dedication, passion and memory of those who once flew an ancient aircraft in difficult conditions on missions the importance of which few at the time, and even today, did not understand. More over here.