Archive for the 'homeless' Tag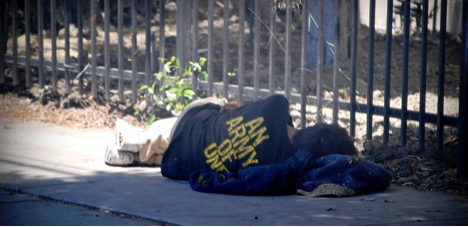 Homelessness is a difficult social issue that faces Americans head-on on a daily basis. Though it can be a complex issue made up of a myriad of different personal stories and unimaginable circumstances, a subset of those affected – homeless veterans – is a particularly painful reality – a reality that must change.
Homelessness is defined in Title 42 of U.S. Code as,
an individual who lacks a fixed, regular, and adequate nighttime residence and an individual who has a primary nighttime residence that is a supervised…shelter, an institution that provides temporary residence for individuals meant to be institutionalized, or a public or private place not designed for, or ordinarily used as, a regular sleeping place for human beings.
Government estimates put the number of homeless Americans as up to 3 million a year, yet many in our society continue to walk with their eyes averted. Members of the House Veterans Affairs Committee attempted to provide amplifying sentiment when they stated, "People don't want to look at the homeless. But they will look at, or think about, or maybe support, dealing with homeless veterans." Was their statement accurate, though? Do people pay more attention to homeless veterans, or was that merely wishful thinking or political side-stepping? Due to the inherently transient nature of those on the streets, not to mention the unwillingness of many to speak about their undesirable lot in life, it is incredibly difficult to take an accurate census of the homeless population. Informed estimates by government and non-profit organizations, though, put the total at nearly 300,000 homeless veterans in our country in a given year. In the 2013 Annual Homeless Assessment Report to Congress, the Department of Housing and Urban Development stated that no less than 60,000 veterans sleep without a roof over their heads on any given night.
Fifty percent of homeless veterans are younger than 50 years old – nearly double the percentage of total veterans between the ages of 18 and 50. A small number of veterans from World War Two and Korea remain on the streets, and the balance span our nation's modern history of uniformed service: from the under-appreciated veterans of Vietnam to the continuously lauded veterans of Operations Iraqi and Enduring Freedom. Young and old, our nation's most noble citizens – those who volunteered to serve their country – are stricken with hardships, hopelessness, and illnesses and live without even the most basic dignities that so many of us take for granted.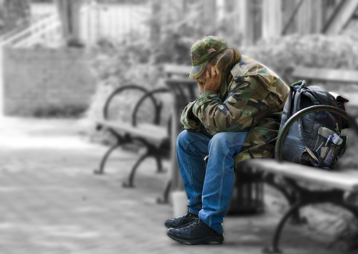 In 2009, President Barack Obama made a much-publicized announcement that kicked off the Department of Veterans Affairs' initiative to end Veteran Homelessness by 2015: "Until we reach a day when not a single veteran sleeps on our nation's streets, our work remains unfinished." According to the National Coalition for Homeless Veterans, he was the first American President to demand an end to this critical, but often overlooked, social problem. Though many saw his pledge as overly ambitious, the VA's initiative has received Congressional support and is progressing smartly. Whether the goal will be met remains to be seen.
Though we as citizens should work towards eradicating homelessness in our country, we as service members, veterans, and part of the extended military family must not tolerate our society's continued habit of looking the other way and ignoring those who served it so honorably. Men and women who served our country – many of them putting their lives on the line – should not be without a roof, and a safe place to lay their heads.
There are a number of ways to get involved and to help our brothers and sisters in arms who are down on their luck. Community-based volunteer organizations and networks provide valuable services ranging from medical care to food and shelter. Donating money, food, clothing, and other life items to shelters is always appreciated, as is dedicating time to serve as a mentor, counselor, or friend to those in need. Organizations like The National Coalition for Homeless Veterans and Veterans Village of San Diego, as well as the Department of Veterans Affairs itself, all pose great opportunities to help make a difference in this fight to leave no man behind. Another important step is raising awareness.
Lieutenant Jackie Perez is a graduate of MIT and a Surface Warfare Officer (Nuclear), having served around the world and in combat operations in the Middle East. She recently transitioned to the Naval Reserve so that she could pursue her dreams of becoming a filmmaker. She now lives in California where she continues her service to our country and works as a civilian in Hollywood. She is socially conscious, volunteers at local organizations, and cares deeply about this issue. In her capacity as a young filmmaker, she is looking to highlight this issue in a short film and link the roles of our veterans to the greater society that we all enjoy.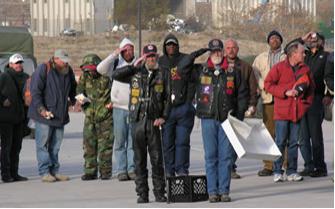 The Music Bed is now running a contest called #projectfilmsupply, which will award generous film-industry support to three aspiring directors in order to bring their inspirational abstracts to life. LT Perez' short-film project, My Fellow American, focuses on the issue of Veteran Homelessness and how it is approached by a society that often chooses to keep its head down instead of engaging our nation's former warriors. The contest, which requires abstracts to be inspirational in nature, will be decided by the Public's online votes (confirmed via email to ensure contest integrity). While we all might say that we want to get involved, LT Perez is doing it. This is an important project that should come to life and if it wins, the director, cast and crew will all be veterans, ensuring this story is told by those who share in the brotherhood of those they seek to support.
It is easy to avert your gaze or to come up with judgements as to why a person may be homeless, but it is much more difficult to recognize the scope of the problem and to take that first step towards making a difference. Please consider getting involved in your local community. Support the work of people like LT Perez with your vote, and remember that it is not in our code to leave our comrades in the field, cold, scared, and wondering if anyone will ever come to their aid.
Sources:
Veterans Village of San Diego
National Coalition for Homeless Veterans
The Invisible Ones
Annual Homeless Assessment Report to Congress
Department of Veterans Affairs