Archive for the 'Hospital Ship' Tag
PLAN's new purpose-built hospital ship, Peace Ark, spent last week anchored off Kenya's coast while providing medical assistance to Kenyan citizens:
The crew, which leaves the port of Mombasa tomorrow, has been doing an average of six operations, 80 physical examinations, 110 dental check-ups, 35 CT scans, 200 DR examinations, 240 ultra sound cases and 170 heart check-ups per day.

…

The Peace Ark hospital has 428 medical and support staff. They include neurologists, surgeons, radiologists, dermatologists, biomedical engineers and psychologists.

Other facilities are a rescue helicopter, 32 medical departments including Chinese herbal medicine, 300 hospital beds and a wide range of diagnostic medical equipment.
The daily stats offer some insight into the medical assistance capacity of the new hospital ship, however that is not what interests me. What interests me is that PLAN first humanitarian assistance deployment is already scoring major public diplomacy victories for China. Need proof?
Today news of the Peace Ark's visit to Kenya was posted on the popular social new website Reddit. Within four hours over 840 readers had voted up the story to the top page, where it currently remains. Another further 270 readers had commented on the story. The most popular comment? "When is it visiting the USA?"
The venerable US Navy hospital ship, USNS Mercy is deploying tomorrow on Operation Pacific Partnership 2010. Her deployment will last until late September during which riders and crew will conduct health and construction missions in Vietnam, Cambodia, Indonesia, and Timor-Leste. Mercy's 500 riders include both military and NGO volunteers, including health workers from InterPlast, International Relief Teams, International Aid, Loloma Foundation, Project HOPE, Rotary International, Shriners, University of California at San Diego Pre-Dental Society, and World Vets. In addition, Australia, Canada, Chile, France, Japan, South Korea, New Zealand, Singapore, and Tonga are providing personnel to support the hospital ship's mission.
Pacific Partnership was born after the US military's response to the 2004 tsunami. After realizing the capacity of health diplomacy to win friends and allies, US Pacific Fleet decided to follow up Unified Endeavor by sending the Mercy back to the region in 2006. Pacific Partnership 2010 is the fifth time the humanitarian civic assistance operation to been conducted.
You can follow Pacific Partnership online and on twitter.
USNS Comfort returned to Baltimore on Friday after completing their humanitarian mission in Haiti. The hospital ship made a rushed departure from Baltimore on January 16th only days after an earthquake devastated the island nation. It is the weekend, and rather than discuss the number of patients treated or supplies delivered, I think it is appropriate to just take a look at the good work of her crew through the photos of some MCs.


Cmdr. Sam Critides, from Glen Ridge, N.J., a neurosurgeon embarked aboard the Military Sealift Command hospital ship USNS Comfort, speaks with Carl Shapiro, site director of St. Boniface Hospital, as a local crowd observes. Photo by Petty Officer 2nd Class Shannon Warner.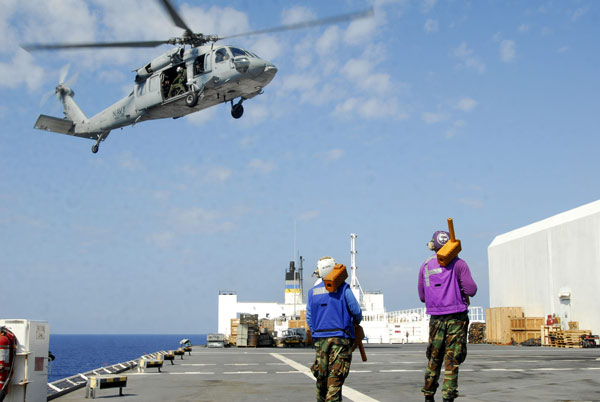 Sailors assigned to Helicopter Sea Combat Squadron 28, embarked aboard the Military Sealift Command hospital ship USNS Comfort, prepare for the landing of an MH-60S Sea Hawk helicopter during an underway replenishment off the coast of Haiti. Photo by Petty Officer 2nd Class Shannon Warner.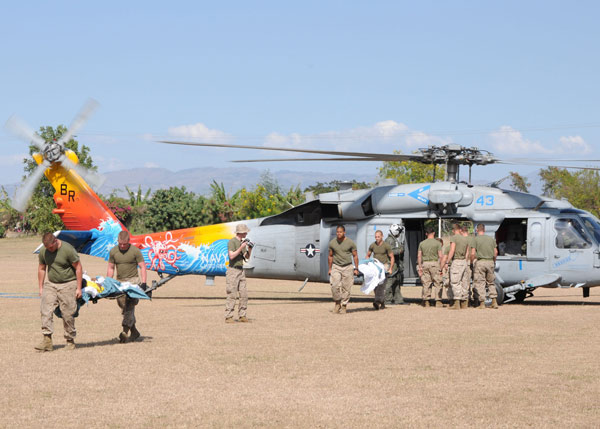 Marines from the 24th Marine Expeditionary Unit transport patients discharged from USNS Comfort (T-AH 20) to an intermediate aftercare facility in Port-au-Prince, Haiti. Photo by Petty Officer 3rd Class Matthew Jackson.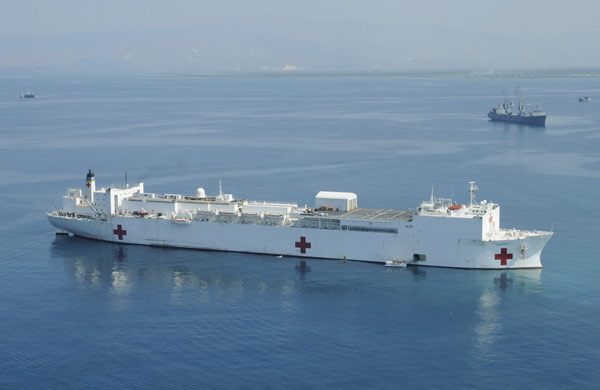 The USNS Comfort as seen from the air Feb. 8 in Port-au-Prince. The last Haitian patient was discharged from the vessel Feb. 27. There were 88,646 patient encounters including primary care, pediatrics, dental, OB/GYN, immunizations, lab work and pharmacy scripts. The highest number of patients aboard the ship were 485, Jan. 29. Photo by Sgt. 1st Class Kelly Jo Bridgwater.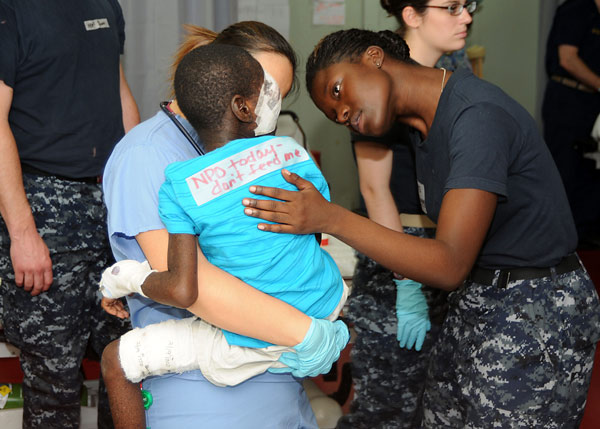 Petty Officer 3rd Class Brittany Saulsberry, from Dallas, Texas, comforts a young boy before he receives medical treatment aboard the Military Sealift Command hospital ship USNS Comfort. The boy was brought aboard for treatment of a cancerous infection in his eye and a variety of other life-threatening conditions. Photo by Petty Officer 3rd Class Matthew Jackson.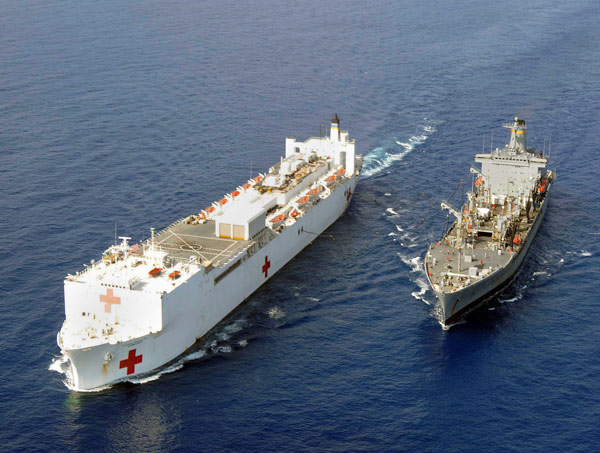 The Military Sealift Command hospital ship USNS Comfort, left, and the Military Sealift Command fleet replenishment oiler USNS Leroy Grumman conduct an underway replenishment in the Caribbean Sea. Photo by Petty Officer 3rd Class Matthew Jackson.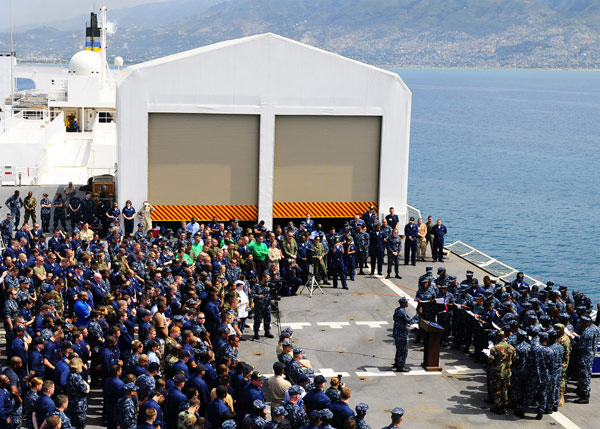 Haitian-American Sailors embarked aboard the Military Sealift Command hospital ship USNS Comfort sing Ayiti Cheri (Haiti My Darling) in Creole during a remembrance ceremony for the people of Haiti. Photo by Petty Officer 2nd Class Edwardo Proano.

The Military Sealift Command hospital ship USNS Comfort arrives at Naval Station Norfolk following a seven-week deployment to the U.S. Southern Command area of responsibility to provide medical care in Haiti as part of Operation Unified Response. Photo by Petty Officer 3rd Class Ryan Steinhour.
Good job USNS Comfort!
Over the last few weeks, USNS Comfort has been part of the Haiti zeitgeist, both in America and overseas. The ship appears in hundreds of stories, articles, videos, and blog posts. Her white hull has become a symbol of United States humanitarianism in Haiti. However, the converted oil tanker's original primary purpose was to support combat operations, not conduct the humanitarian assistance and disaster relief missions that gained her renown. So I ask the readers, if you were to design the next generation of hospital ship, the next USNS Comfort, what would the vessel look like? Here are some of my own thoughts.
Small, Fast, And Shallow
As previously mentioned on the USNI blog, USNS Comfort arrived off the coast of Haiti slightly over 88 hours after the earthquake. In that time, the converted oil tanker, manned by only a skeleton crew, was stocked with supplies, staffed with medical personnel from multiple services and NGOs, and sailed down the Atlantic coast. In getting the massive ship from a pier in New England Baltimore to a disaster zone in the Caribbean, the crew proved themselves to be true professionals. Impressive is not strong enough a word to describe their accomplishment, it was Herculean. And, that is the problem.
To maximize effectiveness, rapid arrival on station after a disaster should occur because of the ship's design, not in spite of it. Hospital ships must be small, fast, and shallow. They must operate in areas with small, damaged, or no ports. They must navigate waterways littered with debris without assistance and anchor in the shallow waters close to shore. Most importantly, hospital ships must be fast. Arriving in the first 24 hours is orders of magnitude more helpful than arriving in the first 48 hours, or 88.
Dedicated Medical Team
Instead of staffing hospital ships with an ad hoc complement of riders, hospital ships deserve dedicated medical contingents. Dedicated medical team would reduce deployment time and improve mission effectiveness. I am not discounting the importance of NGOs such as Project Hope, but rather suggesting that NGO health professionals should supplement a core medical team that has trained and worked with each other and with the ship. Many will say the armed forces do not have enough medical personnel. They are right, but that does mean we should not do it. Rather, it only means we must train more personnel.
Update: Leesea has some great thoughts in the comment section below. Check them out.