Archive for the 'humanitarian response' Tag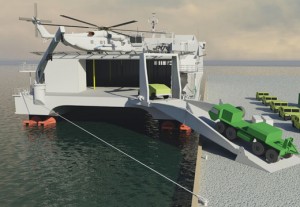 When you scan over it fast – it is really just a small transport, right? For such a small ship with such a humble mission – JHSV continues to bring a lot of interest. Why?
Along with co-host and fellow USNIBlogg'r EagleOne, we hosted a panel discussion this weekend focused on just one thing; the Joint High Speed Vessel (JHSV).
To discuss this curious little ship for the full hour, we brought together John Patch, CDR USN Ret., Associate Professor of Strategic Intelligence at the US Army War College's Center for Strategic Leadership, and "Leesea" a former SWO who has managed sealift ships for the Military Sealift Command since 1980 to include the original charter of the HSV WestPac Express.
Why do we need JHSV, what requirement does it meet? How is the program from a manning, shipbuilding, and development perspective viewed? What missions can/should it do and how should it be armed, if at all?
Grab a fresh cup of coffee, and click here to give it a listen and help us ponder.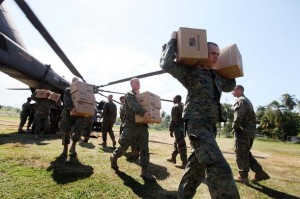 In the last week there has been a fair bit online like Chris's post below about what is being done with the Navy-USMC team now, and elsewhere about what is coming to help with the humanitarian effort in Pakistan. Soft power is a popular topic.
The Department of Defense announced Aug. 13 the deployment of the Kearsarge Amphibious Ready Group (KSG ARG) and 26th Marine Expeditionary Unit (26th MEU).

The combined Navy and Marine Corps team will leave later this month to bring significant heavy- and medium-lift aircraft and other assets to support flood relief efforts in Pakistan. The Kearsarge ARG/26th MEU's capabilities will allow sailors and Marines to provide food, water, transportation, and other support, in partnership with the Pakistani military, to those in need.

The group is expected to arrive in the Arabian Sea in late September.
It will be at least six weeks, at the earliest, until initial effects are seen on the ground, so let's speak to each other as adults.
This effort has everything to do about INFO OPS and STRATCOM, and little about a meaningful contribution to saving lives. That is fine – the argument can be made that this may save lives down the road through impact on the human terrain; but that is an argument, not a fact.
Some people will be helped – but within a standard deviation of the lives that the medical facilities, food, and supplies brought with the ARG could save if it helped on any standard day in Pakistan. Those who have been to AfPac know that even on a good day there is a humanitarian problem that needs what the USN-USMC can bring over the horizon.
Also remember that Pakistan is an incredibly poor country of ~175 million souls. For the rest of the life of our republic, every ARG/MEU deployment could go to the coast of Pakistan, and every day you could read, "... civilians from the town of XXXX are gathered inside a U.S. Army Chinook helicopter which has come to deliver humanitarian assistance and pick up victims …"
A nation could go broke and a military worn out attempting to fix what cannot be fixed in any sustainable way by an ARG/MEU.
That stated, the ability to conduct humanitarian assistance has a long and honorable history in the US military and has its place. Taking six-weeks to help people suffering from water-born disease and lack of medical care is a long time to "help" save lives. Most who are in danger of dying now will be dead by the time the ARG/MEU gets there. On the extreme margins, we can help a few – but is that "our" job to save every soul in danger across the world? A Pakistani whose village is much better off than the homeless refugees of Darfur who are walking among the uncounted dead. Where, and at what cost-point, do you say, "enough." When do the actions of a Republic start to look like the duties of an Empire?
If we are to do this, then we should do it better. More pre-positioned capabilities would be nice – so would strategic lift capable LTA assets (don't laugh at Lighter-Than-Air when it comes to moving more tonnage than a C-17, faster than a ship, deliverable almost anywhere in a permissive environment). We don't have that asset because like Command Ships, they aren't sexy and therefor don't get funded – so we have what we have.
There is a more fundamental question though. Do we want to be able to do this within means and capabilities – which is what we are doing now – or as a primary mission area? If you want to make it a PMA, then you will need to fund it. Cost it out and tell me what you will trade to be able to do this …. and then make the argument of the actual good you will derive from it.
Remember, at best – this helps the INFO OPS/Strategic Messaging efforts. We are talking about Pakistan. The delta in lives saved vs. the control sample is not that great. Just know that you are not doing "good" here – you are at best trying to buy good will – but really, how much good will?
The counter argument – and one made coldly – has two parts:
– This is like watering the desert. You can pour gallons on water on the desert – but if you don't continue to do it on a regular basis, you soon end up where you started. No green shoots; just sand and lost money.
– How much good will did our efforts in Somalia in the early '90s or the Pakistani earthquake half a decade ago accrue? How is that working for us?
It is not a mature intellectual exercise to do things with blood and treasure just to make ourselves feel good. Theory is just that – theory – without metrics to back it up. Given the spotty track record of these things in the last couple of decades – and in a period where we must learn to be careful with our funding – besides nice photo-ops and feeling good about ourselves, what are we getting for our effort?
The USS B
ataan (LHD-5) was one of the first ships directed towards Haiti after the massive January 12 earthquake, but, once the ship arrived to serve in Operation Unified Response, the Bataan ran into a hail of criticism over it's slow start in accepting and treating wounded Haitians. One of my USNI pals was particularly tough on the flat-deck. Why was the Bataan so slow off the mark?
Well, the MSC has a likely answer. There might have been a darn good reason why the Bataan's medical facilities were slow to get into the game….Why? The answer is simple–Water. The Bataan didn't have any. Though the Bataan's embarked media didn't make much of a peep about the shortage, off Haiti, the ship's evaporators–rather important pieces of equipment for a steam-powered vessel–failed.
And with no water, there's precious little a medical team can offer.
According to Cmdr Mark Pimpo, USNS Sacagawea's (T-AKE-2) military department officer in charge, the Bataan was in serious trouble:
"We also transferred more than 40,000 gallons of water to amphibious assault ship USS Bataan when both of the ship's evaporators stopped functioning. Bataan was eventually able to get a tech rep onboard, but the water we provided made the difference," Pimpo said."
For the Bataan, a ship that entered the fleet in 1997, this sort of breakdown is not a good sign. But on the other hand, an evaporator failure is the sort of thing that'll likely happen after a ship has been at sea for seven months, gets shut down…and then gets tasked to handle an unexpected contingency.
With short-notice surge deployments becoming the norm, the Navy has got to start doing some serious thinking about how it manages ship maintenance and surge availability. Are looming failures (or chronic engineering problems) getting reported up the chain-of-command during deployment? Or are they kinda close-held until after deployment when it all becomes some shipyard's problem to deal with?
But just note…for the helpful T-AKE, this story is just another testament to how important the MSC's T-AKE fleet has become (in such a short time, too)! These cheap, do-anything ships–with their residual fuel and liquid supply capabilities–are really pulling the Navy out of some potentially sticky situations…
Five years ago, in days after the Indian Ocean Tsunami, I wrote an op-ed for the Boston Globe–a piece that, with the Haiti disaster, remains a relevant cautionary tale today:
The tsunami response, being hailed as one of the biggest U.S. military disaster relief missions in history, has been less effective than portrayed. When a deployment of just 40 navy helicopters requires 6 days, more than 9,000 sailors and $7 billion of military equipment, something, somewhere, has gone wrong, reinforcing Rumsfeld's belief that the United States needs better tools to project power in the strategically critical zone where land meets sea.

Ships made for controlling the high seas have little utility in crowded, shallow waters. The enormous aircraft carrier off Indonesia, the Abraham Lincoln, has little to offer. With a medical staff of 40 and 17 small helicopters, the floating airbase is a marginally useful asset for anything other than all-out warfare.

A group of three amphibious warfare ships in the arriving expeditionary strike group can do more. Their complement of about 23 large helicopters and landing craft will speed the distribution of fresh water, food and medical care to areas cut off by the tsunami. But three amphibious ships can't cover 3,000 miles of affected coastline.

An underlying problem is strategic. America simply lacks a presence in shallow intertidal zones. Had fast-moving assets been nearby, the Bush administration, by getting firsthand information from the disaster zone, would have better understood the scope of the tragedy and avoided making an embarrassingly low initial aid offer of $15 million.

This diplomatic fiasco is reason enough to demand an immediate transformation of American military posture. But Rumsfeld's vision of a future Navy isn't perfect. He overlooks the mundane nonfighting aspects of present-day military power. That is a problem for two reasons. First, the United States has a long history of using the military for diplomatic and humanitarian gain. Second, it is often the military support system that does the most in furthering American aims…
With the Haiti earthquake, we'll discover that a lot has changed in the space of five years.
Today, in the aftermath of this earthquake, the initial response will be enormous. Unlike the Indonesian Tsunami, our initial aid may end up becoming a long-term commitment–lest we wish to see a desperate human tsunami start out for the U.S. from a shattered Haiti. Help sent to Haiti, however, may also pull assets from Afghanistan, forcing policymakers into an ugly debate over the relative importance of the Western Hemisphere vs. Afghanistan and Iraq.
At present, prior commitments are taking a backseat to lending a needed hand. A whole raft of ships are heading to help. The USS Carl Vinson (CVN-70) may stop off at Mayport to become, largely, a helicopter carrier (populated with Army helicopters, perhaps?). Not only will this highlight the importance of having a second carrier-ready port on the East Coast (and, in the process, hand ADM John Harvey's call for strategic homeportingsome extra "omph!"), this will give the Carl Vinson crew a chance to grab extra gear for the task ahead.
The USS Bataan (LHD-5), USS Fort McHenry (LSD 43) and USS Carter Hall (LSD 50) are going to sea, and will likely prep for Haiti duties. Amphibs are the poor bloody infantry of disaster-response operations, and this deployment should be expected. That said, the USS Bataan is familiar with MV-22 "Osprey" operations, suggesting that the 24th MEU's attached combat-ready MV-22 squadron may get it's first real humanitarian/support to civil authorities mission. The ships with the 24th MEU may go as well, but we'll see.
An Osprey deployment to Haiti will be high-profile test–an unexpected tasking, done under a full-bore media glare. It will likely not have the maintenance padding (the extra spare parts and private maintainers to allow for "aggressive sparing") Ospreys enjoy on their overseas junkets. This is a real test. Now, to the Osprey's benefit, this is low-altitude work in almost ideal conditions–and, as I've said before, a perfect way to demonstrate this platform's effectiveness. If they go, expect to see the Osprey pressed into moving critically-injured foreign nationals from Haiti to Guantanamo for staging/stabilization and evacuation–a high-profile mission where speed is of the essence. (Might we see some of the first MV-22 operational landings on a U.S. aircraft carrier? I mean, in an emergency, anything might happen…)
Aviation, however, will be a sideshow (OK, an important sideshow). But the ports–and all the aid that will need to flow through them–are key. And the Coast Guard is already reporting that they're damaged.
The earthquake's havoc was challenging the ability to move supplies into the hardest hit areas, U.S. officials said. The damage threatened supply lines to the impoverished city and country, which relies in large part on ship-borne deliveries…

"The initial reports we are getting, it [the sea port] is very heavily damaged," U.S. Coast Guard Rear Adm. James A. "Jim" Watson IV, director of Atlantic area operations, said in an interview from Portsmouth, Va. "If the port is severely damaged, that makes it very, very difficult" to get relief supplies in.
This situation offers amphibious vessels–the ones with well decks–an opportunity to really strut their stuff–giving the Marines another high-profile means to demonstrate why their next-generation big-deck amphibs need their well-decks returned.
As far as harbor exploitation goes, the USNS Comfort (T-AH-20) will likely have a hard time approaching a pier–meaning that her value as a large hospital will be reduced.
It'd be nice if the shallow-draft JHSVs were in service right now, but instead we'll see if the former Hawaiian Superferries will be utilized or if the PCU Independence (LCS-2) gets orders to forgo commissioning and get underway for a mission. If the LCS-2 were sent, that'd be one heck of a familiarization cruise–but why not? Even if it just was to serve as a shuttle, what's there to loose? Isn't the LCS meant to be expendable? But, then again, the LCS-2 program office shouldn't feel too bad…with the newly commissioned USS New York (LPD 21) stuck pier-side, the LCS-2 folks have some room to maneuver.
Will the local harbors need salvage expertise and resources? Will this disaster demonstrate our relative shortcomings in salvage assets? ADM Harvey may be right to worry about the utility of harbor infrastructure to blockade a port–but having a second port available won't solve the problem. How would we be able to open a blocked U.S. port quickly–if we had to? Are we ready to do what we need to do–if we needed to do it? I don't think so–and Norfolk isn't the only problem, either.
We're in the early stages of this thing–and we're only looking at some initial signs and indications with this blogpost. I mean, in a few days we'll probably be cheering as Navy Seabees start clearing blocked roads. There are a lot of ways this post-disaster situation may evolve. But, right here, right now, we've got an eerie warning of the future world–full of weak states crumbling under the blows of an unexpected natural disaster.
Read more at NEXTNAVY.COM