Archive for the 'immigration' Tag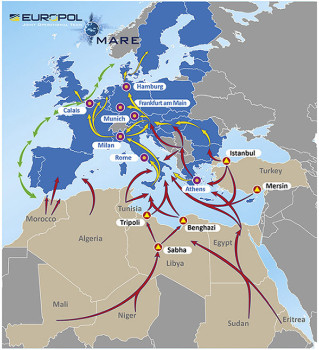 Take a moment and look at this map, what do you see?
At first glance, what you see is an invasion. That is exactly what it is.
Throughout human history, masses of people have been pushed out of one area, or attracted in to another. Trying to escape a more determined foe, a homeland that can no longer support its population, or simply attracted by a weaker neighbor that inhabits more desirable territory – people move.
Small scale migrations are always happening – what moves history are large scale migrations.
There are three things that need to exist in order to trigger large scale migrations; (a) a drive to leave a present home; (b) a more attractive location to move to; (c) a manageable barrier of entry that is less of a concern than the forces producing the drive in (a).
If (a+b)>c, then you have then entering arguments set to trigger a migration. The greater the magnitude of a & b, the stronger flux of the migration.
That is the reason that North-Central Asian Finns, Estonians, and Hungarians now reside in Central Europe. Why the Goths from Southern Scandinavia wound up taking a long route to North Africa. Why the people of Madagascar are ethnically closer to the people of Indonesia than right across the channel to mainland Africa. That is why you have Englishmen in the North Pacific, Germans in the South Atlantic, and every soccer team in Asia has someone related to Genghis Khan.
With the exception of the Goths, the Mongols, and the more recent events in the Western Hemisphere, all the major migrations through we know of occurred in pre-history. We can guess how these went, but let's stick to those we know.
There are three different migration themes on how migrations start.
On two extremes are:
-The Dove: the peaceful migration of the initial waves of the Polynesian through Pacific – peaceful because in their islands from New Zealand to Easter Hawaii, there were no other humans (though the second wave to Hawaii by Polynesians was far from peaceful). This is the most rare.
– The Wolf: Red in tooth and claw Mongol invasions of, well everyone. The Iberian colonization of South America. Australian colonization. Magyar invasions of Europe. This is more common, but not the majority.
In the middle, and the one that is the most common in the way it starts, is;
-The Other: economic, ecological, or political migrants; North American colonization from Europe. New Zealand colonization from Britain. Gothic/Germanic population of the Western Roman Empire.
Those are the major examples of the most disruptive of The Other. There is a subset of The Other that is minor, bur as a result are not very disruptive and mostly positive and integrative to the host nation; the Jewish diaspera; French Protestant migrations following their expulsion from France; 19th & 20th Century Italian immigration to the USA.
The Other is the most common and the most successful. It usually starts with small populations of migrants who get a foothold and then grow as the host population, for a variety of demographic, economic, cultural, or political reasons, grows weaker. More migrants come attracted to the land, or given more reason to escape from their homeland – or more often a combination of the two.
In time, one of two things happen, once a critical mass is reached, either the host and migrant cultures blend together and almost without notice become one. The previously mentioned Italian, French and Jewish examples are like this. You could also add in the 19th Century German migrations to the USA – one of the more under told stories locally.
If the two cultures for religious, cultural, or more often political reasons cannot become one – then there is conflict, usurpation, and a new host culture take control. The Germanic populations in the Western Roman Empire, the Reconquista of the Iberian peninsula, and parts of the former Yugoslavia are variations of this.
That is also why Spanish was and now English is the language of Comancheria.
There is your broad, sliding scale; from Dove, to The Other, to Wolf. Just because something starts as one, does not mean it stays there.
The N. American pattern went from Other to Wolf inside a generation. New Zealand at one point or another saw all three. The normal result of mass migration is conflict – the exception is peaceful integration.
One would think that the historical example would lead to host nations to promote integration-centric policies. Sadly, that is largely not the case.
The largest barrier to this era's migration success is a cultural malfunction where assimilation – a process that blends people together – is not the predominate mindset in the host nation, and as a result, encourages the sectarian tendencies of large groups of The Other. It is apartness, multiculturalism, and the – to use a very accurate description of the problem – Balkanization of land and people that will warp the trends toward conflict.
This is why nations are, in different ways, pushing back against this rising tide of migration. They know where this ends. The era of plenty of open land and expanding economic resources is long gone. More people after finite resources; this social science historical dynamic is well known.
The push back is relatively weak but growing stronger in Europe – but strong and getting stronger in Asia and other parts of the world.
Now that the table is set – look again at the map at the opening of this post. As most of the news reports reflect – there is a maritime crisis in the Mediterranean. This is only going to grow, and not just in the Mediterranean.
Australia has known for a long time and now the rest of Southeast Asia are seeing the problem in Asia is also largely a maritime one.
Clashes in 2012 between the state's Buddhist community and Rohingya Muslims, a long-oppressed linguistic and ethnic minority in this majority Buddhist country, left hundreds dead and more than 140,000 people homeless.

The United Nations estimates more than 100,000 Rohingya have fled Myanmar by sea since ethnic and sectarian violence erupted.
…
"I feel so sorry for them," Kraiwut said. "It's so different to when you see these refugees on land, and the conditions are so terrible."

Late last week, residents on Koh Lipe Island in southern Thailand could be seen collecting food, water and clothes to take to the migrants on board the boats, but since then the military has told them not to take supplies out to the boats, or to talk to journalists about the situation.
…
A top Malaysian official has said the surge of migrants from Myanmar and Bangladesh seeking asylum in his country and neighboring Indonesia in recent days is unwelcome — and despite a U.N. appeal, his government will turn back any illegal arrivals.

"We cannot welcome them here," Malaysian Deputy Home Minister Wan Junaidi Jaafar told CNN by phone last week.

"If we continue to welcome them, then hundreds of thousands will come from Myanmar and Bangladesh."
Last night, Malaysia and Indonesia, predominately Muslim nations, have agreed to temporarily take in these desperate people, but for nations already struggling with their own ethnic conflict, and knowing the dangers of opening the door, it is unlikely to be a permanent solution.
When you look at the dual force of demographics and poor economics in the nations the migrants are coming from – and combine that with a growing "no thanks, we're full" mindset in already overcrowded developed and developing nations – are the world's maritime powers ready to respond to the masses at sea?
When pulses of desperate migrants surge forth as conflict occurs in these tottering and dusty edges of modernity – what will be the response as the walls grow and thicken while the oceanic commons fill with the boats and bodies of migrants?
The politicians will eventually decide on a path. Any path will require the tools of national will – military, paramilitary, legal, and police power – to respond and act. That requires training, equipment, and procedures – all done in a multinational environment.
We might as well start increasing this part of our toolbox; the requirement is only going to grow. The mission you may not want, but may get anyway.
– Will we just block, send back and watch as more ships founder and drift?
– Will we intercept, tow, and divert?
– If the pressure-valve of migration is stopped, then the stress for resources and justice in the source nations can only lead in one direction – conflict. Will we be in the consequence management business even more – or like the international fleet off Smyrna (now Izmir), just hang out and watch the bloodbath?
A final note: why not mention the issue of immigration to the USA? Different problem in both geography, culture and scale. Much easier for a diluted majority Anglo-Saxon-Germanic culture to absorb migrants from mostly Catholic Iberianesque cultures than what the rest of the world if facing. As I grew up in just that environment – I don't see the issue. We're fine. Also, more of a land and as a result police issue. I'll let the Army and law enforcement side of the house address that if they wish.
I have also lived at the edges of the unassimilated masses of N. Africans, Turks, and S. Asians that are swelling in Europe – I see the huge challenge those nations will have to learn to deal with one way or the other. The trend lines speak for themselves.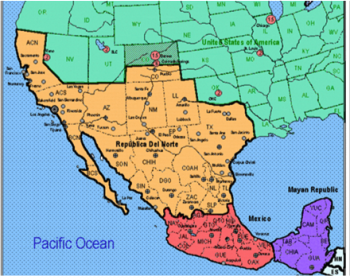 The United States is currently undergoing a massive influx of Central American immigrants along the Southwest border. Due to gridlock and political interest in courting the Latino vote, federal policies have been ineffective in resolving this looming national crisis. The consequent bureaucratic quagmire, in turn, prevents states from protecting the interests of their citizens. A dangerous situation looms, where local communities and citizen groups feel compelled to take action to preserve property and maintain their way of life.
Resolving this immediate crisis is important but the nation's political leaders must also examine the migration and demographic trends which threaten the geographic cohesiveness and prosperity of the United States. This existential threat could be turned into a strategic opportunity if viewed through a different, long-term lens.
In his final book Who Are We? The Challenges to America's National Identity, Harvard political scientist Samuel Huntington addressed what he viewed as an impending crisis posed by Hispanic immigration. He argued that Anglo-Protestant culture, the fundamental reason the United States has prospered as a nation, was eroding because of this northward population shift. He also noted that Hispanic immigration differed from past such movements for six reasons: contiguity, scale, illegality, regional concentration, persistence, and historical presence. It is this last factor that requires further examination.
People from no other immigrant group in America's history can make a claim of ownership of U.S. territory. Most of the Southwest region from Texas, to California, to Utah was incorporated into the United States after wars with Mexico in the mid-19th century. Peter Skerry of Boston College notes:
Unlike other immigrants, Mexicans arrive here from a neighboring nation that has suffered a military defeat at the hands of the United States; and they settle predominantly in a region that was once part of their homeland…. Mexican Americans enjoy a sense of being on their own turf that is not shared by other immigrants.
This history certainly challenges assimilation of the migrants, potentially leading to the bifurcation of a national culture.
Huntington further posits that blood relationships are thicker than national borders. The concentration of Hispanic immigrants along the Southwest border, with relatives nearby but outside the US, poses a true stressor on the political line drawn between the two states. Despite long- established borders, cross-border networks, often based on family connections, have the potential to spawn a unification movement. Historically, such culturally divisive borders have been a source of bloodshed, with Rwanda, Korea and Vietnam as recent examples.
Huntington was not alone in this school of thought. Another academic, Charles Truxillo of the University of New Mexico, predicts the Southwestern American states and the northern states of Mexico will form a new republic by 2080. "Southwest Chicanos and Norteño Mexicanos are becoming one people again," he said and it should happen "by any means necessary." What this new political entity would look like – a semi-autonomous region or an independent state – no one knows.
While this notion may seem absurd, recent polls indicate measures of trust and confidence in the US federal government are at an all-time low and nascent movements are underway in several states (Maryland, Colorado, and California) to change existing borders to create more representative political entities. In democratic republics, can this type of secession occur without bloodshed if demanded by its citizens? Recent events in Crimea may portend the future of state borders not supported by the populace. So something should be done.
In the thought-proving book The Revenge of Geography, Robert Kaplan compares the current crisis along America's Southwest border with the decline of the Roman Empire. Political overreach elsewhere while ignoring problems close to home contributed to the demise of Rome. Kaplan argues that the influx of immigrants along the Southwest Border poses a similar strategic security concern for America. Like Huntington and others, he highlights the dangers of ignoring the long term effects of unbridled illegal immigration and concludes some form of conjoining Mexico and the United States may be inevitable. Conversely, Kaplan also identifies opportunities from such a situation.
Obviously, a more vibrant Mexican economy would lower the push of migrants seeking work in the United States. If Mexico were to achieve first-world economic status, Kaplan asserts, a stable and prosperous republic south of the Rio Grande, working in concert with United States, would be an unbeatable combination in geopolitics. Considering the much younger population of Central America, the natural resource abundance, particularly energy, of Canada, and economic infrastructure in the US, a tri-lingual "supra-state" of the three North America countries would serve as an effective global balancing force.
Elevating Mexico to this status is a daunting challenge needing the same level of American commitment that it has demonstrated with distant nations around the globe. While economic development and reducing the income disparity across the border are critical components to stabilizing the region, economic efforts alone will fail unless security problems are resolved, too. Unlike other security alliances where the sale of expensive weapon systems serves as the foundation, Mexico needs a different form of security assistance.
Mexico needs a capability to disrupt sophisticated transnational criminal organizations. US military, intelligence, and federal law enforcement agencies must expand their support to Mexican law enforcement and military forces. After a decade of honing irregular warfare skills in Iraq and Afghanistan, US Special Forces and US Marines are ideally prepared and suited for this mission.
The mountainous terrain and sparse population of northern Mexico makes it difficult to eradicate the para-military transnational criminal organizations that occupy the region. And UN peace keeping forces have deployed to places less dangerous than some northern Mexican cities, such as Ciudad Juarez. In contrast, US Marines have a long history of operating in the region, dating back to the Mexican wars of the 1800s, the Banana Wars of the early 1900s, Veracruz in 1914 and operating as part of a Joint counter-drug task force in the 1990s. Further, the Marines have the ability to partner with the Naval Criminal Investigative Service to create a capable hybrid law enforcement-military team, similar to the Delta Force – FBI unit that reportedly captured terrorist Ahmed Abu Khattala.
This role may seem inappropriate for the US military. But while nearly three thousand people tragically died in the 9/11 terrorist attacks, this number is dwarfed by the number of deaths along both sides of the Southwest border since that fateful day in 2001. Since then, America's national security enterprise has been distracted by fighting the global war on terrorism; vast intellectual capital was expended and national debt accumulated to rebuild nations of little strategic interest to the United States, all the while allowing security conditions to deteriorate much closer to home. This is a national security issue, pure and simple.
The Pentagon is transitioning from fighting the wars in Iraq and Afghanistan to contending with the rise of China as a regional power. Making this shift will be an impossible task unless America's domestic problems are resolved, however. Chief among those problems is developing a long-term solution to the immigration problem and forming strategic partnerships with Mexico, Canada, and other Latin American States. An effective partnership with a stable Mexico not only contributes to American prosperity but will create a powerful geopolitical balancer in the future.