Archive for the 'indonesia' Tag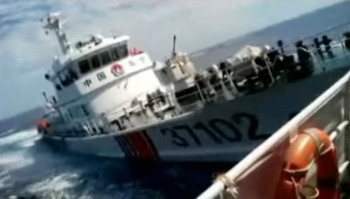 There is something happening in WESTPAC that needs a closer look.
In addressing China's push in to the sea, the Western response is almost reflexive – and bellicose. Via David Larter at NavyTimes;
The U.S. military's top commander in the Pacific is arguing behind closed doors for a more confrontational approach to counter and reverse China's strategic gains in the South China Sea, appeals that have met resistance from the White House at nearly every turn.

Adm. Harry Harris is proposing a muscular U.S. response to China's island-building that may include launching aircraft and conducting military operations within 12 miles of these man-made islands, as part of an effort to stop what he has called the "Great Wall of Sand" before it extends within 140 miles from the Philippines' capital, sources say.
In the closest Western nation to China, Australia, we have an interesting twist from their Latest White Paper;
Former minister Kevin Andrews has used today's release of the long-awaited Defence White Paper to pressure the Turnbull Government to send warships within 12 nautical miles of contested islands in the South China Sea.

The 2016 Defence White Paper maps a course towards a total of $195 billion in Defence capability or equipment by 2020-21, together with a larger military force of 62,400 personnel, the largest in a quarter of a century.

Mr Andrews' call comes just days after the Commander of the US Navy's Pacific Fleet said it would be "valuable" if the Royal Australian Navy conducted "freedom of navigation" operations in the disputed region.

The Liberal backbencher said Australia must now follow the United States' example.

"We have to exercise that freedom of navigation and means being prepared to sail our naval vessels, to fly our aircraft through that region and say we want unrestricted trade routes in this area," Mr Andrews told the ABC.
OK. those are grey-hull ops, FON ops, and generally showing everyone you have a big stick.
What are the nations closest to China doing, those of a distinct Asian culture and a few thousand years of national history in dealing with China? They have grey hulls, they have warships – but it isn't their navy by-and-large that they are sending out.
Let's go north to south. Japan;
Japan has placed 12 of its coast guard vessels around the disputed chain of islands in the East China Sea. The deployment comes days after it inaugurated a new defence radar system in the region, and is meant to patrol the islands called Senkaku by Japan and termed Diaoyu by China.

The fleet comprises 1,500-tonne patrol ships – all of them newly inducted – and two Shikishima class helicopter carriers. All the newly-built ships, capable of high-speed manoeuvres, are fitted with 20mm guns and water cannons. Tokyo said the enhanced patrolling is to protect the waters surrounding the region, according to the Kyodo news agency.
The stand-off between China and Vietnam over the former's decision to place an oil rig in disputed waters in the South China Sea escalated on Tuesday when a Chinese coast guard ship rammed a Vietnamese coast guard ship. The Vietnamese vessel allegedly suffered several "gashes" in its metal hull according to the Wall Street Journal. No Vietnamese sailors were injured and the boat did not sink. The incident reflects a sort of escalation in the dispute. While a Chinese vessel rammed and sank a Vietnamese civilian vessel (a fishing boat) last month, Tuesday's incident is a case of two coast guard ships from the two countries becoming involved in a physical altercation. In another incident, a Chinese vessel fired a water cannon at a Vietnamese ocean inspection ship. No naval assets from either side were involved in either exchange.

So far, neither Vietnamese nor Chinese officials have commented on the incident. The initial report comes courtesy of a Vietnamese TV news station VTV1.
On Saturday, a large Chinese coast guard warship in Indonesian waters rammed a vessel that was being towed by an Indonesian patrol vessel. The vessel being towed was a Chinese fishing boat that had been illegally fishing in Indonesian waters around the Natuna Islands in the South China Sea. Another large Chinese warship arrived on the scene and forced the Indonesians to release the fishing vessel. However, the eight-member crew of the Chinese vessel had already been arrested, and are still in custody.

The Natuna Islands have always been sovereign Indonesian territory. They are far away from China, but because of the rich fishing grounds, China would like to use its military power to seize the islands from Indonesia.
They could be using their navy, but they aren't.
When you have a grey hull, you are signaling that you consider this dispute a national security issue; a white hull signals that you see it as a legal issue.
As we plan to run up the battle flag at flank speed, we may want to ponder a bit why those closest to China are taking a different approach.

This week, Sea Control Asia Pacific looks at 'gamechangers' in Asia. Natalie Sambhi, of the Australian Strategic Policy Institute, interviews her colleagues Dr Rod Lyon and Daniel Grant about the ways in which Asia Pacific states are engaged in strategic competition. We also offer an Australian perspective on domestic political changes and military modernization in Southeast Asia, China's nine-dash line claims, Indonesia and non-alignment, and the US rebalanced.
DOWNLOAD – Sea Control 34: Asian Game Changers
Remember, subscribe on iTunes or Stitcher Stream Radio. Leave a comment and five stars!