Archive for the 'Information Dominance' Tag
The laws and norms surrounding the movement of economic goods across geopolitical boundaries are well-defined. By contrast, the ability to create and manipulate information has become ubiquitous and robust legal frameworks governing how state actors, individuals, and institutions interact with the information ecosystem do not yet exist. This creates risk and opportunity for state and non-state actors looking to devise new information manipulation tactics and make claims on this evolving space. Information control has always been a key component of strategy; however the current speed of evolution provides an advantage to potential disruptors, who do not have sunk costs in existing expensive processes and techniques. Whereas during the medieval period, a limited number of literate clergy had the ability to control the information space (which was explicitly linked to the capacity to wage war), today both state and non-state actors, no matter how marginal, have the ability to contribute to the information battlespace. Even a single, well-placed YouTube video, such as the beheading videos released by ISIL can influence military response.
Information is a non-rivalrous commodity, which should fundamentally change military investment profiles. In FY10, the United States spent $160B for the wars in Iraq and Afghanistan, compared to CIA estimates of Al Qaeda's 2010 operating budget of $30M. Despite 5,000 times more investment by the US, Al Qaeda continued to expand its influence throughout the region with involvement in Yemen, Russia, Syria, and by facilitating the eventual destabilization of Iraq. In the information age, spending and traditional military definitions of success no longer correlate with stable end states. It is more difficult to characterize 21st century conflicts in terms of definitive winners and losers than traditional industrial conflicts. It follows that post-industrial, digital-age conflicts will be characterized by informational pluralism, and that single source-point information control is no longer viable for military organizations.
The Department of the Navy's (DON's) information construct is currently divided along two objectives. One objective is to disseminate propaganda about the DON's agenda and operations to a small circle of military-industrial and congressional elites who can afford 4-digit subscriptions to defense publications. The approach is not only fundamentally undemocratic, but also flawed in its assumption that "authoritative information" flowing out of the Navy information channels actually holds value in the information economy. The Navy information organization relies on humans to do the searching, processing, and dissemination of information, while most private-sector organizations, rely on advanced algorithms to fulfill these functions. Relying on humans results in slower processing speeds, increased error rates, and the bias that occurs from having associative, rather than random access, memory. Humans are subject to confirmation bias and will continually reinforce existing hypotheses with new information, rather than allowing the data itself to guide conclusions. In a world where decisions are made based on multiple sources, curated by digital systems, human-centric, centralized information systems are decreasingly relevant.
The second objective is to manipulate the information space as it is perceived by our adversaries, via network operations and psychological operations, for example. However, the efficacy of this construct is challenged by adversaries, many of whom recognize that they can achieve strategic objectives at minimal cost by creating a multiplicity of equally viable perceptions within the information space. While the US Navy continues to rely on an outdated approach to information, countries such as Russia and China understand how to apply pressure to their adversaries by insidiously manipulating information through a broad range of channels. This is evident in Russia's substantial investments not only in internal propaganda machines such as RussiaTV, but more disturbingly Washington D.C. think tanks and London banking. Similarly, China's ability to map connections and place pressure on individuals through data gathered in the OPM breach clearly indicates how information is valued in the Chinese defense paradigm.
The primary goal of the current battlespace information agenda is to have real-time 'perfect' information that is consistent from the tactical to the strategic level—the battlefield equivalent of the Waze app for traffic or Uber for transportation services. These capabilities are being developed using today's information paradigms and technology, although they are unlikely to be operational for several years. However, with minimal investment, unsophisticated actors have the ability to disrupt this approach by making it impossible to distinguish real from fabricated threats. This is comparable to populating the Uber app with fake cars, eliminating users' ability to distinguish between real and avatar drivers and therefore efficiently travel between points. The Russians demonstrated this approach in 2014 when they flooded social media channels with false reports of a chemical spill in Centerville, Louisiana. Optimizing the battlefield information ecosystem for real-time, perfect information piped through singular channels creates tremendous vulnerabilities when the potential for information oversaturation by an adversary is high.
Often times, DON assessments of novel approaches to the legal uses of information and weaponization (notably the use of disinformation) devolve into rights-based arguments focused narrowly on injunctive norms and "ethical" applications of information within defined legal realms such as intellectual property and privacy. While important, these conversations amongst military and political leadership often contribute little in terms of practical solutions and tend to overlook evolving challenges within the information space. The DON has been efficient in developing sweeping statements about the "importance of information" that never get adopted locally, while our adversaries continue to experiment with novel approaches in the information space. The military is the catastrophic backstop for the United States, and as adversaries invest aggressively and disruptively to control this evolving space, the DON will undoubtedly have a role to play in informing future frameworks and tactics.
In order to influence the information space, the DON must make investments in global cultural understanding. Cultural proficiency within the information space is not only paramount to generating information that produces the desired effects, but also critical to the DON's ability to effectively mine the data of our adversaries. Effective use of information requires first-hand knowledge and cannot be outsourced to the intelligence community or communicated through powerpoint briefs. It requires understanding consumption habits, means of ingestion, and technical and semantic characteristics of information in a particular context. Close collaboration and immersion is necessary to understand subtle cultural constructs and the DON must grow this expertise or develop partnerships to provide the depth and breadth of cultural understanding across the DON needed to function in the information age.
Secondly, perhaps the greatest threat the DON faces is having its information ecosystem saturated with disinformation, or false positives. This mandates the use of advanced algorithms to parse the information ecosystem efficiently. Complex models and algorithms are often more art than science and heavily influenced by their creators. This capability must be developed organically, allowed to grow, and continually adapted by experts and integrators. This is a way of thinking that has become a core capability in an information world that resides in a small subset of synthesizers. It is non-transferable, cannot be trained, and cannot be outsourced. The DON must invest in finding and cultivating this unique set of talents. The US Navy must acknowledge its role and invest accordingly or it will find itself increasingly unable to compete on the information battlefield.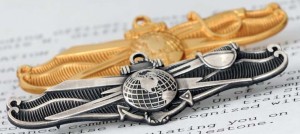 Much has been written of late about "Creating Cyber Warriors" within the Navy's Officer Corps. In fact, three prominent and well-respected members of the Navy's Information Dominance Corps published a very well articulated article by that very title in the October 2012 edition of Proceedings. It is evident that the days of feeling compelled to advocate for such expertise within our wardroom are behind us. We have gotten passed the WHY and are in the throes of debating the WHAT and HOW. In essence, we know WHY we need cyber expertise and we know WHAT cyber expertise we need. What we don't seem to have agreement on is WHO should deliver such expertise and HOW do we get there.
As a proud member of both the Cryptologic Community and the Information Dominance Corps, I feel confident stating the responsibility for cultivating such expertise lies squarely on our own shoulders. The Information Dominance Corps, and more specifically the Cryptologic and Information Professional Communities, have a shared responsibility to "Deliver Geeks to the Fleet." That's right, I said "Geeks" and not "Cyber Warriors." We don't need, and despite the language many are using, the Navy doesn't truly want "Cyber Warriors." We need and want "Cyber Geeks." Rather than lobby for Unrestricted Line status, which seems to be the center of gravity for some, we should focus entirely on delivering operational expertise regardless of our officer community designation.
For far too long, many people in the Restricted Line Communities have looked at the Unrestricted Line Communities as the cool kids in school. Some consider them the "in-crowd" and want to sit at their lunch table. Some think wearing another community's warfare device validates us as naval officers and is the path to acceptance, opportunity, and truly fitting in. We feel an obligation to speak their language, understand the inner workings of their culture, and act more and more like them. Some have grown so weary of being different or considered weird that many would say we've lost our identity. Though establishment of the Information Dominance Corps has revitalized our identity, created a unity of effort amongst us in the information mission areas, and further established information as a legitimate warfare area, many continue to advocate that we are lesser because of our Restricted Line status. We seem to think we want and need to be Unrestricted Line Officers ourselves. Why? Sure, we would like to have direct accessions so that we can deliberately grow and select the specialized expertise necessary to deliver cyber effects to the Fleet. Yes, we would like a seat at the power table monopolized by Unrestricted Line Officers. And yes, we would appreciate the opportunity to have more of our own enjoy the levels of influence VADM Mike Rogers currently does as Commander, Fleet Cyber Command and Commander, U.S. TENTH Fleet.
But there is another path; a path that celebrates, strengthens, and capitalizes on our uniqueness.
In the private sector, companies are continually racing to the middle so they can appeal to the masses. It's a race to the bottom that comes from a focus on cutting costs as a means of gaining market share. There are, however, some obvious exceptions, my favorite of which is Apple. Steve Jobs was not overly interested in addressing customers' perceived desires. Instead, he anticipated the needs of the marketplace, showed the world what was possible before anyone else even dreamt it, and grew a demand signal that did not previously exist. He was not interested in appealing to the masses and he surely wasn't focused on the acceptance of others in his industry. He was focused on creating unique value (i.e. meaningful entrepreneurship over hollow innovation), putting "a dent in the universe," and delivering a product about which he was personally proud. We know how this approach evolved. The market moved toward Apple; the music, movie, phone, and computing industries were forever changed; and the technological bar was raised with each product delivered under his leadership. Rather than lobby for a seat at the table where other leaders were sitting, he sat alone and watched others pick up their trays to sit with him. Even those who chose not to sit with him were looking over at his table with envy, doing their best to incrementally build on the revolutionary advances only he was able to realize.
Rather than seek legitimacy by advocating to be part of Team Unrestricted Line, we ought to focus on delivering so much value that we are considered a vital part of each and every team because of our uniqueness. I am reminded of a book by Seth Godin titled "We Are All Weird." In it he refers to "masses" as the undifferentiated, "normal" as the defining characteristics of the masses, and "weird" as those who have chosen not to blindly conform to the way things have always been done. For the sake of argument, let's consider the Unrestricted Line Officers as the masses, those considering themselves "warfighters" as the normal, and the Information Dominance Corps as the weird. I say the last with a sense of hope. I hope that we care enough to maintain our weirdness and that we don't give in to the peer pressure that could drive us to lobby for a seat at what others perceive to be "The Cool Table." By choosing to be weird and committing more than ever to embrace our geekiness, the table perceived to be cool will be the one at which the four Information Dominance Communities currently sit. It won't happen by accident, but it will happen, provided we want it to happen. Not because we want to be perceived as "cool," but because we are so good at what we do, and we deliver so much unique value to the Navy and Nation, that no warfighting team is considered complete without its own personal "Cyber Geek."
I sincerely respect the opinions voiced in the article to which I referred earlier in this post. However, I think we are better than we give ourselves credit for. Let's not conform, let's create. Let's not generalize, let's specialize. Let's not be normal, let's be weird. Let's choose to be Geeks.
CDR Sean Heritage is an Information Warfare Officer who is currently transitioning from Command of NIOC Pensacola to Staff Officer at U.S. Cyber Command. He regularly posts to his leadership-focused blog, Connecting the Dots.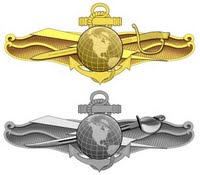 Fouled Anchor Intro: This post appears at the request of a leader in the Information Dominance Corps (IDC) and its Self-Synchronization Team, known as the IDCSync. While the subject may appear a bit specialized on the surface, the concept should have wide appeal, particularly for other relatively small communities. It should also be of interest to members of other warfare communities, arguably beneficiaries of the IDC's specialized skills, and the IDC can only benefit from your comments and contributions.
I was compelled to ask before posting it how are the discussions, since many take place on Facebook, are they anonymous. Well, Facebook obviously isn't, but many of the ideas shared via IDCSync appear in their weekly newsletter. They are submitted anonymously or come from other non-attributed sources. They may originate anywhere, from offline discussions to passing comments or unofficial gripes. It is proving an effective means of converting ideas which may have died in the passageway to discussions with a Flag audience.
There are many outlets for this type of post, but the IDCSync sought publication here, on your USNI Blog, because they understand that this blog has Navy-wide relevance and reach…much like the IDC itself.
********
Preamble
In the spirit of taking permission, demonstrating horizontal leadership, and active communication, the below post comes from the "Cloud of Collaboration" that is the Information Dominance Corps Self-Synchronization Team…
"Fostering Collaboration and Conversation Across the IDC"
They have never met in person, individually or as a group, yet they are a team in the strongest sense of the word. They volunteer their time. Their work is strictly unofficial. Their individual anonymity ensures only the group as a whole gains credit for their actions. Their collective efforts enable collaboration and ensure collective situational awareness across a newly-formed community. They are self-starters who believe in "making time" for the collective good of that community. They are the Information Dominance Corps (IDC) Self Synchronization Team.
The Chief of Naval Operations (CNO) ordered the establishment of the IDC on October 6, 2009. As outlined in OPNAV Instruction 5300.12, "the IDC has been created within the U.S. Navy to more effectively and collaboratively lead and manage a cadre of officers, enlisted, and civilian professionals who possess skills in information-intensive fields." Those personnel include Information Professional (IP) officers and Information Technicians (IT), Information Warfare (IW) officers and Cryptologic Technicians (CT), Naval Intelligence officers and Intelligence Specialists (IS), Oceanography (OCEANO) officers and Aerographer's Mates (AG), select members of the Space Cadre, and associated civilians. Under the leadership of the newly-established Deputy Chief of Naval Operations for Information Dominance (OPNAV N2/N6) the IDC encompasses more than 47,000 Navy professionals.
The IDC Self Synchronization effort — IDCsync for short — began shortly after the IDC was established with just one person and an idea: Find a way to bring the members of the IDC together using the latest in collaboration and communication tools.
That individual effort soon grew with the addition of a number of like-minded individuals. Today, the IDCsync Team is as diverse as the IDC itself with team members hailing from the ranks of active and reserve force enlisted and officer ranks, as well as civilian members of the community. Their guiding principle is "making time;" each member makes time to make their environment, their shipmates, and the entire IDC better.
The group's greatest strength, beyond its members, is its unofficial status. This is a grassroots effort of IDC members working for and with other IDC members to move the community forward. As an independent initiative, the individual efforts of the team members are not constrained by anything more than the group's collective approval. But as IDC members themselves, the group has a vested interest in forwarding a productive, collaborative dialogue aimed at improving the IDC as a whole.
Tools and Channels
To reach the members of the IDC, the IDCsync Team employs a number of channels drawn from the tools of the trade of the information age (and the IDC) — email (using a newsletter format), the web, and various social media venues.
Most of the effort is concentrated on the IDC Self Synchronization Facebook site, which currently serves over 2,000 members. The page's stated purpose is "To share unclassified information, enhance our collective situational awareness and facilitate the development of a common Navy IDC culture."
IDCsync Team members independently post information relevant to the IDC on the Facebook page, coordinating their efforts electronically via a team coordination site and online chat. Information shared runs the gamut of the IDC interest areas — technology, innovation, and leadership issues included. if it's deemed pertinent to the IDC, it is posted on the site. The ultimate goal is to spark conversation and collaboration between members.
In recognition of its growing audience and increasing reach, the site has been used by members of the IDC Flag Deck to disseminate official correspondence and reach the greater IDC collective. IDCsync's audience includes everyone from the backbone of the IDC, our enlisted Sailors, to commanding officers, current and former IDC Flag Officers, and civilian Senior Executive Service (SES) staff. Administrators and site members alike can post information, share ideas, and collaborate.
The primary IDC Self Synchronization web site contains pertinent IDC documents and resources with the intent of creating a "one stop" library of information.
The team also sends out a weekly newsletter which encapsulates Facebook posts for the previous week. The same information is also disseminated via Twitter, Google+ (Google's new social networking site), and eChirp on Intelink-U. Details of all the venues are available on the web page.
With the IDC Self Synchronization team and tools in place, the only missing element is you.
Does the idea of sharing, collaborating, and enhancing the professional knowledge of the community resonate with you? Then now is the time to step out of the audience and join the conversation. Join your community conversation by visiting the IDC Self Synchronization Facebook and web sites today. The forum belongs to you — make it your own!
To learn more, visit http://www.IDCsync.org, post a comment on Facebook, or email your questions/comments to [email protected].
Making Time,
IDC Self Synchronization Team