Archive for the 'Israel' Tag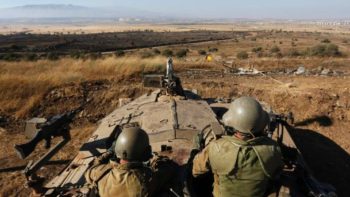 The American people have lost their belief in and desire to participate in the soft-empire concepts of the last decade and a half.
During the Bush the Younger Administration, there was a lot of blood, treasure, and professional reputations invested in nation building; a right of center interventionist idea repackaged from the previous century as a quasi-modernized move to make the Middle East safe for democracy. To be sure there were other reasons wrapped in with it – but in soft focus the promoted vision was nation building as a way to bring a more peaceful world from the Hindu Kush to the Atlas Mountains.
After eight years of that, we moved to a new era with its most modern roots set in the experiences of Rwanda and sub-Saharan Africa; the Responsibility to Protect (R2P) of the left of center interventionist world view. Though mostly lost in the septic byproduct from the Arab Spring from Libya to Syria, the proponents of R2P are still in positions of power and have yet to disavow this line of thinking. The last significant appearances of it were in the 2011 and 2013 attempts in the UN to intervene in Syria's civil war.
As concepts in the soft-empire of a humanitarian, well-meaning bent, they have one thing in common; they both rely on the application of military power to effect changes in national governments to better meet the perceived desires of nation-building and R2P's proponents. Call it soft-empire or neo-imperialism, but that is what it represents when you boil it down.
They share another goal; woven inside both of them are a desire to create conditions and influence people in such a way to decrease the threat of terrorism against our nation and its allies. Has it worked? That is subject to debate. What isn't subject to as much debate is that the American electorate does not seem to be willing to support either.
Is there another way? Is there an approach that works to mitigating the threat from terrorist organizations in ungoverned spaces or failed countries? There is. It doesn't involve forward deploying tens to hundreds of thousands of people. It does not involve occupying foreign territory (at least long term). It doesn't involve attempting to force a system of government on a hostile host.
What it does require is a hard, cold, realist view of the world and human nature. It requires a willingness to be clear and unblinking in the use of force. Not generalized violence – but specific, harsh, and unflinching.
The nation that is having success against terrorism is much smaller, but the threat its survival is greater. We cannot adopt their strategy in full as our requirements are different – but is there something to learn?
Right now, our greatest terror threat is the Islamic State, AKA ISIS, ISIL, etc. We say that we want to destroy it, but we seem to be trying to do it on the cheap with a lot of aspiration and hope in others – not quite a successful formula for success, historically.
If we do not want to fight harder with more blood and treasure, can we help guide the tides of history a bit in our favor by looking around at success others have had with fewer resources?
Let's look at what a nation even more hated by its enemies than ours is doing; Israel.
Via Graham Allison at The National Interest;
The insistence on the "destruction" of ISIS has become such a reflexive linchpin of America's counterterrorism project that few pause to consider its strategic merit. But the nation with arguably the most experience and success combatting terrorism has considered it—and found it wanting.
…the Israel Defense Forces (IDF) has rejected the option of taking the fight directly to ISIS. Instead, faced with an operational threat that could mean the death of hundreds of Israelis at any moment, it has embraced a strategy that has not even been on the U.S. policy menu. Adopting a page from the playbook the United States used to defeat revolutionary Soviet-led communism in the Cold War, Israel is preventing ISIS attacks through a strategy of patient, vigilant deterrence. Obviously, the United States cannot simply adopt the Israeli approach whole cloth. It operates in a different security environment than the Jewish state, which faces a multiplicity of terrorist threats on its borders. But there are important lessons that America can learn to enhance its national security.
…As Cold War strategists learned, making this work in practice is demanding. To be effective, deterrence requires three Cs: clarity, capability and credibility. Specifically, this means clarity about the red line that cannot be crossed, communicated in language the adversary understands; capability to impose costs that greatly exceed the benefits; and credibility about the willingness to do so. Failures occur when the deterrer falls short on any one of the three Cs. So, if I draw a red line, you cross it, and I respond with words rather than the decisive punishment threatened, I fail the third C. Whatever excuse I give for not executing my threat, and however earnest my claim that next time will be different, the blunt fact is that adversaries will find my threats less credible.

If that were not enough, as the great nuclear strategist Thomas Schelling taught us, successful deterrence requires more than just a threat. The flip side of the deterrence coin is an equivalent promise: if you refrain from the prohibited action, I will withhold the threatened punishment. If, for whatever reason, I decide to administer the specified punishment even though you have complied with my demands, I spend that coin—and can no longer use that threat to deter you.
…The American counterterrorism debate has largely ignored Israeli calculus. Washington is generally averse to learning from others, and Israel's security establishment, until recently, was reticent about revealing its thinking. That changed last August when, for the first time in the IDF's history, Chief of General Staff Lt. Gen. Gadi Eizenkot published an unclassified version of the IDF defense doctrine. But because the document appeared only in Hebrew, it has remained largely unknown in the American strategic community. To make it accessible, Harvard Kennedy School's Belfer Center for Science and International Affairs recently posted an English translation of the document.
Read it all, and to add a little more depth to your understanding of the Israeli position, I would recommend Adarsh Aravind's article over at Foreign Policy News;
The percentage of Israelis killed due to terrorist activities is higher than in any other democracy in the world. …The primary goal of Israel's counter-terrorism strategy is to destabilize the terror groups and prevent them from jeopardizing its national security (and) to prevent terrorists from influencing the national agenda and preserve the psychological resilience of the civilian population. … Over these years, Israel has learned that unlike conventional warfare, terrorism is a tenacious phenomenon and a decisive victory over it is uneasy. When one boulevard of attack is blocked, the terrorist will find another one.
We have not reached Western Europe's regular terrorist attack rhythm yet, but we have had more in the last few years than before. If we as a nation no longer wish to fight them "over there," then we should look at what we can do to stop having too much to fight them here. Looking at Israel's Strategic, Operational, and Tactical successes will be helpful.
It also will require the Political level to do its job. That, ultimately, will be the most difficult part, as without that – nothing else will work.
The IDF is facing a manning problem. According to Ha'aretz, the Israeli Defense Forces' sub fleet is working to expand the submariner pipeline, growing from three sub teams to a total of ten. Are women going to be a part of this new cadre?
Look, finding enough guys capable of completing the grueling training cycle is hard enough, but, as the IDF sub fleet grows to five hulls, trebling the IDF sub force is pretty much impossible without a new source of recruits. Which gets us to the image at the right, taken from the Ha'aretz story. The sailor training in the background (working in the IDF's sweet new "land-sub" training facility) is either sporting some unusually long-hair or…the sailor is a woman.
Could the traditionally-all male IDF Sub force be integrating? Read more at NEXTNAVY.COM
Israel has a lot invested in doing littoral combat right. And, right now, the IDF is sending their Merkava Main Battle Tank to sea in LCTs.
Rather than call the LCTs mere landing craft, why not call them Littoral Combat Boats (LCBs)? That's what they are.
Look. There's plenty for IDF littoral combat forces to do. There's plenty for smaller forces to do nearby–and given the constantly-increasing demands upon Israel's "higher end" naval assets, the Israeli Navy seems to have decided to travel down a high-lo development path for littoral combat.
Thus the LCB.
Israel has hunted for a multi-mission littoral solution since about the nineties. After evaluating the really high (LPD-17) and high (LCS-1) end options, Israel threw in the towel on the littoral stuff, settling for a relatively conventional "small navy" supplement of MEKO-100 corvettes and some Dolphin Class subs.
But interestingly, to bulk up amphibious support and offshore fires, Israel is pursuing a decidedly low-end option–the LCB.
According to a September 22, 2009 Jerusalem Post article (no direct link available, sorry), Israel purchased several landing craft (the IDF has not mounted an amphibious assault since the early '80s). Why? Well, the Post article gives a hint–it all goes back to Gaza:
"In both conflicts, the navy faced almost zero resistance at sea, and during Cast Lead it was able to provide close artillery support for the Paratroopers Brigade – which maneuvered along the coast."
In Gaza, fire support was provided by Sa'ar boats, and those little ships used their tiny guns to great effect, hitting some 200 targets during Cast Lead. The most recent Jane's Navy International (again, no link available) provided more details–it seems the Israeli Navy has purchased several 25 Meter/20 knot LCTs, sticking Merkava Main Battle Tanks upon them (or some troops, or, well, whatever fits…) and sailing away.
"It is the navy's mission to support the infantry and the best way to do it is with LCTs," IN Captain (res) Mike Eldar, who commanded the IN's amphibious flotilla in 1982, told Jane's. "This is an important capability and will give the IDF more flexibility and maneuverability."
For duty off Gaza or off Lebanon, these ultra-cheap littoral combat boats (along with their hefty 'ole mission module) will be a game changer.
The U.S. has done similar things. Off Grenada, America supplemented its modest fire support assets by mounting tanks on LCUs. In Vietnam, we mounted tanks on LCMs, and during World War II we did the same thing. According to Oscar Gilbert's Marine Tank Battles of the Pacific, landing-craft-mounted tanks even sank a few ships:
Rowland Hall related: "We re-embarked them [three light tanks]. As we went around the tip of the peninsula inshore we spotted some Jap landing craft. We opened up on them with the 37 and machine guns. We bagged about three of those and set them on fire. A sort of naval battle using tanks.
If I were some mischief-minded RPG-equipped yahoo in a Boston Whaler, I'd hate to run into a Merkava at sea. What could be next? Finland's Patria NEMO landing craft? Each boasting a 120mm mortar? Or…a more water-happy EFV?
But be careful. As the LCB emerges, it won't take long before some of those asymmetric minded kids out there start thinking up waterborne IED solutions…