Archive for the 'Jane Taylor' Tag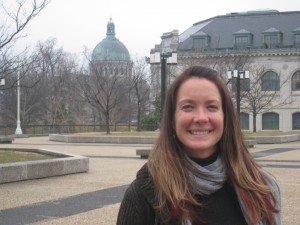 "The world is a vampire." So begins every episode of Animal Planet's top-rated program "Whale Wars," about the Sea Shepherd Conservation Society's efforts to stop Japanese whaling in southern waters. One of the crew members featured on Season Two was Jane Taylor, a 2002 Naval Academy graduate and former Surface Warfare Officer. During a recent visit to Annapolis, Taylor also took the time to answer some questions for the U.S. Naval Institute Blog. She spoke to a broader audience at USNA sponsored by the Forum for Emerging and Irregular Warfare Studies – that talk was taped by the U.S. Naval Institute and can be found at the end of this post. For additional perspectives on Sea Shepherd, readers are welcomed to read Chris Rawley's posts at Informationdissemination.net.
USNI: The missions of the Navy and animal rights activists are different. Why did you apply to the Naval Academy?
Jane Taylor: In high school I participated in the Junior ROTC program; it was the Army side and I knew that I wanted to pay my own way through college so I applied for ROTC and the Service academies. I did know it was going to be Navy because I'm a water person and so when I got my appointment I accepted the Naval Academy based on the beautiful catalogue and my father urging me to go there as opposed to a civilian school with ROTC.