Archive for the 'Japan' Tag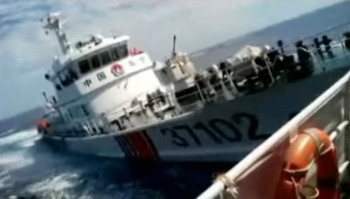 There is something happening in WESTPAC that needs a closer look.
In addressing China's push in to the sea, the Western response is almost reflexive – and bellicose. Via David Larter at NavyTimes;
The U.S. military's top commander in the Pacific is arguing behind closed doors for a more confrontational approach to counter and reverse China's strategic gains in the South China Sea, appeals that have met resistance from the White House at nearly every turn.

Adm. Harry Harris is proposing a muscular U.S. response to China's island-building that may include launching aircraft and conducting military operations within 12 miles of these man-made islands, as part of an effort to stop what he has called the "Great Wall of Sand" before it extends within 140 miles from the Philippines' capital, sources say.
In the closest Western nation to China, Australia, we have an interesting twist from their Latest White Paper;
Former minister Kevin Andrews has used today's release of the long-awaited Defence White Paper to pressure the Turnbull Government to send warships within 12 nautical miles of contested islands in the South China Sea.

The 2016 Defence White Paper maps a course towards a total of $195 billion in Defence capability or equipment by 2020-21, together with a larger military force of 62,400 personnel, the largest in a quarter of a century.

Mr Andrews' call comes just days after the Commander of the US Navy's Pacific Fleet said it would be "valuable" if the Royal Australian Navy conducted "freedom of navigation" operations in the disputed region.

The Liberal backbencher said Australia must now follow the United States' example.

"We have to exercise that freedom of navigation and means being prepared to sail our naval vessels, to fly our aircraft through that region and say we want unrestricted trade routes in this area," Mr Andrews told the ABC.
OK. those are grey-hull ops, FON ops, and generally showing everyone you have a big stick.
What are the nations closest to China doing, those of a distinct Asian culture and a few thousand years of national history in dealing with China? They have grey hulls, they have warships – but it isn't their navy by-and-large that they are sending out.
Let's go north to south. Japan;
Japan has placed 12 of its coast guard vessels around the disputed chain of islands in the East China Sea. The deployment comes days after it inaugurated a new defence radar system in the region, and is meant to patrol the islands called Senkaku by Japan and termed Diaoyu by China.

The fleet comprises 1,500-tonne patrol ships – all of them newly inducted – and two Shikishima class helicopter carriers. All the newly-built ships, capable of high-speed manoeuvres, are fitted with 20mm guns and water cannons. Tokyo said the enhanced patrolling is to protect the waters surrounding the region, according to the Kyodo news agency.
The stand-off between China and Vietnam over the former's decision to place an oil rig in disputed waters in the South China Sea escalated on Tuesday when a Chinese coast guard ship rammed a Vietnamese coast guard ship. The Vietnamese vessel allegedly suffered several "gashes" in its metal hull according to the Wall Street Journal. No Vietnamese sailors were injured and the boat did not sink. The incident reflects a sort of escalation in the dispute. While a Chinese vessel rammed and sank a Vietnamese civilian vessel (a fishing boat) last month, Tuesday's incident is a case of two coast guard ships from the two countries becoming involved in a physical altercation. In another incident, a Chinese vessel fired a water cannon at a Vietnamese ocean inspection ship. No naval assets from either side were involved in either exchange.

So far, neither Vietnamese nor Chinese officials have commented on the incident. The initial report comes courtesy of a Vietnamese TV news station VTV1.
On Saturday, a large Chinese coast guard warship in Indonesian waters rammed a vessel that was being towed by an Indonesian patrol vessel. The vessel being towed was a Chinese fishing boat that had been illegally fishing in Indonesian waters around the Natuna Islands in the South China Sea. Another large Chinese warship arrived on the scene and forced the Indonesians to release the fishing vessel. However, the eight-member crew of the Chinese vessel had already been arrested, and are still in custody.

The Natuna Islands have always been sovereign Indonesian territory. They are far away from China, but because of the rich fishing grounds, China would like to use its military power to seize the islands from Indonesia.
They could be using their navy, but they aren't.
When you have a grey hull, you are signaling that you consider this dispute a national security issue; a white hull signals that you see it as a legal issue.
As we plan to run up the battle flag at flank speed, we may want to ponder a bit why those closest to China are taking a different approach.
One of the many great joys of a billet at USNA is the ability to reconnect with former professors and professional mentors. As someone who graduated 5 years ago, I am fortunate enough to see many of them still on the Yard.
I want to share with you a conversation I had with someone whom I really didn't know during my time here. If you attended USNA anytime from 1991 onwards you may have seen him around. He's likely barked "Strike!" at you during Plebe Summer's introduction to martial arts or has evaluated your ability to perform a wrist lock during a PE course. He may have even coached some of you in gymnastics.
If you didn't go to USNA, you'll still find his story fascinating and revealing about two nations' abilities to heal following history's most destructive, fearsome war.
Sho Fukushima was born in Hiroshima, Japan in September 10, 1946, a little over a year after the bomb was dropped on the city. His family ended up in Hiroshima after the war during which his father was an officer in the Imperial Japanese Army in Pusan, Korea. With the war's end, the Japanese were expelled from Korea, and his parents hopped on a freighter bound for Japan. Sho's parents had heard "a new type of bomb had wiped out everything" in Hiroshima and it was rumored that nothing could grow there for the next 70 years.
"I asked them why did they really come back to Hiroshima, where there was nothing. It was because our relatives were there."
He, his four siblings, mother and father lived in a "wooden structure, with a metal roof." There were no real buildings yet.
His kindergarten teacher passed away from a bomb-related illness. His 1st grade teacher, who had facial scars from glass shards from the blast, died from leukemia. He lost an aunt, uncle and 5-6 cousins to the bomb. On that day his grandmother was 20-30 miles outside the city and saw a "bright, white flash" followed by the mushroom cloud. A search of the city the next day by the surviving family members revealed those in downtown had simply "evaporated."
Hunger was a central feature of childhood. "We just didn't have enough food to eat," Sho explained, "so all four kids had to learn to share." The staple dish was rice mixed with wheat or sweet potatoes, and was considered an adulteration–"not white rice."
Growing up in Hiroshima, he remembers playing with one of his "best friends," the "shadow man" of the city's bank. "Mom had a couple of bottles," artifacts crystallized by the blast. "She told me if I could break that thing she would give me a 100 yen. Even with hammers and throwing it against the rocks, I couldn't break that thing. It became a family joke."
During our talk I tried to imagine growing up with such stark, ever-present reminders of war and death. I asked Sho if all of this seemed normal. "It was totally normal. I didn't know any other life," he responded. There were parts of Sho's childhood that seemed normal. "The ocean was my playground. I had a little fishing pole and starting fishing. I loved to fish. Besides that, I remember playing with my brothers and sisters. My older sister was an avid reader so at least once a month we would get a new book." Yet, Sho was quick to point out that fishing also served to supplement their food.
Meanwhile, his father, despaired with losing the war and escaping death. A graduate of a professional military academy, all of his classmates had died in the South Pacific while he served in the national guard in Korea. "How would you feel about cheating death?" Sho asked me. "He was the strongest military guy before the war, but after he lost the war and he lost his classmates…he lost a kind of spirit," as he struggled with the thought of suicide.
Sho's gymnastics talents led the University of Washington to recruit him. Hearing about the promises of America from his grandfather, who had lived in Seattle and San Francisco, Sho jumped at the opportunity.
The son of a IJA officer, Sho found himself staying in the home of a Pearl Harbor survivor, Jack, who offered to sponsor him. "My father asked him to take care of me, and my American father promised he would. He did everything like a father was supposed to. The families stayed in touch, hosting one another in Japan and the US.
I was most struck by Sho telling his father of his job offer at the Naval Academy. Sho had maintained a green card, but with the job offer his father suggested something more. "Such an honor," his father told him, "that you can get a job like this at the Academy. You have to show them your commitment." His father meant applying for American citizenship. "That's him–Japanese military guy," Sho explained.
In October, Sho will retire after nearly 25 years at the Academy. As a child, his mom would take him once a year to see US Army doctors, who would give him a cookie and check him for radiation related illnesses. He plans to search for his medical records at the University of Maryland, which archived many records of Japanese patients affected by the bombs.
"I always dreamed of being a bridge between the US and Japan," Sho mused towards the end of our talk. I think he has done just that.
For those that have done a tour with the Forward-Deployed Naval Forces (FDNF) in 7th Fleet, it is known especially well that the long-term schedule is taken with a grain of salt. Stateside deployers have the luxury of knowing their deployment timeline years in advance. However, the Japan-based ships in 7th fleet, especially the nine destroyers and cruisers that make up the backbone of the battle force, face uncertainty every day.
Due to rising Asia-Pacific tensions, FDNF operational tempo (OPTEMPO) has increased dramatically and the continued requirements that ships have to meet also continue to increase. It is quite frequent for ships to be called out to sea at little-to-no notice for any number of different missions including anti-submarine warfare (ASW), ballistic missile defense (BMD), and even humanitarian operations! The jam-packed schedule does not allow for any wiggle room – this means that ships are also called up last minute to replace others that are down a warfare area, have an engineering casualty, or need extra time to prepare (or re-prepare) for a major inspection such as Board of Inspection and Survey (INSURV) or Type Commander Material Inspection (TMI). Unfortunately, Sailors and their families take the blunt of the unpredictable schedule, and in my opinion, it is one of the main reasons one chooses not to do another FDNF tour.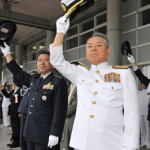 In the course of reading Robert Kaplan's article in the Wall Street Journal, I had to back up and read this twice.
The Japanese navy boasts roughly four times as many major warships as the British Royal Navy.
Wait … what?
OK, that reality has sunk in over the last decade – but we are still a bit of an Anglophile navy, and even with the Pacific Pivot, we still give the mother country a lot of heft for historical and emotional reasons.
In their constitutional quasi-isolation, Japan's very real power has
Here is the context;
… in Asia. Nationalism there is young and vibrant—as it was in the West in the 19th and 20th centuries.

Asia is in the midst of a feverish arms race, featuring advanced diesel-electric submarines, the latest fighter jets and ballistic missiles. China, having consolidated its land borders following nearly two centuries of disorder, is projecting air and sea power into what it regards as the blue national soil of the South China and East China seas.

Japan and other countries are reacting in kind. Slipping out of its quasi-pacifistic shell, Japan is rediscovering nationalism as a default option. The Japanese navy boasts roughly four times as many major warships as the British Royal Navy. As for Vietnam and the Philippines, nobody who visits those countries and talks with their officials, as I have, about their territorial claims would imagine for a moment that we live in a post-national age.

The disputes in Asia are not about ideology or any uplifting moral philosophy; they are about who gets to control space on the map.
Silly Transformationalists … dreaming is for kiddies. Get ye back to your history books!
Back on topic though; yes, the facts are clear.
Though you can find +/- difference depending on source, definitions, and recent com/decom; here are the numbers:
Royal Navy:
Helicopter Carriers: 2
Amphibious Ships: 2
Destroyers: 7
Frigates: 13
Submarines: 6-SSN, 4-SSBN
We'll call that 24.
Japanese Navy:
Helicopter Carriers: 2 (technically 4, all of which are helicopter carrying destroyers. The SHIRANE Class of 2 are only half decks and are really just destroyers. HYUGA Class of 2 are no-kidding helicopter carriers. Two more much larger 19,500 ton ships on the way this decade as well).
Amphibious Ships: 5
Destroyers: 40
Frigates: 6
Submarines: 16-SS
We'll call that 67. If you are what Salamander defines as "major combatants" then you have 2.8 times, not 4x, but there are lots of ways to count. Perhaps they are looking at smaller ships as well. By either definition though, it should give one pause not only to reflect about the decline of the Royal Navy – but more importantly – the latent and potential power of the Japanese Navy.
Anyone who has worked with the Japanese will agree with me as well that from a professional point of view, they are an exceptionally quality force.
Here is the tie in.
Did you catch this little memo?
Japan's Defense Ministry will request a second boost to its military budget, according to reports, just a day after the government announced the first Defense budget increase in 10 years.

The boosts, although relatively modest compared with Japan's overall defense spending, coincide with increasing tensions in the Asia Pacific region.Japan's Defense Ministry intends to ask for 180.5 billion yen ($2.1 billion) from a government stimulus package – on top of an increase of more than 100 billion yen ($1.1 billion) to its military budget announced earlier this week – in order to upgrade its air defenses, according to the BBC..
Good. Japan needs to continue to do this, and we should welcome the move as long overdue (though don't get too excited, their larger budgetary problems are even greater than ours). Europe fades, Royal Navy withers … where can the USA look for its major partner at sea?
We don't have to look far. With the tweaks they are on the road to make in their Constitution – Japan is right there.
Japan's neighbors have never been comfortable with the island nation's quasi-Navy, the Japan Maritime Self-Defense Force (JMSDF). JMSDF is legally a civilian service, operating under the famous Article 9 of the Japan's constitution requiring that "land, sea, and air forces, as well as other war potential, will never be maintained". But, JMSDF's de jure status has done little to calm the fears of several nations in the region who have nervously watched every move by the small organization (officially JMSDF consists of only 46,000 personnel) since the JMSDF's creation in the 1950s.
Recently, the legal limits on JMSDF have prompted some Japanese defense observers to argue for a turn to soft power. Now it looks like Japan might be doing exactly that. This month the United States sent one of its two hospital ships, USNS Mercy, on Operation Pacific Partnership 2010. This soft power cruise is just the latest instance of a new and growing mission for the Navy: health diplomacy. These humanitarian assistance operations started after the positive response to the Navy's disaster relief mission after the Asian tsunami and gained an powerful advocate in current NATO Supreme Allied Commander Europe Admiral James Stavridis when he was Commander of SOUTHCOM.
US health diplomacy cruises have always included personnel from ally countries. However, this year Japan has gone a step further, deploying a 13,000 ton Osumi flat-top warship to join the USNS Mercy during ports in Vietnam and Cambodia to support Pacific Partnership. The 584-foot ship, JMSDF LST 4003 Kunisaki, most closely comparable with the US Navy's Wasp-class amphibious assault ship. Kunisaki's flat top allows for four helicopters (although some have claimed it was designed as a "pocket carrier"). Below, a well deck contains space for two hovercraft. Kunisaki's deployment is, as far as I can tell, the one of the largest deployments of Japanese naval power to a foreign port since JMSDF's creation. JMSDF port visits are uncommon in mainland Asia. In June 2008 a Japanese destroyer made the first port call in China by a Japanese warship since World War II.
Is Kunisaki's port call the start of Japan's soft power rising?
In Asia, America has gotta move away from a long-standing habit of engaging in simple, bilateral force measurements. Asia is a multi-polar place, and America's penchant for strategic over-simplification is going to land the U.S. into serious trouble.
Put bluntly, U.S. Navy-folk need to remember there are a few other countries over on the other side of the Pacific. Some of them are rather formidable. And the U.S. is neglecting them.
So…Let's take a moment to compare some naval forces in the Pacific Basin. Using the official DOD Annual Report to Congress on the Military Power of the PRC 2005 and 2009, it looks like China's Navy is growing. But…when China's rate of growth is compared with other neighbors, that burst of growth over the past five years looks a lot less daunting.
China: Diesel Attack Subs: (2005 vs. 2009): 51 vs. 54 (+3)
USA: Diesel Attack Subs: (2005 vs. 2009): 0 vs. 0 (+0)
Note: Japan commissioned 4 Oyashio-class, 2 Soryu-class SSKs; South Korea commissioned 3 Type 214s from 2005-2010.
China: Nuclear Subs (SSN only, 2005 vs. 2009): 6 vs. 6 (+0)
USA: Nuclear Subs (SSN/SSGN only 2005 vs. 2009): 58 vs. 56/57 (-2/-1)
China: Destroyers (2005 vs. 2009): 21 vs. 27 (+7)
USA: Destroyers (2005 vs. 2009/10): 46 vs. 54/57 (+8/+11)
Note: Japan brought into service 2 Atago-class destroyers, 2 Takanami-class destroyers, and a Hyuga-class "carrier" destroyer; Taiwan put 4 ex-Kidd-class vessels into service; South Korea put 4 KDX-2-class destroyers into service over the past 5 years.
China: Frigates (2005 vs. 2009): 43 vs. 48 (+5)
USA: Frigates (2005 vs. 2009/10): 30 vs. 30/31 (+0/+1)
Note: Regional Frigate-building programs are proceeding apace.
China: Coastal Missile ships: (2005 vs. 2009): 51 vs 70+ (+19 at least)
USA: Nada. Zip.
Interesting. China's small missile ships are allowing China's larger vessels to engage in "blue water" activities, so, while these vessels expand China's "reach", a dependence on small ships may prove a vulnerability. The region needs to know more about the small ship programs hosted by Taiwan, South Korea and Japan. What, by way of smaller vessels, can these navies offer? How good are the region's Air Forces in hunting and destroying smaller craft?
In short, does China's love of small craft contribute to regional stability or not?
Look. China's Navy is still awfully small. And with China not exactly on friendly terms with it's neighbors (who, on the part of Japan and South Korea, are building some very modern navies), the PLA(N) has a lot to do to secure China's maritime borders. It is a little bit of a stretch to think all this new floating hardware is aimed exclusively at the U.S.A.