Archive for the 'John Paul Jones' Tag
Women and men of the Class of 2002 may think they are in the shadow of their grandparents — "The Greatest Generation" who beat fascism, crushed nazism and crossed the Pacific to avenge Pearl Harbor and win the war in the Pacific in less than four years.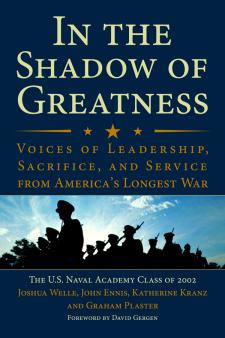 "In the Shadow of Greatness: Voices of Leadership, Sacrifice, and Service from America's Longest War" is a compilation by or about members of the U.S. Naval Academy Class of 2002. (USNI offers comprehensive reviews of the book, published in 2012; this is another look into the shadows.)
Put together with love and appreciation by Joshua Welle, John Ennis, Katherine Kranz and Graham Plaster — and including a foreword by David Gergen — the book is filled with essays and memories by and about members of the U.S. Naval Academy Class of 2002. The authors set the stage with a look back to the past:
"The magnitude of World War II provided the opportunity and experiences that shaped twentieth-century American leaders. As men served abroad, women provided support at home. All overcame great odds and faced adversity that gave them confidence and shaped their outlook in the decades to come. This 'greatest generation' returned from war, took advantage of the educational benefits offered through the GI Bill, and advanced the country's economy and transformed its society. World War II veterans, while fueling economic advancement, remained resolute in their value system: service, sacrifice, and community."
Among "Shadow's" contributors are aviators, surface warfare officers, submariners, U.S. Marines and mothers of junior officers killed during training or in action.
The book is filled with first-person, heartfelt accounts of triumph and hardships: what it's like in humanitarian assistance missions, duty at sea, Search and Rescue operations, and combat; what it means to face family separation, "setting aside the comforts a normal life in service to our country and the Constitution. The dark sides of these sacrifices are broken marriages, post-traumatic stress disorder, depression, and estrangement."
But there is plenty of triumph here, too, focusing on why and how Navy and Marine Corps leaders choose to serve — "not for self, but for country."
A highlight is the account by Meghan Elger Courtney, who served aboard USS John Paul Jones (DDG 53) of her commitment to promote warfighting readiness for Sailors aboard the Arleigh Burke-class guided-missile destroyer. Courtney recognized a need to improve shipboard physical fitness opportunities to help Sailors who would deploy forward — either aboard ship or as individual augmentees in Iraq and Afghanistan.
With the blessing of her commanding officer and strong support from the command master chief and Chief's Mess, j.o. Courtney planned for, procured and arranged for installation of a new fitness center that replaced outdated insufficient gear and space. Courtney writes, "Almost immediately, I saw a positive renewal in people's attitude toward fitness, healthy eating, and incorporating workouts into their daily routine as a way to relieve stress and stay in shape."
"What some may have viewed as my silly pet project, the command master chief took seriously, and he became my closest ally in seeing it through. I never really knew how much the experience had impacted him until I saw him become visibly choked up recollecting it during his closing remarks when he transferred off the ship. I don't think he thought that a young officer like me could have cared about his crew so much, but I did, and I still do…"
Courtney's story is just one of many inspiring reflections. She said she was inspired by a quote by explorer Robert E. Peary on a motivational placard in Halsey Field House at the academy: "I will find a way, or make one."
Other essayists share their sources of inspiration as President Teddy Roosevelt, President Dwight Eisenhower, President John F. Kennedy, Senator Daniel Inouye and Secretary of Defense Chuck Hagel, among others.
One essayist quotes the last two lines of a poem by Mary Oliver, "The Summer Day" in pursuing a life of purpose, wanting to make a difference:
"Tell me, what is it you plan to do
with your one wild and precious life?"
The authors and essayists show how core values of honor, courage and commitment make up an ethos that "forms the fabric of people's personality and drives them to a life of service, in and out of uniform."
"'In the Shadow of Greatness' was envisioned to recognize and chronicle the service of brave men and women and through their stories establish connections with the broader, nonmilitary community. These first graduates of the Naval Academy after 9/11 entered a global war at sea, in the air, and on land. This war would last more than a decade and define the United States in the early part of the millennium. The actions of the select few profiled here represent those of a much broader spectrum of patriots."
Attacks on 9/11/2001 changed the lives of the Class of 2002.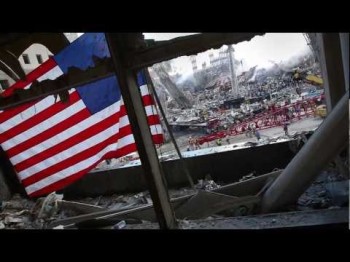 In a short introductory piece, "Inside the Gates of Annapolis," Adm. Sam Locklear (now Commander, U.S. Pacific Command) writes about the investment the country makes in the women and men who attend service academies, including the Naval Academy, reflecting on the morning of September 11, 2001 when he sat at his desk as commandant of midshipmen.
"I recall vividly watching the al-Qaeda attacks on the World Trade Center and the Pentagon and the plane crash in Pennsylvania. When the images reached the Brigade, and the uncertainty of the events rapidly became reality, I asked myself, Are these men and women, these young patriots, ready for the challenges that most certainly lay ahead. A decade of war has proven that they were more than ready. Fortunately for us all, they remain ready today. We are extremely proud of all they have accomplished and thankful that we chose the right men and women to lead the next great generation."
The book, published by the Naval Institute Press, is a key title on the CNO's Professional Reading Program essential list under "Be Ready."
A version of this post appeared on Bill Doughty's Navy Reads blog.
A project about stories also has its own story, and this series is no exception. In 2010, Midshipman (now Ensign) Chris O'Keefe, Naval Academy Class of 2012, conceptualized the series after listening to the BBC's own podcast series about the history of the world. Since then, he and cameraman / editor Matt McMahon have filmed dozens of interviews and conducted research into the 100 objects presented in this series. Volunteers provided assistance and support in various ways, from Midshipmen helping with the early research, to the staff of the United States Naval Institute with technical support, and of course the assistance of the staffs of both the Naval Academy Museum and the Nimitz Special Collections and Archives. The series helps link the tangible items located at the Naval Academy with the ethereal figures of the past, and in doing so tells the wonderfully fascinating history of our Navy.
Ensign O'Keefe has started publishing these videos, which we'll be posting here as well. Naturally, his first video is about John Paul Jones.
Often when telling a story, its best to start at the beginning. In our case, although the United States Navy didn't begin with John Paul Jones, he is nevertheless considered the Father of the American Navy. Born in England, he cut his teeth as a sailor in merchant fleets, before coming to the United States. When war broke out, he joined the fight on the side of the upstart colonies, and won fame for his daring raid on English soil and his victories over British ships. After the war, he accepted a position as an admiral in the Russian navy. After a short time, he returned to Paris in poor health, and died shortly after in 1792. In the tumultuous days of the French Revolution, Jones' grave was lost and it wasn't until 1905 that it was rediscovered. After discovery, and with great ceremony, his remains were transported across the Atlantic. After several years were finally interred in the crypt underneath the iconic Naval Academy Chapel, where they remain today. This is the story of Jones in life, and in death.