Archive for the 'Kodiak' Tag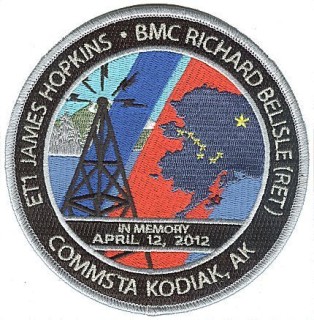 This morning I found out, via Facebook of all places, that an arrest was made in the case of two Shipmates that were murdered in Kodiak in April 2012. Yesterday- 15 February 2013- James Wells, long thought to be the principal suspect in the case, was taken into custody by the Coast Guard Investigative Service and Alaska State Troopers.
The murder of ET1 James Hopkins and retired BMC Richard Belisle on 12 April 2012 came as a huge blow to the Coast Guard family. With a service as small as ours- and getting smaller- it was easy to know someone who was connected one way or another to ET1 or BMC.
With the murders taking place on the isolated island of Kodiak it was thought that the case was going to be an easy one to solve. After all, where could one go when there's nowhere to go?
The FBI immediately took on the investigation as the crime took place on federal property (the murders took place inside Coast Guard Communications Station Kodiak buildings). The fact that that FBI was on it also brought down the anxiety level of many as this case was right in line of the FBI's work. That is, the solving of murder cases. However, with weeks turning into months and murmurs and rumors within the small island town starting to dwindle away it suddenly became a question of "if" and not "when" the FBI was going to charge someone.
After all was said and done though it looks as if the FBI has got their man. Though he's been detained in connection with the murders of our Shipmates we won't know why Wells was actually taken into custody until next week when the sealed affidavit is opened and discussed in court.
So until then we continue the waiting game… but now we don't have to hold our breath.