Archive for the 'Libya' Tag
And so, yesterday it started in earnest. In what seems strangely like a mix of the immediate aftermath of DESERT STORM's Operation SOUTHERN WATCH, DESERT FOX, with a whiff of the Suez Crisis thrown in – what in the USA we are calling Operation ODYSSEY DAWN, ELLAMY for the British, HARMATTAN for the French, and MOBILE for the Canadians in now underway.
We saw yesterday the launch of TLAM – both traditional and tactical TLAM – along with Anglo-French strike aircraft going after Libyan government positions to "shape the battlespace" for further operations. The Pentagon created slide below outlines the Maritime forces – but unfortunately leaves out one of the TLAM shooters, the SSN HMS TRIUMPH (click image for larger).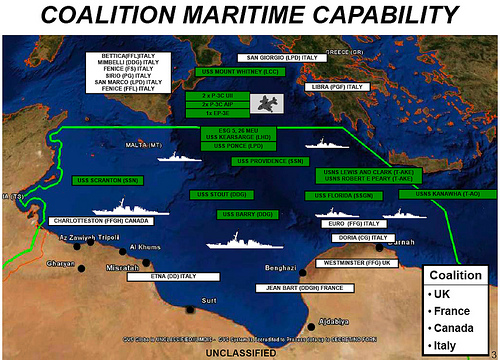 From the same Pentagon brief, the below slide shows we plan on a two-station No Fly Zone Libya (NFZ-L). So far it looks like it will be using land-based aircraft only. See the previous posts about those challenges – especially for any long-term presence.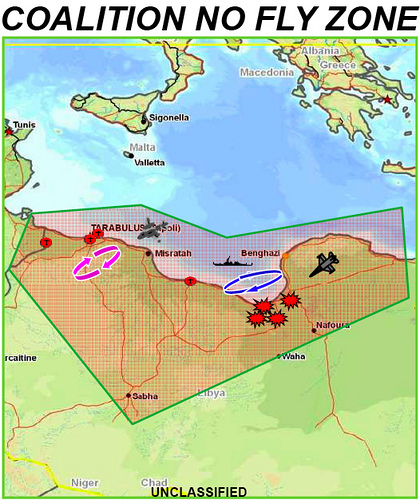 Where did we strike? This should give you an idea.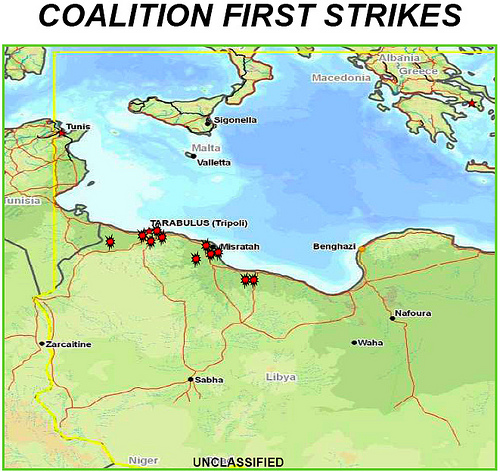 A few things stand out for me. First is the USS FLORIDA SSGN, the mixed use of the Tactical TLAM, and the British use of their Anglo-French-Italian ALCM Stormshadow. Initial reports just mentioned French and British aircraft, but AFRICOM also reports that EA-18G made their combat appearance, and AV-8B Harriers aboard the USS KEARSARGE (LHD-3) participated in strikes. More information will follow as the day goes forward, I'm sure.
Also, until a Coalition Command is set up (!), from the Pentagon brief (watch it here), it seems that this is being run by Commander, Africa Command; General Ham with Admiral Admiral Samuel J. Locklear, III apparently in Tactical Command with Joint Task Force ODYSSEY DAWN embarked USS MOUNT WHITNEY (LCC-20).
As a final thought for now, I want to return to VADM Gortney's brief from the Pentagon where he stated that the initial strikes were done to "Create the conditions and shape the battlespace, partners can take the lead."
Now that we are in, it begs a few questions.
1. Will the anti-Gadaffi forces be able to advance under Coalition top-cover?
2. Do our Coalition partners have the political, military, and financial ability to support a protracted NFZ-L? If partner nations start to fall out over time – when do we decide to remove our support, or do we plan to be the last nation standing, again?
3. As we have intervened in a civil war; what if any obligation do we have to prevent defeat of the rebels' ground forces – or if their defeat is eminent – evacuate them and resettle with their families?
4. What is the diplomatic plan if the Gadaffi forces defeat the rebellion? According to The Telegraph CJCS Admiral Mullen stated,
Adm Mike Mullen, chairman of the US Joint Chiefs of Staff, said the outcome of military action from the air was "very uncertain" and made it clear that Washington did not see the goal of Operation Odyssey Dawn as removing the Libyan leader from power.
Well, I can tell you that however you spell his name, Gadaffi thinks we are. The leaders of the rebellion thinks we are, and … errr …
Since military action was authorised, Nicolas Sarkozy, the president of France, has said that the only logical conclusion to the military campaign was the removal of Col Gaddafi. David Cameron has also reiterated demands for the Libyan leader, who yesterday vowed a "long war", to step down.
STRATCOM fail. Next.
5. If the rebellion succeeds, what are the Coalition's obligation to prevent reprisal killings and tribal based score settling?
6. If the rebellion succeeds and the war on the ground becomes a series of human rights incidents, as is often the end game in civil wars (which we will have no control over as we have no forces on the ground), do we continue to give those forces top-cover to continue their human rights abuses?
7. If this is our basis for intervention, then what do we tell the leaders of uprisings in Yemen, Bahrain, Iran, and other places?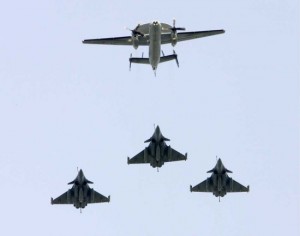 As things have picked up as of late WRT the No-Fly Zone over Libya (NFZ-L) – I think it is time to update the post from 17 days ago.
We have a "go" – in a fashion – for a NFZ-L. CONOPS, COA, ROE, etc; the most important things we really don't know what we will have. What we do know at the moment is what nations are already throwing their hat in.
CAN: 6 CF-18.
GBR: Unknown number of Tornado and Typhoon fighters. Possible E-3D and tanker support, perhaps others. Frigates HMS CUMBERLAND and HMS WESTMINSTER.
FRA: Bases in southern France & Corsica. CVN FS CHARLES DE GAULLE with 35 aircraft perhaps.
USA: We can bring the the multitude or European based aircraft to bear; if we want to. We have the KEARSARGE ESG in the area. The Big E and her CSG are within reach in a few days; if we want it to. BATAAN ESG will deploy early and can lean in; if we want it to.
ESP: Access to airbases and unspecified aircraft and navy ships.
ITA: Accesses to airbases and support "without reserve" – whatever that means.
BEL: 6 F-16.
QAT: Unspecified support – the only Arab nation so far that I can see coming out post NFZ-L approval.
DEU, I guess, decided they had enough of the Libyan desert a few decades ago – and our other allies I presume were out of OPTAR or some other excuse. As for the rest of NATO – well, this sounds about par.
Before Friday's meeting, NATO allies were still divided on whether to impose a no-fly zone. While the United States, Britain and France strongly backed the idea, Germany remained cautious and Turkey expressed opposition.

A diplomat said that NATO nations reached consensus on Friday on the imposition of a no-fly zone over Libya, but failed to fix details about how partners will take part in.

NATO ambassadors are expected to meet over the weekend, the diplomat added.

Meanwhile, some NATO nations have expressed their willingness to participate in the deployment of a no-fly zone over Libya.
We shouldn't expect more from them. Those who could, have. The rest will take a couple of months to figure out how they can do enough to get their flag outside the headquarters – but not enough to take any blame if things should go wrong.
We also know that there is hard math at work here. Physics and engineering cannot be successfully fudged for long. Almost all the viable non-USN particiapation is shore based. Distance is not your friend, especially with the short legs of many of the fighters being offered. Tanker support will be a huge requirement in money and material if you want a serious NFZ-L – as will heavy AEW. If you want, as some have mentioned, a "No-Drive Zone Libya" (NDZ-L), then you are asking for dramatic increase in the Combined Joint Statement of Requirements (CJSOR) – and will need boots on the ground to do it right.
The role and participation by the USA is still behind closed doors, but unless something unusual happens, we know how this will happen in broad terms;
Michael O'Hanlon, a defense expert at the Brookings Institution, said the United States "frankly might wind up playing the biggest role" because Britain and France may be unable to get sufficient aircraft to Libya quickly enough.

"A key part of the role the U.S. is going to play here is going to be like one of President Obama's previous jobs: community organizer," said Brian Katulis, a Middle East expert at the Center for American Progress.
Frank knows time-distance it seems; Brian is a cheeky monkey.
With the atrophied military capability and shaky will of the European nations – not to mention their budget "issues" – any type of significant military action in the Maghreb will require the USA to do the heavy lifting. We are the indispensable nation – and when it comes to any sustained action from the sea, the USN is the indispensable Navy.
If you have to project any type of power ashore with ranges such as here (see post from 01MAR) – the CVN is the indispensable ship. As we have waited to the 11th hour to do anything, I still stand by my statements from 17 days ago; without more than 1 CVN you will not have an effective NFZ-L. We don't have that yet, and may never.
So, if that is where we stand; are we just relying on hope and best case scenarios? Is the NFZ-L just for show and a half-hearted effort? Are we ready for the time and effort for a sustained NFZ-L? Are our allies? Are we going to just let the Europeans fail as they did in AFG from '06-'08 and then try to fix it later?
Finally there is this questions that many seem to want to avoid. We set up a NFZ-L and Gadaffi still wins in the face of it; what is our Branch Plan, or Sequel? What are the second and third order effects of an ineffective NFZ-L that results in a Gadaffi win?
Well – hopefully we won't have to figure that out. Smart professionals are working that – but before everyone starts moving their little-bits around the map – listen to SECDEF Gates one more time.
Another dark room – let's all step in together.
UPDATE: NOR and DNK are in … as tanks start to enter Benghazi. Tic, toc; tic, toc.
UPDATE II: Pictures are important and tell the story of the costs of delay. A couple of weeks ago, Gadaffi only had the area around Tripoli and a scattered town or two. The facts on the ground have changes significantly. Quite the challenge (click for larger).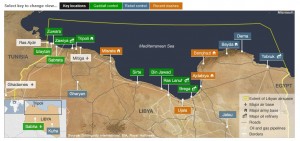 In support of Chris's post, let's dig at this a bit more.
Via FT; once again, when our prostrate, financially starved, and materially deficient allies say this,
"We must not tolerate this regime using military force against its own people," David Cameron, UK prime minister, said. "In that context I have asked the Ministry of Defence and the Chief of the Defence Staff to work with our allies on plans for a military no-fly zone."
What they really mean is, "America, will you please do the heavy lifting? We will try to help with what little we have, but be a good sport."
Want to make this an international effort? I won't even start to discuss the UN route – as to get to that point is just too difficult and like Darfur, by the time someone can craft a deal, there will be no one to save. Anyway, really?
You can also think NATO, but I think that is off the table already.
… Recep Tayyip Erdogan, prime minister of Turkey, which has the second largest standing army in Nato, on Tuesday rejected intervention by the western alliance in Libya as "unthinkable".

"Can you even consider such an absurdity?" Mr Erdogan said at a conference in Germany when asked about calls for Nato to intervene in Libya. "As Turkey, we're against this, this can't even be talked about, it's unthinkable."

Russia and France also opposed military action, with Paris saying humanitarian aid and cutting off Col Gaddafi's funding sources should be the priorities.
Once again – NATO devolves to the lowest common denominator, even in their own back yard.
Coalition of the willing it is.
No serious person is talking about putting boots on the ground to engage in ground combat the Libyan rebel forces are more than willing to do – I think the most aggressive thing inside the "possible" bubble is a no-fly zone in Libya (NFZ-L) so Gaddafi's air force cannot do their will on civilians and rebel forces.
Senators John McCain and Joseph Lieberman called last week for NATO countries to impose a no-fly zone over Libya to prevent air attacks by Mr Gaddafi on opponents who have wrested control of large parts of the country from him.

According to Colonel David Lapan, a Pentagon spokesman, US military planners are working on "various contingency plans … [and] repositioning forces to be able to provide for that flexibility once decisions are made".
Let's make some initial draft Planning Assumptions (PA) assuming that the CINC directs the establishment of a NFZ-L, here's my first three:
– PA-1: The ENTERPRISE CSG and KEARSARGE ESG now in the Red Sea successfully transit Suez.
– PA-2: Tanker, AEW, and EW/ES aircraft have full basing rights in Sigonella, Souda Bay, at British bases in Cyprus.
– PA-3: ITA, ESP, and GBR are willing to contribute Navy and Air forces.
Let's go to the chart, shall we? You can click it for a larger version.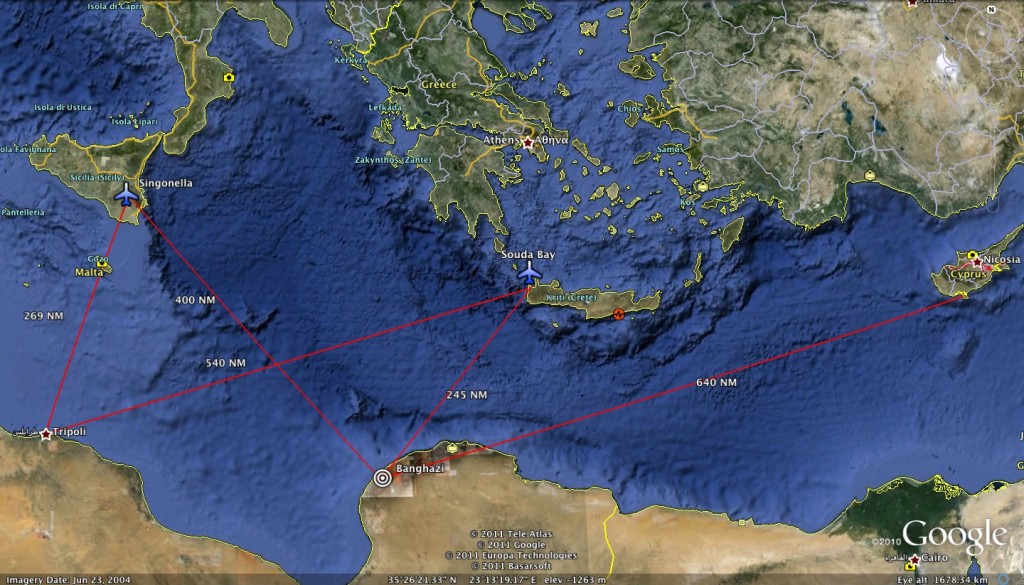 Of those allies with the most pressing concern in the Mediterranean, we already know TUR, and FRA are non-players. GRC? Child please. There goes your most of your Med nations. Who else can help that isn't already on holiday? GBR, ITA, ESP, with perhaps a dog or cat from other NATO air forces up north may help, but they have very limited reach and a very shallow bench. Even with the USAF, you cannot effect a sustained NFZ-L using ground based aircraft – even if you limited it to the Tripoli and Benghazi. Especially when you can bet a paycheck that ROE will require visual ID and sustained observation of suspect activity; no. Add to that the requirement for CSAR, and no again.
There is only one way to do this: Carrier Aviation. American Carrier Aviation.
One carrier cannot do this alone unless you have very low ambition and expect very little in the way of tasking. You should have one station to the east, one to the west. If you are talking big deck CVN – you really need two to keep one station for any length of time. To keep two stations, four – but if you can get some limited land-based air support for some cycles – maybe get by with three?
Let's be realistic. We are not going to get four CVN or even three. Two then? I vote no. We're tapped out.
If you had plenty of support and just a few AAW CAPs up – we could get by with just one … if for only a short time. Hope? Feh, not a plan – so be modest in your ambition.
OK, let's go to NFZ-L with the Global Maritime Partnership we have, not that we wish we had.
Would we give a station to our allies? Of the remaining folks, GBR, ESP, & ITA have CVS, right? Well, the Brits don't do CVS counter-air anymore – and the Italians and Spanish carriers? How many sorties can they do? How about if they had a lot of land based fighter support? How many fighter aircraft need to be stationed at Sigonella supported by how many tankers to cover Tripoli? Same question about Souda Bay and Benghazi. The British bases on Cyprus?
UK officials said they could use of a British military air base in Akrotiri, Cyprus to enforce a no-fly mission. "Akrotiri would be very useful if we wanted to deploy," said an official. "That would seem most logical."Although fixed-wing aircraft appear to be depleted, British officials said the main concern was that Col Gaddafi could use helicopters to mount bombing raids on opponents.
Thanks, but … look at that transit – tanker and AEW/ES only. That is about the same distance as from Masirah, Oman to Southern Afghanistan.
There is the problem – but we have a solution, the one a lot of smart people are going to try to make work. We will have do a limited NFZ-L with Big E and the KEARSARGE ESG. Not the way it should be done, but good enough for show.
On alert, using limited CAPs and relying on ready aircraft. Our allies may be here and there and will be able to help on the margins – but they have neither the ability or political will to do much more. They have proven over and over that they are less concerned about their backyard than we are – either that are they are just too used to us solving their big problems – and if we don't – they will just hope for the best.
My guestimates on the back of a notepad are very rough – but probably within a standard deviation. Do them yourself. The tyranny of distance and allied defense budgets are beyond our control but are critical planning factors you cannot get around.
Once you ponder that some, remind yourself and others the importance of a CVN – and use this other little tool in discussions of the utility of CVN. Off Libya soon may be the USS ENTERPRISE (CVN-65), commissioned on 25 NOV 61 – almost 50 years ago. On the western side of Libya is the former Wheelus Air Force Base. How is that base working out for us?
---
UPDATE:
SECDEF Gates
throws some cold water
on Prime Minister Cameron, and seems a bit off key with SECSTATE Clinton.
The U.S. and allies have discussed the prospect of imposing a no-fly zone over the North African country to prevent Col. Gadhafi from using air forces to strike at protesters. But Mr. Gates on Wednesday made clear the U.S. military would have to launch pre-emptive strikes to destroy Libya's air defenses if President Barack Obama ordered the imposition of a no-fly zone,

"Let's just call a spade a spade," Mr. Gates said. "A no-fly zone begins with an attack on Libya."

Mr. Gates's words were the strongest public indication of skepticism within the administration about establishing a no-fly zone, especially without broad international support.

In recent days, Secretary of State Hillary Clinton has spoken supportively of a no-fly zone. Asked about the apparent contradiction between Mr. Gates's comments and Mrs. Clinton's remarks, Jay Carney, the White House spokesman, said Wednesday that the no-fly zone is being "actively considered."
I think SECDEF Gates has reviewed COA-1, COA-2, & COA-3 and realized the risk-reward is just not where it should be. Just because you can do something, doesn't mean you should do something. Right call.
To paraphrase the Great Bismark; Libya is not worth the bones of a single Pomeranian grenadier.
Ten days after democratic protests erupted in Libya, the country has spiraled into a civil war between the Gaddafi Regime and revolutionaries. The speed of the state's collapse left many governments unprepared to evacuate their citizens trapped in the country. In addition to numerous private ferries, by my count no less than eight navies have deployed or are prepared to deploy to the Libyan coast. Here is a running tally:
United Kingdom
Cameron, speaking after chairing a meeting of Britain's National Security Council on the crisis, said six flights had left Libya in the past 24 hours carrying Britons, and a Navy frigate, HMS Cumberland, had evacuated Britons and other foreigners from the port of Benghazi.

Cameron said he had also asked a Navy destroyer, HMS York, "to go into the area to help out as necessary." He strongly urged Britons still in Libya to leave immediately. [Source]
Germany
Three German navy ships were making their way to Libya on Thursday to stand by to evacuate German nationals if needed.

[…]

The vessels, which have 600 sailors on board, comprises two frigates and a supply ship, the spokesman said. [Source]
Netherlands
The HNLMS Tromp was on its way to Somalia to take part in NATO's anti-piracy operation there, but is now expected to arrive off the coast of Libya on Friday. The air defence and command vessel – which left the Dutch navy base at Den Helder just two weeks ago – will now leave the Red Sea and pass through the Suez Canal once again over the next few days as it heads north.

A KDC-10 transport plane of the Royal Dutch Air Force is now due to fly out today to the Libyan capital, Tripoli, to evacuate Dutch citizens. [Source]
United States
The U.S. military is moving ships closer to Libya, a Pentagon official said on Monday, as the Obama administration stepped up calls for Libyan leader Muammar Gaddafi to step down.

"We are moving ships closer to Libya in case they are needed," said Colonel David Lapan, a Pentagon spokesman [Source]
South Korea
Korea urgently dispatched the 4,500-ton Choi Young KDX-II destroyer, which is carrying out anti-piracy duties in the Gulf of Aden, to waters off Libya to support the evacuation of Koreans in the turbulent country, a Defense Ministry spokesman said Thursday. [Source]
China
Sure enough, last week brought the news that China has dispatched the frigate Xuzhou from off the coast of Somalia to steam to the Libyan coast to help evacuate members of the roughly thirty thousand Chinese citizens in Libya. The move has attracted widespread attention because it was a dramatic demonstration of how the Chinese government intends to use its expanding naval power around the world. [Source]
India
India is sending three Naval ships to evacuate its citizens from Libya. 18,000 Indians are currently based in Libya, many of them work for construction companies.

Government sources say two destroyers and INS Jalashawa (USS Trenton) will be dispatched from Mumbai in the next few hours. They will take 12 days to reach Libya. [Source]
Turkey
The Russian Emergencies Ministry plans to engage a Turkish naval ship to provide security for Russians and citizens of other countries who will be evacuated by Saint Stefan ferry from the Libyan port of Ras Lanuf. [Source]
Newer Entries »