Archive for the 'lpd-17' Tag
Chief of Naval Operations Adm. Jonathan Greenert said last year: "We need to move from 'luxury car' platforms — with their built-in capabilities — toward dependable 'trucks' that can handle a changing payload selection." There is one platform that can fulfill this requirement: the San Antonio-class landing platform dock (LPD).
Much has been written about the maintenance problems on USS San Antonio (LPD 17), and, as commander of Expeditionary Strike Group Two, I lived the issues daily in getting the ship fully operational. However, in January 2009, as I stood up Combined Task Force 151 to combat piracy in the Gulf of Aden, USS San Antonio was designated as my first flagship, and I learned firsthand the remarkable capability of this unique platform. Further proof the ship has fully turned the corner: In 2012, it was awarded the Navy's Battle Effectiveness award.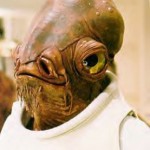 We all know the phrase that nothing is more dangerous than a terminal-CDR. Ahem. Maybe ….
Well – all 4-stars are terminal, in a fashion – and when a 4-star is about to head out of the service at the pinnacle of their career, a cynic might look askew at last minute conversions – but I don't think that is always fair. There can be something else going on when a Admiral or General goes off the reservation; "The Craddock Effect."
In May 2009 as General Craddock was heading out the door at SHAPE, he gave a speech that said what everyone inside the lifelines knew about NATO and AFG and the story of half-truths we all sold. It was nice to hear in the open what was said behind closed doors – but one had to wonder what the impact might have had if he made the speech a year or so earlier in mid-tour – when he wasn't a lame duck – when the full truth of his opinion could have informed the public debate … but … it was what it was.
There is a lot be be said for working within the system. Highly successful men and women get to where they are by having a track record of "making it happen" without burning those they work for and with. They often think that once they reach a certain level – then they can make things work. It usually doesn't work that way.
When they they are running out of time or after soaking long enough that they reach a moment of clarity – often a refreshing wave of candor can come from a senior leader. It is a wave that isn't quite at odds with what they have said in the open before – but sounds more like the missing chapters of a book half read.
In that light – over at his CFFC blog, Admiral Harvey has a post out that from my perspective is, in a word; remarkable. It is somewhere between a splash of cold water and sobering slap to the face to the professional drift our Navy has been under for a decade+.
This is Admiral Harvey from his blog;
When I look at some of the big issues we've encountered over the past three years with programs such as LPD-17, Aegis 7.1.2, VTUAV (Fire Scout), and the many software programs (e.g. R-Admin) installed on our ships, it is apparent to me that we were not doing our jobs with a focus on the end user, our Sailors. In these instances, the desire/need to deliver the program or system became paramount; we did not adhere to our acquisition standards and failed to deliver whole programs built on foundations of technical excellence. Then we accepted these flawed programs into the Fleet without regard to the impact on our Sailors.
Yes, yes – great Neptune's trident – YES! Sailors are our greatest asset – not our most costly liability.
I would personally add two things – everyone and Admiral Harvey knows this problem is much older than his three years at CFFC – and to change this will take the right people in the right places in power. How do we get them there? Hard question.
His comments are so spot on. Just to drag out the usual suspect; designing manning plans for LCS that has Sailor burn-out considered a feature as opposed to a bug, and is baked in to the design that we will have to deal with for decades? How do you fix that? … but let's not get in the Admiral's way here;
… we have entered a period in which the resources we have now and can expect in the future will no longer support the behaviors of the past. The likelihood of decreasing budgets and increasing demand for Naval forces leave us with no margin for delivering poorly designed, poorly delivered or unnecessarily burdensome programs to the Fleet. We must keep the Fleet and our Sailors at the center of the programs, systems and platforms we deliver and ensure operational effectiveness is the bottom line of our efforts, not simply increased efficiencies.
Though my selfish side wishes he put this out years ago, the professional side of me has to give him a nod to a timing that he felt worked best given his responsibilities. More responsibilities do not always translate in to more freedom to speak.
I've been a fan of Admiral Harvey's curious intellect, open mind, and tolerance of other views for a long time, and this is a very welcome addition to the conversation that must be brought to the front – larger, louder, and to more readers.
To fix these problems, the hour is already late, and more delay just means a more difficult fix later.
There is more at his post to to reflect on what is creating the dysfunction we have watched over the last decade in our Navy. Admiral Harvey states the catalyst for his post was the book by Bob Lutz, the Vice Chairman for Product Development at General Motors; Car Guys vs. Bean Counters: The Battle for the Soul of American Business
. When you think of GM from the last few decades, one car that should be in anyone's "GM Bottom 5" would be the Pontiac Fiero. As a smart friend pointed out to me at the linked article;
The Pontiac Fiero an economy commuter car? That's how GM marketed the sporty coupe, which was Pontiac's first 2-seater since 1938. GM had originally intended the Fiero to be a sports car (hence, the Ferrari-sounding name), but budget constraints forced them to ditch the original suspension design and steal parts from other GM cars. The result was a sporty coupe that didn't actually deliver racing performance with a meager 98-hp 2.5-liter I4 engine in a heavy body.
Sure, let's go there again to what remains the poster child to what Admiral Harvey describes – to the gift that keeps on giving.
Isn't speed and handling performance are most important for a sports car? Likewise, aren't offensive and defensive firepower performance the most important for a warship? With the similar failure of basic core competencies – couldn't one say "GM:Pontiac Fiero" as "USN:LCS?"
Another quote from Admiral Harvey's post;
… upon his return to GM, Lutz found that the design teams had moved away from an organization focused on product excellence and the end user – the customer – and instead transformed into a company driven by complex business processes, executive boards and working groups focused on eliminating "waste," "streamlining" operations, and achieving "efficiencies." As a result, GM produced generations of automobiles that met all the technical and fiscal internal targets yet fell far short of the mark in sales – what really counted.
Does that sound like OPNAV/NAVSEA track record as of late? Designing warships that meet all the technical and fiscal internal targets (except maybe cost, stealth, IOC, etc), but fail to meet the fundamental test of warfighting capability?
Interesting thing about the Fiero – by 1988 they actually go the design right – but by then it was too late and most of the run was – ahem – sub-optimal. Is that where we are going with LCS? The first 43 sub-optimal …. but the last dozen, success!?
Bravo Zulu to Admiral Harvey for putting this out there. Maybe after a few years with the gold watch and reflection, down the road someone might go with a Shoomaker option – I don't know. In the word of the American songwriter Kris Kristofferson; freedom's just another word for nothing else to lose.
Admiral Harvey – enjoy your freedom.
Notice how stories detailing the LPD-17 powerplant "crisis" focus on LPD-17, 18 and 21?
Notice how the reporting, in passing, note that LPD-19 and 20 encountered similar engine problems, but, after maintenance, both seem to have dodged a bullet?
Well, not so fast…it looks like the USS MESA VERDE (LPD-19) had substantive powerplant issues before her shock trials (back in August-September 2008)–USS MESA VERDE suffered a "catastrophic" mishap even before LPD-17 failed in the Gulf.
Read the Defense Department's December 2009 Operational Test and Evaluation Report closely:
Catastrophic casualties recorded prior to the Full Ship Shock Trial in LPD-19 and during LPD-17's deployment revealed serious fabrication and production deficiencies in the main lube oil service system."
What happened there? IF the LPD-19 event was, in any way, comparable with the November 2008 LPD-17 failure (where the ship was sidelined for weeks), then why wasn't the LPD-19 failure widely broadcast?
The LPD-19 incident predates the LPD-17 incident. Why, then, in the light of such a catastrophic failure, was the LPD-17 sent out on deployment with no fixes in sight? Were the LPD-19 problems kept quiet…or, to be cynical for a moment…Did the LPD-19 failure occur in close proximity to the Navy's announcement that the LPD-17 reached IOC in May 2008?
Unless the Operational Test and Evaluation Report is detailing a completely different failure, the Report contradicts Jay Stefany, the Navy's LPD-17 program manager. Navy Times' Chris Cavas recently reported:
"Stefany said the problems were a recurrence of similar issues discovered about a year ago on the Mesa Verde (LPD 19) and Green Bay (LPD 20). "The ships were down for a number of months," he said, and stainless steel shavings were discovered in the lube oil."
Seems like LPD-19–at a minimum–failed about a year an a half ago…
Along with that interesting note, the Operational Test and Evaluation Report emphasizes the entire Class is experiencing a range of other failures/problems–problems that go far beyond welding or engine plant design. The platform is, at best, infirm.
First–and unsurprisingly–the engineering is problematic:
"Reliability problems associated with the Engineering Control System (ECS), including frequent failures and high false alarm rates, and the electrical distribution system, including unexplained loss of service generators and the uncommanded opening of breakers, revealed shortfalls in manning and training to support sustained manual operation of the plant."
Communications are wobbly:
"…reliability problems with the SWAN and the Interior Voice Communications System degrade command and control and are single points of failure during operations."
And, of course, the amphibious basics ain't good, either:
'Reliability problems related to well deck ramps, ventilation, bridge crane, and Cargo Ammunition Magazine (CAM) elevators detracts from mission accomplishment and reduces amphibious warfare suitability."
Add in issues with the LPD-17's ability to produce chilled water, there's also a long laundry list of problems with the LPD-17 Class SSDS, the RAM system, radars and gun interface. Combined, those failures limit the LPD-17 Class, opening these ships to attack.
But those problems were covered last year, over here.
The continued vigorous defense of these platforms by Marines and other LPD-17 boosters simply stuns me. Why are we building LPD-17s if the ships are not functional?
Is time to stop work on these things? What's the going opinion? Do tell!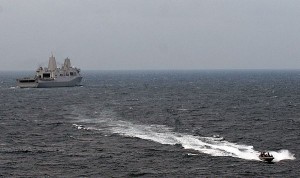 Stormy times ahead for Northrop Grumman's Gulf Shipyards and Navy shipbuilding.
First, news broke today that LPD-17 and LPD-21 are–even though they're desperately needed for Haiti service–now "sidelined," according to Insidedefense.com. 
The USS New York, less than a month from commissioning, has a bent crankshaft. Until that crankshaft is repaired LPD-21 will only be able to use three of four engines. The ship won't be able to get underway until next month because two engines need to be repaired.
No news yet on the prognosis for LPD-17. It is now in a Virginia shipyard.
LPD 19 and 20 suffered oil contamination problems (a potential precursor to bearing wear and crankshaft issues) earlier, but the Navy seems confident they're OK for now. LPD-18 seems OK.
What are we going to do with the LPD-17 program? Things were looking up. Last year, Undersecretary of the Navy Robert Work, in his 2009 Naval White Paper, wrote "after a troubled start, the LPD-17 program appears to have finally found its sea legs (pg 78)." Just how close-held was this issue? And did the failure to promptly disseminate news of LPD-17 problems derail the promulgation of good policy?
Navy Times reports even more bad tidings:
"Inspectors are rechecking every pipe weld aboard every ship built in the last several years at Avondale, La., or Pascagoula, Miss., including destroyers and small- and big-deck amphibs, after discovering so many problems that all pipe welders and Navy inspectors at both yards had to be decertified and then recertified to work on ships."
Welding issues appear to plague many vessels built at the Gulf shipyards. DDGs, LHD-8, every LPD…(No news yet on the Legend Class Coast Guard Cutters) suffer from about a 10-15 percent incidence of thin welds. We'll find out more over the coming weeks.
So, in short, we have a serious problem in shipbuilding (and shipbuilding oversight) in the Gulf, and a potentially serious design problem with the LPD-17s engines. I'd like to see some accountability here, but, in all honesty, I expect the folks who approved the LPD-17 engine designs will probably get some kind of award for helping create a new means to discover the bad welds…
At least we can all sit back and watch as different parts of the navy's shipbuilding community desperately try to shift the blame for this current fiasco onto somebody else.
With this, the LCS-1 problems and the EB sub welding issues, it's little wonder SECDEF Gates kept the Navy from testifying at the Jan 20 House Armed Services Committee meeting on Naval Force Structure!
For those who don't know, HASC's Seapower and Expeditionary Forces Subcommittee Chairman Gene Taylor's primary constituency base is from the Northrop Grumman Gulf Shipyards, so we can, as this story evolves, expect some fireworks as Congressman Taylor scrambles to protect his parochial interests.
Like any evolving story, it'll take time to get all the facts. Consider this merely a means to start a discussion…