Archive for the 'Maritime Security' Tag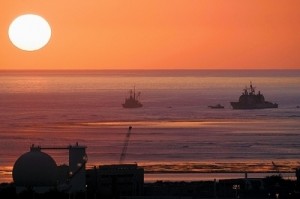 With some of the budget reduction POM options coming to the front over the last couple of weeks, everyone's Fleet-number waterfall graph just shifted to the left a few years. A quick note to those blandly blinking at the PPT; this is not a drill.
It is time to leave behind the sway-back, hidebound arguments and talking points of the Lost Decade; FRP, Optimal Manning, Transformation, exquisite systems, Network-Centric Unicorn Theory – that is in the past. The future, if you will, that never was.
They have either been measured and found wanting, abandoned, unaffordable, or perpetually shifted to the right waiting for quantum theory and pixie dust to make them operational. It is time to move forward.
One underlying fact that has finally reached the 51% tipping point in the minds of most decision makers in the last 18-months is this; in time of financial crisis the military budget will be hit harder than other parts of the budget if for no other reason than it is structurally easier for politicians to do so. With our new "Super Committee" process – even more so.
Relax; there is no need to panic. No need to wear sack cloth and ashes, bound with your full-leg metal cilices as you walk off the Blue Line, through Pentagon Station to your desk. No; it is time to straighten your gig-line, lean forward, walk with purpose to get your next cup of coffee, put a smile on your face, and get to work.
Look at what has been done by our predecessors in a time of stress; naval developments in the 1920s and 1930s in carrier and cruisers; even the 1970s, more or less, brought us the F-16, TLAM, Aegis and others.
This is a time to focus. We can come out of this period – be it 10 years or 20, in a good position if we start now to look; look not just at platforms, but what those platforms carry. Sensors, weapons, leaders, Sailors, and ideas. That is what is critical. Don't get me wrong – numbers matter for a dual-ocean, maritime, mercantile republic with global responsibilities – but what is on those platforms is more important than just numbers.
To do this right though, we need vision and leadership grounded in fact, modesty, honesty, and respect for risk. Not just that, but in our age it needs to be public vision and public leadership. The time is now to look back for a firm grip on something firm, solid, and reliable – and then reach forward.
A great worry however, is that we won't benchmark the successful responses to stress in the past clearly founded on solid programs and viable short-cycle evolutionary progresses, but instead will follow the intellectually moribund and disgraced habits of the other past as defined by a future-imperfect PPT deep and an efficiency plan as thoughtful as, "Everyone grab your spoon and take two scoops our of your rice bowl."
Simple reductions of what we have without vision and an understanding of a strategy to support it is not a plan, it is a reaction. It is drift; drift in rapidly shoaling water.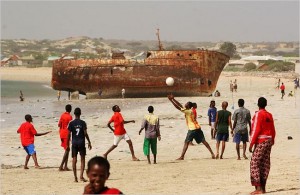 In the week following the 2010 USNI History Conference; Piracy on the High Seas, there are two points that have staying power for me. They help describe why we are having such a difficult time fixing a relatively basic function of a sea power with literally the entire written history of mankind to tap into for examples about how to solve it.
This isn't a new problem even if you have a shortsighted view of history. Just sticking to "new media" – our friend EagleOne was blogg'n about piracy from the start – well before piracy was "cool." Check out his archive and you can see the arch from SE Asia to the Horn of Africa and a few other garden spots in between.
The problem isn't piracy itself; it is our inability to take decisive action to eliminate it. Once again, it boils down to solid, informed leadership – leadership that is allowing itself to be confused by two things – the same two things that are still bouncing around my nogg'n a week after the conference.
Peer Review vs. Prop-wash
The first problem was indirectly pointed out by LCDR B.J. Armstrong, USN via his opening statement during the first panel;
"Hey, I'm just an operator … "
… at the assembled academics and recidivist Staff Weenies encircling him.
His opening reminded me of a very clear point; in piracy like many things, we are suffering from analysis paralysis. Academics, researchers, and historians are very important parts of the discussion, but when we give them too much weight – and minimize the opinion and the observations of the operator – then we get what we reward; talk and discussion – and the finer points of rejoinders to introspective quandaries. I call it The Darfur Effect
.
In The Darfur Effect, we have a very serious and very difficult problem that all agree is very serious and very difficult. As any good academic, researcher, and historian will tell you – the best response to such things is to get grant money, organize symposiums, publish some papers, and even better get some time in front of a Congressional committee or a temporary assignment with an IO, NGO, or GO working on a White Paper on the subject.
That is all good and well – but if that is your primary focus, and you give most of the time, money, and power to that focus – nothing really is done. Like Darfur, after the clucking of tongues and interviews on PBS's Frontline – few are saved and the problem isn't solved. Well, in the case of Darfur where each new finds that there is a very limited and dwindling number of Darfuris to save, eventually there are few to none to save and the problem solves itself, in a fashion.
Piracy is different in one respect. Unchecked, it grows. Unlike the case of Darfur where the people there are trying to be eliminated faster than they can replace themselves – with piracy like all lawlessness – it grows when ignored. Mitigation or elimination requires decisive operations. Yes, we have anti-piracy operations, but are they really that effective? The proof that we are still talking about this after so many years shows that no, they are not effective.
Does anyone think that we have not talked enough about piracy? In more time than we took to defeat Nazi Germany and Imperial Japan, we are still roughly talking about the same issues we were in 2005.
Ideas we have – good Direction and Guidance based on a sound Operational Concept derived from the best ideas we do not have.
DC-10s, Pintos, and Kismaayo
The best speech for its substance, subject, and delivery was at lunch by a non-military, non-historian, non-academic; the Senior Vice President of Maersk Line, Limited – Stephen M. Carmel.
He had no difficulty in getting people to stop chewing for a moment as he came of the blocks with his spines out and claws extended. He wasn't hostile – but he gave a delivery in a manner that told you he knew that many people would not like what he had to say, many have never thought of things from his point of view – and something that warmed my heart – he had a BM1's sense of not suffering fools lightly.
Mr. Carmel knows his business. Unlike most, he has to know his business – he has a firm understanding of sunk cost, opportunity cost, cost benefit, and comparative advantage. He actually has metrics that cannot – legally at least – be fudged or pushed into the next fiscal year. He doesn't work in a career that is based on the conveyor belt mentality of promotion – he must perform or he will be replaced.
Such an environment can do much to clear the mind, and his presentation was focused and fact based. I won't go into the double-ledger aspects of it all, but let me summarize it for you; piracy is a commercial non-issue for him and his company. They have, do, and will pay ransom when needed. They can mitigate piracy's impact on their bottom line. If you need a justification for doing something about piracy – don't use Maersk's business needs as it.
From his area of responsibility, he has a point – but I don't think he has the final answer either. When the green eyeshade becomes the green blinder, we often find ourselves in trouble. There were very sound business decisions made concerning the DC-10
and the Ford Pinto
– but they were morally indefensible. I don't think leaving hundreds of men languishing off some septic Somali port for hundreds of days is moral.
Though Carmel's thoughts should be part of the discussion – it should be but a small part of a balanced view. Piracy is part of the general cancer of maritime disorder – a violent symptom along with its less directly dangerous pollution and industrial fishing sisters. Piracy is a barrier to freedom of the seas, and if left alone will grow and impact what was once an area where goods were free to flow to markets with minimal external interference.
It will grow along the same lines as the "broken window" theory of crime states that if not aggressively countered, crime will continue to grow and alter the larger culture in ways not fully understood – but never in a better way.
Those are the macro reasons – the micro ones are even more important. Hundreds of people are being held against their will as hostages by pirates. If those people were mostly Canadian, American, British, and German as opposed to South Asian and Philippino – does anyone here think that we would be sitting here talking about it being a non-issue? Really?
That is the moral reason. Sometimes, like with the anti-slavery operations by the British in the 19th Century – you do things because it is the right and moral thing to do, especially in those things that do not require a lot of blood or treasure to execute. Political and economic benefits will follow the moral – and if they don't at least you can look yourself in the mirror in the morning.
In an age of moral equivalence and a bias against stating what is or is not acceptable, doing things because it is "the moral thing" to do is problematic perhaps – but ponder this: what makes you more uncomfortable – setting an acceptable price on another man's freedom, or punishing those who decide to earn their living from crime and the enslavement of others?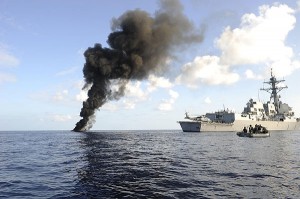 I just posted this over on my official blog, thought it might be interesting for reading/discussion here:
Shipmates
This post provides more detail following the meeting at the White House today per my earlier post.
The Office of National Drug Control Policy released an interesting report today on illegal drug use in the United States. Of particular interest to you would be pages 10 and 11, discussing the impact of increased seizures and their correlation to a dramatic increase in price.
We are just one part of this critical effort, but it is an important part. Campaign Steel Web is the Coast Guard's overarching drug interdiction strategy to reduce the supply of drugs to the U.S. by denying drug traffickers access to maritime routes in the six million square mile transit zone. The National Drug Control Strategy sets a 2014 target to interdict 40 percent of the cocaine en route the United States. The Coast Guard and our interagency partners have diligently worked to achieve this goal, producing significant interdiction successes in the transit zone (Eastern Pacific, Caribbean Sea and the Gulf of Mexico) in recent years. Working with our interagency and international partners, the Coast Guard removed 369,833 pounds (167.8 metric tons) of cocaine in FY 2008—the most in our history. The Coast Guard has removed, on average, 328,964 pounds (149 metric tons) of cocaine from the transit zone each year between fiscal years 2004-2008, the five highest removal years on record. These record removal rates can be attributed to three primary factors:
(1) More actionable, tactical intelligence: Through interagency cooperation, the Coast Guard benefits from the joint Department of Homeland Security and Department of Justice investigative task force known as Panama Express (PANEX), which provides real-time, actionable, tactical drug-related intelligence to the Joint Interagency Task Force (JIATF) South in Key West, FL.
(2) More capable interdiction assets: The Coast Guard has more capable assets in its armed helicopters and faster over-the-horizon cutter small boats. Through employment of Airborne Use of Force (AUOF) by the Coast Guard's Helicopter Tactical Interdiction Squadron (HITRON) and the United States, Dutch and British Royal Navies with Coast Guard Law Enforcement Detachments (LEDETs) embarked, the Coast Guard is able to stop the small, fast, 45-plus knot vessels carrying multi-ton loads of cocaine.
(3) Negotiation of international agreements with our partner nations: Since 1981, the Coast Guard, in cooperation with the Departments of Justice and State, has negotiated 27 bilateral agreements with our drug interdiction partner nations in and around the transit zone. The value of these agreements is seen every day in the U.S. government's ability to gain jurisdiction over interdicted smugglers. The result is more prosecutions in U.S. courts and longer sentences under U.S. law for those convicted of drug trafficking. Most importantly, successful prosecutions in the U.S. provide investigators the ability to acquire actionable intelligence about drug movements and the illegal drug trade.
As a I posted on earlier, we are extremely appreciative of Congress' passage of the Drug Trafficking Vessel Interdiction Act to counter the growing SPSS threat.
It is worth highlighting the great cooperation we have received from Mexico and Colombia.
This May I signed a joint Letter of Intent with Admiral Saynez, Secretary of the Mexican Navy, and General Renuart, Commander NORTHCOM. This letter paved the way for US/Mexico bilateral development of standard maritime operating procedures that have significantly enhanced our collective ability to share information and coordinate operations. These procedures, which are less than six months old, have facilitated the seizure of an SPSS and fishing vessel carrying over nine metric tons of cocaine, while also setting the foundation for closer cooperation across a broad range of law enforcement and security missions. The United States and Mexico will continue to fight together the scourge of drugs and narco trafficking that so terribly damages our common border and both of our countries.
I visited Cartagena last month and participated in the Colombian Navy and SOUTHCOM sponsored Counter Narco trafficking Symposium of the Americas. More than 30 flag officers from Navies and Coast Guards from around the region attended this event and discussed opportunities to improve cooperation in the fight against illicit drug smuggling.
Maritime counter-drug cooperation with Colombia is superb; the Government of Colombia (GOC) continues to be one of the closest partners the USG has in the battle on drugs and continued cooperation is critical to ensuring continued success. The USG and GOC have an agreement to suppress illicit traffic by sea, which is used extensively to counter the large flow of cocaine that is trafficked north from Colombia. The Colombian Navy/Coast Guard (COLNAV/COLCG) has been very responsive and can be counted on to provide vital interdiction support. U.S. and Colombian Operational Commanders meet regularly to have tactical discussions and identify initiatives that improve our cooperative efforts. JIATF-South and COLNAV/COLCG routinely conduct combined operations. The USCG has both an Attaché and a Liaison Officer (LNO) at the U.S. Embassy in Bogota, and Colombia has a liaison officer at JIATF-South.
Maritime drug smuggling still remains a major challenge. A large majority of the cocaine that reaches the U.S. travels via maritime means, for at least part of its journey, all by challenging conveyances—self-propelled semi-submersible (SPSS) vessels, go-fasts via littoral routes that require the Coast Guard to shoot out the engines to stop them, secreted in sophisticated hidden compartments, and hidden among large volumes of legitimate commerce using containerized maritime cargo. We could not have achieved and cannot sustain this success by ourselves.
ADM A