Archive for the 'Merchant Marine' Tag
Every 22nd of May, unbeknownst to nearly all Americans, the United States celebrates National Maritime Day. It is a day to celebrate our nation's rich maritime lineage, cherish our goods delivered by sea-going ships, and remember the importance of our officers and sailors who sail in the far-flung corners of the world. In Washington, D.C., the Department of Transportation held a ceremony at their headquarters. Salutes were smartly rendered and rousing speeches delivered. At the end of the ceremony, eight bells were rung to signify the end of the watch and honor the Merchant Marine.
The next day, Maritime Administration (MARAD) officials went back to regulating one of the most poorly funded (under $500 million annually) and misguided (only one top official is a past merchant mariner) administrations in our nation's capitol. Since the founding days of our nation to the recent conflicts in the Middle East, the need for a strong militarily-useful and privately-owned U.S. flag merchant marine to protect, strengthen, and enhance our nation's economic and military security has been clear. In times of peace and war, our U.S. flagged vessels effectively answered our nation's call and provided unprecedented sealift capability to support our economy.
According to Rose George in Ninety-Nine Percent of Everything, trade carried by sea has grown fourfold since 1970 and is still growing. Three years ago, 360 commercial ports of the United States received in international goods worth $1.73 trillion. There are more than one hundred thousand ships at sea carrying all of the material we need to live.
Despite the amount of wealth reaching our shores, there are fewer than one hundred oceangoing U.S. flagged ships. Only 1 percent of trade at U.S. ports travels on an American-flagged vessels, and our fleet has declined by 80% since 1951. Less than 2% of all seagoing mariners are women. In a world of progressive ideology, it would seem that the other world – on the sea – is adrift and heading in the wrong direction.
It is seemingly unimaginable that most Americans are ignorant to the world of shipping. Play a game the next time you go out to a restaurant or visit your local coffee shop and see how many items you can count that came from a sea-going vessel.
Plates: Made in China, containership
T-Shirt on young child: Made in India, containership
Chair and table set: Looks expensive, but likely IKEA: containership
Gap Jeans: Made in Bangladesh, containership
Cell Phone: Made in China, containership
Coffee: Beans from Latin America, containership
European car parked outside window: German, roll-on roll-off ship
Fuel presumed in said European car: Crude from Middle East, tanker
The list is extensive. Better game: what was not brought over by maritime shipping?
Proceedings focuses mostly on developments in the maritime security domain, but a deeper conversation should revolve around the status of our civilian mariners. After all, one of our primary missions as sailors of the U.S. Navy or U.S. Coast Guard is to uphold the umbrella convention as mandated by the United Nations Convention on the Law of the Sea (UNCLOS). Even though the United States has not ratified the convention (we do not like its deep-sea mining stipulations), we uphold its core meaning. Over 300 articles aim to create "a legal order for the seas and oceans which will facilitate international communication, and will promote the peaceful uses of the seas and oceans, the equitable and efficient utilization of their resources, the conservation of their living resources, and the study, protection and preservation of the marine environment."
Simply put, our maritime security organizations exist to support the global merchant marine and to promote free trade domestically and abroad. But when we lose American flagged vessels and shipyard workers lose their contracts, their income and their wealth of knowledge is lost. For our government – and in particular the Department of Transportation and Department of Defense – this means that an insufficient number of American mariners will no longer be there to support the industry. The next time we need to support a global war, we will have to rely on foreign shipping companies to move U.S. war material abroad.
RECOMMENDATIONS
Outside thinking. Fund and stand up an independent, outside think tank that can meet the maritime challenges of the 21st If we do not try and sort out the maritime industry, the stability necessary for U.S. flag companies to attract the investments they need and for maritime labor to recruit and retain the mariner our country needs will simply not be there. Create a long term
Bi-Partisan Support. MARAD should continue to lobby and build coalitions to ensure proper funding efforts to build a robust, seagoing merchant marine. If the United States is serious about the declining state of our maritime industry, we must modify existing programs and create new ones that would increase the number of vessels operating under the U.S. flag, the amount of cargo carried by U.S. flag vessels, and the shipboard employment opportunities for licensed and unlicensed merchant mariners.
Reward companies that flag their vessels under the United States. Under the auspices of the intricately elusive tool of "flag of convenience," where ships can fly the flag of a state that has nothing to do with its owner, cargo, crew or route, many shipping companies have chose to dodge taxes and pay mariners less. Consequently, many civilian mariners can't find work. We should create tax incentives for companies that fly under the American flag and hire more mariners, rather than allow ships that maintain a crew of twenty to reap in the benefits of maritime trade.
Subsidize shipbuilding in the United States. In order to compete with South Korea and other major shipbuilding nations that construct vessels on the cheap, we need to craft private-public contracts to allow our shipbuilding to flourish. Explore new ways to meet the capability and capacity to meet the most demanding wartime scenarios that might lie on the horizon.
Rethink maritime officer and crew placement. Even though ships are getting considerably larger, crew sizes are getting smaller. Nearly a thousand professional mariners graduate from the US Merchant Marine Academy and state maritime academies each year with no prospective deep-sea job opportunities. Most sea-going accidents occur due to fatigue and most mariners have reported working over 80 hours in a given week. We should expand Military Sealift Command employment so U.S. Naval Reserve / Merchant Marine Reserve can serve on 'active duty' in the merchant marine. If this model works, we can incentivize a program in the private sector where larger crews are rewarded with tax breaks for operating safely.
Trade has always traveled and the world will continue to trade in our globalized society. The United States relies on a few VLCCs (Very Large Crude Carriers) to bring in two-thirds of our oil supply every day. Without the assured commercial sea power capability provided by the U.S. flag merchant marine and civilian manpower, we will find ourselves at the mercy of foreign vessels that are owned and operated by foreign interests.
The symbolic ringing of eight bells was superfluous this past National Maritime Day. Through bad policies over the last several decades, we have left the U.S. maritime industry at the whim of Adam Smith's 'invisible hand,' then wondered, what happened to the Merchant Marine? Answer: it was turned over decades ago to the rest of the world.
You have been properly relieved America. Maersk has the watch.
The following article is cross-posted from an article originally written by Rob Almeida over at gCaptain.
It's been almost 6.5 years since I resigned my commission in the US Navy where I served 2 tours at sea on board west coast-based warships followed by an instructor tour at the US Naval Academy. Since leaving the service, "civilian-life" has kept me pretty busy. I've traveled the world, met thousands of people, and even worked for a year on a drilling rig floor! It's really been an incredible learning experience and I certainly have a much greater sense of self than I ever did before.
It's also given me an extraordinary perspective on my time in the US Navy, and how completely backwards and inefficient the US Navy operates at times.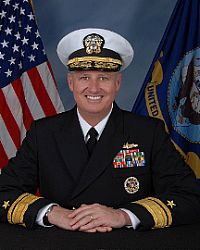 Word came earlier this week to the US Merchant Marine Academy community of the reassignment of the Academy's Superintendent, RADM Greene, who is himself an Academy graduate. See the announcement below.
Of more interest is just why the Secretary of Transportation, Ray LaHood, would go and reassign the good Admiral a year after appointing him to the position, a position that has lately appeared to become a revolving door. (See the Sec. Trans. praise of RADM Greene here) Take this clarification issued by the Alumni Association:
Important Message Clarification – In response to the feedback we have received from the "Important Message" released at 1300 EST regarding the Superintendent, I want to make it very clear that this is not a positive situation. The Superintendent has been "reassigned." This is not Admiral Greene's decision. The Dean is now the Interim Superintendent.

We are as deeply concerned about this turn of events as you are. As of now we only have the information that is in the previous release. I would like to answer all your questions but at this time that is just not possible. Thank you for your understanding and I hope this clears up any confusion.

Capt. James F. Tobin '77
President
USMMA Alumni Association & Foundation, Inc. – USMMA Alumni Association
It is now a couple days later and there is still little to no further explanation as to what has happened. I met the Admiral last December and he seemed like the perfect person for the job. Which makes me wonder, perhaps this Administration didn't appreciate that. Really, was the need at the National Defense University so great that it was better to once again open up the Superintendent's position at King's Point. In that Admiral Greene didn't even have the opportunity to decline and remain in his current position? Was their no other suitable candidate and if that is the case, just where did he intend to find a new superintendent?
In addition, warning comes that the budget ax is going to start swinging in DC. No word yet on where it will strike, but compared to the other service academies, the USMMA is in a somewhat exposed position. It will need a strong leader to defend the school's contribution to the US. As an alumnus, I hope that a replacement as strong as RADM Greene can be found quickly.
—————————
Important Announcement – Secretary Ray LaHood announced on Tuesday the appointment of Rear Admiral Philip H. Greene, Jr. (KP '78) to be the Department of Transportation Chair at the National Defense University in Washington, D.C.

Rear Admiral Greene served with distinction as Superintendent, United States Merchant Marine Academy since August 30, 2010. A native of Southern California, Admiral Greene, was our third Kings Point Graduate to serve as Superintendent.

Rear Admiral Philip H. Greene, Jr. (KP '78), has been named the 2011 Alumnus of the Year by the USMMA Alumni Association and Foundation. This prestigious annual award will be presented at the Homecoming Alumni Awards Dinner on Thursday evening, October 13th, in the Melville Hall Officers' Club.

Prior to his appointment as Superintendent at Kings Point, Admiral Greene was Director, Navy Irregular Warfare. Prior to this assignment Greene was commander, Combined Joint Task Force-Horn of Africa where he led operations to build regional security capacity and counter extremism in the Horn/East Africa. He also served in Naples, Italy, as director for Policy, Resources & Strategy, U.S. Naval Forces Europe/Africa (February 2008 to February 2009).

Previously he commanded Destroyer Squadron 31 from November 2002 to May 2004, where he served as sea combat commander for the Abraham Lincoln Strike Group during Operation Iraqi Freedom. Other sea duty commanding officer assignments include the Spruance class destroyer, USS Fletcher (DD 992) from March 1996 to November 1997; and the patrol missile hydrofoil, USS Taurus (PHM 3) from July 1989 to June 1991.

Significant shore assignments include duty as chief of staff to commander, Naval Surface Forces; and chief, North East Asia/China Division, the Joint Staff/Political-Military directorate (J5). In addition, Greene has served tours at the U.S. Naval Academy; the Secretary of the Navy's Office for Legislative Affairs; and the Bureau of Naval Personnel.

Greene is a 1994 graduate of the National War College (M.S. National Security Strategy) and a 1985 graduate of the Naval Postgraduate School (M.S. Information Systems). In addition, he holds a Merchant Marine license as Master (oceans, any gross tonnage).

Greene has received various service and unit awards. His personal decorations include the Navy Distinguished Service Medal, Defense Superior Service Medal, Legion of Merit, Bronze Star, Meritorious Service Medal, and Navy and Marine Corps Commendation Medal.

On behalf of the entire KP Alumni, we thank RADM Greene for his extraordinary efforts, dedication and leadership provided under very challenging circumstances. We also thank Admiral Greene's wife, Debby Greene, for her grace and dignity, and the valued work and contributions made to the Academy.

We wish Godspeed to our fellow Alumnus! – USMMA Alumni Association
PREVIOUS:
RADM Philip Greene '78 Named 11th USMMA Superintendent – August 2010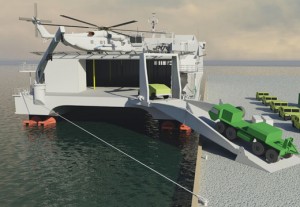 When you scan over it fast – it is really just a small transport, right? For such a small ship with such a humble mission – JHSV continues to bring a lot of interest. Why?
Along with co-host and fellow USNIBlogg'r EagleOne, we hosted a panel discussion this weekend focused on just one thing; the Joint High Speed Vessel (JHSV).
To discuss this curious little ship for the full hour, we brought together John Patch, CDR USN Ret., Associate Professor of Strategic Intelligence at the US Army War College's Center for Strategic Leadership, and "Leesea" a former SWO who has managed sealift ships for the Military Sealift Command since 1980 to include the original charter of the HSV WestPac Express.
Why do we need JHSV, what requirement does it meet? How is the program from a manning, shipbuilding, and development perspective viewed? What missions can/should it do and how should it be armed, if at all?
Grab a fresh cup of coffee, and click here to give it a listen and help us ponder.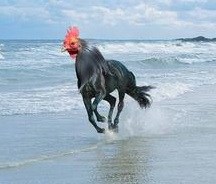 Once again, fellow USNIBlogg'rs EagleOne and I are turning our sights towards the economic basis of the need for maritime power.
As a maritime, mercantile republic, 90% of our trade relies on commercial ships' access to the world's oceans. Without the ability to transport goods at market prices worldwide – our economic engine grinds to a halt.
Our guest for the entire hour will be no stranger to those who attended 2010 USNI History Conference.
From piracy, shipbuilding, the merchant marine, and the economic factors involved in the maritime shipping industry, join us today, Sunday 07NOV10 at 5pm EST for a broad-ranging discussion with Stephen M. Carmel, Senior Vice President, Maersk Line, Limited.
Join us live if you can, and pile in with the usual suspects in the chat room during the show where you can offer your own questions and observations to our guest. If you miss the show or want to catch up on the shows you missed – you can always reach the archives at blogtalkradio – or set yourself to get the podcast on iTunes.