Archive for the 'MOH' Tag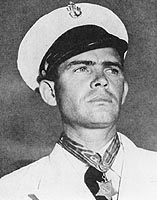 Today is the 100th birthday of former Chief Petty Officer and retired Lieutenant John W. Finn. Still known affectionately to many as Chief Finn, he earned the first Medal of Honor of World War II for actions at Kaneohe Bay, Hawai'i, on 7 December 1941. He is the oldest living Medal of Honor recipient.
According to homeofheroes.com, "Kaneohe Bay was attacked five minutes before Pearl Harbor, which some might argue makes John Finn's actions that day the FIRST Medal of Honor action of World War II. John has never seen himself as a hero. 'I was just a Good 'ol Navy man doing my job,' he says humbly." 
Chief Finn was originally transferred to the Fleet Reserve as a Chief Petty Officer but was later "placed on the Retired List in the rank of Lieutenant."
Those of us who have had the distinct pleasure of meeting Chief Finn, hearing him tell the story of the fateful day he displayed such unique valor, will never forget it. His account of the attacks on Kaneohe Bay and Pearl Harbor, and his special way of telling it, are fantastic. It's no wonder a man who fought so hard that day is a centenarian and the oldest living MOH recipient. He is a Navy and national treasure.
Chief Finn's Medal of Honor citation speaks for itself:
For extraordinary heroism, distinguished service, and devotion above and beyond the call of duty. During the first attack by Japanese airplanes on the Naval Air Station, KanoeheBay, on 7 December 1941, Lieutenant Finn promptly secured and manned a 50-caliber machine gun mounted on an instruction stand in a completely exposed section of the parking ramp, which was under heavy enemy machine-gun strafing fire. Although painfully wounded many times, he continued to man this gun and to return the enemy's fire vigorously and with telling effect throughout the enemy strafing and bombing attacks and with complete disregard for his own personal safety. It was only by specific orders that he was persuaded to leave his post to seek medical attention. Following first-aid treatment, although obviously suffering much pain and moving with great difficulty, he returned to the squadron area and actively supervised the rearming of returning planes. His extraordinary heroism and conduct in this action were in keeping with the highest traditions of the United States Naval Service.

See this video from NBC News marking John's 99th Birthday. To quote the report, "there are men alive today because John Finn was on duty that day."
Happy Birthday Shipmate!