Archive for the 'Mount Everest' Tag
I made it!
Via the North Face.
Without. Oxygen.
This is the sixth in a series posts dispatched from the slopes of Mt. Everest
Teammates,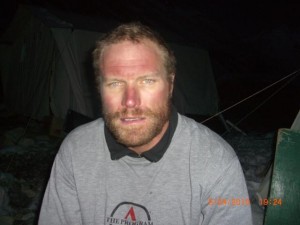 I just returned to Everest Base Camp (BC) after the most challenging 8 days of my life. I am unshaven, extremely dirty, feeling the initial effects of frostbite, starving and physically and mentally exhausted (See Photo "Return to Everest BC")… but at 4:19 AM on Sunday May 23rd, after a 10 hour climb from Camp 3 (See Photo "Hike to Camp 3"), Kaji and I watched the sun rise over Tibet from the summit of Mt. Everest.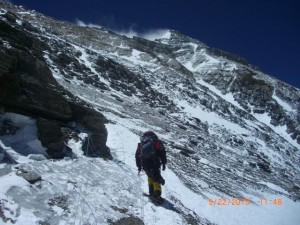 Words can not convey the beauty of that particular sunrise or the feeling of accomplishment and joy of having attained the summit with my teammate, Kaji. I am thankful that I prepared properly and that we had (and made the most of) our opportunity for success.
Heck, I'm so hungry I'm willing to eat broiled Yak… or raw… (See Photo: "Kap eats Yak")
Due to a camera malfunction on the summit (read "my $300 camera froze as soon as I pulled it from my down suit), I have to wait for Kaji to have his summit photos developed (read "Kaji's circa 1980 camera that cost $12 worked well") before sharing. However, all photos and a recap of the final 8 days of climbing will be part of my corporate presentation on "Leadership and Overcoming Adversity" and will also be made available to all 2010- 2011 Program clients.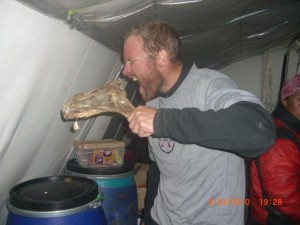 I can not tell you how much I appreciate all of your support throughout this journey and Bryant, The Program Staff and I look forward to seeing and working with all of you in the upcoming year. 
Regards,
Eric
"You never know what is 'enough,' until you know what is more than enough" – William Blake, The Marriage of Heaven and Hell.
Ironman.com explains the why behind Eric's grueling climbs and competetions:
"My mother always told me if you want to change something," he says, "then get yourself to the position where you can change it."
There will be one constant for Kapitulik. He'll continue racing Ironman triathlons, partially because The Few, The Proud . . . they like testing themselves physically. Once a Marine, always a Marine, Kapitulik will enter the Marine Corps Reserves upon being discharged. But Kapitulik's Ironman dedication goes far deeper than any personal challenge.
He must preserve the memories of those seven military men who died under his command in a frightening helicopter crash off San Diego on Dec. 9, 1999. Kapitulik and 10 others were the lucky ones. They survived the crash. Between them, the seven men who died left behind six children. Since the accident, Kapitulik has raced four Ironman races, each time raising money toward a college education fund for the six youths.
"This has become his mission," says Kapitulik's long-time girlfriend, Melissa Marinaccio. "His top priority is to make sure those families are taken care of, never lonely and never wanting for things. He talks about them just about every day." 
******
It was a reconnaissance-training mission, the final evaluation check-off before Kapitulik and his command departed a month later for the Persian Gulf. Marines and Navy SEALs were to descend a rope, land aboard a ship and simulate a takeover. Thirty seconds before the helicopter was to begin hovering over the ship, Kapitulik, as he always did, glanced outside a window, gauging the helicopter's arrival.
"It seemed like the ship was coming into view pretty fast," he says.
The opening where the men were to repel onto the ship, which was already open, is called the "hell hole." Later, some of the surviving Marines said they sensed the helicopter was flying lower than usual. "The down force of the blades was causing water to spray up into the helicopter," Kapitulik says.
Still, he didn't think disaster loomed. He had safely flown similar missions at least 15 times.
"You just have faith nothing's going to happen," he says.
Seconds later, the helicopter crashed into the side of the ship's steel netting. The 18 men inside the helicopter were thrown forward. When the pilot applied power to the engines, trying to lift the chopper, the helicopter spun round and round like a fan because the wheels were stuck in the ship's steel netting. More
Fifth Dispatch – Preparing for the Final Assault
Fourth Dispatch – Toughness is a Relative Term
Third Dispatch – Nec Aspera Terrent
Second Dispatach – The Avalanche
As you read this, I am attempting to summit Everest.
Via the North Face.
Without. Oxygen.
This is the fifth in a series posts dispatched from the slopes of Mt. Everest, leading to his planned ascent on or about May 19th.
May 15, 2010
Teammates,
I have spent the last eight days staring at a wind and snow swept Chomolungma from Everest Base Camp (BC). High winds and severe cold have made a summit attempt impossible. That is about to change…
After studying the most recent weather forecasts for the Everest Region, my climbing partners and I have decided to leave BC on Sunday morning, May 16th to attempt our final assault on Mt. Everest. We will depart BC early and hike to Interim Camp (IC) at 18,000'. After an early breakfast on Monday morning, we will continue to hike up the East Rongbuk Glacier to Advanced Base Camp (ABC) at 21,000'. The plan is to spend two or three days at ABC before continuing our climb to The North Col/ Camp 1 at 23,500' on Wednesday, May 19th or Thursday, May 20th.
Departing Camp 1 to Camp 2 represents our commitment to a summit attempt so we will be checking weather frequently after arriving to see how conditions are improving/ deteriorating at higher altitudes. Right now, although the weather looks good, it is still very unpredictable. Should we decide to continue, it will be an approximate 6- 8 hour hike to Camp 2 (25,250') where we will spend the night prior to departing for Camp 3 at 27,000'.
During our 6 hour hike to Camp 3 the following day, we will cross into "The Death Zone," the altitude where our bodies lose the ability to regenerate and slowly begin to die. Upon reaching Camp 3, we will eat and rest as much as possible for a few hours before departing for the summit of Mt. Everest at 29,028' (approx Sunday, May 23rd).
After a successful summit, we will head as far back down the mountain as possible based on our own physical and mental condition, time and weather. Although the primary goal is to get back down out of The Death Zone, I would like to return as far as Camp 1 where I will spend the night prior to returning to ABC and BC.
I hope to be able to email you a photo from the top of the world in 8- 12 days. I can't promise that I will be able to do so, but I do promise that I have prepared my body for the challenge I am about to subject it. Further, I promise that I will try my best…
Regards,
Eric
As you read this, I am attempting to summit Everest.
Via the North Face.
Without. Oxygen.
This is the fourth in a series posts dispatched from the slopes of Mt. Everest, leading to his planned ascent on or about May 19th.
Warriors,
I returned to Base Camp (BC) yesterday (Saturday) evening after 7 days on Mt. Everest. We departed last Saturday morning and hiked to Interim Camp (IC) at 18,000'. My acclimatization is apparently working as the 7 mile trip (3,000' elevation gain) took me 3 hours and 25 minutes (almost an hour faster than the first time I attempted this hike). I arrived at IC and after getting settled in my tent, I went to the dining tent (we have separate, larger dinning tents at BC, IC and Advanced Base Camp (ABC)). Since arriving at IC, I had been patting myself on the back over the speed in which I arrived there. I went inside the dinning tent and met a trekking group that was hiking to ABC. One of the group's members was a 110lb woman from France (Lawrence). Her friend happened to be speaking to another of the group's members and mentioned that Lawrence had completed the same hike in 3 hours and 7 minutes. I congratulated Lawrence on the speed in which she completed the hike and she assured me that, "the second time you try the hike, you'll be much faster too…"
It snowed all night and after breakfast we departed for ABC into a driving head wind and 10 inches of standing snow. After almost 2 ½ hours of hiking and approximately an hour from ABC, I needed to take a rest, get a drink of water and eat a Powerbar. I cleaned the snow off of a rock, pulled my coat/hood around me and sat down drinking and eating with frozen hands. We had left our winter, climbing boots at ABC so I sat there whining to myself about my light, La Sportiva trekking boots, medium weight Smartwool socks and my accompanying numb and frozen toes: picture me sitting on a rock, snow whipping around me entering every open crack in my clothing, talking out loud about how miserable I am and how frozen and painful my toes and fingers are. After five minutes of sitting and complaining, a Sherpa comes walking over the small hill to my left, whistling. The Sherpa was carrying a backpack three times the size of my own, had no gloves and was wearing a baseball cap and Salomon trail running sneakers with no socks… And I repeat, he was w- h- i- s- t- l- i- n- g, whistling!!!
It reminded me that a) toughness is a relative term and b) no matter how tough you think you are, be confident that there are at least 10 people (and 100 Sherpas) who are tougher…
Like my second hike to IC, I completed the hike to ABC (6 miles and 3,000' elevation gain) almost an hour faster than my first attempt (of course, I was looking behind me the entire hike ensuring that I was kicking Lawrence's butt)!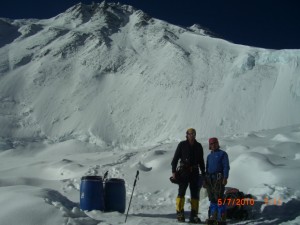 After four days at ABC, Diula, a climbing Sherpa and I departed ABC on Friday morning at 5AM and climbed the almost 3,000' vertical feet to The North Col/ Camp 1 in 5 hours (See Attached Photo: Diula and I, North Col in Background). The climb was challenging and steep (See Attached Photo: Up and Higher), but within my physical and mountaineering capabilities. Admittedly, I did require more than one break during our ascent…(See Attached Photo: A Needed Rest). Further, Diula is like American Express: do not leave home without it… He is a foot shorter and weighs 50lbs less than me, but is just a monster in the mountains. I can only hope that eventually my mountaineering skills will resemble his own.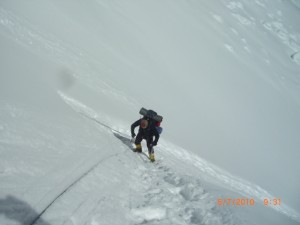 Shortly after arriving at Camp 1 (See Attached Photo: The North Col), I forced myself to eat two packets of noodle soup and stowed the gear that I will be using higher on the mountain during our summit push/climb. I was also able to shoot off a few emails (but when you only have connectivity by figuratively standing on one leg, sticking your bb up in the air and waving it around while at the same time having to bend over due to lack of oxygen- emails don't seem very necessary). For dinner, I had another packet of soup and then went to sleep at 7PM. Other than a midnight bathroom visit, I slept through the night till 5AM Saturday morning. I had no altitude headaches and although my appetite was small, it was better than most when arriving at 24,000'. Typically, you would prefer to spend 2 nights at North Col/Camp 1 prior to your summit push, but with bad weather blowing in and no altitude sickness related symptoms, Diula and I returned to ABC on Saturday morning in approximately 2 hours. I then had a quick breakfast and continued the 13 mile hike back down to Base Camp.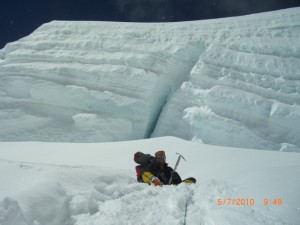 I arrived back at Base Camp at approximately 4PM Saturday afternoon and after dinner and a long night's rest, I awoke this morning and enjoyed my first shower in 10 days: a bucket of hot water and a bowl to scoop the water out of the bucket on to myself, soap/shampoo and then rinse with the remaining water… heaven!
In speaking with an Austrian team that is collocated with us at BC, it appears that there might be apossible weather window to attempt a summit bid on May 16th- 17th. If that is the case, we will be relaxing and recovering here at BC until Tuesday, May 11th or Wednesday, May 12th before beginning our ascent. Prior to starting our ascent of Chomolungma, I will send another dispatch to update everyone on our final plan for summiting Mt. Everest.
I hope everyone continues to be good team leaders and good teammates and prepares themselves everyday to fill either role.
Regards,
Eric
"The proper function of man is to live… not to exist." – Jack London
Third Dispatch – Nec Aspera Terrent
Second Dispatach – The Avalanche
As you read this, I am attempting to summit Everest.
Via the North Face.
Without. Oxygen.
This is the third in a series posts dispatched from the slopes of Mt. Everest, leading to his planned ascent on or about May 19th.
April 30, 2010
Teammates,
We have been in Base Camp (BC) for 3 days now and although living at 15,500′ is relatively pleasant (highlight "relatively"), I (we) did not come to Mt. Everest to look at it from 12 miles away. After looking at the weather reports for the next 5- 7 days, we have decided to leave tomorrow for the North Col/ Camp 1 where we will spend 2 nights (my plan last week before the avalanche made movement up to the North Col impossible).
We (Barry, Fernando, Jamie and I) will depart BC early Saturday morning and spend one night at Interim camp (18,000′), before moving to Advanced Base Camp (ABC- 21,000′) for two nights. We will depart ABC on Tuesday morning and move as a team up to the North Col/Camp 1 (23,000′) for two nights.
My teammates and I will then return to BC on Thursday morning. If the weather cooperates however and I continue to feel strong at the higher altitudes, I may begin my ascent to the summit alone with Kaji on Thursday morning. Kaji and I will spend one night at Camp 2 (25,000′), one short night at Camp 3 (27,000′) and then depart early Saturday morning (05/08/2010) for the summit (29,028′).
This would be an aggressive plan so early in the climbing season and weather (snow, high winds and extreme cold) may preclude us from doing so. If poor weather occurs, I will return to BC with the rest of our team on Thursday morning. We will then rest and recover for 2 or 3 days and then (weather dependent) make our summit attempt (with a tentative summit on May 18th or 19th).
Although it will be nice to summit next Saturday (and return home shortly thereafter), we will review all available weather reports/ information before making a decision that would allow me to do so. I would certainly like the opportunity, but not at the expense of frostbitten toes, fingers, nose (or worst). We shall see…
Regards,
Eric
"Nec Aspera Terrent (Difficulties Be Damned)"
Second Dispatach – The Avalanche
As you read this, I am attempting to summit Everest.
Via the North Face.
Without. Oxygen.
This is the second in a series posts dispatched from the slopes of Mt. Everest, leading to his planned ascent on or about May 19th.
April 28, 2010
Teammates,
We just returned to Everest Base Camp (BC) after a very challenging 7 days above 21,000'. We left BC last Wednesday morning and hiked 6 hours covering approximately 7 miles to Interim Camp at approximately 18,000'. We awoke early Thursday morning and hiked for another 6 hours covering the final 5 miles to Advanced Base Camp (ABC) to 21,000' (See Photo "Hike to Everest ABC").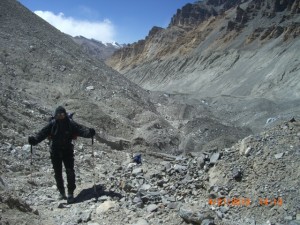 I felt strong throughout the hike, but arrived at ABC (like everyone else) with a raging altitude headache. As I sat in my tent shortly after arriving, I thought about all of the climbing photos in Patagonia or North Face catalogs. Photos are always of good looking, men and women smiling and shaking hands on the summit of mountains. Much more accurate would be photos of unwashed, exhausted, cold men and women sitting, bent over in full down pants and jacket with their heads being cradled in their hands trying to lessen the pain in their heads from too little oxygen…
We spent the next 5 days at ABC trying to acclimatize and taking day hikes in the surrounding area. At that altitude, everything takes 3- 5 times longer than what it would at sea level. As an example, just to go to the bathroom at night requires you to get fully dressed in down pants, down jacket, hats, gloves and boots. Then, on the way to the bathroom area (a designated rock), you will probably stop at least once or twice trying to catch your breath and give your brain and muscles enough oxygen to function. Going back to your tent requires the same functions to be performed in the opposite order. Further, at high altitudes, your appetite becomes non existent and you must force yourself to eat whatever you can just to give your body the energy it requires to survive and perform as effectively as possibly.
One of my teammates, Barry (South African, Diamond Merchant) was having a very challenging time acclimatizing and due to severe altitude headaches was sleeping only a few hours a night. After 4 nights, he decided to descend to BC for a few days to recover before returning to ABC. Fernando (Mexican, Doctor) was also struggling with acclimatizing and was limited in his ability to take hikes to higher altitudes. Fernando decided to stay at ABC, but not to climb higher. After 5 days at ABC, it was decided that I would move up higher alone with one climbing sherpa (Kaji- 27 years old) to the North Col/ Camp 1. Kaji and I would carry personal and team gear and equipment to the camp, acclimatize for two nights, return to ABC for a night and then hike all the way back to BC for a full recovery.
Monday was not a good day. I have spoken to some of you previously about climbing and the dangers of high altitude mountaineering. If we have had that conversation, there is a good possibility that you have heard me say that "mountains don't kill people, bad decisions do… and I don't make bad decisions." I can't say that any longer. I made one on Monday: Kaji and I awoke early, finished our packing and headed to the North Col. The North Col face begins approximately one hour climb above ABC. When we arrived, I looked at the face and thought to myself that it did not look good/safe. The route we would have to take up the face would bring us directly beneath not one, but numerous hanging seracs (a build up of overhanging snow). Further, Monday was the nicest day we had had at ABC and with no clouds in the sky the sun was already warming the snow on the route.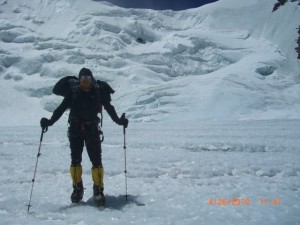 There were climbers already on the face and Kaji and I decided to climb despite my uneasy feeling/ thoughts (to see what the North Col face looked like moments before our ascent of it, see attached photo "Everest North Col").
Kaji and I decided that we could move quickly enough to get up and across the face fast enough that we would be ok. We ascended the face as temperatures continued to climb making the snow more unstable. Approximately 50 minutes into our ascent up the face, we heard a loud cracking sound above us and then the tell tale loud and thunderous rumbling sound of an avalanche. Kaji and I slammed our ice axes into the icy face and waited for the snow to rip us off the mountain. Thankfully, unbeknownst to both of us, there was a large crevasse (a long, big hole in the ice), that the avalanche fell into losing most of its power and resulting in Kaji and I being covered in only a harmless layer of snow. Unfortunately for two climbers just ahead of us (names and nationality intentionally left blank- at this time, I am not sure if the families have been notified), they were caught between the avalanche and the crevasse. The avalanche slammed into both climbers, sending them down the mountain and into the crevasse. One climber was hit by the full power of the avalanche. His climbing partner was hit, but not as violently. This climber, although injured, was able to ascend out of the crevasse after a short time. His partner who was in the middle of the avalanche when it hit them has still not been found.
Kaji and I rappelled down the face in case of further avalanches and waited at the foot of the face to see what, if anything, we could do. Jamie, our lead guide was following an hour behind us and saw the avalanche rip down the face and hit the two climbers. After making link- up at the foot of the face, the three of us waited for the injured climber to rappel down. We provided what little aid we could for him (i.e. gave him my down jacket and something to drink etc) as Jamie used our communication equipment to attempt to contact his climbing partner (to no avail). After an hour at the face, Kaji and I returned to ABC.
That night, the injured climber came to find us and had dinner with us. I believe he did so just to be surrounded by others who cared. Fernando looked over all of his injuries and provided great care and comfort. Despite the circumstances, watching someone do what they are passionate about at 21,000' was impressive and made me realize yet again how fortunate I was to have Fernando as my teammate. After a very long night and bad weather blowing in, Fernando and I descended 12 miles in 7 hours into a stiff wind and snow back to BC to recover and prepare for our next assault on Everest (see attached photo "Return Hike to Base Camp").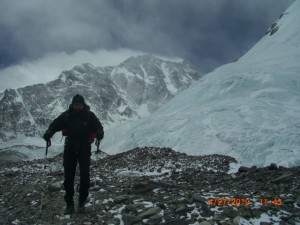 I am not sure how long we will be at BC, but I hope we will be climbing again soon (which means a quicker return home). I hope everyone is doing well.
Regards,
Eric
"I don't want my life to be fun… I want my life to be real." – Quote from injured climber who survived an avalanche earlier in the day on 04/26/2010 that took the life of his climbing partner.
As you read this, I am attempting to summit Everest.
Via the North Face.
Without. Oxygen.
This is the first in a series posts dispatched from the slopes of Mt. Everest, leading to his planned ascent on or about May 19th.
April 19, 2010:
Teammates,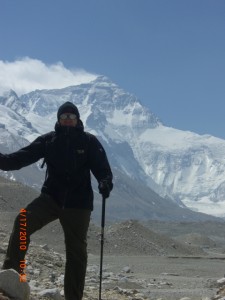 Sorry for the delay in getting the first dispatch out, but we just got our internet working. We arrived at Everest Base Camp (Northside) on Friday morning. It had been a long 8 day trip from Kathmandu across Tibet and we are glad to be here. To say that transportation, lodging and food had been "poor" while in Tibet would be a gross understatement. The physical/ natural beauty of Tibet is truly awe inspiring, but infrastructure is nonexistent. We mostly slept in our sleeping bags and had been eating steamed cabbage, mushrooms and some type of meat…(I haven't seen a cat since entering the country, but that is just an observation, of course…).
We arrived in Kathmandu (elevation 4,429') on Thursday, April 8th and spent three days getting all of our climbing paperwork, permits and China (Tibet) visas squared away. We also did a day of mountain biking in the Himalayan foothills which was challenging, to say the least. Kathmandu is a typical 3rd world city: overcrowded, too many cars, too much smog, trash, poverty etc, but it still manages to have enough 1st world services that make it truly enjoyable to spend a few days exploring.
We left Kathmandu on Sunday and took a bus along the Friendship Highway to Kodari, Nepal where we passed through Nepalese customs, walked across The Friendship Bridge into China (Tibet) and spent the night in Zhangmu, on the Nepal- Tibet border (elevation 7,874'). We woke up the following day and drove to Nyalam, Tibet (elevation 12,303'). Due to the severe changes in elevation, we were forced to spend 2 days in Nyalam hiking the surrounding hills and allowing our bodies to acclimatize.
We awoke early Wednesday morning and drove to Tingri, Tibet (elevation 14,108') crossing the main Himalayan range and driving over the Lalung La (elevation 16,896') where the views of Cho Oyu (6thtallest mountain the world), Shishapangma (14th tallest mountain the world) and the Tibetan plateau were spectacular. An hour outside of Tingri, we saw Everest for the first time. Even though it is situated amongst the tallest mountains in the world, Everest still towers above. Unlike after the winning goal of an athletic contest when the athletes and fans scream, yell and cheer, we could only stare in silence at Chomolungma (Tibetan name for Mt. Everest meaning "Goddess Mother of the Earth") and the sheer immense size of it.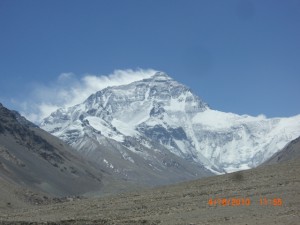 After 2 days in Tingri, more cabbage, more day hikes and more acclimatization, we arrived early Friday afternoon into Base Camp (BC; elevation 16'896'). We have spent the last few days acclimatizing on the hills that surround base camp as well as doing a day hike to the Rongbuk Monastery (approx 4 miles away from BC). We will continue to acclimatize and then begin our initial ascent of the mountain.
Our current plan is to depart BC on Wednesday and hike to Advanced Base Camp (ABC- a 12 mile climb to 20,997') where we will spend three- four days acclimatizing. We will then depart ABC and climb to the North Col/ Camp 1 (elevation 23,031') where we will stay for at least three nights prior to returning to ABC for 1-2 more nights and then all the way back to BC. We will then eat, sleep and physically and mentally recover and then prepare for the first 5- 7 day window of good (read "good enough") weather to make our summit attempt (anytime between the 2nd and 4th week of May, we hope).
I have attached a few photos of the trip so far, in case you were interested. I will send my next dispatch as time, climbing schedule and internet availability permits. I hope everyone is doing (1) well… and (2) "One More!"
Regards,
Eric
"I will not spend my days in trying to prolong them… I will use my time." – Jack London
Update:
Second Dispatach – The Avalanche
Third Dispatch – Nec Aspera Terrent
Fourth Dispatch – Toughness is a Relative Term
Fifth Dispatch – Preparing for the Final Assault
Sixth Dispatch – Reaching the Summit