Archive for the 'Navy Memorial' Tag
Major Gen. Richard Mills is in demand since relinquishing command of the I Marine Expeditionary Force in Afghanistan last month. The first commander of the Regional Command-Southwest Region (RC-SW), Major General Mills was successful in taking one of the most volatile regions (the Helmand province) to a relatively peaceful one in one year. Next week, he will make several speaking engagements in Washington, including one co-hosted by the Marine Corps Association and Institute for the Study of War (ISW), at the Navy Memorial's Burke Theater on May 2 at 3:30 p.m.
ISW, a relative newcomer to the D.C. think tank landscape, has issued a series of reports on the state of the counterinsurgency operations in Afghanistan. In their most recent study released in January, author Jeffrey Dressler claims that both coalition and Afghanistan forces have made significant progress in "clearing and holding" critical districts and, in some areas, they have even begun the "build" phase of reconstruction and development. This is due in large part to the fact that the Helmand province has been the first province where comprehensive, population-centric counterinsurgency operations have been conducted with a force constituted to do so – with approximately 4,000 Marines deployed to the region since July 2009.
The report cites successes keeping the local populations secure, increasing the capabilities of the Afghan National Security Forces (ANSF), improving the counternarcotics efforts (through interdiction), strengthening local governments and even improving living conditions (according to polls conducted by the Washington Post, ABC and BBC). Many credit the leadership of Major General Mills with shifting the momentum from the insurgency to the coalition and ANSF.
Monday's sit-down discussion with ISW founder Dr. Kimberly Kagan could prove to be a rare chance to hear firsthand (in a dialog format) from the general who was in the vanguard of COIN implementation in Afghanistan. He will discuss his approach to counterinsurgency and the challenges that remain ahead for ISAF. To attend, RSVP here.
It was the most ambitious, expensive, and risky oceanic engineering feat ever attempted – all for the intelligence contained in one Soviet submarine. It was also one of the most secretive operations, yet it was conducted under the spotlight of international media and Soviet intelligence. Sponsored by billionaire Howard Hughes under the cover of an undersea mining operation, Project Azorian attempted to raise a sunken Soviet submarine from a depth of 16,000 feet, far deeper than the 164 feet previously plumbed for a sunken submarine. Renowned naval historian Norman Polmar and film producer Michael White have recently published a book, Project Azorian: The CIA and the Raising of the K-129 (Naval Institute Press, 2010), that offers new details and convincingly answers many of the remaining questions surrounding the mystery of the sub's sinking. Polmar recently spoke at the Navy Memorial about this new book and his exhaustive research to produce it. 
The K-129 mysteriously ceased communications and disappeared in March 1968 while operating in the north Pacific. The Soviets were unable to locate it, but U.S. Air Force surveillance systems picked up unusual acoustic "events" traced to K-129 and were able to pinpoint its location within 2-3 miles. U.S. Navy submarine USS Halibut (SSGN/SSN 587) was dispatched to the area, found the wreckage and took thousands of photos – showing that K-129 was, surprisingly, relatively intact. Salivating over the potential intelligence they could collect and assuming that it was just a matter of time before the Soviets found it, the CIA embarked on what could have been considered a foolhardy salvage attempt. The likelihood of successfully raising the sub was estimated to be 10 percent, according to the authors. It required an astronomical investment in state-of-the-art and innovative equipment at a time when the U.S. was still heavily engaged in the Vietnam War – a cost the government could not justify at the time. But the opportunity to obtain a Soviet nuclear-tipped missile and its guidance system was just too tempting. However, the project of this scale needed a convincing "cover." 
So, the CIA enlisted the help of Howard Hughes, the eccentric billionaire who predictably agreed to underwrite the project. It was given a fake mission of a sea floor mining operation paid for by Hughes and it proved to be a perfect front. Openly reported in the press and with a legitimate money trail (as the government already had contracts with Hughes and the other contractors working on the project), a specially-outfitted deep sea mining ship was built in which heavy equipment – ostensibly mining – could be lifted from the ocean floor. It was brilliant.
The Hughes Glomar Explorer set out for its historic mission in June of 1974. Its task was daunting: "Beyond the lowering of the 'capture vehicle' or 'claw' at the end of a pipe-string and then recovering the submarine, the system would have to raise the capture vehicle, submarine hulk, and pipe-string up through an open well. There would be strong dynamic forces at work in the North Pacific even in summer, and it would be necessary to hold the ship in an exact position over the three-mile pipe-string. As the K-129 was raised it would be necessary to ensure perfect alignment with the opening of the docking well or moon pool. And, of course, the recovery had to be unobservable by outsiders."
Even knowing the outcome of the adventure, the story is a riveting one. Authors Polmar and White are successful at unveiling – peeling back, really – many previously unreported details of this story through suspenseful chapter ends and a non-chronological story arc, one that keeps the reader's attention. It could have read like an academic treatise, but it doesn't. The authors also convincingly answer many remaining mysteries of the mission – including what caused the K-129 disaster. The book will obviously attract industry insiders, but its friendly prose and narrative style will also appeal to any Tom Clancy fan.
A full recap of all the erroneous press reports at the time also provides interesting fodder and adds some consumer color to the story, lending credence to the project's mystique as a bona fide Cold War-era mystery. Knowing Polmar and his dry, sarcastic wit, I can tell that he held his tongue when debunking many of the theories that abounded about the demise of the K-129 and the myriad, confident journalists and authors that subsequently posited wildly off-base accounts. Polmar does not suffer fools, but he held back judiciously in this academically supported thesis. He knows that hindsight is 20-20.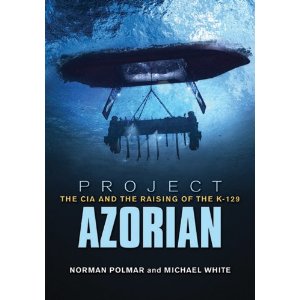 The mission was partly successful, but it remains debatable as to whether the intelligence gleaned from the salvage effort was worth the estimated $500 million (1970s money!). A total of 38 feet of the submarine was salvaged; the remaining 100 feet broke off and dropped back to the ocean floor, shattering into tiny bits of debris that were impossible to recapture. The authors allege that the true story of Project Azorian represents a feat that, while only producing modest intelligence gains, was as ambitious an engineering project as landing a man on the moon. We Americans have a habit of justifying the climbing of any mountain … just because it's there!
"You always have the choice to be more than who you are. In doing so, you will inspire someone." Lt. John Pucillo, an Explosive Ordnance Disposal (EOD) officer in the U.S. Navy, emphasized this theme of personal choice in his speech to a packed theater at the Navy Memorial  last Friday. Lieutenant Pucillo, who lost a leg in an IED explosion in Baghdad in 2006, was one of nine speakers selected to perform at the November 19 "Tedx Pentagon: The Human Stories" conference, which was hosted by the Department of Defense and webcast live. The short and succinct speeches, with their talent silouetted in the dark theater, were essentially one-act, one-man plays — much more compelling than a traditional Power Point-dominated lecture.
The day Lieutenant Pucillo was injured was the day he made the conscious decision to embark on a long journey to take back his life. As he describes it, there are things in life we can control and things we cannot control. Separating out those two and focusing on the controllable is a personal choice, albeit a hard one.
After intense rehabilitation at Walter Reed, Lieutenant Pucillo managed to return to active duty as an EOD officer 15 months later and he continues to serve today. Given the fact that many in his position would have left the military, he says he is often asked why he chose to return to service. He admits that he doesn't have a very satisfactory answer, except that "my love for EOD is very focused and I'm sure it's rare." As he reiterates, he continues to struggle daily with his determination not to let his injury define him. But, the chance to inspire others motivates him. Listen to him tell the story of one young girl he unintentionally influenced.

The Navy Memorial is hosting an exhibit highlighting the Navy's EOD community. It will be on display through 2011.
He didn't set out to make history. Joining the Navy just seemed like a good way out of the racist South. But fate and circumstance deposited Lanier Phillips on the frigid coast of Newfoundland when his ship, USS Truxtun (DD-229), ran aground in a vicious storm in 1942. As one of few African-American crewmembers, he was the only one of his fellow mess attendants to abandon ship. They were afraid to go ashore for fear of being lynched. But Phillips took his chances and jumped aboard a life boat. Beached at the base of terrifying cliffs that looked impossible to breach, Phillips and 45 other survivors had no choice but to wait for rescue or die of hypothermia.
Much to this desperate group's dismay, a team of enterprising Newfoundlanders from the small village of St. Lawrence repelled down the cliffs, hauled the men up and proceeded to nurse them back to health – including Phillips. In working to wash and warm up the men, the villagers were convinced the oil that coated the shipwrecked survivors had seeped into Phillips' skin. Wounded, frozen and helpless, Phillips was terrified to identify himself as a black man, but he had no choice.
Despite having never seen a black person, they treated him just as well as the other surviving crewmembers. Indeed, the Newfoundlanders treated him like family: giving him their beds in which to recuperate, feeding him like a child and personally nursing him back to health. They gave him the best care they knew how to give. "Not only did they save my life," Phillips said, "they gave me a sense of value I had never had before." As he described the experience, being treated as an equal encouraged him to start acting like an equal. He returned home, vowing to challenge the Navy's prejudice and to return the kindness he had experienced in Newfoundland.
From that point forward, he was emboldened and determined to be in the vanguard of the civil rights movement. He wanted to challenge himself and to resist the professional barriers that were in front of him. He became the first African-American Navy sonar technician – despite his lack of higher education. He marched with Dr. King. He worked on the ALVIN deep-water submersible team and with the pioneer of undersea exploration, Jacques Cousteau, on the development of deep sea lamp technology.
And he made good on his promise to the villagers in Newfoundland. He started a scholarship program for the residents and built a playground for the town's families. Until his health started to deteriorate, he traveled extensively to tell his story and spread the word about the good and kind people of St. Lawrence, Newfoundland. He is their de facto ambassador. "Whatever I can do for St. Lawrence is not enough. They changed my entire philosophy on life." I'm sure he changed theirs, too.
On September 15 in Washington, D.C., the United States Navy Memorial will honor Lanier Phillips with the Lone Sailor Award, along with entertainer Bill Cosby and former Washington Redskin and Dallas Cowboy Eddie LeBaron. Cosby served in the Navy and LeBaron served in the Marine Corps. Learn more about the Award, the honorees and the Awards Ceremony at
www.navymemorial.org
and
www.navytv.org
.
In the pantheon of privately managed Navy memorials, one of the most envied is the Intrepid–the centerpiece of New York City's Intrepid Sea, Air and Space Museum. Perched in Manhattan, the Intrepid draws in enough revenue to survive complex–and pricey–maintenance, grow facilities and attract a high-profile board (Including Xe/Blackwater founder Erik Prince). To envious outsiders, the institution seems like it is on the right track.
But how healthy is the Intrepid, actually?
Find out more here, at NextNavy.com
That's right – The Navy is looking for people with working knowledge of all eras of teak decking application processes and procedures on battleships. Inquiring minds want to know the board widths, joints, spacing and materials used in teak deck applications for each era of deck treatment on battleships. Naval Sea Systems Command (NAVSEA) believes these items should be applicable to all battleships, but are ready to be proven wrong on that assumption. If anyone has knowledge, history or expertise to share, contact Beth Freese at NAVSEA in Washington, DC at 202-781-4423 or [email protected]
NAVSEA is responsible for the disposition and/or disposal of decommissioned U.S. Navy ships, including those ships that are sold to foreign navies or donated to cities for use as museums. In trying to establish best practices for the maintenance and repair of the teak decks found on battleships, NAVSEA is eager to collect any "corporate knowledge" that might exist in the memories and experience of battleship shipmates.
Teak – also known as Tectona Grandis – is known to be one of the hardiest types of wood. It is native to South East Asia and a tall, straight, deciduous tree. Its wood is dense and durable, with natural oils that fend off rust and cracks. Since wood is a natural insulator, it also helps with temperature control and better absorbs damage (when compared to steel!). Consequently, it has been used on ships since the Middle Ages.
To see a teak deck, visit USS Wisconsin, USS Missouri, Battleship North Carolina, Battleship Cove or Battleship New Jersey.
Most naval history fans have heard of Oliver Hazard Perry, Thomas Macdonough and James Lawrence ("Don't give up the ship!") and the big battles waged against the British on the Great Lakes in the War of 1812. But who has heard of Capt. Joshua Barney, who led the Chesapeake Flotilla during the War of 1812? A seasoned Navy veteran of the American Revolution, Captain Barney was responsible for identifying the weaknesses in the Royal Navy's armada that was terrorizing Maryland and Virginia at the time.
In Flotilla: The Patuxent Naval Campaign in the War of 1812, author and marine archaeologist Donald G. Shomette describes the Chesapeake Bay as a collection of estuaries and vast array of navigable waters that allowed the British to stretch deep into the U.S. homeland – en route to Washington, D.C. (and the eventual burning of the nation's capital). In a lecture at the Navy Memorial this week, Shomette recounted how the Brits' deep-draft ships hindered their mobility in the shallow Chesapeake and they had to rely on barges to reach the more shallow creeks and ponds and to ferry their troops ashore and to reach the shallow rivers and creeks.
To combat this threat, Captain Barney successfully convinced the secretary of the Navy at the time to build a heavily-armed, shallow-draft fleet of row galleys (or barges) that could nimbly out-maneuver the British in these shallow waters. It was a desperate move, as the Royal Navy's assets far outnumbered the Americans'. (Estimates were that the mighty Royal Navy had more than 1,000 ships of war and the Americans had approximately 16 at the onset of the War of 1812.)
The flotilla that Captain Barney built was comprised of 26 ships and approximately 500 sailors. They valiantly tried to defend the massive coastline and harbors leading farther inland. He was successful in eliciting a singular victory at St. Leonard's Creek and he made a heroic effort at Bladensburg in August 1814. But, without ancillary support and a choreography between land and sea forces, Captain Barney's flotilla was doomed.
The Chesapeake campaign was a diversionary one, as the stakes were much higher in the Great Lakes. But, it served a purpose, hindering the British forces' advance to Washington. And author Shomette highlights the lesson that Captain Barney's service and sacrifice illuminated: defending a coastline with a brown-water maritime force is not sufficient. A blue-water force is necessary to defend against commensurate enemy forces determined to invade our shores.
To learn more about this book, go to www.navymemorial.org.
How do you properly honor a war hero who didn't lead such an exemplary personal life? Can you separate a person's professional legacy from that of his personal character? Col. Gregory "Pappy" Boyington, WWII Marine Corps ace fighter pilot, Medal of Honor recipient and former POW, displaying his skills and bravery on the battlefield, with a record 28 Japanese fighters downed in combat.
He initially served with the Flying Tigers as part of the Central Aircraft Manufacturing Company (CAMCO), a civilian organization contracted to defend China and the Burma Road. He later served as Executive Officer and then Commanding Officer of VMF-121, a Marine Corps squadron nicknamed the "Black Sheep Squadron." It was there that he proved his mettle — with a record number of enemy kills, and it was then that he earned his nickname "Pappy," since he was almost a decade older than his squadronmates. It was during a flight over the the Pacific island of Rabaul in early 1944 — after his 26th Japanese shootdown — that Boyington was shot down himself, picked up by a Japanese submarine and taken prisoner. He was liberated from Japanese custody in mid-August 1945 and was awarded the Medal of Honor by the president and the Navy Cross by the Commandant of the Marine Corps.
So, what would be so controversial about his birthplace of Coeur d'Alene, Idaho, wanting to name the local airfield after their hometown hero? Much of the resistance can be traced to his post-war life, which was marked by battles with alcoholism, multiple marriages and divorces, estrangement from his children and financial instability. As a highly decorated war hero, he was sent by the Marine Corps on a Victory Bond Tour after World War II to give speeches and enlist continued support for war bonds. But, he was frequently drunk, seen cavorting with young female companions and generally considered a PR disaster by the Marine Corps. They medically retired him in 1947. He enjoyed a second round of celebrity when a Hollywood rendition of the Black Sheep Squadron was depicted in the popular 1970s show "Baa Baa Black Sheep," starring Robert Conrad as Boyington's character. The show was generally considered a hearty piece of fictionalized entertainment, but the squadron's characterization as a group of drunks and misfits angered many of Boyington's fellow squadronmates. So, how do you properly recognize his significant professional feats? Can you ignore his personal failings?
A 2008 documentary that screend at the Navy Memorial on Veterans Day chronicles the grassroots efforts of a group of Marines and their campaign to have the local airfield in Coeur d'Alene renamed the Pappy Boyington Field and the resistance in the community to do so. The film, "Pappy Boyington Field" produced by Kevin Gonzalez, interviews many local Marine Corps League members who were behind the effort to rename the field, as well as local media, Boyington family members and even Robert Conrad. Many guessed that the county government and airport advisory board were dragging their feet on the proposal because of his controversial history, but publicly they cited a "safety issue" in renaming an airfield. (A safety issue?) The Marine Corps League kept up the public pressure and the campaign was eventually successful. The renaming ceremony took place in 2008.
But the question remains: Does public recognition of a controversial figure condone his personal behavior? I'd like to think it doesn't and that we should judge a person's career by just that. But, I have to admit that I lose respect for public figures — however reluctantly they become public figures — who have reckless personal lives.
I never knew Col. Pappy Boyington or any of descendents and I have not read his memoirs, but I'm in awe of his bravery. I can only hope that his personal struggles after the war humbled him and made his character stronger by the end of his life. Watch "Pappy Boyington Field" and you decide.
To watch the trailer or to buy a DVD of the film, go to the "Pappy Boyington Field" web site: www.pappyboyingtonfield.com.