Archive for the 'new media' Tag
So Navy Times scribe Phil Ewing sat down with me the other day to discuss blogging, the ex-USS Iowa, naval history and blogging. The result was a Scoop Deck interview, entitled "Hanging' with Dr. Hooper". If you want to know why I do this–and why I'm retiring the old "Defense Springboard" alias, go pay Scoop Deck a visit.
In the interview, we discussed how blogging has become a means to for new defense policy/national security talent to emerge. Having the trillion-dollar defense industry tied to three or four oft-quoted defense commentators is not healthy. The community needs a more voices–whose views are not compromised by where they're getting their paycheck.
In the interview, I threw down a marker for those big-league defense commentators:
"…what I'd like to sort of try and be is the anti-Loren Thompson. Loren is a great source, a smart person, but he's become so ensnared in his competing interests, it's difficult to take him credibly [a good example is here]."
Uh…can you hear us bloggers now, Loren? Or are you at the beach?
(To be honest, I've been Loren bashing a long time–back before it was cool to do so. Here's some coverage of Loren contradicting himself on the LCS back in September 16, 2009 and Loren doing a ex-SECNAV Winter apologia from early 2008. In my mind, good, solid debate makes for better strategies and better weapons…but when paid flacks enter the public sphere they, more often than not, protect errors and work to sustain mistakes.)
In the interview I pushed back on the choke-hold Washington, DC holds on defense policy debates. That's normal–DC is the center of gravity, where the decision-makers live. But over-centralization leads to group-think and limits input. So, in my mind, it's good to build and maintain separate, independent centers of defense policy expertise.
Let's put it this way. San Francisco isn't exactly synonymous with defense expertise–but it's growing–from scratch–a community of defense policy people:
"…doing it out here in San Francisco has been great. There's a lot of enthusiasm for this. We're starting to build a policy community where there wasn't one. We've got Kyle Mizokami, he's blogging about the Japanese navy and the Japanese self defense force; we have Christopher Albon [note: when he's not off doing thesis research in Africa]. It's neat to build a competing center to provide a little bit of a a reality check on the Beltway bloggers, so to speak."
San Francisco doesn't have a critical mass of defense policy expertise available–yet. But in a few years, who knows? Wait and see…
Finally, well, we discussed civil-military communication. Though the military has made enormous progress in engaging, it still has a way to go:
"…When the military loses its ability to communicate itself and its ideas in a patient way, that's disturbing. That weakens the very fabric of our nation. It's tremendously important for the military to learn how to engage and explain itself to its citizens. In this era of complex weapons, of projects, of complex strategies, it really needs to go the extra mile and tell its message. Anything I can do in that regard, I feel like, is time well spent…"
And time well spent it is….Go read the interview. And if you want more perspective on this interview–my politics and the like, go check out NextNavy.com and read about it over there.
Fellow USNIBlog Shipmates Galrahn, EagleOne and myself dedicated yesterday's Midrats radio show to the subject of piracy.
We had as our guest for most of the hour Claude Berube, a teacher at the U.S. Naval Academy with a background in naval research and development, acquisition, and intelligence. He is also co-author of two books, a former Senate Staffer, and as a LCDR in the USNR has experience in maritime interception operations, humanitarian relief, and anti-piracy.
If you missed the live show, you can hear in archived here.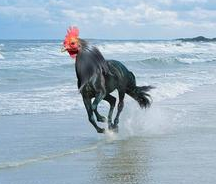 What does that make? Why, Midrats – of course!
I'll let you determine who is what – but Galrahn, Eagle1, and I are starting Navy Milblog radio today with Episode 1: Back at 2009 – Forward to 2010.
As all "first in class" can have some "unique issues" – we ask for your patience – but mostly we ask for you to join in today 1700R/2200Z. We'll start taking calls at 1730Z.
Listen to Midrats on Blog Talk Radio
As part of summer training, midshipmen spend time out in the Fleet, my past two summers were spent in Pearl Harbor on a submarine and a destroyer; however, this summer I was assigned to Camp Lejeune, North Carolina attached to the II Marine Expeditionary Force Public Communication Team (II MEF PCT).
Marine Corps Public Affairs, the community's guiding publication, opens with the following quotation from Major General Lejeune, 13th Commandant of the Marine Corps:
"The future success of the Marine Corps depends on two factors: first, an efficient performance of all duties to which its officers and men may be assigned; second, promptly bringing the efficiency to the attention of the proper officials of the Government, and the American people."
On our first day with the team, MAJ Gilmore, the team's director, gave us more than an hour and a half of his time to talk about Marine Corps public communication, emphasizing the importance of training Marines to think of communication as a two-way process of information sharing. As no public affairs team can (or wants to) completely control who says what to whom, proper training allows Marines to express themselves more effectively to friends, families, or anyone with whom they communicate.
While public affairs offices are generally perceived as providing information and assistance to the media, the II MEF PCT prefers a different approach. Understanding that the media is another party in the public domain, the II MEF PCT focuses its attention on getting its message to its "key publics," members of the community who share an interest in II MEF-related issues. For the II MEF PCT, this means Marines, their families, and the surrounding community. Thus, the main focus of the team is not trying to target or "handle" the media, but establishing dialogue with the key publics.
This dialogue with key publics is central to II MEF PCT. For instance, the PCT responds the same way to questions from MEF family members and friends as it does with civilian media representatives. Furthermore, by calling and informing the interested parties of the press releases, the team builds connections with the community.
Blogging is a trend with some units, such as the 10th Mountain Division. Due to limitations of current policy as well the time and manpower requirements, the II MEF PCT does not operate one. However, the team does engage readers in the discussion section of blogs belonging to other groups including civilian media organizations.
The Marine Corps public affairs community only includes around 150 officers. Capt. Patrick, the team's deputy director, served as an enlisted infantryman before accepting a commission. Coming out of The Basic School with any MOS open to him, he chose public affairs much to his peers' surprise. "I had been reading and studying about fourth-generation warfare," he explained, "and it was apparent that communicating information was incredibly important…Besides just basic leading Marines, I've never had such a broad impact."
The Internet and "new media," such as blogs, enable readers to draw information from sources outside the traditional media filter. How can the military and public affairs teams better adapt to these developments?