Archive for the 'nuclear weapons' Tag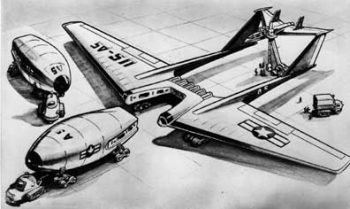 There are some things that should stop everyone in their tracks. At the top of that list should be an apparent lack of risk awareness concerning nuclear weapons.
This line from Patrick Tucker's article in last month's The Atlantic stopped me cold;
Future nuclear missiles may be siloed but, unlike their predecessors, they'll exhibit "some level of connectivity to the rest of the warfighting system," according to Werner J.A. Dahm, the chair of the Air Force Scientific Advisory Board. That opens up new potential for nuclear mishaps that, until now, have never been a part of Pentagon planning. In 2017, the board will undertake a study to see how to meet those concerns. "Obviously the Air Force doesn't conceptualize systems like that without ideas for how they would address those surety concerns," said Dahm.
Stop. Stop right there.
If this reporting is accurate, the work of Air Force Scientific Advisory Board needs to be halted immediately and a thorough review of the members and leadership of the board conducted by an outside party.
Our nuclear weapons themselves must in no way be part of any IP connectivity or network enabled in any way. Full stop.
"We have formal Air Force documents that detail the formal certification process for nuclear weapons. To what extent do the current models for certifying nuclear systems carry over into these modern, network enabled systems and how would you re-conceptualize certification for systems that are likely to come out of these recap programs?" asked Dahm.
Some support systems? Sure, but command, control, mission loading, arming, and launch must be contained in a robust, hardened, isolated & closed system. Simple, almost primitive, with multiple physical human interfaces required. To be even thinking of network access to the weapons systems themselves is the height of irresponsibility; even more irresponsible than a reliance on GPS or satellite systems as a point of failure between authorization, launch, and "servicing the target." Ahem.
This is the same kind of thinking that leads otherwise smart people to think "smart gun" technology is a good idea. It simply assumes away all risk, and places everything in the unstable hands of hubris-centered hope ungrounded by operational experience.
The fact that future nuclear weapons will be far more networked (though not necessarily to the open Internet) will create better safety and oversight, and allow for more coordinated operations. But more connectivity also introduces new potential vulnerabilities and dangers.

"You have to be able to certify that an adversary can't take control of that weapon, that the weapon will be able to do what it's supposed to do when you call on it," said Dahm. "It isn't just cyber. That's definitely the biggest piece, but … When was the last time we built a new nuclear system? Designed and built one? It's been several decades now. We, as an Air Force, haven't done certification of new nuclear systems in a long time. These systems are different … What are the surety vulnerabilities for such a system, so to speak? How would you address them? How would you certify that the system will work when you need it to work and will do what it's supposed to do?"

That's what the study will cover.
The entire entering argument is wrong.
The only thing worse than the accidental launch of a nuclear weapon would be for our deterrent to be unable to perform when tasked – or worse – a hostile power thinks they can prevent its use.
Eric Schlosser's book, Command and Control: Nuclear Weapons, the Damascus Accident, and the Illusion of Safety, is required reading for those not up to speed on how lucky we have been when it comes to nuclear weapons in case you are overconfident.
Opening additional paths for benign or malicious human malpractice?
No. Just no.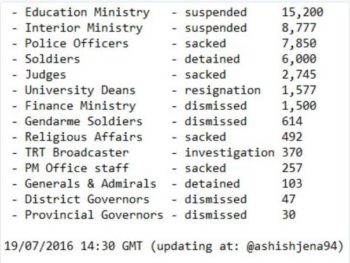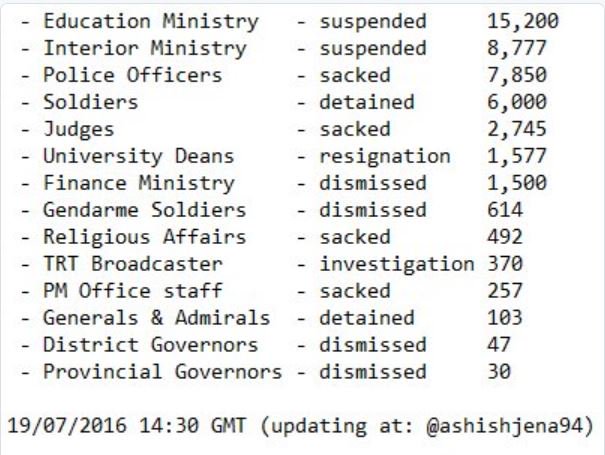 From our seats in North America, the best response to the upheaval in Turkey over the last week is to be calm up front, but task a little extra work in the back office behind the door.
Political chaos and recovering from successful and unsuccessful coups are not unheard of in Turkey. While there are some aspects of the Erdogan government that are less than ideal compared to previous governments, there are good reasons to not buy in to some of the more excited reactions to Erdogan's response to the coup. At this stage of the game, excessive concern about USA/NATO's nuclear weapons stored there, NATO status, or the Islamist vs. Kemalist nature of the government should not be top of mind.
Military uprisings, regardless of outcome, never have clean endings or result in gentlemanly treatment of the losing side by the winning side. As such, patience is in order to give the Turks a chance to find their balance again. We should give them time.
The next few months will tell the story, but let's look at the Most Likely vs. Most Dangerous COA, and some of the Planning Assumptions we are working with.
Hope isn't a plan, but with the right Assumptions, you can write a plan around it. Let's be optimists and run with COA-Hope as Most Likely.
Good thing for everyone, I don't have to make that up – Admiral Stavridis, USN (Ret) has a must read looking forward on what steps we should take with Turkey post-coup. Though I non-concur with his 3rd point, he outlines a solid step forward.
If things in the background would trend in a way we would like, these initial steps would go a long way of firming up that path. Even better, if there was a slight drift away from where NATO and the USA would like to see Turkey go, such actions might help the better minds in that star-crossed nation nudge things back in the correct direction.
In summary, here are his four points;
First, we need to stand firmly on the side of the Turkish civilian government.
…
Second, we should send our senior military officials to Ankara to hear from their counterparts about the situation while congratulating Turkey's leadership on doing the right thing and helping stop the coup.
…
A third smart move by the United States would be to increase cooperation in intelligence sharing and targeting against Kurdish radical terrorist groups.
…
Fourth, and finally, the United States should use NATO as a mechanism to support Turkish positions.
We, NATO, and Turkey should be so lucky to have this as an entering argument, but we need to do the responsible thing and look at our assumptions.
We are assuming that Erdogan will not go in the direction he was already heading – a more Islamist Turkey. That is assuming against the trend.
Moderation usually requires peace. If we are assuming that Turkey's part of the world will become more peaceful, then that is assuming against the trend too.
We could go on, but let's just stick with those two assumptions being invalid; Turkey more Islamist, a move enhanced by insecurity and internal strife. Those will not create effects on the ground that are in line with what NATO sees itself as in the 2nd decade of the 21st Century. That needs a Branch Plan. One variation of that Branch Plan could have a few Decisive Points that lead someplace I'm not sure how we would deal with.
1. NATO membership revoked or best case, as Greece did in the 1970s, Turkey leaves NATO's military command.
2. In line with #1, NATO nuclear weapons need to removed to a more secure location.
In an ideal world, #2 should happen well before #1 and should really be a stand along plan, but history on occasion moves faster than we like, and not in an ideal order. Though we are far from #1 and #2 today, it doesn't take all that many more cards pulled from the deck and we could find ourselves close. As the SECSTATE said recently;
Turkey could fall foul of Nato's "requirement with respect to democracy" if it fails to uphold the rule of law in the wake of an attempted coup, the US Secretary of State John Kerry has warned.
…
The US "will certainly support bringing the perpetrators of the coup to justice," he said, "but we also caution against a reach that goes beyond that and stress the importance of the democratic rule being upheld".
That, my friends, is a tough nut to crack if it leads down the path where we need to look at #1 and #2. Those nukes are housed on an airbase in the suburbs of a city of 1.7 million.
The fact that we should even be concerned with this begs the question; besides bureaucratic inertia, why in 2016 do we need a bunch of nuclear gravity bombs stored only 125 miles as the Hornet flies from the Syrian border?
That, perhaps, is another post for another day. In any event, we live in interesting times. Though I think our world will be closer to Most Likely COA-Hope as outlined by Stavridis, it is probably prudent to have a few plans on the shelf to deviate from if some variation of the Most Dangerous COA peeks above the horizon.
On a personal note, like Admiral Stavridis, I served for four years with NATO and developed some great working relationships with good men, officers and NCOs . Once this went down, in particular I thought of a Turkish Air Force officer, now close to Colonel, who I enjoyed working with immensely. He, his wife and children were right out of central casting of what we would see as an almost ideal American military family. Hope they are on the right side of things. I once thought he and those like him were the future of Turkey, now – not so much, and that is sad.
In Helene Cooper's New York Times piece published this Wednesday, "Nuclear Corps, Sidelined in Terror Fight, Produces a Culture of Cheating," several former "missileers" offered justification for a recent spate of somewhat unsavory behavior among their ranks, to include a General's drunken antics while on official visit in Moscow, violation of key security procedures, and a newly unearthed culture of cheating. The excuse? Excessively high standards maintained in a post 9/11 era which did not prominently feature a likely role for the American nuclear arsenal. Most tellingly, Mr. Brian Weeden, a former Air Force launch officer from Malmstrom Air Force Base in Montana, was quoted as saying, "The mantra had always been that the nuclear deterrent would keep America safe. But it didn't. So I felt, not only did we fail to deter those attacks, but we couldn't do anything about it after."
As a Marine officer, my branch of the service never has nor will have any part in the "nuclear triad" comprising our nation's nuclear defense from the air, land, and sea. The closest link I can claim to our nation's nuclear defense is an undergraduate course in nuclear thermodynamics and a few classmates who serve as junior officers in our submarine fleet; I definitely do not know the first thing about serving in a missile silo. I do know, however, that regardless of mission pertinence – something Mr. Weeden hugely (and incorrectly) undervalues about his own community – elite standards are an asset for leaders to ensure mission readiness, not an obstacle to be circumvented for appearance's sake. As such, unethical compromise of standards is not a failure of mission applicability, but a failure of leadership.
As it stands, though, the claim that the nuclear deterrent failed to keep America safe from September 11th (and using it to justify slacking standards in the wake of declining morale) is akin to saying that mouse traps failed to rid a house of pests because a fly came in through the window. While the "classic" Soviet challenge has been removed, threat of nuclear war still hangs as a mushroom shaped cloud over the international arena. There exists an entire legitimate body of scholarship debating the effectiveness of nuclear deterrence (with Thomas Schelling as its father), but to dismiss even minimally deterrent nuclear arms as failing to deter a terrorist attack misses their point completely. Our nuclear stockpiles are primarily designed to deter other states – not individual actors – from attacking the United States (in a nuclear capacity or otherwise). Regardless of individual terrorist attacks, other nuclear states – not all friendly – still exist in the world. As such, the mission of our nuclear triad remains necessary.
Independent of the relevance of the nuclear corps' mission, however, to blame excessively high standards, backed by "few carrots for rewards and far more sticks for retribution," for a culture of cheating is sorely misguided. The stakes in a hypothetical nuclear exchange are undoubtedly higher than perhaps any other military mission, but soldiers, sailors, airmen, and Marines all train to missions of substantial gravitas, where expectations should be – and usually are – high. In these cases, no matter how many "sticks" are doled out for failure, it is incumbent upon the leadership in a given unit to enforce those high expectations. Not meeting such standards is one issue; deceitfully circumventing them is entirely another. To dishonestly sidestep those standards, at best, keeps a leader wilfully ignorant of his unit's shortcomings, and, at worst, leaves our nation woefully underprepared.
Sunlight has obviously proven the best disinfectant for our missileers; individuals are being held accountable, and appropriate action being taken. More troubling is the emerging justification of mission inapplicability (no matter how misguided) for such behavior. Immediate threats to national security will constantly be in flux; leaders' obligation to remain prepared while serving as moral and ethical reference points for their subordinates can never be.
Now this is not the end. It is not even the beginning of the end. But it is, perhaps, the end of the beginning.
-WSC
Jim Kramer, madman behind CNBC's Mad Money, always says, "where's the pin-action?" or rather, "what are the wide-ranging domino effects of events." The deal announced this weekend over Iran's nuclear program is the axis of a massive strategic wheel which, if the deal is successful, will begin to turn. This article is not a debate on the durability of the coalescing Iran deal, but rather on its wide-ranging diplomatic, military, and economic effects if executed satisfactorily.
Reviewing the Facebook Friends List
In order to counter Iranian influence in the Gulf, the United States has unfortunately had to shackle itself with Saudi Arabia, of whom FDR may have well said, "may be a son of a bitch, but he's our son of a bitch." Unfortunately, this particular SOB isn't an SOB to just the enemy. While purportedly a significant source of intelligence aid and support in the GWOT, entities in Saudi Arabia are also suspected of providing significant funding to Al-Qaeda associates, and the country is often a very clear human rights nightmare. Walking the diplomacy, human rights, military operations, and public image line is difficult enough before adding "balancing" Iran with folks who act like the Saudis to the mix. Any working deal with Iran frees the US's hands to play a tougher game with Saudi Arabia, who is terrified of being left out in the cold of increased Iranian influence in the region.
Standards and Practices/ Money, Money, Money
Iran continues to be a severe problem in areas of conflict outside the nuclear weapons question, like in Syria and in material of terrorism, as in the case of Hezbollah. Israel still rightfully worries about their non-nuclear activites. However, any practitioner of negotiation would tell you that you can't get everything you want from the beginning. You need a starting point. If played correctly, the un-freezing of funds and potential increased business relationships/profits from opening trade based on good continuing behavior may create a virtuous cycle. With the potential strategic calculus of the new leadership, Iran may be discouraged from it's bad behaviors in those far-flung arenas. The opportunity to develop domestically and fulfill the failed economic promises of a decade will hopefully pull attention away from more destructive enterprises and towards the domestic infrastructure programs Iranians have been calling for. Perhaps the US has facilitated Iran's "Burma Moment."
Oh, did I mention long-term lower oil prices adding a boon to a stagnating global economy that no longer needs to fear Iranian nuclear weapons or conflict in the gulf?
A Real Pivot
In a time of sequestration, resources are going to be stretched thin. Facility development in Qatar, Dubai, Bahrain, etc… in response to Iranian threats and the massive project of ballistic missile defense will in the immediate term continue to be important, but if successful in changing Iran's strategic calculus from military to economic success, those efforts can give way to the bigger projects of presence in Asia and projection in Africa. Decreased threats from Iran will help lighten regional carrier presence calculations, for example. Imagine, the resources spent to move the fleet of Cyclone-class PC's to Bahrain spent elsewhere (PC's to Singapore, perhaps) if the Iranian threat didn't loom so large. Lightening that demand signal will give the U.S. military important freedom and flexibility to meet future goals.It is a simple and intuitive point, but one with massive impact.
Verify, then Trust

Ronald Reagan is often known for saying the Russian proverb, "trust, but verify." In the case of Iran, there is no extended relationship of engagement upon which to base any trust, "verify, THEN trust." Any deal, as stated by the President and Secretary Kerry, will need to be heavily monitored and enforced by the united front of negotiating parties. Skepticism is an important part of a deal being a success. That said, the perils are many, but the benefit are huge. It's a long shot, but so worth a shot.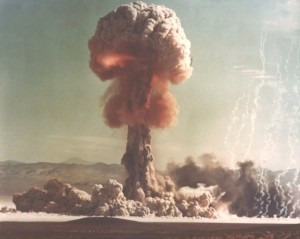 It appears that second-time around worked for the North Koreans:
SEOUL (AFP) — North Korea carried out a second and more powerful nuclear test, defying international pressure to rein in its atomic programmes after years of six-nation disarmament talks. The hardline communist state, which stunned the world by testing an atomic bomb for the first time in October 2006, had threatened another test after the UN Security Council censured it for a long-range rocket launch in April. The North "successfully conducted one more underground nuclear test on May 25 as part of the measures to bolster up its nuclear deterrent for self-defence in every way," the official Korean Central News Agency (KCNA) said. "The current nuclear test was safely conducted on a new higher level in terms of its explosive power and technology," it said. The force of the blast was between 10 and 20 kilotons, according to Russia's defence ministry quoted by news agencies, vastly more than the estimated one kiloton blast three years ago.
While the Russians have historically over-estimated yields in their previous assessments, it is probably safe to say that the yield will fall around 10kt, more than surpassing 2006's fizzle @ 1/2 kt. Better refinement should come with independent verification by US and other international sources in the coming days.
And now all the chips are on the table. China has been vocal about not desiring to see North Korea armed with nukes and it has been the principal intermediary at the Six Party talks on behalf of the North Koreans. By far, it is the major supplier of energy resources to the North, keeping them from literally going dark. What will China do besides verbally condemn? Support full sanctions against the DPRK or block such a move? What about the Russians? Push-back expected on any measures beyond strong verbal condemnation in the Security Council? To be sure, expect one or both to forward the argument that harsher penalties will be "unproductive" and lead to greater instability in the region (read: China is afraid of provoking collapse of the DPRK government and subsequent rush of refugees across its borders into China). What of South Korea and Japan? The DPRK's on-gong missile tests, which have continued in the face of similar vocal condemnation and in spite of international agreements like the Missile Technology Control Regime or the International Code of Conduct Against Ballistic Missile Proliferation, have energized Japan's missile defense efforts – will a successful DPRK nuclear test now result in a Japan that feels it must either develop its own nuclear weapons as a counter? Undertake a more offensively oriented military? How assured can/should the Japanese be about any U.S. guarantees via extension of its nuclear umbrella?
Unstated in the initial uproar is this little gem — with a demonstrated proclivity towards proliferation whoring, particularly with Iran, what does this say about the future of nuclear arms control and non-proliferation? Were the parallel tests of an alleged new SRBM today demonstration of a nuclear capable missile? How close to a weaponized form was today's test? What are the implications for increased instability in other regions that are faced with their own issues of nuclear proliferation (viz. Israel-Iran)?
It's 0300 and somewhere there's a phone ringing…
Update: More yield estimates coming in based on seismic activity. Looking like yield may have been between 4-5 kt. More here.