Archive for the 'Oklahoma City bombing' Tag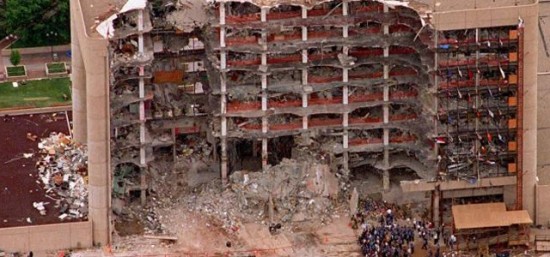 As a Coastie I can say I take pride in my seagoing duties. No, I'm not a sailor but I work in the coastal zones for a seagoing service (it's an association thing). However, we have Coast Guard personnel stationed all over the world; though 95% of those are near, if not on, the water there are those who work in the midst of- well- a place I thought was too flat and dry when I went there: Oklahoma City. There is little, well actually no, coastline there. But we have Coasties there and wherever we have Coasties they're always ready.
19 April 1995 – A rental truck filled with explosives blew up half of the Murrah Federal Building in Oklahoma City, Oklahoma. Coast Guardsmen from the Coast Guard Institute and a Coast Guard reservist responded soon after the explosion and helped set up security zones, directed traffic, searched for survivors, and whatever else was needed. They also took over a church kitchen and opened what later became nicknamed "Cafe Coast Guard." A rotating nine-person team worked around the clock to provide meals for the volunteer workers.
Always Ready.
Cross-posted from [re] ryan erickson