Archive for the 'Olympia' Tag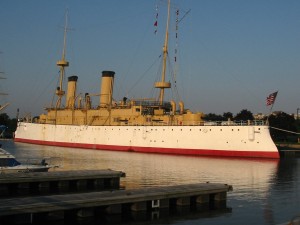 Marines may not believe they have a bone in the fight to save the ex-USS Olympia (C-6). But they do–the vessel's experience in the closing days of World War I helped push the Navy to think harder about expeditionary logistics:
In May 1918, two months after Russia withdrew from the war, 55 Americans from the cruiser Olympia (CA-15) joined British forces in occupying Murmansk and Archangel to guard stockpiles of arms and ammunition shipped there for the czarist army. For most of their time in northern Russia, Olympia crewmen lived on reduced rations of "two little slices of bread, . . . one spoon of stew, and one cup of coffee" per day. Despite the almost monthly arrival of supply ships, soldiers of the North Russian Expeditionary Force who reinforced men of the Olympia resorted at times to stealing food from British troops, who were far better supplied-perhaps because Britain had a long history of expeditionary warfare and thus developed the infrastructure needed to sustain it.
The experience of the Olympia's Marines, coupled with the equally rough time the Brooklyn (CA-3) Marine detachment had in Vladivostok, helped put expeditionary logistics on the Navy's radar screen.
At a time when the DOD is contemplating a major shift in the Marine Corps' expeditionary capabilities, it might be wise to start remembering the teething pains America's Marines endured back in the days when the nation didn't appreciate the nuances of expeditionary warfare.
(Quote is taken from James C. Bradford's Feb 2006 Naval History article, "The missing link: Expeditionary logistics.)