Archive for the 'Operational Planning' Tag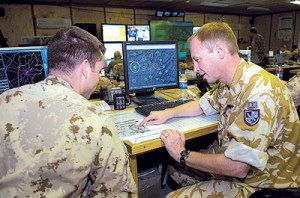 It is always difficult when people you greatly respect find themselves in conflict; physical or in this case intellectual. Then again, it can be very healthy to the larger effort.
In a great example of "creative friction" at its highest level of practice, we find ourselves with the authors of Red Star Over the Pacific
 on one end – and a great naval mind, Dr. Norman Friedman, on the other.
In the latest edition of the U.S. Naval War College Review in an article titled The Tip of the Iceberg, Norman Friedman reviewed Toshi Yoshihara and James R. Holmes's book mentioned above.
Not very happy with his review, to say the least, Toshi and Jim responded in The Diplomat with a counter article, The Meaning of Sea Power.
I think good people can fall on either side of the arguments presented – and I encourage you to read both articles to decide for yourself even if you have not read the book in question. That isn't what this post is about though.
In their response to Dr. Friedman, the authors brought up a topic that will have everyone with an Operational Planning background nodding their heads. Especially those who have taught Operational Planning or better yet have had to lead an Operational Planning team – their words will ring true, and might even open up a scar or two – or even trigger a migraine.
Friedman's worst sin, though, is to succumb to (if not revel in) what the late Michael Handel termed the "tacticization of strategy." Battlefield commanders and many civilians are prone to become spellbound by technological and tactical wizardry. In so doing, they lose sight of the higher – and ultimately decisive – levels of competition and warfare. Since World War II, observes Handel, "technological means have started to wag the strategic dog." Andrew Krepinevich strikes a similar note in The Army and Vietnam, faulting the U.S. Army for prosecuting a "strategy of tactics." U.S. forces seldom lost a tactical engagement with Vietnamese regular or irregular forces, yet they were unable to derive strategic or political gains from these engagements. Conflating equipment and tactics with strategy rendered an unbroken string of battlefield triumphs largely moot.
Knowing your place; a concept even more difficult to accept in the era of the "Strategic Corporal" and all the implications of it. To keep your place takes discipline, knowledge, and better yet a command climate that allows someone to pull you back when you drift away from your proper place.
Strategic planning does not need to concern itself with tactical details (AKA 3,000 nm screwdriver) if all three levels function properly. Not just a Strategic level problem, the temptation is even greater at the Operational level where the tendency to drift down to the Tactical is greatest. People plan where they are the most comfortable, and if you just came back from the Tactical level and haven't mentally adjusted to the fact you now have to think and plan at the Operational or Strategic – you are setting yourself up for disruptive planning, intrusive direction & guidance, and eventually Tactical level paralyses.
Worse that that – if you are in a decision making position at the Strategic or Operational level – and you are not doing that job from that perspective – who is? The answer is, no one. That is where historians have their fun.
Adding to that problem is the amplifying effect. A poorly constructed or ill-disciplined Strategic guidance results in disjointed and inefficient Operational level direction & guidance. That in turn leads to Tactical anarchy. Where does that lead? Well, not to the "W" column.
Fun stuff … fun stuff. As a side note, if you are interested in hearing the authors discuss their book and China in general, EagleOne and I interviewed them back in Jan; you can hear the archived show here. We've also interviewed Dr. Friedman twice, once in 2010, and again earlier this year.
Especially in the heat of the 24-hr news cycle and war reporting sometimes on par with a caffeinated dog in a squirrel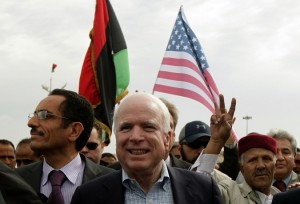 filled park, it is helpful to back up a bit and ponder.
Let's look back to what I posted here on 20 MAR,
Now that we are in, it begs a few questions.

1. Will the anti-Gadaffi forces be able to advance under Coalition top-cover?

2. Do our Coalition partners have the political, military, and financial ability to support a protracted NFZ-L? If partner nations start to fall out over time – when do we decide to remove our support, or do we plan to be the last nation standing, again?

3. As we have intervened in a civil war; what if any obligation do we have to prevent defeat of the rebels' ground forces – or if their defeat is eminent – evacuate them and resettle with their families?

4. What is the diplomatic plan if the Gadaffi forces defeat the rebellion? According to The Telegraph, CJCS Admiral Mullen stated,

Adm Mike Mullen, chairman of the US Joint Chiefs of Staff, said the outcome of military action from the air was "very uncertain" and made it clear that Washington did not see the goal of Operation Odyssey Dawn as removing the Libyan leader from power.
Where we stand 40 days later on the Salamander Four?
1. Yes, and no. Yes: in the static analysis of a poorly-to-un-planned mission, the No-Fly Zone Libya (NFZ-L) worked like a champ. It is what happens when 21st Century air forces go against a poorly maintained one from circa-1970. Same with the ground attack mission-creep that soon followed. Tanks, APC and other armor formations are easy to kill from the air. The enemy gets a vote though. We are not the only ones who improvise, adapt, and overcome. As we did not have a fully fleshed out Combined/Joint Operation at the start with definable End State, Objectives, Phases, or Lines of Operation – much less Branch Plans or Sequels – this is not shocking. We have had some nice Decisive Points – but no one can place them on a LOP, they just are there because they are there. Many have described this as a pick-up game; they are right. We started playing football, evolved into cricket, and now trying to play polo from Shetland Ponies, methinks.
No: we now find ourselves in a classic grinding civil war. The first steps of the ground war have started with Anglo-French-Italian advisers. After jumping into a support role, Europe ran out of weapons and reserves to the point that we are now back in the ground attack game – but only halfheartedly. If reports are to be believed, we are now going to use armed UAS in a CAS role. Really? That is about one notch to the right of putting TLAM into empty tents outside a parade ground – but it is something, in a fashion. We also have Senator McCain (R-AZ) on the ground in Libya today. Feeding great expectations, or a hint of further entanglement as Misrata grinds on and Gadaffi still shows no sign of turning to pink mist anytime soon? Well see.
For now though the facts are clear – the answer to #1 is no, not without CAS, advisers, weapons, and "special" help.
2. The French and the British are still strong. The Italians are thinking about being a more robust friend as their southern islands' beaches start to fill with illegal immigrants. We are doing more again, as this is lasting longer than the Europeans thought. The British are re-learning the costly nature of long-range missions from land-based aircraft and Le Grand Charles can't stay at sea forever. The balance of the European/NATO military contributors are falling the test again – slathering their forces with caveats to the point of limited utility as we see from AFG to the Horn of Africa. Expected. We have not seen a USA CVN yet, but odds are we will see one soon. The French and British will need to rest if this keeps going on. USA CVN have the sortie rate and response time to do what needs to be done for awhile.
No, our allies cannot do this on their own – we will need to do more and unless we want a repeat of Suez, we have to. It is almost past the point of arguing "should" – after awhile of dithering, things can deteriorate to the point that you have to get involved in order to avoid a total collapse and all the negative second and third order effects. Effects BTW, that you (we/they) created. Butterfly Effect or Dithering Effect, either one works. Which is worse, to let a civil war take its own course, or to try to bend it to your will? That is a hard question – but one the West thinks it has answered, but still thinks it is hedging. We crossed the hedging line when we started providing CAS to the rebels. The rebels know that, Gadaffi knows that, people in uniform know that – I'm not sure the balance of everyone else know that though.
3. It seems that we will continue in incrementally increase support to prevent the complete collapse of the Libyan rebellion. The European advisers and Sen. McCain on the ground are proof of that. Incrementalism has never been a real successful military strategy – but it appears it is what we have. As for resettlement – youbetcha. Europe is in quite a pickle – and the idea of another few hundred thousand North and South-Saharan Africans looking for their resettlement camps outside Nice, Birmingham, and Pisa should explain why the Europeans are as motivated as they are.
4. Truth changes. Let's see what is happening up the chain of command.
The leaders of the US, the UK and France have said in a joint letter that there can be no peace in Libya while Muammar Gaddafi stays in power.

Barack Obama, David Cameron and Nicolas Sarkozy say Nato must maintain military operations to protect civilians and maintain pressure on Col Gaddafi.

To allow him to remain in power would "betray" the Libyan people, they write.
Admiral Mullen, call your office.
I think our plan is that we don't have a plan if Gadaffi stays in office. Try writing that article for Naval War College Review. Good luck with that.
Finally, a question I asked in an earlier post at my homeblog.
… do those nations now share responsibility for the tribal bloodshed that may and probably will take place when the rebels take Gadaffi's tribal and governmental strongholds? When they capture his sub-Saharan mercenaries?
Of course they (we) do. Just a few days before Sen. McCain's arrival, in main square of the rebel capital of Benghazi amid the resounding cheer of pro-democracy freedom fighters everywhere – "Allahu Akabar!" – we see the public and brutal beheading of prisoners of war by "our" allies. Just so everyone is clear about whose side we are on and the challenges ahead – the video is on YouTube and LiveLeak. All warnings apply – it is an incredibly brutal thing to see. Take my word – but if you haven't yet accepted the world for what it is – it is there for your viewing if you wish.
Spring will end and the North African Summer will soon start. Interesting times.
UPDATE: I think the latest comments from Admiral Mullen should be taken onboard and pondered.
"It's certainly moving toward a stalemate," said Admiral Mike Mullen,
You get what you plan for.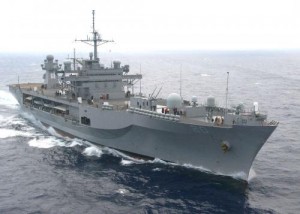 Our co-blogger here at USNIBLog – Admiral Stavridis, USN, SACEUR – sent along this tweet earlier today,
#NATO is now in charge of the Arms Embargo off the coast of #Libya. I designated a top Italian Admiral to run it. http://bit.ly/gXSq7s
Yes, he is on Twitter – and if you don't follow him on Twitter you are making us both sad.
I am going to put up my next "Big Pixel" Operation ODYSSEY DAWN (OOD) post on Monday – but for now I want to focus on this.
This NATO effort has been named Operation Unified Protector and its mission is to assist the international community in reducing the flow of arms and material prohibited by the arms embargo into and from Libya in order to reduce acts of aggression against the civilian population.

NATO's response to the situation in Libya is based on three fundamental principles: added value from the Alliance to the existing international efforts; a clear legal mandate and strong regional support.

Operation Unified Protector will assist in reducing the flow of arms, related material and mercenaries to and from the coastal waters off Libya only.

NATO nation ships and aircraft will conduct operations to monitor, report and, if needed,interdict vessels and intercept aircraft where there are reasonable grounds to suspect that they are carrying cargo in violation of the arms embargo or suspected of carrying illegal arms or mercenaries.

Joint Forces Command Naples is designated as the command headquarters with Vice Admiral Rinaldo Veri of the Italian Navy, Commander of Maritime Command Naples, in command of the arms embargo operation who will, in turn, appoint the Task Force Commander at sea.
I'm going to stick with NATO terms here; so work with me and don't get all nit-picky if you are using a different Operational Planning school – we're working fundamentals of Operational Planning here and its all close enough. Also, this post will be almost as hard to follow as the C2 structure we have in place – don't blame me, I'm only as poor of a writer as my subject. Ahem. Let's dive in to this.
Under the Operational Commander, you have three major Component Commanders; Land Component Commander (LCC), Maritime Component Commander (MCC), and Air Component Commander (ACC). There can be variations on the theme – but these are the big three we'll talk about.
Here we are, almost a week into OOD and …. well …. we have a hybrid structure that has been American, until now.
To review: COMAFRICOM is the COCOM with C6F CNE, Adm. Samuel J. Locklear III apparently serving as the JTF Operational Commander. I say apparently, as this C2 structure is a dog's breakfast at this point with unconnected and uncoordinated lines. Who has OPCOM, OPCON, TACOM, TACON of who is so out of joint (pun intended) to everyone that until yesterday Norway grounded its F-16s in Crete simply because it had no idea who was who and why.
Now we have something different. As OOD has American stink on it and everyone seems to want to call this something different, NATO is using Operation UNIFIED PROTECTOR (OUP) for the Maritime aspect of this and will have to do. That gives us at this point another custom C2 structure with both USA and NATO – and perhaps – some Coalition of the Willing structure for ACC and a replacement for COMAFRICOM in the future.
Sorry I don't have a C2 diagram for you, but it would take at least two hours to make and would need at a minimum a 4-foot by 6-foot whiteboard to put it up correctly and it would still be wrong inside half a day.
On the Maritime side though, NATO JFC Naples is an Operational Level Commander who also happens to be the same person with a different hat, USA C6F Admiral Samual J. Locklear, III, USN.
With his NATO hat as JFC Naples, ADM Locklear has a LCC, MCC, and ACC. In Naples is his MCC, Maritime Command Naples who is taking the point in OUP and will appoint someone else to command the Task Force at Sea. Funny, I would think COM MCC Naples Actual would – but perhaps other things are in play that will flesh out later. Not a tidy C2 for now, but what one is in coalition operations?
According to his website, ADM Locklear's ACC is in Izmir, Turkey – so I don't think that will be a player. His LCC is in Madrid … and let's not speak of that.
The announcement of a MCC for OOD/OUP is good news as it means that things are slowly being patched together. We are a little closer to being able to turn it over to a Coalition Command structure as the CINC states he wants to take place – if we can have someone step up to Operation HOT POTATO.
Where to? For now we have the relatively benign MCC job under an Italian Admiral in NATO's Command Structure – I think the ACC will probably be American but not NATO when all is said and done for both structural, training, and practical reasons that I will outline in a broader context next Monday or Tuesday.
LCC. Well, let's just hope we don't need one of those. Ever.
So far, this has a whiff of the Kosovo operation in a way; a patch-up/pick-up operation with little to no preliminary Operational Planning (though there was time for it if there was POL/MIL guidance earlier than the last minute). SACEUR is a tough job on any day – with AFG and now OOD/OUP … it just got more interesting – but without sounding like a smack; we've got the right man for the job in place.
UPDATE: Things look like they have settled even more broadly than the above last night. With Turkey deciding to stop opposition – to my pleasant surprise considering what they had been saying over the last couple of weeks – things are looking much "cleaner" and the operations is mostly falling under JFC Naples, ADM Locklear, USN, and his Component Command Structure.
Strategic headquarters of NATO, Supreme Headquarters Allied Power Europe (SHAPE) in Mons, Belgium, would oversee the general operation, the source said on condition of anonymity because of the sensitivity of the negotiations.

The mission of the air would be monitored in Izmir, Turkey, but the daily tactical operations in a series of short Renatico Poggio, the diplomat said. Turkey has blocked a new effort Wednesday night to give NATO a role in the no-fly zone because it requires an end to the bombing campaign led by a coalition led by the United States, Britain and France.
JFC Naples the Operational Level Command, and ACC will be Izmir. Heh, I owe someone a beer.
There looks like we may have some OEF-vs-ISAF like parallel structure with the Libyan operation. If you listen to the end of NATO's Secretary General's statement, he mentions continues coordination with "Coalition" forces. Maybe he means something else – but it wold be a shame if we have parallel C2 structures.
I would offer though that in 2011, NATO should really have more details out than this – things may change but that is all we know right now.
UPDATE II: Looks like we have split the Air Component Command in to two parts. One doing air-to-ground, the other the air-to-air. Yes, a parallel command structure within a Component Command. Messy – but isn't everything political?
As NATO takes over, a Canadian air force general will command most of the Libyan air war but not the nastiest bits – bombing ground targets and attacking Moammar Gadhafi's tanks – reflecting an ongoing split in the alliance.

Lieutenant-General Charles Bouchard will initially run only the no-fly zone over Libya. An Italian admiral will command the multinational naval blockade offshore. The punishing and controversial bombing runs and air-to-ground strafing will remain under U.S. command until NATO establishes rules of engagement acceptable to reluctant alliance nations such as Germany and Turkey.
…
U.S., British, Canadian and French warplanes conducting air-to-ground strikes will remain under the command of U.S. Admiral Samuel Locklear. In military jargon he is "double-hatted" – serving as commander of U.S. naval forces in Europe as well as joint task force commander for NATO's southern command in Naples. Gen. Bouchard serves as his deputy in the latter role, and handing day-to-day running of the war to the Canadian will take Adm. Locklear out of the limelight.
Read it closer, again, on who is doing what. Yep.
As NATO takes over, a Canadian air force general will command most of the Libyan air war but not the nastiest bits – bombing ground targets and attacking Moammar Gadhafi's tanks – reflecting an ongoing split in the alliance.

Lieutenant-General Charles Bouchard will initially run only the no-fly zone over Libya. An Italian admiral will command the multinational naval blockade offshore. The punishing and controversial bombing runs and air-to-ground strafing will remain under U.S. command until NATO establishes rules of engagement acceptable to reluctant alliance nations such as Germany and Turkey.
The air-to-air portion is 98% over. Nothing more to do. That "combat" will go from USA to NATO with a nice Canadian helo pilot in charge (who BTW is an outstanding General Officer FWIW – good guy to have there).
There is still a fair bit of wet work to be done air-to-ground … so … who is commanding that and doing most of the sorties? Yep, USA. We will need two white boards to diagrams this C2 structure … if you can. Unity of Command? Don't be silly.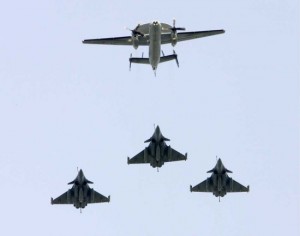 As things have picked up as of late WRT the No-Fly Zone over Libya (NFZ-L) – I think it is time to update the post from 17 days ago.
We have a "go" – in a fashion – for a NFZ-L. CONOPS, COA, ROE, etc; the most important things we really don't know what we will have. What we do know at the moment is what nations are already throwing their hat in.
CAN: 6 CF-18.
GBR: Unknown number of Tornado and Typhoon fighters. Possible E-3D and tanker support, perhaps others. Frigates HMS CUMBERLAND and HMS WESTMINSTER.
FRA: Bases in southern France & Corsica. CVN FS CHARLES DE GAULLE with 35 aircraft perhaps.
USA: We can bring the the multitude or European based aircraft to bear; if we want to. We have the KEARSARGE ESG in the area. The Big E and her CSG are within reach in a few days; if we want it to. BATAAN ESG will deploy early and can lean in; if we want it to.
ESP: Access to airbases and unspecified aircraft and navy ships.
ITA: Accesses to airbases and support "without reserve" – whatever that means.
BEL: 6 F-16.
QAT: Unspecified support – the only Arab nation so far that I can see coming out post NFZ-L approval.
DEU, I guess, decided they had enough of the Libyan desert a few decades ago – and our other allies I presume were out of OPTAR or some other excuse. As for the rest of NATO – well, this sounds about par.
Before Friday's meeting, NATO allies were still divided on whether to impose a no-fly zone. While the United States, Britain and France strongly backed the idea, Germany remained cautious and Turkey expressed opposition.

A diplomat said that NATO nations reached consensus on Friday on the imposition of a no-fly zone over Libya, but failed to fix details about how partners will take part in.

NATO ambassadors are expected to meet over the weekend, the diplomat added.

Meanwhile, some NATO nations have expressed their willingness to participate in the deployment of a no-fly zone over Libya.
We shouldn't expect more from them. Those who could, have. The rest will take a couple of months to figure out how they can do enough to get their flag outside the headquarters – but not enough to take any blame if things should go wrong.
We also know that there is hard math at work here. Physics and engineering cannot be successfully fudged for long. Almost all the viable non-USN particiapation is shore based. Distance is not your friend, especially with the short legs of many of the fighters being offered. Tanker support will be a huge requirement in money and material if you want a serious NFZ-L – as will heavy AEW. If you want, as some have mentioned, a "No-Drive Zone Libya" (NDZ-L), then you are asking for dramatic increase in the Combined Joint Statement of Requirements (CJSOR) – and will need boots on the ground to do it right.
The role and participation by the USA is still behind closed doors, but unless something unusual happens, we know how this will happen in broad terms;
Michael O'Hanlon, a defense expert at the Brookings Institution, said the United States "frankly might wind up playing the biggest role" because Britain and France may be unable to get sufficient aircraft to Libya quickly enough.

"A key part of the role the U.S. is going to play here is going to be like one of President Obama's previous jobs: community organizer," said Brian Katulis, a Middle East expert at the Center for American Progress.
Frank knows time-distance it seems; Brian is a cheeky monkey.
With the atrophied military capability and shaky will of the European nations – not to mention their budget "issues" – any type of significant military action in the Maghreb will require the USA to do the heavy lifting. We are the indispensable nation – and when it comes to any sustained action from the sea, the USN is the indispensable Navy.
If you have to project any type of power ashore with ranges such as here (see post from 01MAR) – the CVN is the indispensable ship. As we have waited to the 11th hour to do anything, I still stand by my statements from 17 days ago; without more than 1 CVN you will not have an effective NFZ-L. We don't have that yet, and may never.
So, if that is where we stand; are we just relying on hope and best case scenarios? Is the NFZ-L just for show and a half-hearted effort? Are we ready for the time and effort for a sustained NFZ-L? Are our allies? Are we going to just let the Europeans fail as they did in AFG from '06-'08 and then try to fix it later?
Finally there is this questions that many seem to want to avoid. We set up a NFZ-L and Gadaffi still wins in the face of it; what is our Branch Plan, or Sequel? What are the second and third order effects of an ineffective NFZ-L that results in a Gadaffi win?
Well – hopefully we won't have to figure that out. Smart professionals are working that – but before everyone starts moving their little-bits around the map – listen to SECDEF Gates one more time.
Another dark room – let's all step in together.
UPDATE: NOR and DNK are in … as tanks start to enter Benghazi. Tic, toc; tic, toc.
UPDATE II: Pictures are important and tell the story of the costs of delay. A couple of weeks ago, Gadaffi only had the area around Tripoli and a scattered town or two. The facts on the ground have changes significantly. Quite the challenge (click for larger).