Archive for the 'Persian Gulf' Tag
Maybe I just haven't adjusted yet to being back in the U.S. after 5 years overseas.
The partisan vitriol over the Farsi Island incident involving U.S. Navy Riverine boats in the Persian Gulf surprises me. This event has become a lightning rod of polarization, a litmus test of opposing camps of foreign policy. There is excessive emotion from both sides of the foreign policy question with neither acknowledging that their opposition also has some truth on the other side of the issue.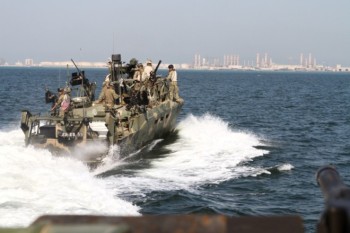 First and foremost, to paraphrase former SECDEF Hagel's remarks (starting at the 7:36 mark of this video) as the event was unfolding Wednesday: we don't know yet all the facts of what happened; we will find out more as crew debriefs, tactical reconstruction, and a full investigation ensue. I would add that until then, a lot of the asssumptions and outrage are unfounded. My own hope is that the full investigation will release what needn't be classified for public knowledge and Congressional oversight; more importantly we need to ensure that lessons learned are subsequently applied from tactical to political levels.
So what do we think we know? This LA Times article – attention grabbing headline aside – appears to be a solid rundown of what we think we know now. I expect that a full investigation will show a typical "mishap chain": communications or navigation gear failure, human judgment or error, and Murphy's law in action cascading to a negative event. Bottom line, our small boats inadvertently entered Iranian waters. Despite that, we achieved a positive resolution – the personnel and vessels were pretty quickly released – due almost wholly to the existing relationships between Presidents Obama and Rouhani and Secretary Kerry and Foreign Minister Zarif. This, in turn, is due to having achieved their nuclear agreement. If a strategic leader has to interact with a counterpart, the first phone conversation better not be after the crisis has started.
Barring substantial revelations from investigation, I don't see how this event justifies calls for heads to roll from SECDEF and SECNAV down. Obviously, Murphy and the mishap chain were in effect. However, more confrontational actions in another sovereign state's territorial waters would almost certainly have had a negative outcome – in the tactical situation and in larger national interests.
The taped, and now widely distributed, apology of the officer-in-charge has also been roundly criticized. I would submit that this was quite possibly his best course of action: this is not/not a POW situation for name, rank, and serial number only. This is not a code of conduct situation, and that apology does not amount to confessing to be an American air pirate. The Department of Defense "Isolated Personnel Guidance" speaks to detention of uniformed personnel. While it refers to the code of conduct, it sets a different bar: "U.S. military personnel will maintain their military bearing, regardless of the type of detention…they should make every effort to remain calm, courteous, and project personal dignity." So far, so good. The guidance also says, "A detainee should make every effort to avoid providing propaganda for the detaining government." Maybe not so good. Overall, though, that guidance refers to detention by "hostile governments," and whether that condition applies is debatable. My own initial response was that if the boats were indeed inappropriately in territorial waters, it is more akin to dealing with the local gendarmerie when you and your sailors have inadvertently ended up somewhere you shouldn't be in a liberty port. Defuse the situation, and get back ship.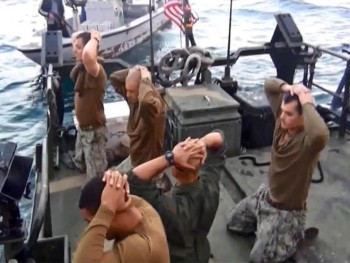 By no means was the Iranian Revolutionary Guard Corps Navy (IRGCN) right in its apparent initial treatment of the crew and propagandizing of the apology video. Captain Sean Liedman provided US News and World Report a great rundown of the ways in which the IRGCN was at odds with USN sovereign immunity, the UN Convention on the Law of the Sea, and the International Covenant on Civil and Political Rights. However, the time to protest that and call for accountability is not when the personnel are still on foreign soil, nor in the State of the Union address. One hopes that that diplomatic discussion is ongoing now.
Another thing to understand is that this is more complex and nuanced than a monolithic Iran behaving badly. Everyone who has steamed or flown in the Persian Gulf already knows that the IRGCN and Islamic Republic of Iran Navy will respond differently to a given situation. IRGCN actions may have been exacerbated or exaggerated by domestic political maneuvering between the Rouhani/Zarif camp of (relative) moderates and "hardliners" which could be exemplified by General Soleimani and the IRGC. It may initially seem counter-intuitive, but diplomatic success by the moderates in the administration increases the possibility of hardliners reacting more strongly when they seize an opportunity.
We can be dismayed at the treatment of our sailors, and even question the apology while still being thankful for the overall outcome and larger diplomatic success. I look forward to finding ground truth on the events, and also on learning some lessons – from tactical up to national level. Unfortunately, though, the whole incident has fueled some of the worst behaviors of our polarized body politic.
I recently had the pleasure of talking to a Financial Times reporter about Iran's appetite for small boats. The story, dealing with the saga of the "Bradstone Challenger", a Bladerunner 51 speedboat, just hit the press today (and it got some love from Drudge (bottom middle column), so…good times). (.pdf here)
I noted Iran's interest in the Ice Marine's Bladerunner back in early 2009–in fact, I reported that the Commerce Department's "stop order", coming on January 22, was one of the Obama Administration's first actions taken after the inauguration. But, sadly, bureaucracy intervened–South Africa mislaid the order, sending the boat off in the "Iranian Diplomat."
"The loading went ahead because, said one source, no one saw the US notice sent by fax over a weekend. US special forces were ready to intercept the Iranian merchant vessel but the operation was called off, the source said"
So now the vessel has, reportedly, been militarized (or, more likely, is being reverse-engineered).
(I won't bore you with this story's nitty-gritty details–as fascinating as they are. If you are interested, go read the full post at NEXTNAVY.COM–it's a rollicking story of international intrigue, politics and…Italian speedboats!)
But for now, let's focus on the strategic question…Iran's apatite for small boats aside, just how big a danger are Iran's little boats? Should the U.S. worry?
Not really.
Outside of surprise (a la the USS Cole), the small boat "record" since World War II fails to live up to the modern-day hype. Certainly, small boats are not things to completely disregard, but I do have serious doubts about the danger a swarm poses to a prepared US vessel. And, in the article, I said so:
"Though the US Navy is very concerned a swarm of small boats can overwhelm and sink a large warship, the hypothesis is untested. It has never been done," Mr Hooper told the FT. "A small, fast boat navy is nothing more than a surprise strike and harassment force. Every time small, fast boats run into helicopters, the helicopters win."
The proof just ain't there. Once a fast boat swarm is identified as "hostile," those small boats tend to lead relatively short, exciting lives.
In 1987, U.S. helicopters made quick work of Boghammar speedboats, and during the 1991 Bubiyan Turkey Shoot, helicopters helped sink or damage 143 small Iraqi naval vessels.
The trick, of course, is avoiding any losses as a "swarm" transforms from "traffic" to a swarming "attacker"…
And that might be a tad difficult.
Or…maybe not. Discuss!
Read more by subscribing to NEXTNAVY.COM