Archive for the 'PFT' Tag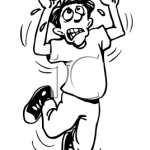 A few weeks ago, I started writing a post that discussed a particularly relevant and compelling thesis written by a student at the Marine Corps' Command and Staff College. The thesis in question was written by a fellow Marine, Major Misty Posey, and is creatively titled "Duped by the 'Frailty Myth:' USMC Gender Based Physical Fitness Standards." Great title, although it is so descriptive that it might lead some to believe that they can dismiss it without reading it. Don't be fooled; it's worth every paragraph. Mid-way through my work on the post (I write slowly), it became even more relevant, because the Marine Corps announced that it was going to postpone the requirement for women to perform pull-ups instead of the flexed arm hang as part of the Physical Fitness Test (PFT).
My first reaction to this news was to slap my forehead again. My second was to work harder at carving out the time to write this post in light of the news. Grad school and the holidays intervened, life happened, and I woke up this week to find two separate newspaper articles (Washington Post and San Diego Union-Tribune) beating me to the punch.
I wrote about pull-ups last summer, when I first heard that the requirement might be delayed. My opinion has not changed. But Major Posey's thesis says it bigger and better; she describes the Marine Corps as "institutionally constipated," a phrase I can only hope to use myself in my writing one day. I sincerely hope some of our leaders read her work.
She explains in great detail how men and women develop physical expectations and how this affects actual capabilities, and it rings true. I wrote earlier that while many male friends had to do pull-ups in high school PE, I was only required to run/walk one mile after a year of "training." I had to learn line dancing in PE another year. And a third year involved a semester of "Jake on the Beach" aerobics tapes—the low-impact version so as to not hurt us girls. That's a far cry from doing pull-ups. And the gap between what we expect our men to do and what we expect our women to do only continues to grow and become entrenched after high school. Remember the President's Physical Fitness Test? No wonder women show up at 18-22 years old and can't do pull-ups. I couldn't either. It no surprise that it's taking some time for women to develop the upper body strength and mental confidence needed to do pull-ups.
The pull-up requirement delay is causing mass hysteria among those who think such an event signifies the end of the world is approaching, or at the least that dogs and cats are starting to live together. I beg our leaders to take a step back and focus on a few brief points: 1) these are just pull-ups. And women are often starting from a lower level of strength. Of course they will get there, it will just take time. It has only been a year, for crying out loud. 2) These are Marines we are talking about. Again, they will get there. Just takes time. 3) Keep it at a delay and no more. Don't throw out the requirement.
We really should make this whole discussion a discussion about the PFT itself, while we're at it. It is meant to measure individual fitness, thus the gender-normed and age-normed standards (any takers on the age-normed standards? I don't hear much about them). Yet it fails at that task, and is systematically used and interpreted in a very different way anyway. What are we really trying to do here, measure overall fitness or ensure we are aware of strengths and weaknesses in our units? What would benefit leaders more?
Truth is, women can get plenty strong, strong enough for all the pull-ups we need. I'm not in love with pull-ups; make the test pushups instead. Or handstands. Bear crawls. Whatever. But we should set one standard for all Marines and stick with it, and make it high. Separate standards hurt women far more than they could possibly help them, and they hurt the Marine Corps. Delaying the change is not necessarily bad…as long as the change happens.
Here's the thing: the flexed-arm-hang requirement, the postponement of the pull-up requirement, lower physical standards…these things simply limit Marines. They limit personal expectations, they limit expectations of others. They effectively pat our Marines on the head and say, "nice try, honey, but we don't think you should bother with this." Why do that? Why shoot ourselves in the foot and limit our future leaders and the future of the Marine Corps?
Who determines any individual's physical baseline? Who sets those limits? By delaying the pull-ups and questioning women's abilities to perform to that standard, we are imposing external limits. We're saying that women should not be expected to have great strength, that pulling our own weight up to a bar 20 times, or even 3 times, is too much to ask. And that, right there, is what makes me worry. I believed it for years, and I was wrong. And now I'm older—I could have been doing these for years! Instead of limiting our Marines, we should ask more of them: set the bar high, and encourage them to fly right past it. We're not doing that right now.
(Fun Facts from the Marine Corps Times: the first female PFT, in 1969, required women to perform a 120' shuttle run, vertical jump, knee pushups, situps, and a 600-yard run/walk. The PFT has only been altered two more times for women: in 1975, it changed to a 1.5 mile run, situps, and the dreaded flexed-arm hang, and in 1996 the 1.5 miles changed to 3 miles. Maybe it's time for a reassessment?)