Archive for the 'PGS' Tag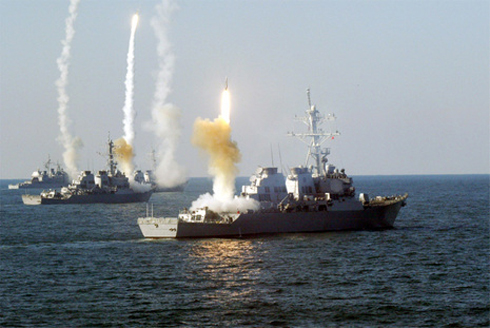 So if, over the next two years, the 7,804 Vertical Launch System (VLS) cells in the surface fleet suddenly acquired a Prompt Global Strike capability? It's gonna happen.
As I wrote over at defensetech.org:
Putting PGS into the VLS does something far more interesting than just "add capability". It changes everything. PGS on a surface ship transforms the largely "defensive" nature of the U.S. surface combatant/carrier escort to, well, "offense".

And that shift from the "Missile Defense" destroyer or "Air Defense" cruiser of old to a "Global Strike Combatant" will pose a real conceptual challenge for everybody–from those walking Aegis deckplates to any potential adversaries.

The idea that America's 7,804 VLS cells may soon gain the ability to rain almost instant havoc on targets some 2,000 nm away should put a bit of a damper on those who counted on overwhelming a hunkered-down and relatively passive "defense-oriented" AEGIS fleet. It's a big deal.

You heard it here first–A shift of the U.S. surface combatant fleet from defense to offense is a real game changer.
Thoughts?