Archive for the 'prize essay' Tag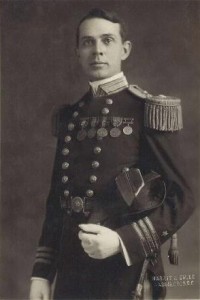 In March of 1915 then LCDR Dudley W. Knox, USN, wrote a most challenging essay in PROCEEDINGS magazine about "The Role of Doctrine in Naval Warfare." His thesis was that "a fleet is something more than a mere collection of ships" and that "bare ship to ship superiority is not a guarantee of victory." Then, in 31 pages he exhaustively examines the dual roles of command and doctrine in prosecuting successful combat operations. Ironically, almost 100 years ago, his essay becomes subject of comments from other naval officers in the next 10 pages – and we thought blogs were a modern invention! Most importantly, Knox is a poster child for one of our most important missions – providing an independent forum wherein all members, without reference to grade or resume, can share their thoughts on the state of the profession.
Knox is himself an amazing naval officer. The son of a career Soldier and an 1896 graduate of the Naval Academy, Knox served 50 years retiring as a Commodore in 1946. In that long and distinguished career he commanded at sea and ashore, taught at the Naval War College, earned the Navy Cross, the Legion of Merit and a slew of foreign honors, was twice a Gold Medal essayist with the Naval Institute, wrote the classic A HISTORY OF THE UNITED STATES NAVY, and was the guiding spirit in the founding of the Naval Historical Foundation (USNI provided the first contribution of $1000 to the Foundation).
Our question is:
What might Knox say in only 3000 words about the state of naval strategy and doctrine today? Are things better; what has changed and, most importantly, what is the same or worse than when he closed his text with this clarion call, "both ashore and afloat we, therefore, imperatively need first of all a conception of war"?
United States Naval Institute Proceedings
Vol. 41, No.2 March-April 1915, Whole No. 156
The Role of Doctrine in Naval Warfare
Prize Essay, 1915
By Lieutenant Commander Dudley W. Knox, U.S. Navy
Motto: "Let us learn to think in the same way about fundamental truths."—Darrieus
The American Navy acknowledges no superior in its ability to steam and to shoot. If nothing else was required of a fleet of ships in naval warfare we might rest securely in the belief that we are as well prepared for war as any possible antagonist. Strange to say, not many years ago this fallacious belief did permeate the service and was based upon the above narrow, unsound and short-sighted assumption.
Within the last few years, however, a fortunate awakening has come about. The navy is comprehending with greater clearness every day, that a fleet is something more than a mere collection of ships; that a bare "ship for ship" superiority over a possible enemy is not a guarantee of victory; that before ships are ready to go into action, no matter how efficient individually, they must be welded into a body, whose various members can be well controlled from a single source and can act collectively as a unit free from embarrassing internal friction; and that the problem of the proper utilization of the abilities to steam and to shoot—that is, the problem of command—is not only less elementary but also much more difficult of solution than any yet undertaken by us.