Archive for the 'Proceedings' Tag
I was intrigued by the recent article under the 'Charting a Course' column. The notion of 'geometry' in a career is certainly an interesting one, and in the previous article it is formed by the relationship between the individual officer and the Detailers, with an aim to help the individual officer get what they want. We can extend the author's concept of geometry to the relationship of all Officers with the Enterprise. As a supplemental lesson, I would like to present the 'iron triangle' of manpower.
Figure 1: The "Iron Triangle" of Operational manpower, modeled after expeditionary helicopter squadrons. At any given time, 36 LTs representing 3 year groups will 'neck down' to 12 Department Heads, eventually becoming 3 CO Selectees (CO, XO, PXO) Other community triangles may have different angles, but all follow the same basic geometry. This is stolen, of course, from the "iron triangle" of systems engineering, which consists of Weight, Strength and Cost.
While we can argue about selection policies for any given year group, in aggregate, the Operational Fleet as a whole cannot stray too far from the triangle. This structure is in our organizational DNA and attempting to change it would be folly. Actual selection rates should be slightly higher than the triangle, because some leave the Operational Fleet, either by separating or transitioning to staff/support functions.
If you are convinced that you will make it to the top of your operational triangle, I wish you all the best.
If you are not as certain as the average Charting a Course reader – or if you supervise someone who might not be certain – the next part applies to you:
Your Operational leaders don't usually know very much about those who 'evaporate' from the triangle – i.e. escape from the sides. This is because everyone you deal with in an operational setting is by definition still inside. Here's the insight and our second lesson in geometry – Corporate Navy is not a triangle but rather a 'square'.
 
Figure 2: The "Iron Triangle" in context with the overall 'value ecosystem'. The challenge for talent management in the current epoch is to recapture those who exit the 'white' pyramid and put them into the Orange or Green triangles.
The challenge for the manpower system is to manage the box as a whole. Should the white triangle take priority? Absolutely. It should not do so to the complete disregard of the box. Picking and Paying for the equipment is neither (physically) dangerous or glamorous, but it does require competence – frequently in specialties that bring unique one-off skills to the Navy.
BONUS: Sometimes we don't get what we want from the Detailing Process. Sometimes we wonder why our tours/careers/lives have taken the path they have, it is useful to recall Sherlock's answer when Watson asks a similar question (His Last Vow, BBC, 2014)
Watson: What have I ever done? Hmm? My whole life, to deserve you?

Sherlock: Everything.

Watson: Sherlock, I told you. Shut up.

Sherlock: No, I mean it. Seriously. Everything, everything you've ever done is what you did. You were a doctor who went to war. Your best friend is a sociopath who solves crimes as an alternative to getting high…you're addicted to a certain lifestyle! You're abnormally attracted…to dangerous situations and people, so is it truly such a surprise that the woman you've fallen in love with conforms to that pattern?
We are who we are, or as Popeye the Sailor man would say:
I yam what I yam.
"Not a military voice is heard calling for thoughtful, substantive change."

-William S. Lind, "An Officer Corps That Can't Score"
Will, "hello," suffice? William S. Lind's suggestion at The American Conservative Magazine that the Officer Corps is in a blind, intellectual death spiral is weighty indeed, but ignores the vast body of debate going on in the junior and senior ranks of our nation's military. Rather than our officer corps living in a bubble, perhaps some of those discussing the internal debate of the military writ-large need to reach out of their bubble to see the rich discussion happening -right now-.
"Even junior officers inhabit a world where they hear only endless, hyperbolic praise of "the world's greatest military ever." They feed this swill to each other and expect it from everyone else. If they don't get it, they become angry."

-William S. Lind, "An Officer Corps That Can't Score"
Mr. Lind accuses our Officer Corps of a hollow, cavalier attitude that would suggest they neither recognize nor wrestle with the threats of tomorrow or the mistakes of today. Ask any moderately informed officer on their thoughts about cyber-war, the F-35, LCS, insurgency, the utility of carriers, the proliferation of anti-ship cruise-missiles, etc.. and the opinions will be heated and varied. The Center for International Maritime Security has featured an entire week debating the merits of the Navy's,"Air Sea Battle," concept. The United States Naval Institute archives decades of articles relating to the debate over carriers. Small Wars Journal is a running testament to the continued debate over insurgency and irregular ground conflicts. There are also sometimes-anonymous outlets, like the Sailor Bob forum, Information Dissemination, or the wild wonderful world of Commander Salamander's blog; they are quite popular in -light- of the often unique and critical perspective taken by writers.
The majority of these articles are written by officers, with the approval or non-interference of their leadership. Of course, not all military leadership is necessarily embracing criticism, but that is natural to any top-down organization. We've made great strides. The Navy released the Balisle Report on its critical issues with maintenance. CDR Snodgrass' 24 page study on retention is now a topic of wide debate encouraged by VADM Moran, Chief of Naval Personnel. If, as Mr.Lind describes, our officer corps had a comical "hulk-smash" reaction to suggestions of US Military weaknesses or institutional flaws, we'd have long ago beaten ourselves to rubble in the haze of an insatiable rage.
"What defines a professional—historically there were only three professions, law, medicine, and theology—is that he has read, studied, and knows the literature of his field. The vast majority of our officers read no serious military history or theory."

-William S. Lind, "An Officer Corps That Can't Score"
Mr.Lind suggests that our modern-day officers live in a historical desert, in which the lessons of yester-year are lost. I would suggest those doubters of the military's historical memory look to the USS PONCE and the Navy's re-embrace of sea-basing. Thomas J Cutler's "Brown Water, Black Beret" is an excellent primer on the historical lessons the Navy is re-applying. Perhaps we might highlight the Navy and Marine Corps' dual scholar-heroes of ADM Stavridis (ret) and Gen Mattis (ret): admired for both their acumen in the field and their rarely equaled study of the history of conflict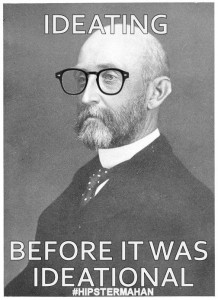 Perhaps Mr.Lind is disappointed in our lack of engagement with Mahan, in which case I would direct him to LCDR Benjamin Armstrong's book, "21st Century Mahan." Perhaps Clauswitz is our flaw? The Army and Air Force officers writing at "The Bridge" would likely demolish THAT center of gravity, if the snarky Doctrine Man doesn't get there first. Perhaps we have not learned the importance of innovation from history! The military's 3-D printing labs located around the country would likely raise their eyebrows in bemusement.
A Cleveland native myself, I understand how far Hampton Rhodes is from Mr.Lind's home on the Northern Shore. However, anyone like Mr.Lind who doubts the military, officer or enlisted, is interested in tackling the issues should make every attempt to visit the June Defense Entrepreneurs Forum (DEFx) Conference in Norfolk. From flag officers to those who paint the flagstaff, the gamut of our service will be on location, out of uniform, debating our technical and institutional challenges in an unofficial and free forum. He may even meet some members of the CNO's Rapid Innovation Cell (CRIC). If Norfolk is a bridge to far, I'd encourage the doubters to sign up for membership at the Center for International Maritime Security. We have weekly meetings in DC where we talk about everything from Professional Military Education to drone operations.
The military is by no means perfect, but such imperfection is what drives the debate that both officers and enlisted are engaging in on a daily basis. Mr.Lind suggests interesting structural reform to better cultivate leadership in our officers. However he cites the need for such reforms based on a decrepit caricature of an officer corps the US Military is not saddled with. If one hasn't, as a USNI author once told me, "done one's homework," ideas fall flat. There IS a debate happening in America's Officer Corps, an educational and engaging one. We're not too hard to find if you look.
For the 150th anniversary of the U.S. Naval Academy, the Naval Institute's Proceedings compiled memories of midshipmen who went on to prominence later in their lives. The following is from Captain Edward L. "Ned" Beach Jr., who recalled Orson Welles' 1938 (75 years ago today) radio broadcast of "The War of the Worlds." Though he remembers it to have happened on "Halloween night," it actually took place the night before. The Naval Institute's headquarters in Annapolis, Beach Hall, is named after Ned and his father, Captain Edward L. Beach Sr. Murray Frazee, the midshipman who tipped Ned off about the "invasion," went on to become the Executive Officer of the USS Tang in World War II under Richard H. O'Kane.
—Fred Schultz, Managing Editor, Proceedings
Hat tip Claude Berube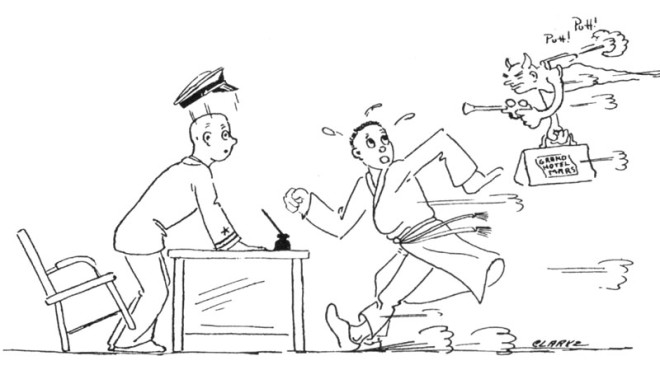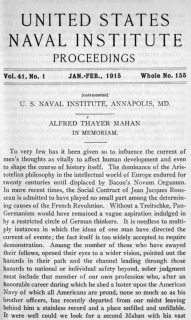 To very few has it been given so to influence the current of men's thoughts as vitally to affect human development and even to shape the course of history itself. The dominance of the Aristotelian philosophy in the intellectual world of Europe endured for twenty centuries until .displaced by Bacon's Novum Organum. In more recent times, the Social Contract of Jean Jacques Rousseau is admitted to have played no small part among the determining causes of the French Revolution. Without a Treitschke, Pan-Germanism would have remained a vague aspiration indulged in by a restricted circle of German thinkers. It is needless to multiply instances in which the ideas of one man have directed the current of events; the fact itself is too widely accepted to require demonstration. Among the number of those who have swayed their fellows, opened their eyes to a wider vision, pointed out the hazards in their path and the channel leading through those hazards to national or individual safety beyond, sober judgment must include that member of our own profession who, after an honorable career during which he shed a luster upon the American Navy of which all Americans are proud, none so much so as his brother officers, has recently departed from our midst leaving behind him a stainless record and a place unfilled and unfillable. It were well could we look for a second Mahan with his vast knowledge and accurate logic, but candor forbids us to expect. We are only permitted to hope-and in how many doubts that hope is shrouded-that as time goes on another may arise endowed with like passion for truth, like ability and the like gift of making clear and obvious what all have gazed upon without seeing.
Three natures were combined in this exceptional personality. First of all was the Christian gentleman, devout and earnest, giving daily, practical, outward expression to an inward conviction at once sincere and fundamental. His belief in Christ's mission and in the world to come as revealed in Holy Writ was without shadow or question. Things earthly and material might not be what they seemed. Errare est humanum. Even so well poised a mind as his might be mistaken in its findings, but no possible chance of going astray existed or could exist in complete reliance on the promises of his Lord and Master to all those who truly follow Him. And follow Him Mahan did loyally throughout his years from youth to age. His abiding sense of duty, the keynote of his character, forbade a merely perfunctory compliance with ecclesiastical requirements and forced him to take active part in the management of the religious communities to which, from time to time and in various places, he belonged and to represent them at annual conventions of the Protestant Episcopal Church. For many years he was connected with its Board of Missions and with the Church Institute for Seamen. During a shorter period he was a member of the Church Institute and of the Church Mission for Help. All his charitable interests lay in the church through which alone, to the extent of his means, he sought to aid his fellow men. This devotion to his church was the manifestation of a faith which controlled every thought and every act of his life. All his serious undertakings, all his important letters even, were preceded by an appeal for Divine guidance. It is impossible to understand Mahan unless this mental attitude is recognized in its full power. Those ignorant of this side of his character may read his little book, "The Harvest Within," and in the reading find profit to their own souls.
While I certainly sympathize with the thrust of John Kuehn's title in his energetic article about the situation in Afghanistan, I'd like to offer a somewhat different perspective from my position as the Supreme Allied Commander for all NATO operations, including the 140,000, 50-nation coalition in Afghanistan.
First, I want to agree with John's laudatory comments about our NATO / ISAF Commander in Afghanistan, my Naval Academy classmate and close friend General John Allen; as well as the commander of NATO's Training Mission – Afghanistan, Lieutenant General Dan Bolger. Both are doing superb work in truly demanding assignments.
In terms of the Soviet experience in Afghanistan, while there are some similarities, the differences are far greater, and far more encouraging than the situation back in 1989.
In comparison to the Soviet Union, the ISAF coalition has devoted great resources to human capital and infrastructure development, and we have devoted significantly greater troop numbers for kinetic operations; and we already are well underway with a responsible and managed turnover of security responsibilities to Afghan National Security Forces. Most importantly, the international community's commitment to Afghanistan after the majority of ISAF forces are withdrawn from Afghanistan in 2014 is real and tangible: detailed planning is in progress now in NATO.