Archive for the 'process' Tag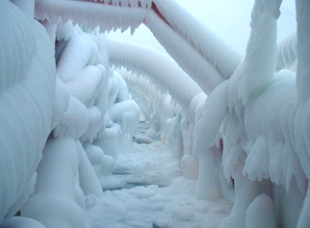 Without revolution and revolutionaries it is hard to significantly change large, hidebound institutions. It takes crisis, preferably one of the existential variety, to overcome the vested interest, power, influence nodes, and just plain habits that have been in place so long they have become part of the landscape everyone works around. With time, they grow as they collect accretions in a self-justifying cycle of mutual reinforcement.
In Wednesday's post, RADM Bruner, USN frames his discussion around Col. Boyd's OODA Loop concept. No reason to dive in there, the Cult of Boyd is well established and I have nothing to add to the canon, but it is what is inside the frame that I find of interest.
Inside that frame, Bruner brought his ship alongside that well established enemy of all that is good and holy, our self-defeating bureaucracy;
Technology, particularly use of information technology systems (including the internet), has moved so quickly the past few decades that our enemies can design, steal or borrow new ideas for weapons or equipment, share information and quickly move out well in advance of our ability to counter those ideas. Yet we remain mired in the same processes used to design, build, budget and produce those items our military needs, more or less unchanged, since the 1960s.
The reason it still exists is that changing it has not been a priority of civilian and uniformed leadership in the Pentagon and leadership of both parties on The Hill.
Why? Well to ask that question is to answer it. There are other priorities. For the last few decades we have rewarded and promoted those who are more interested in flash-in-the-pan concepts such as the Cult of Transformationalism, trying to garner political favors through focusing on socio-political agendas unrelated and antithetical to a well-run military, or giving speeches in support of failed programs that read more like defense industry spokesmen vice customers of the defense industry.
Where has the effort gone to bringing the edifice and infrastructure of our defense establishment in to the 21st Century? We are spending all our capital on paint, wallpaper, WiFi, and scented candles while the heat is supplied by a coal-fired furnace and the "facilities" are chamber pots and outhouses.
… if we decide we need to produce a new, non-complex weapon, it takes a minimum of three or four years to actually deliver that weapon to the field.

We have begun to change – small but necessary steps, are being made. There is an Urgent Operational Needs process that allows the warfighter to quickly request a new capability, if the request meets certain policy criteria. A group of senior decision makers meets every two weeks to ensure urgent warfighter needs are being met as quickly as possible. They work together to push through the bureaucracy, even working outside the Department of Defense – with the Department of State and leadership on Capitol Hill. There have been successes. However, at the same time we make these small but important steps towards flexibility, we continue to struggle with new policy constraints or modifications to current requirements in existing systems.
Each year, those accretions grow. They only grow because they are allowed to. Why are they allowed to? Leadership and priorities.
We must build a process that results in capability fielded quickly … We need the ability to spend money on new efforts today … We need flexibility to change programs …
Those are all great aspirations, and everyone who has to do their best inside the existing systems would love to do that, but they can't. Why? It is because of the system they are forced to use. Who is forcing them to use it? The leadership of the Executive and Legislative Branches of government.
We have to tighten our own OODA Loop to decide and act far more quickly so that the enemy can't get inside it, cannot work around it – or use our own process against us. Bottom line – we must change.
We have identified the "what" and outlined the "so what." That leaves the "what next."
Hate to say it, but we (those O-9 and below) must stoically wait.
During the English Civil War, in order to win, Parliament had to throw away all the English knew about how to man, train, and equip and army. From equipment to personnel policy, they stripped away everything that was not related to merit and performance on the field – they created the New Model Army.
That New Model Army could not have been created anywhere but during crisis and a break from the ruling establishment's habits and privileges concerning the military. Sadly, absent some exceptional Executive Branch assignments, radical uniformed promotions from same, and the right leaders in the Legislative Branch of our government, the ossified accretions that are our system will not change.
Maybe we will get lucky and will change while at peace. With luck and the right people, maybe.
Change will have to start at the top. The first block will be something to replace Goldwater-Nichols. When that moves, more can follow – so watch that space. When that moves, the momentum will exist for other large-pixel reforms such as acquisition reform.
With all the vested business and political interest, it will be a rough and bloody battle that will leave in its wake a detritus of expended personnel and political capital, and more than one or two careers on the butcher bill. Worth the price; but the time is not ripe for that battle – there are no leaders, no plan, and as of yet, no massing of force to tilt against the Iron Triangle.
Until then? All we can do is what Bruner recommends, with little hammers tapping away at places we can access to make,
… small and necessary steps …
The big battles must wait.
Think, plan, prepare, ponder; and watch the horizon for sails.
Twelve pages into Samuel Eliot Morison's The Two-Ocean War and I've already found myself setting the work aside and getting lost in thought regarding the stark similarities between the interwar Navy of 1917-'41 and the Navy I serve in today. I feel compelled to quote from it at some length. The Author received a letter from VADM Deyo while he was still writing the work.
The surface Navy, despite lack of funds from Congress or interest by its civilian heads, produced a reasonable semblance of a balanced fleet and operated effectively as one in its training. The spur of officer selection and ship competition was most noticeable. But gradually the means became the end. Thus, while everyone worked hard, we began going in circles. The Fleet became more and more tied to bases, operating out of Long Beach–San Diego on a tight fuel budget, chained to the increasingly artificial, detailed mandates of the Office of Fleet Training whose word was law. The pencil became sharper than the sword, everyone tried to beat the target practice rules and too many forgot there was a war getting closer. There was a waiting line for top commands, and tenure of office was so short–often only a year or less–that high commanders came and went, leaving little impression. Paper work wrapped its deadly tentacles around cabin and wardroom. Smart ship handling, smart crews, eager initiative received little attention, as did the reverse. Glaring defects in guns, ammunition, torpedoes, battle tactics, went unnoticed for so long as the competition rules made due allowances and gave everyone similar conditions.
The Competition the Admiral is speaking of is the Battle Efficiency Competition instituted by President T. Roosevelt in 1902 as a solution for the Navy's poor gunnery in the Spanish-American War. The competition worked Morison says, for the first seven years. After which time however, the competition became institutionalized and the effort became more about the process itself than it was about increasing our efficiency in battle.
Looking at where we are today, we find ourselves in a very similar situation. The Commands charged with the training of the Fleet have changed, the methods by which we choose to train have changed. But, the same basic problem with 'process worship' or 'churn' exists today.
One issue that seems to be a constant undercurrent is the amount of time, resources, focus and energy we spent on establishing, refining, and participating in various processes instead of on the actual output of the process. This worship of process over product ("churn") results in people going through the motions, with little to no understanding of its original purpose, resulting in very little output.
Admiral Harvey said that at his place last April. The solution to churn in '35 was that CNO Admiral Standley ended the battle efficiency competition and had his Fleet train in more realistic and less idealized conditions. What ADM Standley did was not exactly innovative, rather it was new for the time. I am sure that the salty old Chiefs at that time were telling their Sailors that 'this is how we used to train' or 'we're getting brilliant on the basics'. From what I have read, he didn't institute a replacement program–as large and complex as the original–for the Battle Efficiency Competition program. Rather, he just removed what was not necessary and counterproductive, adding only small substantive changes.
Any process over time will accumulate churn, or become bloated. We should assume this to be unavoidable and accept that we must eliminate major portions of programs and start anew with the same basic goal we had with the initial program, so that that this cycle can start over again, as those who've gone before us have had to do.