Archive for the 'PTSD' Tag
There is something very wrong going on at the very highest levels of our uniformed leadership, they are not standing up for the honor and reputation of their Sailors, Marines, and our other brothers and sisters in the profession of arms.
This failure goes beyond individual failure; it is a systemic failure negatively impacting everyone from the deckplates, to the Beltway, to the post-active duty unemployment line.
I remain perplexed by the supine masochism displayed over and over in the face of weak-at-best accusations made against the culture, morals, and character of our military in the last year. Though even a cursory examination easily shows either the inaccurate, skewed, or downright malicious warping of data concerning sexual assault, suicide, and PTSD in the military – our leaders have surrendered the field without returning a single shot; accepting the agenda and smears of those who are focused on one thing; bringing down the level of esteem our nation holds the military and veterans in.
This should not be a shock to anyone, we have seen this movie before – and people inside and outside the military have been warning this would happen – again.
We saw it after the Vietnam War like in no other period, and again in a very political form following the glow after DESERT STORM. With the counter-culture reeling from the shock of the military being held once again in high regard, it was no shock that the usual suspects made the most out of the bludgeon we gave them at Tailhook to go after the military culture root and branch.
From Hagel to the Hill in suit and tie, to the Service Chiefs on down in uniform; we have all heard the steady drum beat about a military that, as we look to the left and right of us, we simply do not see; a military full of barely stable combat veterans saddled with Post Traumatic Stress skulking in the shadows and/or sexually assaulting their Shipmates. As a reflection of the society it serves, of course those things are here … but why are they dominating the conversation and why are our leaders expending so much capital on it?
The PTS/PTSD hype & smear issue has a history worthy of a book (wait, that has already been done), and the sexual assault meme has been floating around in force since I was a LTJG … but what about now?
The last few days have seen two officers come forward; 2LT Dan Gomez, USA in TheGuardian and Capt. Lindsay L. Rodman, USMC in the WSJ. They are both pushing back against the drones of doom and smear, standing athwart the rising chorus and saying, "Stop."
First let's look at the good common sense from Gomez on PTSD, then we'll dive in to the real touchy issue; sexual assault.
The revelations of sexual assault and harassment are only the latest in what has been a steady stream of bad news for the military. After a decade of war, we've read over and over about PTSD and mental health stigma, suicide, unemployment and extremism within the ranks. Without question, as a military, we have issues that we need to address.

But the things that I read about on a daily basis – all of these problems – while present and important, do not reflect the reality of what I see and experience as a soldier. In other words, this is not my army.

Yes, we're growing and learning as an organization. We've been at war for over a decade, and are adapting to a rapidly changing world. America's expectations of who we are and who we should be are also changing, and with that, problems are bubbling up to the surface that have been long ignored – and we are addressing them. But this fractured force that I read about full of misfits and miscreants is not my army.

The army I serve in is composed of brave men and women who joined the force during a time of war, fully knowing they will likely be placed in harm's way. They've seen the veterans coming home with missing limbs and those who struggle to transition back to civilian life – and they still choose to sign the line. These are men and women who are unafraid to be patriotic at a time when doing so often seems out of fashion, and even looked down upon. They live the Army Values, and are just as shocked to learn about the scale of the problems we're facing as a force – and as a nation – as the rest of America. And we want to get better. This is not a group of broken and sorry soldiers, fumbling along and victimized.

The army I serve in shows up every day and works, focusing on daily drills with a watchful eye on global hotspots, listening to the talking heads nonchalantly discuss "boots on the ground", waiting for the call to be whisked away again to some far off place. Talk of an "Asia Pivot" or a return to a "garrison army" falls on deaf ears to the family saying tearful goodbyes to their loved one at an airfield, or to the soldier heading to Helmand province for a year. This is not to make light of the difficult problems we must face and fix, but it's important to recognize that we here on the ground see the work being done to fix them.
Amen.
For some reason, the exception has become the rule; the footnote the lead story. This is not right, and this is not what we see on a day to day basis – at sea and ashore. We see the real Navy and Marine Corps – just as Gomez sees the real Army. The issue for me is this; why aren't we standing up more for our culture, our Shipmates – and push back against the attentions seekers, sympathy trolls, and those who want to make the hero a victim? We have let this story, again, get upside down. We are forgetting what we let happen to the Vietnam generation. We should not let that happen again.
BZ to Dan Gomez, and now let's shift fire to someone who everyone owes a solid professional nod to; Capt. Rodman. A Marine JAG who attacks a problem as only a Marine can – clear, direct, fundamentally sound, and fact based.
As with Dan, you need to read it all … but she eviscerates those who are using bad science to attack the military for their own agendas … something we've seen before. Something we know better than to let go unchallenged. When all others cower in fear, it does seem that there is always a Marine who is willing to step forward and do the right thing.
Here are the core bits that leave you knowing one thing that we really already knew; the numbers being used to make the American public think the military is full of sexual predators are garbage.
In the days since the Defense Department's May 7 release of its 2012 Annual Report on Sexual Assault in the Military, the media and lawmakers have been abuzz. The report's estimate that last year 26,000 service members experienced unwanted sexual contact prompted many to conclude, incorrectly, that this reliably estimated the number of victims of sexual assault.

The 2012 estimate was also significantly higher than the last estimate, causing some to proclaim a growing "epidemic" of sexual assault in the military. The truth is that the 26,000 figure is such bad math-derived from an unscientific sample set and extrapolated military-wide-that no conclusions can be drawn from it.
…
The term "sexual assault" was not used in the WGRA survey. Instead, the survey refers to "unwanted sexual contact," which includes touching the buttocks and attempted touching.
…
It is disheartening to me, as a female officer in the Marine Corps and a judge advocate devoted to the professional practice of law in the military, to see Defense Department leaders and members of Congress deal with this emotionally charged issue without the benefit of solid, verifiable data. The 26,000 estimate is based on the 2012 Workplace and Gender Relations Survey of Active Duty Military. The WGRA survey was fielded throughout all branches of the military in September and November 2012. As the report indicates, "Completed surveys were received from 22,792 eligible respondents," while "the total sample consisted of 108,478 individuals." In other words, one in five of the active-duty military personnel to whom the survey was sent responded.

I am one of those who responded to the survey after receiving an email with an online link. None of the males in my office received the email, though nearly every other female did. We have no way of knowing the exact number of male or female respondents to the 2012 WGRA survey because that information wasn't released.
…
Though the 2012 survey does not specify the gender composition of its respondents, the 2010 respondents were 42% female (10,029 women and 14,000 men).

Nevertheless, to achieve the 26,000 military-wide estimate in 2012 (and 19,000 in 2010) over half of the victims must have been male. Of course, male victims do exist, but empirically males do not constitute anywhere near the majority of victims of unwanted sexual contact-no less sexual assault. Here is what we do know: The actual number of reported sexual assaults in the military in 2012 was 3,374, up from 3,192 in 2011. These figures include reports by civilians against service members. Of the 3,374 total cases reported last year, only 12%-14% were reported by men. We also don't know how actual sexual-assault rates in the military compare with civilian society.
…
Each and every sexual assault is tragic and infuriating. But given the military's recent emphasis on awareness of the problem and insistence that victims come forward, it's no surprise that this number has gone up.
Here is a back-story in how our silence is hurting us; we are not recruiting good people because of our decision to let lies stand.
I often talk to young men and women interested in joining the military, and I find that women especially seek me out to gain the perspective of a female officer. In the past year or so, these potential female recruits have grown increasingly wary, asking many follow-up questions about whether women are treated fairly and respectfully. I tell them that serving in the military doesn't turn a woman into a victim. I am a proud Marine, surrounded by outstanding military personnel from every service who take this problem seriously, male and female alike.
If you want quality men and women to join the military – don't let them think they are joining an organization hobbled with sexual assault. It isn't.
If you really want to help those veterans returning to the civilian world – you need to help push back against the twin smears of broken-vessels and sexual-predators. It wasn't and isn't our military; don't let lesser mortals try to make it seem so.
PTS/PTSD and sexual assault are real, but especially with sexual assault, if you want to let people know your are serious about addressing the issue – and not off reacting to agendas – then you have to use serious numbers and research. Research and studies that can survive the follow-on question from statisticians and a Company Grade JAGs, for starters.
May many more follow Gomez and Rodman's example. Demand that the military at least show you the respect you deserve by treating you as an adult – and not judging you from bad studies.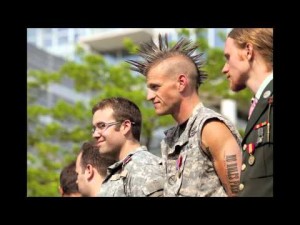 It's ok. It's not just you. You're not alone.
No, I not writing words of encouragement to veterans suffering with PTSD; though they are out there and probably need it. No, I am not writing to veterans who are suicidal; though they are out there and probably need it. No, I am writing to those who are sick of the drumbeat of articles, news stories, or listening to the empathy addict down the street that just won't shut up about how much she cares and only wants to hear things that validate her preconceived notions.
If you are irritated, skeptical, and suspicious of the whole chattering – you're in good company, and history and facts are on your side. Ignore the compassion trolls, it is ok to push back. We are not broken vessels, and those who maliciously imply that we are such things are no better than those who would spit in your face, as their goals are the same – to degrade your status as a equal.
A starting point for any post on this topic has to be B.G. Burkett's book, Stolen Valor : How the Vietnam Generation Was Robbed of Its Heroes and Its History
. There was a pattern set after the Vietnam War that tried to paint veterans as broken vessels. If you have not read Stolen Valor, then go order your copy now. What was done then is being done now – it even looks the same.
Almost a decade ago, a lot of people heard the first few beats of what is now steady and loud. From the murder of Chief Kyle to the kidnapping of children, to the poseurs written about in the homeless articles in your local papers, it is there.
It comes from two sources; one honorable and one malicious. The honorable sources are those who want to help those who serve or have served, but don't know how to. They tend to look for things to be saved, victims to be helped – and using a legitimate case or two of veterans who have transition challenges as a template, start to see all veterans in that template. There are also those who know someone who has real PTSD or has suicidal thought, and then applies the classic logic error of applying the specific to the general (I saw a duck with a green head today; therefor all ducks have green heads). They are well meaning and should be respected for wanting to help, but if they go too far, their compassion can be counterproductive by feeding the other half of the problem; the anti-military malicious.
We all know the type; the only time they have any respect for those in the military is when they can use them to attack the nation and military they were part of. They also are resentful of the respect those in the military are given in civic culture, and want to do whatever they can to bring that respect down; to marginalize the veteran.
If the veteran is a victim; he is to be pitied. If he is to be pitied, then he must be helped by his betters. If he has to be helped by his betters to function in society, then he is not an equally contributing member of society. If he is not an equally contributing member of society, he can be marginalized. If he can be marginalized, he can be dismissed and his input ignored. If he can be marginalized politically and his contribution to public discourse ignored, then he cannot compete in the marketplace of ideas and influence. If he cannot compete, then he has no power.
That attitude manifests itself in strange places now and then. MSNBC talking head Chris Mathews is a case in point. Reflecting on Sen. McCain's (R-AZ) aggressive questioning of Chuck Hagel last week, Matthews reflected on McCain's performance of his Constitutional duties thus;
"Let me start tonight with this — why is John McCain so angry?" Matthews said. "Forty years after the Vietnam POWs came home, the most famous of them is angrier than ever. Why is America — why are we fighting the Vietnam War all over again in the United States Senate? The ticked-off vitriol against Chuck Hagel, what is it about? Is it for show? Is it about something Hagel said in the cloakroom?"

"Is it about the basic unfairness of Vietnam itself, that some went and some didn't?" he continued. "Is it about Lyndon Johnson's inability to either win that war or end it? What is it that burns so deeply in John McCain these days?"

"Well, tonight, we dig into the deep well of resentment burning in John McCain's patriotic heart — a resentment not against the North Vietnamese who imprisoned and tortured him all those years, not against George W. Bush and his political henchmen who tried to stain McCain's reputation back in 2000 — but against a guy who fought against fear and rallied against wounds, just like he did in the same army of America's long nightmare in Vietnam, Chuck Hagel. A nightmare, by the way, whose flashbacks must haunt still the mind and heart of John Sidney McCain. … I'm absolutely convinced we're watching a flashback."
Quod erat demonstrandum. If they will do that to a Senator and once Presidential candidate – what message does that send to other veterans?
Like I mentioned earlier, a book has been written on the topic, so let me just pick one little vibe out of the zeitgeist; veterans suicides. Just googlesearch it; you'll get the idea.
In a great, fact-based reply, let's go to Greg Jaffe's superb article in the Washington Post. He wanders in to a few fever-swamps of the zeitgeist, but is otherwise a solid article if you read closely and critically.
Every day about 22 veterans in the United States kill themselves, a rate that is about 20 percent higher than the Department of Veterans Affairs' 2007 estimate, according to a two-year study by a VA researcher.

The VA study indicates that more than two-thirds of the veterans who commit suicide are 50 or older, suggesting that the increase in veterans' suicides is not primarily driven by those returning from the wars in Iraq and Afghanistan.
Has the war fought as of late been one fought by residents of The Villages? No.
"There is a perception that we have a veterans' suicide epidemic on our hands. I don't think that is true," said Robert Bossarte, an epidemiologist with the VA who did the study. "The rate is going up in the country, and veterans are a part of it." The number of suicides overall in the United States increased by nearly 11 percent between 2007 and 2010, the study says.

As a result, the percentage of veterans who die by suicide has decreased slightly since 1999, even though the total number of veterans who kill themselves has gone up, the study says.
Statistics are tough; the truth is in the details. See if you catch it.
The veterans' suicide rate is about three times the overall national rate, but about the same percentage of male veterans in their 50s kill themselves as do non-veteran men of that age, according to the VA data.
Ok. Females make up ~15% of the military, and for those involved in combat, then males are well in to the 90%. American males kill themselves at a rate four-times that of females. The military heavily skews male. Starting to see where their story starts to get wobbly?
Sooooo….. anyone who has made even a blogger-in-PJs effort will soon see that you cannot compare veterans suicide rates to that of the general population unless you want to skew the numbers for effect.
Are we also controlling for age, race, socio-economic background, etc … all highly significant factors in suicide? No, of course not. That would get in the way of a good story and/or the non-profit that pays a hefty six-figure salary.
In many cases you have read, you have either lazy journalism, advocacy journalism, or the deliberate contribution to the smearing of veterans – something that has been a regular feature for the last 40 years.
Yes, the compassion trolls will get grumpy at you, and the compassion addicts will think you are a cold and heartless sociopath (she will probably whisper to others that your behavior is just a manifestation of your own PTSD), but they are not the problem – only useful idiots to those who are the problem and deserve your push back – the smear merchants.
Is there a problem with PTSD and veteran suicide? Sure there is – but this constant picking at a sensitive spot until you make it worse does not help fix anything. At worst, it plants seeds of ideas in to the nogg'n of the vulnerable who may act. At the least harmful it impacts the ability of veterans to get civilian jobs when they get out. After all, who wants to hire a bunch of traumatized, suicidal, time bombs? Yea, that is a topic for another day.
Until then, let's see serious studies done by serious statisticians – a study that publishes all the data and variables with the regression analysis. Age, sex, race, ethnicity, regional origin, education level, combat exposure … all those and more.
While we wait for that – buy or re-read Stolen Valor – and push back some. It's not just you
Today marks the 37th anniversary of the homecoming of our POWs from Vietnam — still the longest-held group of POWs in our nation's history. No other POWs from any other conflict have been held as long as these 600+ men were. Surprisingly, despite their unprecedented ordeal, only four percent of them have experienced long-term Post-Traumatic Stress Disorder, or PTSD, according to a study conducted by the Mitchell Center for POW Studies in Pensacola, Florida, and the Pennsylvania State University Population Research Institute. By comparison, the general Vietnam veteran population experienced a rate of PTSD of more than 30 percent. Why is that? Despite being held in isolation for months or years at a time, despite being physically tortured on a regular basis, despite not knowing when they would be released — if ever, these men returned home mostly intact physically and psychologically.
It is instructive to note that the POWs' average age was over 30, much older than the average soldier serving in Vietnam. They were also more educated and more specially trained. These factors do not predetermine mental health, but age and maturity can provide better mental "shock absorbers" against life's traumas. In addition, this group of men was given an unusual amount of attention upon returning from Vietnam. Most of the soldiers, sailors and Marines returning from Vietnam did not receive homecoming parades, keys to their hometown cities or a White House dinner in their honor. But the POWs did. Many of them were thrust into the spotlight and became their hometown heroes. This undoubtedly aided their healing process. However, after the parades and parties were over, these men returned to relatively "normal" and private lives — as fathers, sons, husbands, neighbors and co-workers…not unlike the soldiers, sailors and Marines who are coming home from Afghanistan and Iraq today. How will these returning servicemen and women fare physically and emotionally over the next few decades? The experience of these POWs and their long-term health may be a helpful indicator and could be a source of advice for those responsible for the long-term care of our recently returned warriors.
According to a number of studies, the human body is amazingly resilient and copes well with trauma — both physical and emotional. In a November 2004 New Yorker article, best-selling author and cutlure watcher Malcolm Gladwell analyzed the survivors of World War II combat trauma and compared them to the victims of childhood sexual abuse (CSA) and to those who had recently lost a spouse or a child. He found that the majority of victims of severe trauma like that experienced in bloody combat, the betrayal of CSA or the loss of an immediate family member usually get on with their lives and do not experience long-term negative effects of PTSD.
Tom Collins, a former Air Force pilot who was held as a POW in North Vietnam for more than seven years, has also survived the untimely loss of a child. A medical doctor, his son died of hepatitis contracted at work at the age of 34. Asked which was harder to endure — the loss of his son or the POW experience, both Tom and his wife Donnie say the loss of their son was the hardest experience of their lives. But these multiple hardships have not destroyed them or their marriage. They seem to enjoy retirement, their grandchildren and each other.
Gladwell summarizes human coping mechanisms in this way: "By far the most common response [to trauma] was resilience: the majority of those who had just suffered from one of the most painful experiences of their lives never lapsed into serious depression, experienced a relatively brief period of grief symptoms, and soon returned to normal functioning. These people were not necessarily the hardiest or the healthiest. They just managed, by one means or another, to muddle through."
Indeed, there is a phenomenon called "post-traumatic growth" that psychological experts are only recently recognizing and defining. This is a condition where victims of trauma actually experience a type of psychological enhancement as a result of the experience. While hard to articulate and rationalize — given the plethora of research on the devastating effects of PTSD, post-traumatic growth is evident in anecdotes cited by combat veterans from many wars, including our current conflict. In a Washington Post article from November of 2005, staff writer Michael Ruane reported on this trend: "Eighteen months after [Hilbert] Caesar's right leg was mangled by a roadside bomb near Baghdad, and after weeks of coming to terms with what he thought was the end of his life, the former Army staff sergeant believes he has emerged a richer person — wiser, more compassionate and more appreciative of life. Asked whether he would endure it all again, he replied, 'The guys I served with were awesome guys….I would go through it again — for the guys that I served with. Yes. Absolutely. I wouldn't change it for the world.'"
This sentiment is echoed repeatedly by the Vietnam POWs. They experienced a different type of trauma. After their violent shoot-downs during aerial attacks over North Vietnam, these men — most of whom were combat aviators — were largely shielded from field combat, as they were isolated in a decripit prison in downtown Hanoi. However, the uncertainty of when they would next be tortured and when they would be released — if ever — brought its own psychological horrors.
Most of them say they would not like to repeat the experience. But would they trade the experience? No. The same Washington Post article cited a 1980 study of the Vietnam POWs, indicating that 61 percent of those surveyed "believed their experience was ultimately beneficial. Tom McNish, a former Air Force pilot who was a prisoner in North Vietnam for six years, said, 'There is no question in my mind that the experience I had in Vietnam has had an overall very positive effect on my life. But I don't recommend it for anybody else. And I don't want to have to do it again.'"
So, what does this teach us? Given time, good physical and mental health care, and continued appreciation for their service and sacrifice, most of our returning veterans will not just survive, but they will thrive. This generation of veterans is only beginning to show us their mettle. We need only look at the generations before us for examples.
To read more about how the Vietnam POWs rebuilt their lives after those prison doors opened and more accounts of their resiliency, go to www.opendoorsbook.com.