Archive for the 'Russian Navy' Tag
What should be on every navalist's "Top-5" list for 2015 should be the re-awakening of the Russian Navy to the international stage.
It has been building for awhile, but it took Syria to have it break above the ambient noise for many.
Some of the best writing has been of the curious and interested variety with a raised eyebrow or two, but unfortunately, some in the general press has been a bit alarmist. Though I don't blame him for the title, David Axe's article at the DailyBeast, U.S. Fears Grow of a 'Newly Awakened' Russian Navy, is a more benign example of the type;
A new report from the U.S. Navy's intelligence branch paints a sobering picture of Putin's increasingly aggressive fleet—and its deadly international shows of force.

For the first time in 24 years, the U.S. Navy's intelligence branch has published an unclassified report warning against a rapidly rearming and increasingly aggressive Russian fleet.

And while the report—which the Navy intends for public consumption—has been years in the making, recent events have underscored just how serious its findings are. It's becoming clearer by the day that, with the strong backing of President Vladimir Putin, the Russian navy is making a serious effort to challenge the world's preeminent maritime power—the United States.
David makes some good use of folks from the USNI cadre, Norman Polmar and David Wertheim, and the tone of the article is mostly calm – but the choice of the headline is important.
Though much of us in the national security chattering class have always kept an eye on Russia, a large segment has not. They have been focused on the Long War and not much else besides a glance across the Pacific. For them, a returning Russia to the international stage in force has upset their table and is messing with their preconceived notions of what this century should be about.
No reason, at least from the maritime side of the house, to "fear." Be curious, be watchful, but really nothing to fear. One thing we should do is to continue to watch, write, and discuss where Russia is going. By doing so, the conversation will keep people informed.
Mostly, people only fear the unknown. That is where we come in – let's study and write about Russia more. Some of us miss her anyway, and who knows – maybe she can give us some ideas we can use to improve our own navy.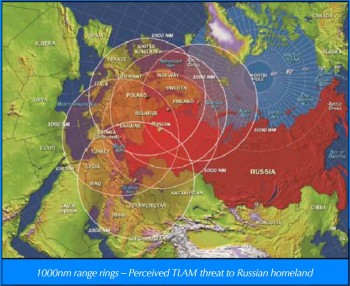 After the Russian moves in to the Crimea, there was a fair bit of goofing at the old Russia hands in the Pentagon who were excited after years of being ignored, shuffling around the halls waving dusty Harvard Graphics slides to anyone they met – but that cute phase is long past.
Almost everyone appreciates that, while not the Soviet Union, the Russian bear still demands respect. Encouraged by their victory over the USA in the strategic direction in Syria – expect Russia to continue to push the envelope of their regional influence back to her traditional boundaries.
In line with that, everyone should keep up to speed with the latest Russian naval developments. With both domestic use and sales on the international marketplace, our Sailors of the middle of the 21st Century will have to know Russian hardware as well as their fathers knew Soviet Hardware at the end of the 20th.
You can go ahead and put on your Christmas vacation reading list the latest from ONI, The Russian Navy: A Historic Transition. You can download at the link or read below … but this is an excellently digestible UNCLASS primer.
Just a few pull quotes:
The new technologically advanced Russian Navy, increasingly armed with the KALIBR family of weapons, will be able to more capably defend the maritime approaches to the Russian Federation and exert significant influence in adjacent seas. This multi-purpose force will be the forward-layered defense of Russia and its maritime exclusive economic zone and will be able to promote Russian diplomatic interests, advance maritime science, combat piracy, and provide humanitarian assistance.

It will also provide a flexible platform for Russia to demonstrate offensive capability, threaten neighbors, project power regionally, and advance President Putin's stated goal of returning Russia to clear great power status.
They have a mission as we do. They also have catch-up to play, and some grievances to work on. They are not Western, nor Eastern – they are Russian.
Part of being Russian, they like to follow their plans – if they have the resources to do so. As their capabilities and resources grow, where will they go and what will they do? Well, they will tell you.
The Navy's peacetime missions are:
• Deter. Maintain strategic nuclear deterrent forces—strategic nuclear-powered ballistic missile submarines (SSBNs)—in permanent ready status, able to deliver a timely retaliatory strike or deploy in times of growing tension to deter an attack against Russia.
• Defend. Maintain and deploy constant ready general-purpose naval forces to protect and defend Russia's national interests both in adjacent seas as well as in more distant waters.
• Demonstrate. Use the select deployment of general-purpose forces as an "instrument of state" to support Russian foreign policy.

In times of increased tension and war, the Navy's priority missions are:
• Protect. Protect the sea-based strategic deterrent force.
• Interdict. Interdict or blunt an aero-space attack against Russia from the maritime directions.
Note their ease of discussing nuclear weapons. Don't discount it, not a bit.
Again, read it all – especially the end of it. A lot of the old Soviet Navy gear will begin to fade year by year, and the newer stuff will take its place. Some of which we have seen in use in Syria. It will give the Russians not just a new look, but new capabilities and a new mindset.
Oh, and the pic above, there is another one for PACFLT in the report. I like the above though as it gives a nice insight in to what the Russians see as "their" naval zone of influence. What we think of the Caribbean and the waters between Guam and San Francisco? Yep, perhaps what these waters mean to the Russians.
Ponder, then ponder some more next time someone starts to speak of no fly zones, maritime exclusion zones and all that.
Russia Pub 2015 ONI by CDR Salamander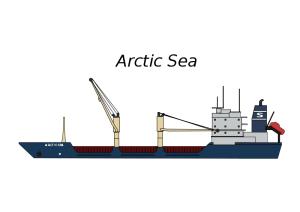 Just when you thought that the ARCTIC SEA piracy story couldn't get any weirder, comes news via Fairplay of an arrest warrent being issued in the case, for the former head of Estonian Intelligence:
The decision to put out an international warrant over the hijacking of the timber carrier Arctic Sea in August 2009 stemmed from Erik Niyles Kross's refusal to answer a Russian summons for questioning in December.

Kross, former head of Estonian intelligence, has been charged with planning and directing the month-long pirate takeover.

Arctic Sea had been under way off Sweden's Baltic coast when nine Russian and Latvian men took the vessel. They were convicted of piracy in Moscow and Arkhangelsk and given stiff prison terms – after reportedly naming Kross as the mastermind.

Estonia's government has said that Russian prosecutors are welcome to interrogate Kross in Talinn. The 4,706dwt ship later found and taken back by the Russian Navy off Cape Verde. – Fairplay
Just why would the former head of Estonian Intelligence want to hijack a ship full of timber? Maybe he's crazy? Given his involvement, maybe there is something to the rumors that the ship was carrying something much more interesting than just timber. I can understand Mr. Kross's refusal to travel to Russia for questioning. However, he can't be feeling much safer sitting in nearby Estonia. I suspect the level of danger he is in depends on what he knows and how embarrassing it is to the Russian Government.
One question I would like answered is just where the 'hijackers' were planning to take the ship. They did not appear to be taking the vessel anyplace when the Russians arrived. Apparently, thanks to Russian threats, the crew is still not talking.
Surely this is not the final chapter.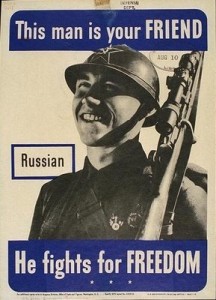 Russia is a riddle wrapped in a mystery inside an enigma.
– Winston Churchill
That is one of the things that makes Russia a great topic.
Join fellow USNI Blogg'r EagleOne and me, Sunday 13 FEB from 5-6pm EST as we discuss Russia for the full hour with our guest, Dr. Dmitry Gorenburg, Senior Analyst at CNA, an Associate at Harvard's Davis Center for Russian and Eurasian Studies, and author of the book Minority Ethnic Mobilization in the Russian Federation
If an hour isn't enough, you can follow his lastest thoughts on Russian Military Reform at his blog or review his list of publications here – but make sure and block out time to join us live as we cover where Russia stands in the 21st Century and how its domestic politics, demographics, the rise of China, and the evolution of its relationships with its near abroad will challenge this important nation.
If you can join us live, pile in with the usual suspects in the chat room during the show where you can offer your own questions and observations to our guests. If you miss the show or want to catch up on the shows you missed – you can always reach the archives at blogtalkradio – or set yourself to get the podcast on iTunes.
The Russian Navy Blog recently translated and posted a Russian after-action report. The most interesting aspect of this report is that it spells out the differences between the way the Frence and Russians operate their vessels at sea with particular emphasis on quality (or lack) of life issues. These differences might be well known to many of you, but it is nice to see what the Russians themselves think.
I ran across an interesting document, an after action report detailing "living conditions on board ships of the Russian Navy, observations by officers in the French Navy during joint Russian-French exercises and a port visit to Brest, France by ships of the Northern Fleet" dated 28 October 2004. There are a lot of interesting observations here, which can be summarized thusly:

They have hot water! Sh–, the French have water at all! The watch actually stands watch! Goddamn, we're dirty! Paint mixed with sand on the decks so people don't slip and break their necks? Mon dieu! Musters! Do we really need so many musters? And maybe our ships wouldn't be so dirty if we gave our guys stuff to clean with. Or if we let them shower more than once every two weeks!

Well, not quite, but pretty close.
Welcome to our very first Across the Water post of the Naval Institute Blog!
As Editor of the Naval Institute Guide to Combat Fleets of the World, I specialize in international navies. Thus starting today, and hopefully once a week from here on out, I'll be posting a couple of international naval news items that I (and hopefully you) find interesting and noteworthy. The purpose of these posts is to inform, discuss and most importantly, whet your appetite to get the discussions started.
Not just news …In this section of the blog, we'll also try and maintain focus on maritime photography, so each week I'll select, highlight and link to one photo from the U.S. Navy's foreign photo gallery. The great thing about this gallery is that the photos are all considered, "public information and may be distributed or copied unless otherwise specified." So feel free to click, save and use lawfully.
Have fun and be sure to write in. Thanks for reading and contributing!
From the United Kingdom:  "Royal Navy Admiral to lead EU anti piracy mission"
 An interesting article describing the European Union's "Operation ATALANTA," a major EU effort to counter piracy off the coast of Somalia. Let's hope it helps …
And from Russia this week: "Russian naval task force heads for Indian Ocean"
You can expect to see lots of Russian naval news here during the coming months. As Russia seeks to regain its global sea legs, the news should prove quite interesting.
 And finally, this week's International Navy photo is …The Japan Maritime Self-Defense Force submarine JS Mochishio (SS 600) underway in the Pacific Ocean at the culmination of ANNUALEX 2008. Taken last month by Mass Communication Specialist Seaman Brendan Morgan.