Archive for the 'SEALS' Tag
On Sept. 11, 2001 Michael P. Murphy was an ensign in Basic Underwater Demolition/SEAL training.
Michael Murphy, a graduate of Penn State University, who grew up in Patchogue, Long Island, New York, internalized and personalized what happened on 9/11, according to colleagues, mentors and writer Gary Williams, author of "SEAL of Honor: Operation Red Wings and the Life of Michael P. Murphy, USN."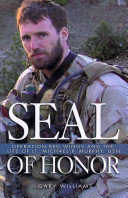 The book is on Adm. Greenert's bookshelf as an essential Warfighting First selection of the CNO Professional Reading Program.
Murphy led a SEAL team into Afghanistan in 2005 where he faced a profound ethical dilemma after capturing some civilian non-combatants. (His dilemma and moral decision is examined in detail in another book about Operation Red Wings, "Lone Survivor" by Marcus Luttrell.)
The team then endured a prolonged firefight against a larger Taliban force. At the end of the terrifying and deadly fight, Murphy faced a second, more personal moral choice. At great personal risk, he put himself directly in the path of enemy fire in order to call in help for his team.
In "SEAL of Honor" Williams introduces us to Murphy's family, shows in detail his training regimen as a Navy SEAL, describes the mission Murphy led in Afghanistan during Operation Red Wings, and shows the honors paid to Murphy and his family after he was killed. "SEAL of Honor" preserves history and offers a well-documented biography of an American hero.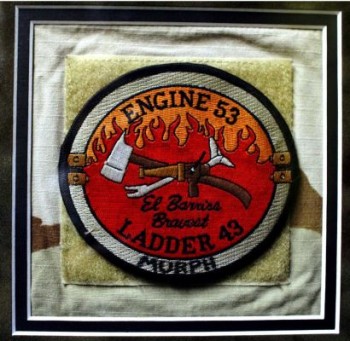 Murphy's bond with first responders from his home state is legendary. He had his unit wear the bright orange patch of FDNY Engine Co. 54, Ladder Co. 43 — "El Barrio's Bravest" — on their uniforms as a team symbol and constant reminder of 9/11 and why the SEALs were in Afghanistan, according to Williams.
Marcus Luttrell also refers to the patch several times in "Lone Survivor."
Like Williams's "SEAL of Honor," Luttrell's book is understandably an autobiographical account. Before describing Operation Red Wings, "Lone Survivor" explores Luttrell's upbringing in Texas, his SEAL training in San Diego and a mission in Iraq desperately searching in vain for weapons of mass destruction: "chasing shadows out there in that burning hot, sandy wilderness."
Luttrell's telling of the firefight with the Taliban in Operation Red Wings is gripping and graphic, but at the end of Luttrell's book the reader is left with a hunger to know more about the hero, leading protagonist Michael P. Murphy.
"Seal of Honor" shows us how Murphy's qualifications as a leader developed starting in early childhood. As a toddler, Michael's favorite book was Wally Piper's "The Little Engine that Could." He was a voracious reader at Canaan Elementary School.
According to Williams, Murphy's favorite book as an adult was "Gates of Fire" by Steven Pressfield, a historical fiction novel about the 480 B.C. Battle of Thermopylae, in which 300 brave Spartans protected their homeland and democracy from an invading Persian Army. Greek warrior culture is part of the SEAL tradition.
The never-give-up attitude, willingness to sacrifice for a cause and strong personal ethos all contribute to what makes a Navy SEAL, provided the individual can tough it through BUD/S training, described in detail by Williams.
"Despite the brutal training, Michael soon realized that almost anyone could meet the physical requirements of the SEALs, but the unending challenge from day-one would be the mental toughness, that never-ending inner drive that pushes you forward when every nerve and muscle fiber in your body tells you to stop — to quit. That warrior mind-set — the mental toughness — is what separates a Navy SEAL…"
"SEAL of Honor" includes inspiring SEAL Creed excerpts or, in some cases, complete remarks from SEAL leaders like Adm. Eric T. Olson, Chief Warrant Officer Mike Loo and Commodore Pete Van Hooser. All focus on leadership expectations and maintaining high standards.
Williams describes the tragic rescue attempt in which Lt. Cmdr. Erik S. Kristensen and 15 other would-be rescuers were killed when their MH-47E Chinook helo, call sign Turbine 33, was shot down by the Taliban.
Both "Lone Survivor" and "SEAL of Honor" showcase the importance of the concept: "no one left behind."
Near the end of "SEAL of Honor," Williams lists each of the warriors who died trying to rescue Murphy and his team.
He describes the many tributes to Lt. Michael P. Murphy, including the awarding of the Medal of Honor by then President George W. Bush. One of the most significant tributes, especially as far as Sailors are concerned, is the naming of an Arleigh Burke-class guided-missile destroyer for him, dedicated May 7, 2008.
During his remarks, then Secretary Donald C. Winter predicted, "Every Sailor who crosses the bow, every Sailor who hears the officer of the deck announce the arrival of the commanding officer, and every Sailor who enters a foreign land representing our great nation will do so as an honored member of the USS Michael Murphy," writes Williams.
Osama bin Laden haunts both books, written prior to President Barack Obama's authorization to kill or capture the terrorist leader of al-Qaeda, the group responsible for the attacks of Sept. 11, 2001. After a Muslim ceremony, bin Laden was buried at sea from USS Carl Vinson (CVN 70) just days before the USS Michael Murphy christening.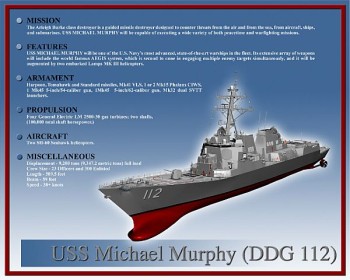 USS Michael Murphy (DDG 112) was christened at Bath Iron Works, Maine on May 7, 2011 (after publication of Williams's book), on what would have been Murphy's 35th birthday.
"It is my sincere belief that this ship will build on the momentum gained by our special operations forces in the fight against extremism and sail the seas in a world made more peaceful by sustained American vigilance, power and dignity," said then Chief of Naval Operations Adm. Gary Roughead. "This ship will carry Michael's legacy and values to Sailors several decades from now and to a new generation of Americans…"
USS Michael Murphy's homeport is Pearl Harbor.
(A version of this review was originally published Sept. 10, 2011 on Navy Reads.)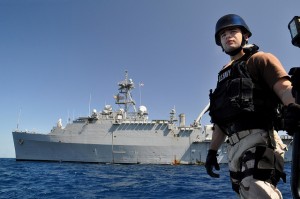 Over the weekend, it was interesting to watch the various outlets report the plans for USS PONCE (LPD-15). The old girl has served her nation well for 41 years and is about to give some more.
I think the best quote to use as a starting point is here;
The Pentagon's new budget proposals, unveiled Thursday, included money to turn a freighter hull into a full-time floating base that could be moved around the world for military operations or humanitarian missions.

But the fiscal year does not begin until October and, to meet a standing request from American military commanders in the Middle East, Pentagon and Navy officials decided to convert the Ponce to serve as a floating base in the meantime.

"This is a longstanding request that, with the opportunity now before us, we are fulfilling," said Capt. John Kirby, the Pentagon spokesman.

… Navy officials acknowledged that they were moving with unusual haste to complete the conversion and send the mothership to the region by early summer.
Longstanding. Yes. The request is:
… the staging base would allow commandos, helicopters, speedboats and even aircraft with a short-takeoff capability to operate in regions where the United States does not have access to installations on land.

While its value as a staging base for combat operations would be a priority, it also could be moved near an area suffering from natural disaster, to provide full logistics for the military to carry out relief missions for a region left without power, food or potable water.
Let that soak in. Read it again. Ponder – hasn't this been a requirement for at least my lifespan? Haven't we had such things before? Yes. Don't we have a lot of platforms easily converted to do such things? Yes. Does it require a big deck to do it? No. Do we have ships already configured as such – yes. Why has it taken so long ……
To simplify things – let's not even look at piracy for now and what the PONCE could bring to that game. In the broader sense, we have been at war with a non-state terrorist group, its affiliates and supporters for over a decade. This is a war that relies to an exceptional extent on Special Operations Forces. This we know.
As a navy at war, what have we "restructured" to support this outside deployment schedules, itty-bits in NECC, NSW, and certain "special" programs? Look back at the infrastructure that supported special operations in Vietnam and the very short turn around time they had from requirement to shadows pierside. This is not new. This is not radical. This does not require a technological breakthrough. Hey – maybe, ahem, that is/was the problem.
An "Afloat Forward Staging Base" or "mothership" is not a new concept. It is not sexy (to the non-professional), it doesn't go real fast, but it does do something – it supports the warfighter and his ability to project power ashore and at sea. It multiplies the effect of smaller, more nimble forces to do their job with endurance and a greater sense of autonomy. MIW – sure. NSW – no problem … etc … but why PONCE now – why late – and why USS now?
Ships matter – ships that have enough "white space" to put in to them what you need, take them where they need to go, and have the endurance to stay long enough to make a difference. Not the too-clever-by-half mission module concept – but the inherent utility of "being there" with room to enable others – and to do so with nuance. The multi-purpose amphib, which the PONCE is – is more than simply an amphib – it has always been so – and will be again.
All the above leads to a simple question: through all the "fat" years in a decade of war with plenty of discussions of the need and utility of a "mothership" to meet the needs of this type of war, we did little. Now that we find ourselves in a shrinking budget, why do we panic like, grab the duct tape, bailing wire, and vice grips and rush out to the pier to coax the old girl to give just some more?
Are we that broken that with all our technology, communications, and armadas of Admirals – we find ourselves with this decision point? Are our priorities so out of whack – our processes so blinkered – our leadership so hidebound – that we find ourselves with this lash-up?
Don't get me wrong – I fully support, encourage, and praise the modification and deployment of PONCE and present/planned follow on AFSB. Many happy returns – but really. This is how we do it?
"This is a longstanding request that, with the opportunity now before us, we are fulfilling … Navy officials acknowledged that they were moving with unusual haste to complete the conversion and send the mothership to the region by early summer.
It's not like there weren't other opportunities to do this to other ships over the last decade.
The interesting story would be – inside the "longstanding" timeline – who held back this decision, why, and what are they doing now? What was holding it back – and what finally broke the seal to let it go forward?
I know, call it an accountability review.
Once we do that – then we can have fun discussion about long range plans for the concept WRT active duty/reserve/CIVMAR/USS/USNS etc. There will be a long range plan right? We wouldn't want to have someone else re-invent this later on will we? We do understand that this is a capability that will be needed for a long time – right? We are planning for the ability to have this "effect" in place longer than one ship's deployment … right?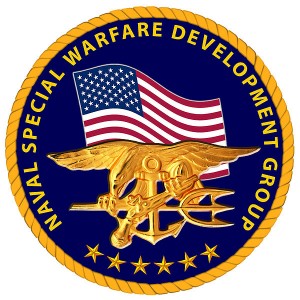 The last 14-hrs have been a good one for our side in the long war against Islamic extremism. For over a decade, legion of professionals in and out of uniform have been trying to gather enough information on Osama bin Laden to give our leadership an opportunity to bring him to justice. Especially since 9/11, finding this man has been a career field of its own; success is sweet. This is their moment.
In the first wave after the word came out we have seen euphoria, pride, and thanks to all of those who executed an almost flawless mission. Every individual in this chain of professionals can take pride they truly were part of an important event in this war – and reminded the world again the capabilities of our nation's military when opportunity meets preparation. No other nation could have done this.
Everyone, I hope, is taking time in their own way to bask in this first wave. From the MIDN at Annapolis, to NYC, to the people on my street who were lighting off fireworks at 1am – it was good to be able to celebrate. Enjoy the wave while you can – for most it will peak this afternoon – after that, we need to ponder the second wave.
The second wave is sober reflection.
As the adrenaline wears off, the coffee kicks in, and the mind starts to sort things out – certain facts should come to the front of the sober mind.
Check the Operational Diagram. This is not an end state. This is not a "mission accomplished." This war is not over. Osama's death is a decisive point – in a way an inflection point. In both a practical and symbolic manner, his death is a victory for us – but only in the proper context. Osama started a franchise operation. When Ray Kroc passed – McDonalds did not go away. There is much more work to be done – this is no time to rest, as the enemy will not rest.
Review your Sun Tsu. Though we can define it in any way we wish – often times you are in a war that is defined by your enemy. He wages war for his own reasons, so you need to recognize that so you know the war you are in. This war did not start with 9/11, and it doesn't end now. This is not a global war against terror – terror is only a tactic. This is a war of culture, religion, world view, and grievance. This is a war with an enemy working within a decentralized, distributed network of command and control – regenerating, morphing, and regrouping with remarkable effectiveness. Their end state is nothing less than the destruction of your culture and way of life. Some may hope that Osama's death will roll up terror, but hope isn't a plan and that isn't how this war will end. Hopefully we snagged enough paper and electronic records at the compound along with his body that we can roll up a lot of Osama's organization, but that is like picking crabgrass out of your yard by hand – effective in a fashion, but not a cure. The weeds will come back.
From FMJ to Tinfoil. Osama body is now in the possession of Hagfish – yet we need to watch how his legend morphs. Most of his followers live in cultures that are soaked in conspiracy theories. Nothing is as it seems, and behind every clear act there is really a back story of intrigue and deceit. With no body to examine – conspiracies will flourish. Take the JFK assassination industry here and add a couple of decimal points, then you might get close.
Face and Payback. Things may tamp down a bit as lower level commanders hit the mattresses to preserve themselves until they know the extent of what we got from the compound. Others may want to get revenge for their commander directly or if they have access, they may pull the trigger on sleeper cells. Hard to know, but we should expect that with the killing of their figurehead – the enemy has an extra motivation to get revenge for losing face. Hope that they are too busy saving themselves to plan external operations in the near future – but be prepared for the fact that they can run operations as well as they did in 9/11 and they are a very patient lot.
There we are. A good day. A great day for our Navy SEALs and their supporting commands in Southwest Asia. It is good to remind others about our reach – this is a good Ref. A.
We also need to give a nod to the Commander in Chief. I am sure he was counseled about Desert One. Some probably advised him to go the route of bombing and cruise missile strikes. He didn't do that though. Some group in his/our national security team briefed him on what was needed – up close and personal with terminal effect. He approved that action – high risk, high reward. Right call – right outcome.
There is another practical take-away as you get through the second wave – another lesson identified for the professional. Technology has its limits, as do precision/smart weapons. Since Publius Horatius, Spurius Lartius, and Titus Herminius Aquilinus stood at the head of the Pons Sublicius – it has always been a man at arms closing the enemy face to face that makes the difference – everything else is supporting arms. This century it was true with Saddam, his sons, and now Osama.
War is not new. It never has been. It never will be. Tools may change – but the essentials remain.
Celebrate, but prepare.