Archive for the 'SECNAV' Tag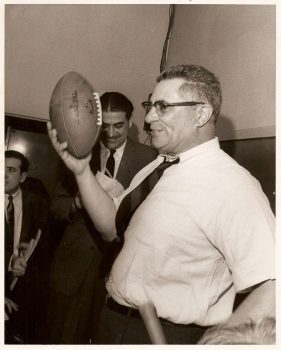 In the next few weeks to months we should find out who will be the next Secretary of the Navy. Especially with President-Elect Trump's desire for a path to a 350 ship Navy, there will be a lot of fine detailed work to be done, but out the door there is a larger theme that I would recommend to whoever finds their way in the office; back to fundamentals.
Long deployments, running rust due to fewer deck Seamen and less time and money to do preservation, DDG-1000 that can't survive a Panama Canal transit, LCS engineering casualties almost every fortnight – these and other items are just external manifestations of a Navy that is a bit off balance. Some will argue that many of the causes of this ill-resonance felt throughout our Navy predate the present SECNAV, but that isn't really the issue at hand.
What would be more important than attacking detailed issues first? Former Navy Intel Officer and Asst. Secretary of State Robert Charles recent article, Securing the Navy, had me thinking about that last night.
He based his article on the SEP 2016 Navy survey (which if anyone has a copy, I'd love to see it). Some of his observations are a bit evergreen,
…sailors are "increasingly unhappy with lengthy deployments, high operational tempo, and calls to reduce pay and benefits,"
…
"Sailors are most likely to leave uniformed service because of poor work/life balance, low servicewide morale
Yep. I think you will get that in almost any survey to one degree or another.
Then some other items are brought up;
How did we get here, … leadership appears to have become distracted or dissuaded from traditional ways of inspiring, rewarding, reinforcing and guiding men and women. Instead, leadership became enamored with domestic political ends and social engineering, forgetting to inspire and reward the resolve of men and women in uniform.
…
The next administration needs to focus on the Navy not as a social experiment, not as a way of pulling in fringe votes for fringe candidates, but as a group of professionals, selfless and committed, patriotic and hard-working, mission-focused and mutually respecting. They deserve good leadership, leaders devoted to them and to their success, not to political agendas. Individual careers matter, and so does the mission to which individuals devote their lives, assuring America's national security.
A good starting point. As a great man one said; excellence is achieved by a mastery of the fundamentals.
In David Maraniss's book on Coach Lombardi, When Pride Still Mattered: A Life of Vince Lombardi, the author outlined what Lombardi said to his new players in the summer of 1961.
He took nothing for granted. He began a tradition of starting from scratch, assuming that the players were blank slates who carried over no knowledge from the year before… He began with the most elemental statement of all. "Gentlemen," he said, holding a pigskin in his right hand, "this is a football."
Fundamentals. The basics. One should always make sure those are mastered first – but when things don't seem to be going right, then what? You need to step back a bit and start again with the basics.
A lot of SECNAV Mabus's time in office and political capital was spent on items a few layers beyond Navy basics; "green" fuel, shoehorning women in to every USMC combat position possible, excising "man" from ratings … no wait … eliminating ratings altogether, and a few other priorities. We all have our list. It was his watch, he had his priorities. Fair.
What would be a good start for the next SECNAV? Perhaps a start would be a moment to state, rather simply,
This is a Navy.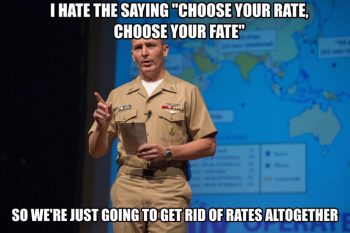 Now that everyone has absorbed the impact of the announcement last week ditching the Navy ratings system, let's talk about the what and why.
Let us talk as adults. It is the mutually respectful thing to do.
Brush aside the spin, the squid ink, the general excuse making and post-decision 2nd and 3rd order effect justification on why this change was made, for what purpose, and what manner. Things such as giving a job description that will help a Sailor or Marine have a better civilian resume. Really, just stop. No one is buying it, and trust me, as someone who made the transition a bit more than half a decade ago, it won't make a difference in that area.
With some time behind us post-announcement, there is more to discuss. We are lucky in that Mark D. Faram of Navy Times has a thorough, balanced and much needed expose from "behind the scenes of the Navy's most unpopular policy."
The simple answer is this; fed by some of the less intellectual threads from the 3rd Wave Feminist theory that seems to inform much of his ideas on "gender," the SECNAV wanted to grind in his stamp on a pet agenda item before he leaves office.
How it was to be done? That was the question. There was no question of "if."
This action began and ended with the SECNAV and full credit positive or negative belongs firmly there.
Now, let's get in to some of Faram's details.
Good ideas are usually given a nice warm up. This, however, was known from the start that it would be toxic upon delivery. As a result, the delivery was for most as a bolt out of the blue;
Beyond a small working group, convened this past summer and led by then-Master Chief Petty Officer of the Navy Mike Stevens, next-to no one in the Navy saw this change coming, sources with knowledge of the decision-making process say. And it's been received with near universal contempt by sailors past and present.
In the course of military service, we have all done things we did not agree with, but duty is what duty is. If it is a lawful order, you do it. If it is a nasty bit of work, you try to come up with the least horrible way of doing it while still getting the OK from the boss. This is why I believe that those who oppose the new policy should hold no ill feeling towards those in uniform who were in the group that produced this for approval by the SECNAV. Likewise, those supporting it should not give them credit either. We've all been there, they did the best they could – but the initiating directive came from SECNAV, and if it weren't for him, it would not have happened.
"I felt it was not optional," Stevens said, "but my duty to lead this effort, knowing all along that there would be controversy attached to it." The former MCPON, as the position is known throughout the service, says he believes the move is necessary and that now Navy leaders "must follow through."
The post announcement spin has been a solid effort to define some positive 2nd and 3rd order effects, which there may be, but that is all they are – 2nd and 3rd order effects. Not designed, just byproducts.
Mabus declined to speak with Navy Times. He and other top Navy officials, including Richardson and Burke, have said that the change, while a nod to gender neutrality, will facilitate sailors' professional development and career advancement by freeing them to cross train and attain broader skills spanning multiple specialties. That should make them more marketable when they leave the military, too, they've noted.
Mabus did speak today, and we'll end the post with that, but let's stick to this part of the story for now.
It would be hard to find a more divisive way of making such an announcement that impacts every Sailor.
Much of the frustration tied to Mabus' decision stems from its timing. Most average sailors and deckplate leaders alike don't understand why the announcement was made while so much of the plan remains undeveloped.
Well, many did. There were hints and background warnings over the summer.
Mabus, sources said, was determined to put ratings reform in motion — and on the record — before he leaves office.
The power of the office. Once you have been in a while, you begin to enjoy it and find ways to use it. When you see that power soon leaving with much work left undone, well, time to get moving.
Let's go back to the sausage factory. Direction and guidance was both clear and vague. Interesting how MCPON tried to cobble something workable together.
…while Mabus was focused on removing the word "man" from the Navy's job titles, he never specifically asked for a plan to eliminate rating titles entirely.
…
The MCPON assembled a working group composed of "about 12" individuals,…
…
"Course of action number one was simple: Remove man from titles," Stevens said. "What we found was that you could in most cases, remove the word 'man' and replace it with the word specialist or technician…
…
The second proposal built upon the first and sought to determine whether the job titles in fact aligned with the work being done. An example here is yeoman; it's a historic title, but it was decided that "administrative specialist" was a better fit for the work being performed, …
…
But none of the changes seemed right, he added. Taken in total, they did not amount to the profound change he felt the Navy needs. That's when Stevens suggested something groundbreaking.

"What if we just eliminated rating titles altogether and simply referred to ourselves by our rate? That's the traditional Navy word for rank. You could feel the air leave the room," he said.
There you go.
In case you are wondering, the article didn't outline well what COA-3 was, but it does not really matter.
"If you want to do just what you asked us to do, here are the rating title changes that need to happen to remove 'man' from those titles. He said 'it's done and it's easy and we can do it tomorrow,'" Stevens said, recalling the conversation with Mabus.

Stevens then outlined the idea of removing all rating titles, telling the secretary that he felt this was the the best proposal for the service. But he followed up with a warning.

"Make no mistake about it," Stevens recalled telling Mabus, "this course of action will be the most labor-intensive, probably the most expensive, certainly the most controversial as well as difficult to accept socially throughout the Navy. But it certainly advances us the furthest."

Mabus "sat there a little bit, pondered it, asked a few questions and then decided, in the best interest of the Navy's future, this was the path he wanted to take," Stevens said.
And that is how a very personal part of our Navy for over two centuries ended.
The pushback was as expected, I assume.
There was "absolutely no signal, no hint that a move of that magnitude was being planned, discussed or soon-to-be forthcoming," said the command master chief, who also spoke to Navy Times on condition of anonymity. "Our sailors don't understand it. They don't understand why the ratings that they chose to enter have been selected for elimination, and they don't see the need for it."
Actually, there was, but few wanted to believe it. No question now.
"We don't understand why this could not have been a two-to-three year, very gradual process that examined all of the effects from advancement to recruiting, and how it will affect the administration of our Navy on many different levels. It doesn't appear," the CMC said, "that any thought was given to that."
Come on Master Chief, you have to understand why. The focus is all on the calendar, a calendar getting short for the SECNAV.
I know there are many who refuse to accept that this all comes from the SECNAV's desire. Thanks to Hope Hodge Seck's article today on his speech at the National Press Club, SECNAV Mabus underlined his priority and should remove all doubt,
"Ratings names change all the time," Mabus said. "Corpsmen, our medics, that rating came in after World War II. Corpsmen were first called Loblolly Boys, which, I'm not sure where that came from. I thought it was important to be gender-neutral."
In case you aren't fully up to speed, looks like we are losing Corpsman for Medic.
I know. I know.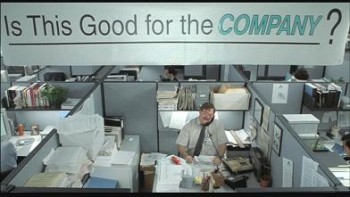 We are a Navy at war. The war we are in is not a conventional war, but it is one nonetheless. It is a war that relies heavily on intelligence.
Irrespective who or where you wish to place the blame, can anyone be even remotely comfortable with this timeline?
After Sen. Joni Ernst (R-Iowa) expressed her displeasure of the ongoing situation during a Senate Armed Services Committee hearing, Mabus explained that when Branch's name came up in 2013 in connection to the Glenn Defense Marine Asia bribery case, he chose to pull Branch's clearance out of an abundance of caution with the understanding that Branch would either be cleared or charged within the coming weeks.
…
"So by the early fall, September 2014, I decided that we had to nominate a successor, which we did, but because of intervening events that nomination did not appear until last fall," Mabus continued. In September 2015, Rear Adm. Elizabeth Train was nominated as Branch's replacement.
Let' review the timeline:
NOV 2013: Clearance of VADM Branch pulled.

SEP 2014: 10 months – Decision to replace VADM Branch.

SEP 2015: 22 months – Relief identified by name.

MAR 2016: 28 months – Still no action.
Has there been a sense of urgency from the very top? Ownership of the problem? Priority rack-n-stack?
"At the same time the nomination appeared, we had a new chief of naval operations who rightfully wanted to make sure that flag officers were in positions of the best skill sets and the best qualifications," he continued.

Since Chief of Naval Operations Adm. John Richardson took command in September 2015, there has been no further word on Branch's future in the Navy or his potential replacements.
…
"I've been checking with Gen. (James) Clapper, the head of national intelligence, to ask him if there was any degradation of naval intelligence, any concern about how we're operating or the quality of information that we are gathering or how we are processing that. And I have been assured that there's not," Mabus said.
…
His two deputies, each of whom has more than 30 years of experience, have handled the classified information, Mabus said.
So, SECNAV's implication is that he has punted the question of if a VADM with no security clearance can run and serve as the leader of the world's largest naval intelligence organization to a subordinate – and being that there has been no action in half a year – he thinks that all is fine? That the SECNAV has no opinion if this is having any impact? That, in 28 months, the organization is doing just fine with a leader who cannot attend meetings, read message traffic, attend briefings, or evaluate projects in work or in development?
Does that not beg the question – then why on Earth do we need to fill that billet in the first place?
28 months.
"When I was informed in late 2013 that Adm. Branch was possibly connected to the GDMA case, I thought because of his position I should remove his clearance in an excess of caution. I was also told — assured — at that time that a decision would be made in a very short time – in a matter of weeks, I was told – as to whether he was involved and what would be the disposition of the case," Mabus explained.

"We continued to check on that over and over and over again and got nothing."

The so-called Fat Leonard investigation is still ongoing today, two and a half years later.
OK. So we are, the entire organization, content being subject to the IG's sloth-like progress?
What else has been done on the same timeline?
WWII:
DEC 1941: Pearl Harbor
10 Month Mark: OPERATION TORCH Invasion force underway
22 Month Mark: Forces reach Voturno River in the invasion of Italy
28 Month Mark: D-Day invasion 2 months away
Development of the atomic bomb from US entry in to WWII:
10 Month Mark: Manhattan project 2 months old
22 Month Mark: Oppenheimer appointed head of Manhattan Project
28 Month Mark: First Plutonium sample produced.
What harm is the delay? There is the harm to our nation and its navy. There is harm to the SECNAV who is forced to seem hapless to his own organization's Ottoman level of bureaucratic inadequacies. There is harm to a US Navy Vice Admiral who for 2.5 years has been denied justice – forced to live under a cloud that has brought in to question his decades of service, and unquestionably has not only permanently degraded his professional life, but his personal life as well.
Who will be held to account if the assumption of innocence is validated? If charged, at what price?
Either way, if there is no action taken from the Navy Yard to The Hill to address this blot of a process, no one will be in a position to wonder why subordinates hold orders and our legal/IG/NJP system in contempt.
To shrug your shoulders and say, "That's just how it is.", is to be part of the problems, not the solution.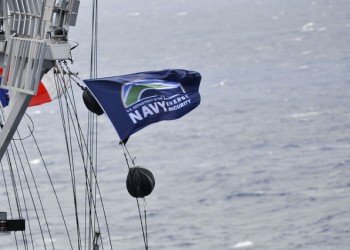 Experimentation is good and fine, but when is it time to take a cold view and say – that's enough?
In a time where we complain of tight budgets, are we throwing too much at one of the SECNAV's pet projects? Via David Alexander at Reuters;
When the Navy first tested biofuel versions of marine diesel and jet fuel in 2012, it spent eye-popping sums for small amounts.

In one case, it paid $424 a gallon for 20,055 gallons of biofuel based on algae oil. To test the Great Green Fleet in the summer of 2012, it spent nearly $27 a gallon for 450,000 gallons of biofuel, later mixed into a 50-50 blend. The $15-per gallon-cost was four times that of conventional fuel.

The fuel for the Great Green Fleet deployment over the next year is a competitively priced blend of 90 percent diesel and 10 percent biofuel made from beef fat, Navy officials said.

A California firm, AltAir Fuels, is contracted to supply 77 million gallons of the fuel between Oct. 1, 2015, and Sept. 30, 2016.

The Navy pays $2.05 a gallon, thanks in part to a subsidy of 15 cents a gallon from the Commodity Credit Corp, a government-owned enterprise that supports farm products.
Fuel costs in the last few years have fallen through the floor. We are now an oil exporting nation once again, and via fracking, we have greatly expanded access to fuel at inside our lifelines. Supply is no longer an issue for the economy in general, and well beyond a threat to our Navy.
Why are we doubling down on an idea that seems from the 1970s? Why are we also creating our own pet industrial policy?
To boost production of alternative fuels, the Navy has awarded $210 million to help three firms build refineries to make biofuels using woody biomass, municipal waste and used cooking grease and oil. The U.S. Department of Agriculture is providing an additional $161 million in crop supports.

The refineries are expected to begin operations this year, with full production not likely until 2017.
Is this what we need to spend our money on?
There is a financial cost, but what other risks are we taking on? What are we buying in to? What are we investing our reputational capital in?
Robert Bryce has outlined some shoal water we should all note;
One of the companies that got a lucrative biofuel contract from the military was the San Francisco–based Solazyme Inc. According to the Congressional Research Service, in 2009, Solazyme got a $223,000 contract for 1,500 gallons of algae-based motor fuel. That works out to $149 per gallon. Perhaps it's a coincidence, but Solazyme has also been a big donor to Democratic causes, giving some $300,000 to Democratic candidates and committees. The company has also donated between $100,000 and $250,000 to the Bill, Hillary, and Chelsea Clinton Foundation.
…
Last month, Fortune reporter Katie Fehrenbacher wrote an excellent piece about the spate of failed cellulosic-biofuel companies that have been backed by Silicon Valley promoter Vinod Khosla. In 2006, Khosla claimed that we "can replace most of our gasoline needs in 25 years with biomass." One of Khosla's investments was in Range Fuels, the failure of which I wrote about on NRO back in 2011. Range Fuels got a $76 million grant from the Department of Energy as well as an $80 million loan that was guaranteed by the federal government. Despite the failure of Range, Khosla plunged forward with a company called KiOR, which claimed it could profitably produce liquid fuels from the wood of pine trees. The company got tens of millions of dollars in government money, but its process never worked as promised, and it filed for bankruptcy in 2014. The state of Mississippi, which provided the company with a $75 million loan, is now suing Khosla, as well as several KiOR executives, claiming the state was deceived about the company's technology.
… the marketplace is trumping government mandates and subsidies. Today, ethanol distilleries are consuming about 40 percent of all domestic corn output in order to produce fuel equivalent of about 600,000 barrels of oil per day. (Total U.S. consumption in 2014 averaged about 19 million barrels per day.) And it took roughly four decades of mandates and subsidies for the corn-ethanol industry to grow to that size. Let's compare that result with what has happened in the oil patch. Since 2006, thanks to the shale revolution, domestic oil production has increased by more than 3.6 million barrels per day. Thus, in just this past decade, the oil sector has increased production by six times the total output of every ethanol distillery in America. That increased oil production didn't happen because of congressional mandates or subsidies. It happened because privately owned companies risked billions of dollars, and in doing so they innovated in everything from drill bits to mud pumps.
With the service still suffering from the Fat Leonard scandal, all this money going to places it has no economic reason to makes me a bit itchy. That is the worst-worst case. Best worst-case, just a boondoggle. Best case? You were just following orders.
My instincts are that this remains what it looks like, a well meaning but misguided personal priority of the SECNAV. It does not make sense from an economic or national security point of view – but that is just my view, and he's the SECNAV. His call.
Government money chasing hard to defend programs do not result in a kind judgement from history. Sal's recommendation: let this be pushed by the civilians and political appointees – this is their business. If in uniform, do what your job strictly requires, but edge your way out of the picture when the PAO comes around. The reward is small, but the potential frag pattern is huge.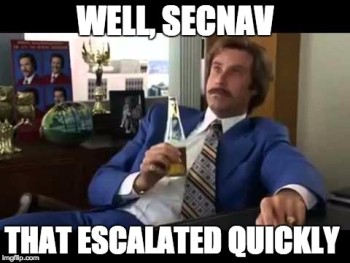 In what is clearly one of the more unfortunate moments in leadership we have seen in a while, we have seen in the discussions of women in Marine infantry the triumph of politics and personality over study and science; a raw forcing of a political agenda over mutual respect for the results of an honest study.
Civilian control of our military is one of the crown jewels of our system of government. Hard decisions are made and consensus is rarely there, and that is good. To function best, it relies on mutual respect and a default assumption of the best intentions of all parties.
Well – the last week saw a nasty counter-example pushed out in to the light in an completely unnecessary and unproductive way – and the fault starts at the very top.
It is one thing to argue about the validity of a study – but that is not what is going on. No, what we are seeing is a leader (SECNAV) asking a question and an answer is given based on study and facts. The answer happens not to be in line with the thinking, feeling, emotion, or desired outcome of the leader. The result? Well, let's look.
From MarineTimes's Hope Hodge Seck on the 10th;
All-male ground combat teams outperformed their mixed-gender counterparts in nearly every capacity during a recent infantry integration test, Marine Corps officials revealed Thursday.

Data collected during a monthslong experiment showed Marine teams with female members performed at lower overall levels, completed tasks more slowly and fired weapons with less accuracy than their all-male counterparts. In addition, female Marines sustained significantly higher injury rates and demonstrated lower levels of physical performance capacity overall, officials said.
…
The Marines' Ground Combat Element Integrated Task Force involved about 400 Marine volunteers, roughly 25 percent of whom were women. Over the course of nine months, teams that simulated integrated rifle, weapons, mechanized and artillery units trained to infantry standards and then executed a repetitive series of skills assessments under human testing conditions.
…
High injury rates among women were also a problem at the Infantry Training Battalion, the Marines' basic infantry training school for enlisted troops that temporarily opened to women between 2013 and 2015. Researchers found that female ITB participants were injured at more than six times the rate of male participants, and nearly one-third of their injuries occurred during movement-under-load tasks, while just 13 percent of male injuries did.
Read it all to get a full flavor of the study.
After chewing for a day, on the 11th via WaPo's Dan Lamothe, SECNAV took an angle as unexpected as disturbing;
"Part of the study said that women tend not to be able to carry as heavy of a load for as long," Mabus told NPR. "But, there are women who went through this study that could. And part of the study said that we're afraid that because women get injured more frequently, that over time women will break down more. That you will begin to lose your combat effectiveness over time. That was not shown in this study. That was an extrapolation based on injury rates, and I'm not sure that's right."
Let's stop for a minute. Look at that last bit first,
I'm not sure that's right.
That is a classic sign of someone who is having trouble getting their emotions and feelings in line with reality. This is where Spud Webb comes in.
There is always a Spud Webb. A Spud is someone who breaks well past three standard deviations from the norm that is expected from their biological makeup. In this case, the rare example of a 5'7″ guy who can play well in the NBA where the average height is more that a foot taller than he is. Not only that, in addition to being a great person, Spud can still dunk in his late 40s.
There are also individual women who can do most of the minimum physical requirements in the most demanding positions, but they are, in a fashion, the Spud Webb.
We all love Spud – but we can't let our excitement about Spud force us to make decisions based on our desire that all 5'7″ men can perform as well as Spud if we just care enough and reserve enough court time. That is just immature, and not all that well grounded.
If the NBA forced all teams to have one non-Spud person 5'7″ or below on every team in one division, but not in the other divisions – would that be a zero-sum impact on one division's performance relative to the others'? Of course not.
Anyone who denies the biological differences that bone density, muscle mass, and testosterone gives in physical performance of one sex over the other is simply, to use a phrase of the zeitgeist, a science denier.
A bit more from the SECNAV;
"It started out with a fairly large component of the men thinking this is not a good idea and women will never able to do this," Mabus said of the Marine Corps' research. "When you start out with that mindset, you almost presuppose the outcome."
Wow. He is assuming that no female Marines were involved in this? Does he assume that if they were they were part of some great misogynistic conspiracy? Does he believe that from the Commandant of the Marine Corps on down they are trying to force an outcome regardless of what the facts of the study are?
When the SECNAV calls in to question the integrity of your entire service, how do you respond? Well, at the initial post-slap shock, this sounds about right;
An official at Marine Corps headquarters said the service isn't "going to "get into a debate with SECNAV." The purpose of the service's research was to "show scientific method and rigor that would help inform our military leaders and others about some of the possible considerations of gender integration into combat arms" jobs," the official said. He spoke anonymously in order to candidly address Mabus's remarks.

"It's for leaders to weigh and consider," the official said of the research. "The debate will continue in the near term, but in the end, we will effectively implement any policy the department decides."
Over the weekend, if you were following the story, you knew this was not going to go in a productive direction. What I didn't expect, was that this would unravel so quickly.
WaPo's Thomas Gibbons-Neff on the 14th;
Marines involved in a controversial experiment evaluating a gender-integrated infantry unit say they feel betrayed by Navy Secretary Ray Mabus after he criticized the results of a nine-month study that found women are injured more frequently and shoot less accurately in simulated combat conditions.

"Our secretary of the Navy completely rolled the Marine Corps and the entire staff that was involved in putting this [experiment] in place under the bus," said Sgt. Danielle Beck, a female anti-armor gunner with the task force.
OK SECNAV, what kind of mindset did Sgt. Danielle Beck, USMC bring in to the study?
Sgt. Joe Frommling, one of the Marines who acted as one of Beck's monitors for the experiment, said he was frustrated with the secretary's comments.

"What Mabus said went completely against what the command was saying the whole time," said Frommling. "They said, 'Hey, no matter what your opinion is, go out there and give it your best and let the chips fall where they may.'"

"All the work that the task force did, the rounds that we shot, didn't mean anything if he had already made up his mind," he added.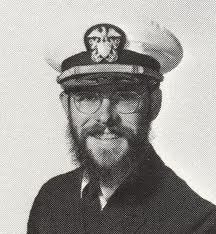 The SECNAV's view of how men and women may be some toxic stew of his experiences in the early 1970s Hairy Navy stirred in the the fetid sauce his gender-studies dept. educated advisers on women's issues are pouring in to his ears, but it isn't reflective of what I saw on active duty from the late 1980s to the end of the first decade of the 21st Century – much less 2015.
The honest and direct teamwork of Danielle Beck and Joe Frommling is of this century and this generation – and their integrity and that of their entire uniformed chain of command has been brought in to question by their service's senior leader – their Secretary of the Navy.
"If you were to look at our training plan and how we progressed from October to February, you're not going to find any evidence of institutional bias or some way we built this for females to fail," said one Marine officer who participated in the experiment.

The officer, who asked to remain anonymous because of his active-duty status, explained that for the first five months of the experiment the Marines of the task force trained as a unit in North Carolina to prepare for the testing phase in California. This phase of training is known as "the work-up," with the second phase in California — where the trials would be held — acting as the deployment.

"We consulted physical trainers from [the school of infantry] to help develop an appropriate hike plan, and we fired roughly a year's worth of ammo for a regiment in a quarter," the officer said, referring to the massive amounts of ammunition used to train the relatively small task force at Camp Lejeune. "In the time that we had, there wasn't a day wasted when it came to training for California . . . From the top down, we were trying to level the playing field."
…
Though the entirety of Weapons Company, men and women, trained to the same standard before deploying to California for the evaluation period of the test, another criticism leveled by Mabus was that the women probably should have had a "higher bar to cross" to join the task force.

To Beck, a 30 year-old who was one of the strongest women in the company, Mabus's remarks were insulting.

"Everyone that was involved did the job and completed the mission to the best of their abilities," said Beck, adding that Mabus's remarks about the type of women in the experiment were a "slap in the face."

"The caliber of the women in Weapons Company are few and far between in the Marine Corps," she added. "They are probably some of the most professional women that anybody will ever have chance to work with, and the heart and drive and determination that they had is incomparable to most women in the Marine Corps."
That should, in normal times with normal leaders, cause at least some pause. Well, notsomuch here. On the 15th, as reported by DefenseOne's Bradley Pensiton;
With more than three months to go before the year-end deadline, the Navy Secretary made it clear on Monday: he will not be requesting any exceptions to the Pentagon edict that all U.S. military jobs be opened to women.

"Nobody's asking for an exemption in the Navy," Mabus told an audience at the the City Club of Cleveland. "And I've been pretty clear about this for a while – I'm not going to ask for an exemption for the Marines."

That may have come as a surprise to the Marine Corps Commandant, Gen. Joe Dunford; Marine Corps Times reported Thursday that Dunford had met with the secretary on the issue but had yet to issue his recommendations.

Defense Secretary Ash Carter asked the services to complete their reviews of obstacles to full gender integration and report back by Oct. 1. If no service seeks or is granted an exemption, the military will open to women all 200,000 positions that remain closed to them on or before the first of the year.
There you go. The study and all the work by the Marines was for nothing. If he didn't get the results he signaled that he wanted, he was going to do what he wanted anyway.
I don't think we have any fraud here, but waste and a bit of abuse? An argument might be made in those two areas – but it really doesn't matter.
This is the world view;
In the study, he said, "There were women that met this standard, and a lot of the things there that women fell a little short in can be remedied by two things: training and leadership."

Opening all Marine jobs to women, he said, is "not going to make them any less fighting effective. In fact I think they will be a stronger force because a more diverse force is a stronger force."
Back to the sports analogy arena, this time football.If the AFC decides that 20% of its team has to be female, and the NFC does not – where is the smart money going on the Superbowl? Would the AFC be, "A stronger conference because it is a more diverse conference?"
Thinking, feeling and believing is more important than knowing in the armed services now, I guess. That is where we are, and where we should accept that we are. It is how our system works.
No one really should be surprised. This SECNAV's tenure has been one where the power of the office has been used to ignore unpleasant hard sciences, but the soft sciences as well as seen in the now forgotten anti-economic "Great Green Fleet" industrial planning vanity project.
We have seen the personal desires and political play in naming ships after a former Sailor who hated his time in the Navy, amphibious ships named after people who promoted blood libel against their former Marines, and has even named a warship after the worst Southern wartime Commander in Chief since Jefferson Davis.
Though in an open society of a free republic, we can disagree with decisions appointed leaders make, we also have to accept them.
You can reach a point as well where there is a point of honor.
And I've been pretty clear about this for a while – I'm not going to ask for an exemption for the Marines
I guess that puts the ball in the Marine Corps' court. Not only does he question the integrity of hundreds of Marines from Sgt to Gen., the SECNAV has no intention of accepting your recommendations either – as is his privilege.
What a sad and unnecessary production of friction and distraction inside the lifelines of a nation at war. Women have made great strides in serving their nation. As as one who served in gender integrated units his entire career – it is the normal.
What is being done here is not normal. It is nothing more than the triumph of personality and the political over science and judgement.
That isn't good for women, the Marines, or the nation they serve.
As Europe closes borders as waves of migrants come crashing against razor wire, islands are being created from ocean bottom in WESTPAC, and Russia is building bases in the Middle East the Soviets never could … our political and personal capital is being expended on this.
UPDATE: Rep. Duncan Hunter (R-CA) has brought this issue a bit more in to focus, sending a letter to SECDEF Carter suggesting he call for SECNAV's resignation.
After experiencing the 2010 San Francisco Fleet Week and observing the "Green Machine" that is the USS Makin Island, I had to wonder just what the heck happened to the Air Force? That military branch was, back in 2006, surfing the leading edge of the Green Wave. But today, the Air Force has entirely lost momentum, ceding the Green Lead to the Green Hornet, the Great Green Fleet and the force of nature that is SECNAV Ray Mabus.
To read more about why the Navy is beating the Air Force in the race to adapt Green Tech, head over to NextNavy.com and read all about it…
In trying times, you have to find your guilty pleasures where you can (and in keeping with the right spirit, of course).
Along those lines, over the last few days we have had some fun over at my home blog with the new SECNAV's political background. Make no mistake, that is a very important skill to have, and one we all hope the SECNAV will put to very good use. However, sometimes you need to hit the rewind button, diagram and parse a sentence to get the meaning.
Heisman or fried air, you decide. One way or another, nice verbal juke.
Levin had just finished remarking about the LCS program's cost growth. Although he did not mention that one of the first two ships had passed the $700 million mark, he questioned if the service can meet the $460 million cost cap imposed by Congress on the ships the Navy is asking for in 2010."Is there a realistic prospect that you'll be able to do it?" Levin asked.

"I think there's a realistic prospect we can strive toward that goal," replied Navy Secretary Ray Mabus, who cited the lack of a cost escalation provision in the congressional spending limit on LCS, despite rising labor costs and inflation, which "have frankly made that less realistic."
You need to go back and read that again to fully soak in the Beltway Beautiful of it all. Do you think the warhorse Sen. Levin really knew that once that was over, that from the other side of the room the SECNAV was holding the good Senator's jock under the table?
I'm not sure what a good comeback by Sen. Levin would be, but one of my readers "Old H-2 Guy" gets about as close as you can get.
Do, or do not….there is no strive."
(With apologies to Yoda)
Remind me not to argue with the new SECNAV face-to-face; I don't think I have the skilz.
I hope we hear more – specific goals and objectives – from Secretary Mabus soon.
DTG: 192252Z MAY 09

UNCLASSIFIED//

FM SECNAV WASHINGTON DC

TO ALNAV

UNCLAS

ALNAV 038/09

MSGID/GENADMIN/SECNAV WASHINGTON DC/-/MAY//

SUBJ/SECNAV MESSAGE TO THE FLEET//

RMKS/1. TODAY I HAVE COME HOME TO NAVAL SERVICE. I WAS PROUD TO SERVE WHEN I WAS YOUNG, AND I AM PROUD TO LEAD IT NOW AS THE 75TH SECRETARY OF THE NAVY. THE NAVY AND MARINES HAVE STORIED HISTORIES AND, AT THIS TIME OF TESTING FOR OUR SERVICES AND OUR COUNTRY, YOU HAVE PROVED MORE THAN EQUAL TO THE CHALLENGES AND TO UPHOLDING THE LEGACY GIVEN BY GENERATIONS WHO HAVE GONE BEFORE.

2. I LOOK FORWARD TO THE PRIVILEGE OF WORKING WITH THE SAILORS, MARINES AND CIVILIANS THAT MAKE-UP THESE UNEQUALED FIGHTING FORCES. I AM PROUD TO BE ABOARD AGAIN.

3. RELEASED BY THE HONORABLE RAY MABUS, SECRETARY OF THE NAVY.//