Archive for the 'Senior Chiefs' Tag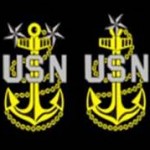 Today is another important day in Chief Petty Officer history. Fifty-one years ago today, the ranks of Senior Chief and Master Chief Petty Officer were created. Over the years they have been referred to as Super Chiefs, Star Chiefs, and probably some less desirable names.
A very comprehensive history of the Chief Petty Officer ranks, written by CWO4 Lester B. Tucker, USN(Retired), is available here.